16GB iPod Touch Updated with Camera, More Colors and Lower Price
It's not uncommon for Apple to release new products without warning, and today is certainly no exception. The company has updated its 16GB entry-level iPod Touch, which now comes with a camera, more color options and a lower price.
The latest 5th-generation iPod Touch now starts at just $199, which is down from $229 previously. In the past, the 16GB model only came in space gray and silver color options and didn't have an iSight camera either, making it a great barebones option for budget-minded consumers.
However, Apple has made the product even better with a lower price tag and added features, making the iPod Touch a more enticing deal, but that's not all. Apple also lowered the price of both the 32GB and 64GB model substantially, now costing $249 for the 32GB variant (down from $299) and the 64GB model costing just $299 (down from $399), which a significant $100 drop.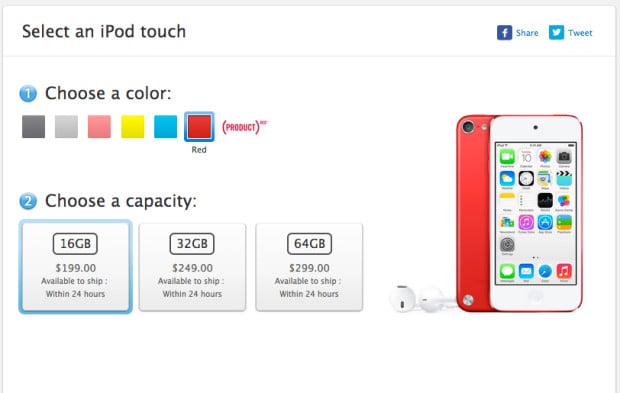 These new price tiers means that there's only a $50 difference between storage options, compared to $100 like the iPhone. However, if you do decide to go with the 16GB model, be aware that it doesn't come included with the loop strap, so you'll have to pay $9 extra dollars for that privilege.
A Device for the Budget-Minded
The iPod Touch has long been thought of as the "iPhone for budget-minded consumers" of sorts, giving you close to the same experience of an iPhone, but without the hefty monthly service charges.
With today's refresh, the iPod Touch is now more affordable than ever, starting at just $199 for a 16GB model with a camera, which is the lowest price that a new iPod Touch as ever sold for on Apple's website.
The iPod Touch is selling for even less on the used market, with 5th-generation models selling for under $100 on eBay for the 16GB variants if you look hard enough, while most listings are selling for around $150. That's about the cheapest place that you'll find the latest iPod Touch, but if you opt for the 16GB model, you won't get the camera or the convenience of more color options.
Still, the iPod Touch is the cheapest touch screen iOS device that you can buy, making it a great toy to have as a secondary device or buying it for a young son or daughter to play games on. It's certainly a device that doesn't invoke an instant impulse buy, but it's certainly a great deal for what you get.
What About a 6th-Generation iPod Touch?
While you might be tempted to buy an iPod Touch after this recent refresh, it's possible Apple could still release a new 6th-generation iPod Touch in the fall.
Several rumors have reported that 2014 won't be the year of a new iPod Touch, but we usually take rumors like this with a grain of salt. The iPod Touch hasn't received a major overhaul since 2012, and it's definitely time for updated hardware.
However, reports say that Apple will put more focus on the iWatch this year, rather than the iPod Touch, which is probably smart on their front, but sad for consumers who have been looking forward to a new model coming out.
Of course, it's at the state where we wouldn't be surprised either way. A 6th-generation iPod Touch could release in the fall along with the iPhone 6, or we could also easily see Apple skip an iPod Touch refresh yet again in favor of putting more focus on the iWatch, which will have a much richer return on investment for sure.

As an Amazon Associate I earn from qualifying purchases.