19 Hidden Xbox One Features
Microsoft's Xbox One is an all-in-one entertainment power house. The console has everything from apps and services designed to extend Microsoft-owned services like Skype to games that seriously push the boundaries of what creators can make for gaming enthusiasts to enjoy.
Unfortunately, the user interface and software designed to empower the Xbox One can be a bit confusing for living room console newcomers and upgraders.
We've combed the Xbox One to find the features that users might not be able to find on their own. Here are 19 hidden Xbox One features that every Xbox One owner should know about.
Gestures
Users who are familiar with the way the original Kinect for Xbox 360 enabled that console to interpret hand gestures and movements instead of voice commands might be surprised to know that the Xbox One does them as well. Unfortunately, the console's user interface doesn't exactly make it obvious.
To activate gestures hold up your right hand to the Xbox One's screen at any time. The Xbox One's Kinect 2 sensor does have to be plugged in for this to work.
SmartGlass
SmartGlass isn't new. In fact, SmartGlass is so old that it was originally seen as a way for Microsoft to combat the then unreleased Wii U console's touchscreen controller. SmartGlass has grown to enable users to interact directly with the Xbox One's Internet Explorer app and more. Unfortunately, Microsoft doesn't actually volunteer any information about the SmartGlass app on the Xbox One dashboard.
To use Xbox One SmartGlass head to your device's app store and search Xbox One SmartGlass. After it's installed, go to the Xbox One's Preferences menu in the Settings App and enable SmartGlass connections.
Read: How to Use Xbox One SmartGlass
Turning On Your Devices
Most users don't know this but the Kinect 2 sensor that every Xbox One comes equipped with includes technology that allows it to act as a remote control. This means that the Xbox One can turn on or turn off a television set and any extra home audio equipment.
To turn the functionality on plug in the Kinect 2 sensor to the Xbox One and head to Settings app. Once there you'll find the option to enable Device and Power settings under the TV & One Guide area.
Read: How to Get Your Xbox One to Turn On Your Television
Using A Code
Have QR code that gives you a free game, downloadable content or free Xbox Live? Instead of heading to Xbox.com simply hold the card up to your Xbox One and say "Xbox Use a Code." The Xbox One will automatically look at the code and translate it into numbers and letters that it understands. It's incredibly useful for disc-based games that come with extra in-game content.
HDMI Pass-through
When Microsoft first introduced the Xbox One last May it wanted to make sure that users understood that they'd be able to get all there entertainment with just one purchase. The company even hammered the message home with an HDMI pass-through port that can be plugged into an HDMI-equipped cable box. With the HDM pass-through port users can actually have the Xbox One act as a go between their television and cable box.
Ironically enough, that same port also allows users to plug-in almost anything with an HDMI cable and have it show up in the Xbox One's TV app. In our example, we've connected an Xbox 360 to the Xbox One.
Adjust TV Volume With Your Voice
Users who have set up the Kinect 2's devices functionality can have the Xbox One change their televisions volume at any time. Simply say, "Xbox, Volume up." "Xbox, Volume down" and "Xbox, Mute" work too.
Read: How to Get Your Xbox One to Turn On Your Television
App Snapping
The days of televisions coming equipped with picture-in-picture functionality are long gone. However, Xbox One users can still enjoy the fruits of watching television while gaming or playing music while browsing the internet thanks to a feature called Snap.
To use Snap, pick up your Xbox One controller and then leave the cursor over the app you'd like to Snap without opening it. Press the Menu button on your Xbox One controller and choose Snap from the pop-up menu.  Users who have their Kinect 2 sensor plugged in can say "Xbox, Snap…" and the name of the app. "Xbox, Snap" and "Xbox, unSnap" also work.
Play To
Users with a large library of downloaded content aren't happy that the Xbox One doesn't yet allow them to playback files from a USB flash drive or hard drive. While everyone hopes that that feature makes it to the Xbox One at some point soon, there is a workaround. Users with a Windows 7 or Windows 8 device can select content from their PC and stream it from their device directly to the Xbox One.
To pull off the trick you'll need to have your files in Windows Media Player on Windows 7 or in Xbox Video on a Windows 8 device. You'll also need to have added the Xbox One to your computer's list of devices.
Read: How to Play Your Content on the Xbox One
Xbox Record That
Xbox One users don't have to rely on achievements to showcase their talents. The console can record small video clips of game footage and upload them to Microsoft's SkyDrive service for sharing. To record your own video game footage simply say "Xbox, record that." You can then open the Upload Studio and Game DVR apps to edit and mange that footage.
Blu-Ray Player Functionality
The Xbox One's disc drive also does double duty as a Blu-ray player so that users who an extensive movie collection can ditch dedicated players for the Xbox One too. Unfortunately, Microsoft doesn't include the app to unlock that functionality out of the box.
To watch Blu-ray movies on your Xbox One, go the Store and Search for the Blu-ray player app.
Get A List of People You've Blocked
There's an easy way to get a list of all the Xbox Live members who you've had to block over the years. With the Xbox One controller head to the Friends app. Then press Menu button on the center-right of your controller and select "People I've blocked" from the drop-down menu.
Favorite Friends to Keep Cut Down on Clutter
The now upgraded Xbox Live finally ditches all the shackles that kept its Xbox 360 brethren from being great for overly social gamers. Its Xbox 360 incarnation forced people to keep their friends list down to just 100 people. The Xbox One's version of Xbox Live allows user to follow however many people they want and have up to 1000 friends. The trouble with this is that it also puts users in a situation when they can't actually easily keep track of  their closest friends.
To remedy that problem Microsoft has added the ability for Xbox One users to favorite their friends and put their profiles front and center.
To friend someone head to the Friends app and select the Xbox Live user you would like to friend. Then select Add to Favorites from the menu.
The Menu button
Simply put, the Xbox One's interface is sometimes strikingly utilitarian. As such, there are options and features that one might never find if it wasn't for the Xbox One controller's Menu button. It isn't a hidden feature in itself, but nearly every single option that isn't on screen is accessible with the Menu button.
If you can't find an option, hit the Menu button on the center-right of your controller, chances are that's where it is.
See What Kinect Sees
Having trouble with the Xbox One's Kinect 2 sensor? If you worried that something might be block the sensor's view of you on your couch or other things in the room check out the See What Kinect Sees option in the Settings app. It also includes a heat map of the things that appear closer to it and farther away. It'll even attempt to identify anyone in the room by their Gamertag.
Guest Accounts
Have guests over who you want to be able to use your Xbox but don't want them tampering with your Xbox Live profile and settings? Create a guest a count that gives them limited access to your Xbox One's features.
To create a guest account go to the Settings app and scroll over to the right until you see Guest settings. Select create a Guest key using your Xbox One's controller. You'll need to remember the pattern you input so that you can pass it on to guests when they're over.
How to See Who's Online Now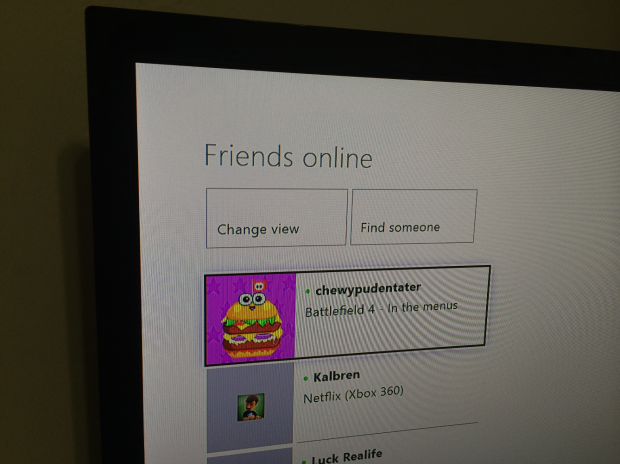 Want to see which one of your Xbox Live friends are online now? Go the Friends app and select Friends from the menu. Then select Change view to sort all of your friends by whose actually using their Xbox console at the moment.
Adjust TV Volume Without Your Voice
Being able to adjust a paired television's volume is handy, especially for gamers who like to play late at night but don't want to accidentally wake anyone up – or at last it would be if the Xbox One allowed users to change their televisions volume using the controller itself.
Sadly, Microsoft hasn't added that feature just yet, but those with Xbox One's SmartGlass app installed on their phones, tablets and laptops can adjust the console's volume. Simply open the Xbox One SmartGlass app and tap on the remote icon. Then tap or click on the plus or minus signs to raise or lower the volume.
Xbox Watch from Anywhere…
Sometimes you just want to quickly watch your favorite channels without having to pick up a controller or wave your hands in the air. Thanks to the Kinect 2 sensor and the Xbox One's multitasking features that's pretty easy.
If you've already setup television functionality on your Xbox One, simply say "Xbox, watch…" and the name of the channel. The Xbox One will immediately open the Xbox One's TV app and turn to that particular channel. The feature is great for users who are about to settle in for a must-see film or want to catch the latest breaking news without fumbling for the remote.
SkyDrive Camera roll integration
A lot of the Xbox One's functionality is backed by other Microsoft-made products. Often, that means that these products combine for some pretty interesting scenarios across products. Take SkyDrive, users with the SkyDrive app installed on their iPhone or Windows Phone can take a photo with their phone and almost instantly view it on their Xbox One.
To check out the feature download the SkyDrive app from the Xbox One App Store. Once it's installed and you've taken a few photos go the TV app and say "Xbox, OneGuide." Say, "App channels." The SkyDrive app automatically includes access to the user's SkyDrive camera roll. You can also access this feature with your Xbox One controller by navigating to the TV app, then pressing the Menu button on the center-right of your controller. Select OneGuide and then select App channels.

This article may contain affiliate links. Click here for more details.