20 Best OS X Mavericks Features
OS X Mavericks was recently released unto the public as a free download, making it the first time ever that an OS X update has been been free, dropping the previous $20-$30 price tag of major updates to Apple's desktop operating system. From the face of it, Mavericks may not look all that different aside from the new default wallpaper, but there are a lot of new features to look over.
For example, there are new desktops apps and performance improvements that increase battery life for MacBooks. There are also smaller tweaks that are a bit hidden, but they add a world of greater functionality to the OS. We've given Mavericks a thorough self-tour and came up with a list that you'll enjoy. Here are the 25 best features in OS X Mavericks.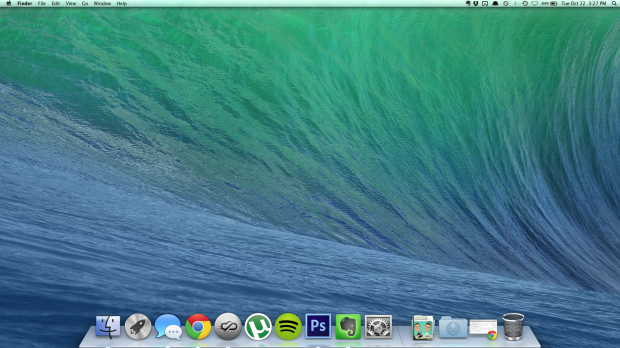 Send Directions to Your iPhone from Maps
OS X Mavericks now comes with a desktop version of Apple Maps, letting you explore the world just like you've been able to do on your iPhone and iPad, except on an even larger screen this time around. One of the best features of Apple Maps for Mavericks is that you can look up directions on your Mac and send them straight to your iPhone before you head out the door.
Read iBooks on Your iOS or OS X Device
Mavericks also comes with a desktop iBooks app that lets you read your digital books right on your Mac, and you can even sync your book library between Apple devices, so that you can continue reading from where you left off on your Mac if you need to head out and read on your iPhone or iPad.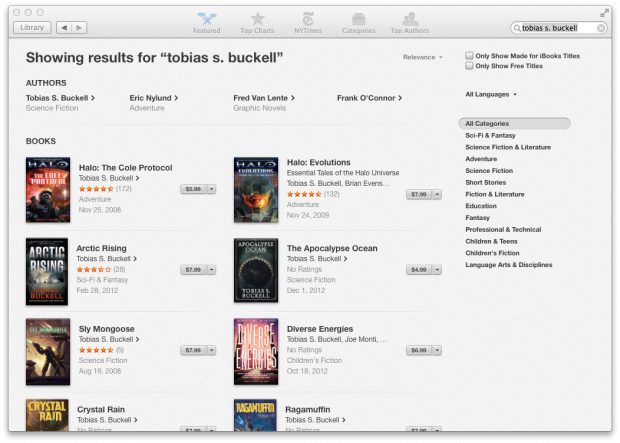 Better Multiple-Display Support
Improved support for multiple displays makes it easier to work when you have a lot of windows open. Each display will now have its own menu bar, and the dock will automatically switch to the active display when you move your cursor to the bottom of the screen. Overall, it now feels like OS X is actually compatible with more than one display now, allowing to get your work done a lot faster.
Tags and Tabs in Finder
Finder has replaced Labels with Tags, with the difference being that Tags are categorized by color, and you can filter out different files by assigning them different tags and only viewing a certain tag. As for tabs, this has been a highly-requested feature, and it essentially allows you to have multiple Finder windows open, except they're all contained in one window to keep things from getting cluttered.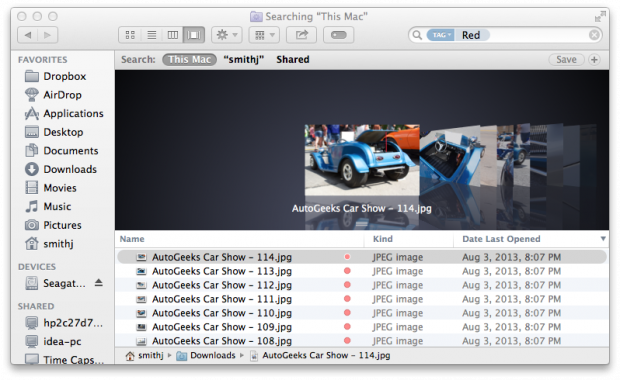 Calendar improvements
The Calendar app in Mavericks has a completely new look, and there's now a new week view where you can see Facebook events. There's also a new view that shows travel time, weather and even a map of the location of the event, so that you can know all about how to get there without getting lost.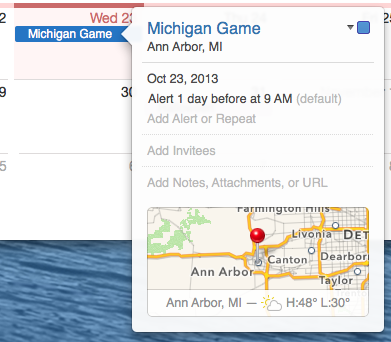 Improved Notifications
Notifications has been updated, and even though it's a minor update, there are still a few improvements that make notifications tons better. You can now reply to IMs, FaceTime requests or Emails right from the notification screen without even opening up the respective app. You can also set up notifications in Safari so that you'll get notifications for certain websites.
Better Battery Life
Apple claims that OS X Mavericks gives your MacBook a one-hour battery life boost, as well as 1.5 extra hours of iTunes video playback time, which is enough to possibly fit in another movie before your MacBook dies on you.
Smarter Battery Options
With Mavericks, you can now see which of your apps are sucking the most juice from your battery. This is especially handy when you're running on fumes and need to save as much battery life as possible; you can close out of certain battery-hogging apps. To do this, click on the battery icon in the menubar and it will show what apps are using the most battery power.
iCloud Keychain
iCloud Keychain stores all of your iOS password information, as well as credit card information, and now that Mavericks has support for it, users can sync this information between Macs and iOS devices. This makes it easier and faster to log into various services, no matter what device you're on.
Sync Text Shortcuts Between iOS and OS X
In iOS, you're able to create keyboard shortcuts that let you type out long sentences by just typing in a shortcut phrase. Now, Mavericks can sync these shortcuts between Macs and iOS, so that you'll always have them on any Apple device you're using.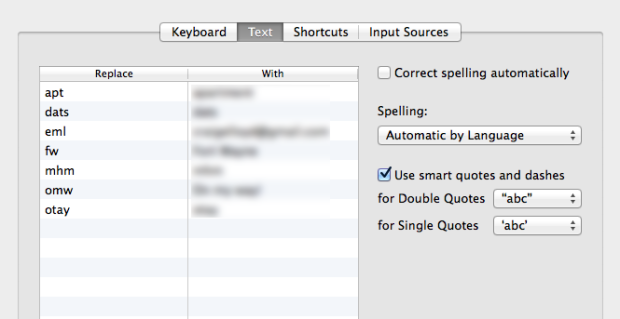 App Nap
App Nap is a new feature in Mavericks that helps save power and, thus, increase battery life. App Nap conserves power by slowing an app down that isn't being used. It's definitely a great feature if you're on the road a lot and don't have access to a lot of outlets around you. Of course, you can also disable App Nap for certain apps by right-clicking on it, selecting Get Info and check the box called Prevent App Nap.
Check Which Apps Are Accessing Your Location
You can view which apps do and do not have access to you location by opening up System Preferences > Security & Privacy, clicking on the Privacy tab, and selecting Location Services in the sidebar. Here, you can view which apps have permission to use your location.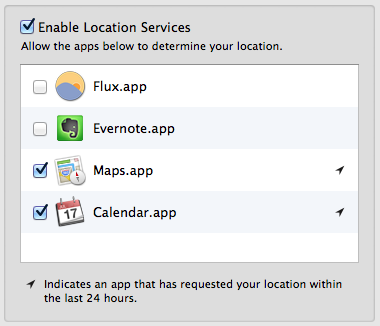 Easily Identify Newly-Installed Apps
Ever since iOS 6, iPhones and iPads included the ability to see which apps were newly-installed. OS X hasn't had this feature until Mavericks released. Now, whenever you download and install a new app, opening up the Launchpad will reveal glistening stars shining around the app you just installed. Magical!
Automatic Updates in the Mac App Store
Just like with the iOS App Store update in iOS 7, OS X Mavericks now comes with the ability to update apps automatically.
System Updates Now Appear in the Mac App Store
Previously, system updates for OS X had its own portal for downloading and installing, but in OS X Mavericks, they now use the Mac App Store to download and install, which centralizes app updates and software updates into one convenient portal.
Offline Voice Dictation
Voice Dictation was introduced in OS X Mountain Lion, but it required an internet connection to work. However, Mavericks now allows you to use voice dictation offline by downloading the required software. Open up System Preferences > Dictation & Speech and check the "Use Enhanced Dictation" box. The download is over 500MB, but it'll allow you to use voice dictation no matter the circumstances.
Move Around the Dashboard
Opening up Mission Control will now allow you to drag the Dashboard to around to any position, whether you want it all the way on the right side of your multiple desktops or somewhere in the middle. This makes it convenient to organize Mission Control to your liking.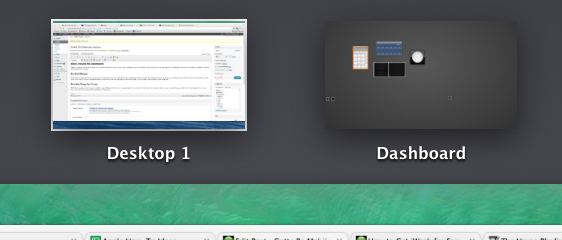 Do Not Disturb
OS X Maverick's Notification Center now comes with Do Not Disturb, just like on iOS. Simply open up Notification Center and swipe up or down (depending on if you have the scrolling reversed). This will reveal an on/off toggle for Do Not Disturb. From now on, you won't receive any alerts for notifications. They'll still get saved into Notification Center, but you'll have to check yourself in order to see them.
Quickly Bring Up Emoji
OS X Mavericks adds a ton of the same emoji that we get in iOS, and while they show up automatically when you type in the text version of a certain emoticon, you can manually bring up a list of emoji in order to place in the one you want. All you have to do is press Cmd+Ctrl+Space to bring them up.
Today List in Reminders Shows Items Due Today
The Reminders app in OS X Mavericks now shows a Today view that gives you a list of all your reminders that you set for that particular day. It's certainly a convenient feature to use if you live your life day-by-day.
Facebook Video-Sharing from Finder
In OS X Mavericks, you can now share a video to Facebook right from Finder. Just highlight the video that you want to share and click on the Share button in the Finder toolbar. This will bring up a list of services that you can share the video to, with Facebook being a new addition to the family. Of course, you'll have to setup your Facebook account with OS X before you can do this.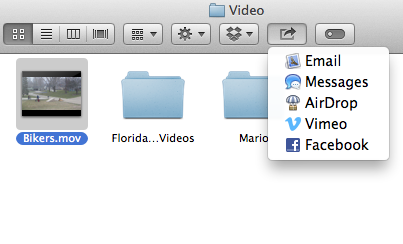 As an Amazon Associate I earn from qualifying purchases.