20 Reasons OS X Mountain Lion Is Worth $20
The best way Mac owners can spend $19.99 is to head over to the App Store and upgrade to OS X Mountain Lion.
The OS X Mountain Lion update (OS X 10.8) can be installed on multiple Macs, so long as they're all using the same Apple ID for App Store purchases. Households with multiple Macs will benefit the most, driving down the price to just a few dollars per machine.
Apple's latest OS X release has more than 200 enhancements. Here are 20 of our favorites, which are surely worth $1 a piece.
https://www.youtube.com/watch?v=ZJJfsvOoWWQ&feature=player_embedded
Notification Center
OS X Mountain Lion brings the Notification Center from the iPhone and iPad to the Mac with built-in support for Messages, Reminders and third-party apps.
A two finger swipe from the right of the trackpad opens the Notification Center where you can see all of your notifications.
The Notification Center also replaces Growl, offering pop up notifications and alerts in the banner or alert style as well as the ability to turn off notifications.
AirPlay
With AirPlay whatever's on your Mac's display can be mirrored  onto an HDTV via an  Apple TV. The update makes sharing your display and audio as easy as using AirPlay on the iPhone or iPad.
One of the best parts about AirPlay for Mac is the ability to stream the video from any Web site or video service to the HDTV. This means you can now stream video from sites like Hulu, network and cable stations to your HDTV without any restrictions.
Here is an Airplay for Mac demo on OS X Mountain Lion.
Unfortunately, AirPlay can't turn the HDTV into a second display to provide more work space.
Dictation
Mountain Lion includes a new tool that lets you dictate to your Mac, just like on the iPhone 4S. It doesn't allow for voice commands like Siri, but it can make typing faster.
Mac Dictation works in any text field on the Mac, and it's easy to start dictation with a double tap of the function key.
The new dictation feature handles punctuation, like "comma" or "period" and supports English (U.S., UK, and Australia), French, German, and Japanese.
Normally a good dictation program like Dragon Dictate for Mac runs $199. Dragon Dictate is much more capable than Apple's Dictation, but some users will appreciate the simplicity of the native feature.
Game Center
Mac gamers can use the new Game Center to keep track of their progress in games on the Mac and iOS. Like the iOS version of the app, game Center for Mac shows leaderboards and achievements so players can compare their progress to their friends'.
Game Center also makes it easier to find games on the Mac. Launching the app opens a screen with the user's stats surrounded by popular Game Center games. Right now the selection is sparse as very few Mac games use the service, but it does have great games like Anomaly Warzone Earth, Sky Gamblers, and Cut The Rope.
After Mac gamers find a few games on Game Center they can play those games online against anyone else on a Mac or iOS device. So gamers who like flight games can buy Sky Gamblers on the Mac and play against other players who might use an iPad or iPhone at the same time.
Notes
Finally, Notes syncs across all Apple devices. After installing OS X Mountain Lion, iCloud will sync notes between all machines.
This is no Evernote replacement, but for most users this beats TextEdit for a quick place to jot notes and start documents.
With the iCloud syncing these notes are also available on the iPad and iPhone without the need to send or export to another service.
Safari iCloud Tabs
The new version of Safari includes a unified search and address bar, but that is available on Lion as well.
The new iCloud Tabs syncs the open tabs across all iOS device to iCloud and on to the iPhone and iPad.
This allows me to open up the same webpages on my phone as i have on my computer, and to pick up reading a longer article on my computer without saving or emailing the link to myself.
Reminders

Reminders makes the jump from iPhone to Mac with his Mountain Lion exclusive app. Reminders not only syncs with iCloud to keep all of your reminders in check across all Apple devices.
Reminders offers reminders on a specific day and the ability to set a location to be reminded. This allows you to set a reminder that triggers when you leave home or arrive at a specific location.
Messages
The new Messages App offers an integrated messaging experience, including the ability to send messages to iPhone and iPad users.
The Messages app replaces iChat and is capable of connecting to various third-party chat services like Google Talk and AOL Instant Messenger.
Apple offered a beta that let OS X Lion users try Messages, but it is now an iOS exclusive feature.
Sharing Large Attachments in Messages
With Messages there's no need to upload a large file to Dropbox or other third-party sharing services to send files to friends and coworkers.
Enter the Apple ID of a friend or coworker and you can send them files up to 100MB in size.
Built-in Sharing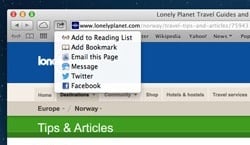 Safari and other OS X apps are set up to share with many social networks and services. Users will find the Share Button in Safari for sharing to Twitter and later this fall Facebook.
The Sharing is also in Notes, where users can share a note in Messages or via email. The email solution is even smart enough to open Chrome and load Gmail for users who don't have Mail set up.
Sharing also exists in Photo Booth, Contacts and iPhoto.
Gatekeeper
Apple includes a new security tool in OS X Mountain Lion which can help prevent the installation of Malware.
By default, the Gatekeeper app only allows apps from the Mac App Store and trusted developers, but users can change the settings to allow any app to install.
PowerNap
Power Nap keeps your Mac up to date, even when it's sleeping. This means you'll see notifications, messages and more as soon as you wake your Mac, even if you do so when you're away from a wireless network.
Watching a Mac run system updates can be annoying as it can put the computer (and your work) out of commission for several minutes at a time. PowerNap allows Macs to run these updates while the computer is sleeping.
Power Nap only runs when a MacBooks is plugged into AC outlets, which means it won't drain its battery.
iCloud Document Syncing
The new version of iWorks apps connect with iCloud in Mountain Lion to sync documents to the all Mac and iOS devices using the same Apple ID.
This means Pages, Keynote and Numbers documents will stay up to date across your computer, iPhone, iPad and iPod Touch without the need to sync or connect to your computer.
Better Mail
The new Mail in Mountain Lion probably won't convince many users to switch from Sparrow or other mail clients, but it is a bit better than it was.
The new app makes it easier to find emails from important contacts with VIP contacts. To enable VIPs users need to hover over a username and click the star that appears next to it. The contact is then labelled a VIP, and users can find every email from that person by clicking VIPs in the menu bar just above the messages pane.
The new Mail.app also includes inline search so users can search a single email for words instead of having to skim through it.
Apple took the RSS feeds option out of the Mail app, but we feel like that's an improvement as the app was never great for reading feeds.
Three Finger Touch to Preview
Apple introduced Quick Look to the Mac with Leopard, and it received an overhaul in Lion. In Mountain Lion it gets another small upgrade.
Users no longer have to hit the spacebar to open Quick Look, they just need to tap the document with three finger on the trackpad. It's a small feature, but a nice one for users who use Quick Look a lot.
Contacts App
The new Contacts app replaces the address book with better connectivity to social networks to put a face with contact information.
When Facebook integration arrives this fall, the Address book will automatically update when your friends update information on Facebook.
The new Contacts app simplifies sharing contacts and includes an option to create smart groups of contacts
Software Updates in Notification Center
Stay on top of Notifications with the new software update notifications. When there is an OS X update or an update to Apps purchased from the Mac App Store users will get an unobtrusive notification.
Instead of interrupting work, this keeps the update notifications at hand, but not out of sight.
Search in Launchpad
LaunchPad is a useful tool for quickly finding and launching applications, but it can get cluttered as you add applications, creating multiple pages. Now you can simply search for apps rather than swiping from page to page in search of it.
Dashboard Offers LaunchPad-Inspired Widget Selection
The Dashboard now offers a LaunchPad style widget selection tool to make it easy to find the widget you want and add it to the Dashboard.
The Dashboard widget selection screen also features search like the new Launchpad, so it's easy to find a widget even if you have many installed.
Flickr and Vimeo Integration
In addition to Twitter and Facebook Apple added a few social networks specifically for creatives. Users can also sign into Vimeo and Flickr in System Preferences to easily share videos and photos across the social networks.
Sharing to the networks is just like sharing to Twitter, uses simply have to right-click the file in Finder, or click on the share button in Quick Look and choose the network to send it to. Users are then given a share sheet like the one used for Twitter, but with options for title, description, and tags. After filling out the information Mountain Lion automatically uploads the file to the service.
It's an easy way share photos and videos, and even supports multiple photos for Flickr. It's much easier than using the web uploader or apps like iPhoto. Not every user will want to share photos and video to the services, but for those who do, this is a feature they might find themselves using a lot.

As an Amazon Associate I earn from qualifying purchases.