20 Windows 10 Tips & Tricks from A Fanatic
Other people tolerate Microsoft's Windows 10 operating system. If i'm being totally honest with myself, I love Windows 10. Some of that love is due to some Windows 10 tips and tricks I've picked up over the last year.
It's not that I love everything about Microsoft or Windows 10; there are some things that I simply can't stand about them both. What I do appreciate is the amount of customizing that you can do and how far-reaching the tendrils of Windows and its core services are at this point. My Windows 10 machine is just as good as any Mac, once I've made some changes to the way it works and behaves.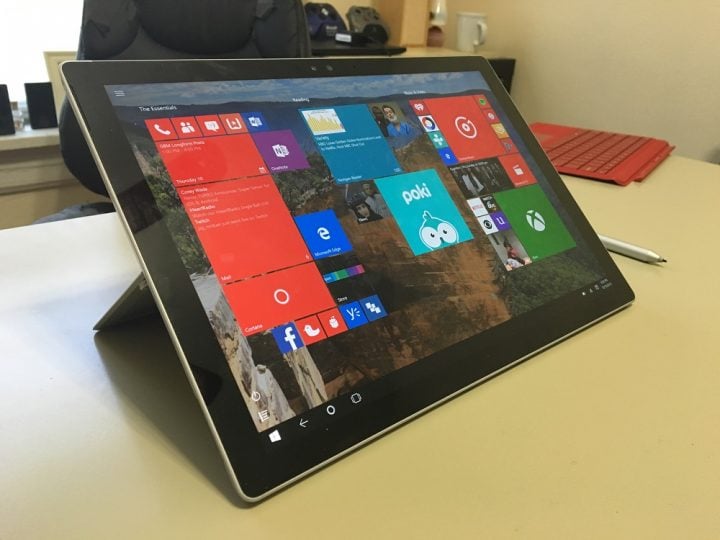 I'm not promising that you too will love Windows 10 if you make the same changes to your device that I have. I do think you could find yourself able to tolerate Windows 10, at the very least.
Windows 10 Tips: Turn On Device Tracking
My journey with configuring a Windows 10 PC always starts with security. Windows 10 has built-in virus protection that I choose to use instead of third-party solutions. This is also the first version of Windows that comes with some basic tools to help you retrieve your lost or stolen device.
Go into the Settings app and tap or click on Update & Security. Look for the Find My Device menu option. Turn this on to let you track your device through Microsoft's website if you should ever need to. Note that it uses internet connections to pinpoint where your device is, unless your device has built-in GPS technology.
Windows 10 Tips: Enable Cortana Always Listening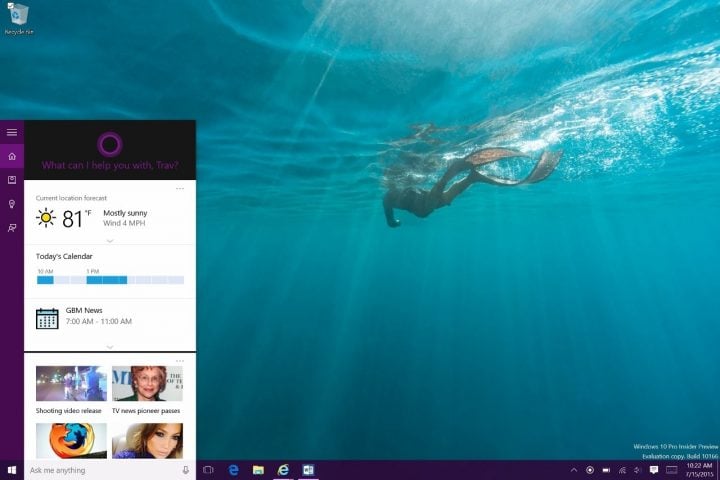 The single best feature of Windows 10, is Cortana, the digital assistant that first came to Windows Phone before expanding into Windows, iOS and Android this year. She's my scratchpad and encyclopedia. Having her in Windows and syncing to my iPhone makes every day run a bit smoother. Once I've got security nailed down, I move on to enabling her.
Click or tap on the Cortana icon to the left of the Windows button on your Taskbar. After agreeing to Microsoft's Terms & Conditions, go into her Notebook and explore her settings. Enable Always Listening so that you can give her commands whenever you need to. You may want to tell her some information about yourself too.
Read: How to Use Hey Cortana with Windows 10
Windows 10 Tips: Change Time Zones Automatically
Windows has been able to change its own clock for to adjust for daylight savings time for years. One of the few features Microsoft added in the Windows 10 November Update was the option for Windows to manually adjust for changes in Time Zone. I traveled a lot last year. Sometimes didn't remember to adjust my Surface Pro 4 accordingly.
Enable Time Zone adjustments by tapping or clicking on the clock in the Taskbar. Then tap or click on Date and Time Settings.
Windows 10 Tips: Install Microsoft Companion Apps on Your iPhone or Android Device
Using a Windows Phone for years allowed me to get access to the same apps and services of Microsoft's from anywhere. When I switched away from Windows Phone a few years ago I thought I was leaving all of Microsoft's services behind. I did ditch some of them, but not all of them.
OneDrive, Outlook, Cortana, Groove Music, OneNote, Word, PowerPoint and Excel are available in the iTunes Store and the Google Play Store.
Windows 10 Tips: Try Office 365 or Replace It With Something Else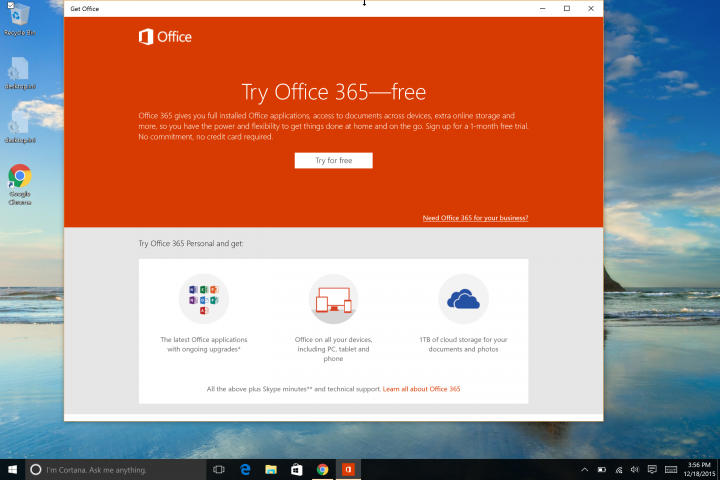 Millions of businessmen, craftsmen and computer lovers the world over swear by Microsoft's Office suite of productivity apps. With Windows 10, Microsoft introduced new versions of the primary Office apps that are better suited for touch and casual users.
The first thing that I do productivity-wise on Windows 10 PCs that have a free trial of Office 2016 or Office 365 installed is uninstall them. I go to the Windows Store and replace them with the always saving, always connected, light-weight Word Mobile, OneNote Mobile, Excel Mobile and PowerPoint Mobile apps.
Read: How to Get Free Microsoft Office in Windows 10
You do need an Office 365 account to enjoy them if your device's display size is less than 10-inches, but they're well worth the $69.99 investment each year.
Windows 10 Tips: Pin Music, Games and Books to Start
The Start Screen/Start Menu isn't just great for accessing information from apps at a glance. In some instances you can add media directly to Start instead of having to dive into an app first. As you download apps from the Windows Store, look for options to Pin things to Start. Groove Music, Kindle, NextGen Reader, Outlook Mail, Readit and more offer this option.
Windows 10 Tips: Flip One Switch and Add Some Color to Windows 10
Drab and gray, that's what Windows 10 looks like by default. I inject a bit of personality and color into the operating system by adding the accent color to the Taskbar and Start Menu. Usually, it's to compliment whatever color Surface Type Cover I'm using at the moment.
Go to Settings app. Tap or click on Personalization. Now choose Colors from the menu on the left. There's switches for adding your accent color to the Action Center, Taskbar and more. Also note that you can have Windows choose an accent color that's inspired by your Desktop picture.
Windows 10 Tips: Don't Use Microsoft Edge
Early in Windows 10's life, I was positively on the side of giving the Microsoft Edge web browser a try. That time is over.
With the Windows 10 Anniversary Update, the company added Extensions and a few other features. Problem is, Edge is still unstable and buggy at times, forcing me to use Google Chrome for some web browsing.
I've stopped using it; and don't recommend it. Stick with Firefox or Chrome.
Windows 10 Tips: Uninstall Apps That You Find Unnecessary
Windows 10 comes stocked with a nice selection of apps. Most PC makers build on this, adding their own apps to the mix for a better experience. Here's the thing, some of these apps are useful. Others are completely unnecessary depending on your habits.
Tap or click on All Apps in Start. Next right-click or tap and hold on an app that you don't want. Select Uninstall. Apps essential to Windows 10 can't be removed, but unnecessary stuff can. I'd start with Candy Crush.
Windows 10 Tips: Create Multiple Desktops and More with TaskView
This isn't a setting, but rather a tip. On your Taskbar there's a button beside the search bar that allows you to easily switch between different apps and get a complete look at what you have open. It's called TaskView and definitely use it if you're one of those people who has a ton of open apps and programs to manage like I usually do.
You can also open TaskView by pressing the Tab and Windows keys at the same time.
Windows 10 Tips: Snap Apps To Every Corner of Your Screen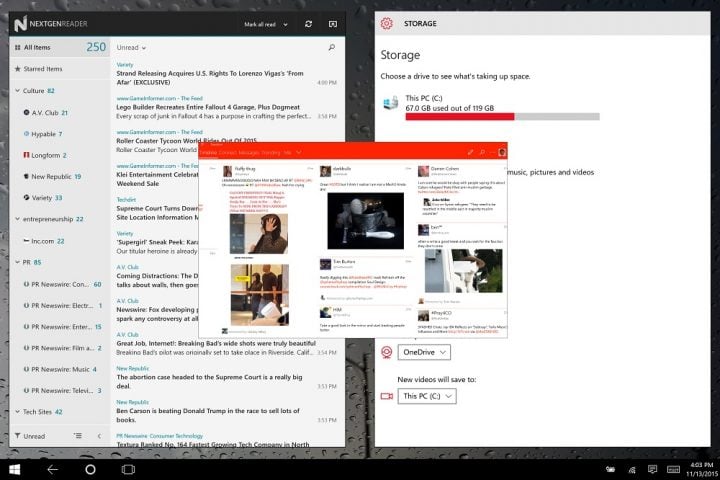 Another tip instead of a setting, Snap apps to the sides and corners of your screen by dragging them with your mouse or finger. They'll automatically resize. Windows 10 will also list other apps that you have open and may want to multitask with.
Windows 10 Tips: Reconfigure Your File Locations to Sync Everything to OneDrive
Microsoft neutered the OneDrive syncing client for Windows. Why that is remains a mystery, but one of the things that drive me crazy in recent years is how you need to do a bit of trickery to get all of your files to OneDrive if you don't want to have to manage them yourself.
You're better able to manage your local storage and what's on OneDrive if you configure the app to sync entire folders down to your PC. Do this by clicking or tapping on the cloud icon in the Taskbar on the right. Select all the folders that are important to you to sync.
I also map my personal folders to companion folders in OneDrive so that everything saves to the service by default. You can do this by right-clicking on folders like Documents, Music and Video and changing their file location to folders in your OneDrive.
In the System area inside the Settings app under Storage there's an option for deciding where your files are saved. Don't hesitate to take advantage of this option too.
Windows 10 Tips: Store Your Music on OneDrive and Stream with Groove Music
Microsoft's Groove Music can reach out to OneDrive and play any music that you're storing there, streaming it as if it's a part of your local collection. To get going, add music to OneDrive's music folder online or through the syncing app. Groove will automatically detect it.
Windows 10 Tips: Turn On Windows Hello or Passcode
Not all Windows 10 devices have it, but there's a feature called Windows Hello that makes it crazy simple to login without just a gaze or a swipe of you finger.
Go into the Settings app and choose Sign-In options from the Menu on the right. If your computer is compatible, go ahead and setup Windows Hello. All Windows PCs can be configured with a passcode too. If you don't have Windows Hello, go for a passcode instead. Both keep me from having to retype my very long and complicated real Microsoft Account password.
Read: How to Login with Windows Hello in Windows 10
Windows 10 Tips: Subscribe to Game Hubs
Microsoft recently began adding Game Hubs to Windows 10 so that those of us who play games on our PCs can still use the Xbox app as our starting point for game news. Open the Xbox app, then look for the Game Search area. There you can add PC classics like Roller Coaster Tycoon and big-name modern releases like The Witcher 3. 
Windows 10 Tips: Add Your Game Links to the Xbox App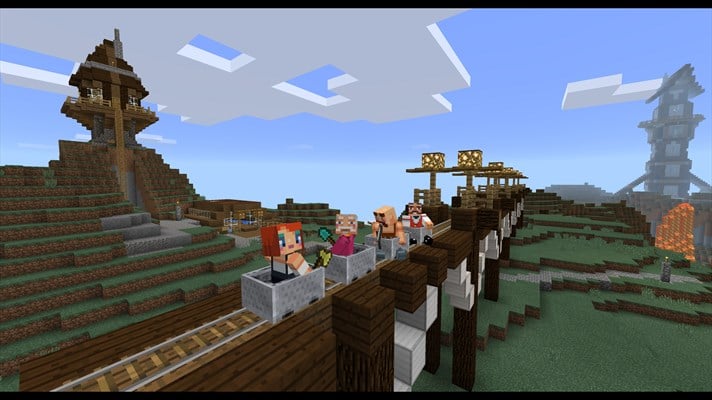 Microsoft says that its Xbox for Windows app is a one-stop shop for playing games inside and outside of the Windows Store. The company is right; the app does let you record video and take screenshots from games, plus other cool stuff.
When you install a game inside or outside of the Windows Store, it'll surface in the Xbox app on your Windows 10 PC. You can manually add games that don't show up there by default. I add all of my games here for mental clarity. It also helps that it keeps me connected to Xbox Live when I'm away from my Xbox.
Read: How to Use Xbox on Windows 10
Windows 10 Tips: Switch In and Out of Tablet Mode Automatically
Windows 10 2-in-1s have a feature that lets them switch in and out of Tablet Mode when a keyboard is detected. Manufacturers decide whether this switch happens automatically or if users should be asked if they'd like to switch. I turn this feature on by default so that the entire experience is a bit more seamless. If I've removed my keyboard I clearly want to be in a more touch-friendly environment.
Turn this on from the Settings app. It's listed in System under Tablet Mode.
Read: How to Use Tablet Mode in Windows 10
Windows 10 Tips: Add Shortcuts to the Action Center That Make Sense for Your Device
The Action Center offers quick shortcuts to what Microsoft has determined are most used settings. Thankfully, you can go beyond this and add some settings to it of your own.
Listed in the Settings app under System are the Actions and Notifications options. Choose which settings you'd like to quickly have access to from there.
Windows 10 Tips: Turn On Battery Saver at 30% and Make Some Exceptions for Your Crucial Apps
The last thing I do is take a hard look at storage and battery life. Storage is pretty easy to get a grasp on, Microsoft has an analyzer in the System area that lets you get a quick look at what apps, programs and games are taking up the most space on your system.
Battery life takes some time though. Use your Windows 10 device for a few days, then dive into the Battery Saver area from the Settings app under System. Windows 10 provides a detailed breakdown of what apps and services are consuming the most power. From there you can choose to uninstall or not use the apps affecting your device's battery life the most.
Read: How to Get Better Windows 10 Battery Life
Windows 10 Tips: Switch to Windows Store Apps Gradually
I know that some people recommend switching to as many Windows Store apps as possible, but I don't think that's the best strategy.
Windows 10's best feature is that it marries a new app ecosystem with the huge programs ecosystem that already exists. You're going to find apps in the Windows Store that are terrific for your needs. That doesn't mean that you should immediately try to replace every program you have with an app from the store.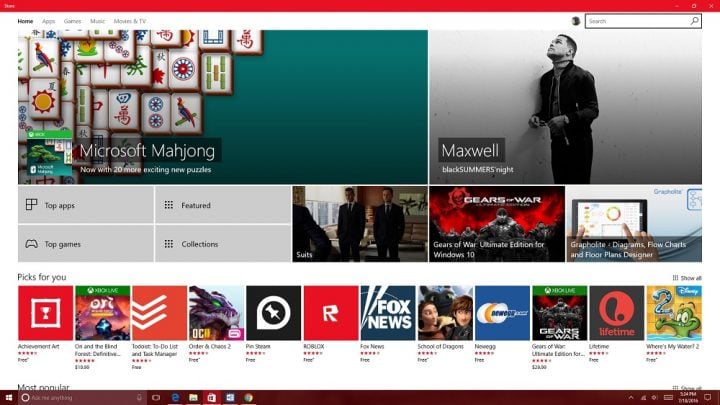 The traditional version of Microsoft Office is still the best. The Skype client that you download to your computer from the service's website is still way better than the Windows Store app that's included in Windows 10.
Evaluate any of the apps you install from the Windows Store before uninstalling a program you're using for the same task. Some aren't a match for their older counterparts.
Don't stick to just making these changes. Explore the settings and options that are in Windows 10 to tailor it more to your style. There are enough toggles and switches for popular features that you should end-up with a Windows 10 that's more tailored to your needs specifically.
Good luck.

As an Amazon Associate I earn from qualifying purchases.