$200 Tablet Display Accessory Converts Your iPhone 4 Into an iPad Tablet!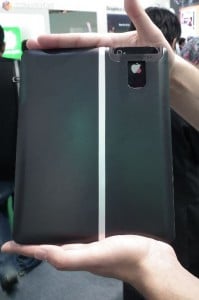 Not to be outdone by Asus with its newly announced Padfone device at the Computex trade show in Taiwan, ECS and ICE Computer have joined together to show off a prototype of the same hybrid convertible form factor that will convert an ordinary iPhone 4 iOS smartphone into an iPhone 4-powered tablet akin to an iPad! Best of all is the accessory's relatively low asking price of $200.
Essentially, similar to the Padfone, a modular dock on the rear of the tablet is where users can slide their iPhone 4 into. The device itself just houses the large 9.7-inch 4:3 aspect ratio display, connector and dock for the iPhone 4, SD card, front-facing camera, and two USB ports.
Once docked, the dock connector will output what you see on the iPhone 4 via HDMI and connect that content to the display, just as you would if you were to connect your iPhone 4 to an HDTV or to a projector, for example. The companies involved says that the docking slot is modular, and can potentially work with Windows Phone and Android devices via simple upgrades or alterations. Hopefully, we'll see some device-specific dock accessories be available as well for Android users, and the company is saying that device is future-proof and would work with slight modifications for the iPhone 5!
The benefit here is that users don't have to manage both an iPad and an iPhone, and the concept is similar to the Motorola Atrix 4G, Asus Eee Pad Transformer, and the new Asus Padfone in having a multi-purpose device that can change and transform to different form factors. In terms of overall cost, it will definitely be cheaper for iPhone 4 owners than having to get a separate iPad 2, but there are some limitations with the solution as well. For one, games optimized natively for the iPad 2 may not be as smooth running on the single-core A4 CPU on the iPhone 4. Additionally, various apps may upscale what's on the iPhone 4 to fit the display on the tablet accessory, rather than displaying contents natively like on the iPad 2.
The accessory still doesn't have a name nor a launch date at this time. For comparison, the laptop dock that the Eee Pad Transformer goes into to convert from tablet to laptop form factor costs $150 while the Atrix 4G's Laptop Dock accessory costs $300 ($400 at launch). The difference is that when docked, the Atrix 4G used a custom Linux-based Webtop OS whereas Android 3.0 Honeycomb is present on the Transformer in laptop or tablet mode.
Via: 9to5 Mac

As an Amazon Associate I earn from qualifying purchases.