2013 Ford Fusion Review (Video)
The 2013 Ford Fusion is an all new car that delivers a fresh aggressive look for 2013 and enough tech to keep drivers connected and entertained while on the road.
The new 2013 Ford Fusion is available in seven models including a hybrid and plug-in hybrid model, all of which offer smartphone connectivity, navigation and a variety of body styles at prices starting from $20,000 to $40,000.
I purchased the 2013 Ford Fusion Titanium, with an 8-inch MyFord Touch screen and system that delivers voice control of many car functions and the user's Phone. MyFord Touch is a higher end version of SYNC and like this feature it connects to iPhone, Android, BlackBerry and Windows Phone to make calls and stream music.
After comparing the 2013 Ford Fusion and other mid-size sedans like the Toyota Camry and Honda  Accord, I purchased the Ford Fusion because it combines great technology with a fun driving experience and new car looks that could cost twice as much.
2013 Ford Fusion Review Video
Take a quick look at my favorite 2013 Ford Fusion features and the overall design of the car.
2013 Ford Fusion Design and Features
The 2013 Ford Fusion brings a new look to the Fusion that turns the model from a smaller version of my in-laws Taurus into a vehicle full of great curves and a dominating grille that is easily mistaken for that of an Aston Martin.
While the grille sets the stage for the 2013 Ford Fusion it isn't all there is to look at. A beautiful body wraps around to the back, and the Titanium model includes a body style that completes the look with dual exhaust openings and strong lines. Ford offers a variety of features including the Moonroof and a built-in garage door opener.
Inside the car offers a new look with a dominating center stack and a very nice cockpit for the driver to sit in. Unlike some cars, the interior of the 2013 Ford Fusion is designed to offer access to the passenger as well as the driver. With the MyFord Touch option users get on-screen and capacitive touch controls as well as a large volume knob to control the climate and music playback. The buttons below the screen are great for finding a control without changing a screen, and while redundant, they are a very welcome addition to the Fusion.
The back seat of the 2013 Ford Fusion isn't as large as a Taurus, but it can easily seat 4 full size adults without causing leg cramps. The center portion of the back seat folds down for an armrest and drink holder.
2013 Ford Fusion Tech
The 2013 Ford Fusion delivers great technology without the high cost of entry luxury brands like Tesla charge and does so in a car that looks and drives great. In short, this is a great mix of technology and car. The MyFord Touch system isn't perfect, but updates are fixing some issues and Ford now offers a five-year warranty on the Sync and MyFord Touch systems standard, so users don't need to worry about expensive repair bills for selecting this option.
The 2013 Ford Fusion Titanium comes with an 8-inch touch screen in the center stack that connects to iPhone an Android without issue. iPhone users can even use Siri while their iPhone is connected, though it is not connected to a button on the steering wheel like Sync commands are. The Titanium model I purchased also includes a 12 speaker Sony audio system and an Intelligent Access key that lets me open the door and start the car without taking the keyfob out of my pocket.
Users can touch the screen or press a button on the steering wheel to control the system, with redundant options that let the user choose between voice, touch screen and steering wheel control for many tasks. I enjoy the options as I use voice when driving alone, relegate other tasks to a few taps on the steering wheel and use the touch screen for others. My wife uses the controls differently than I, but we can both control the same functions.
MyFord Touch Review Video
Every model of the 2013 Ford Fusion comes with SYNC, but I will focus on the MyFord Touch system which is in the model I own.
MyFord touch offers voice controls for changing Sirius Radio stations, switching to Bluetooth Audio to stream music from an iPhone in my pocket and for car features like Navigation and climate control. Yes, I can control the car temperature with my voice.
Ford relies on a four corners approach to the MyFord Touch system.
Upper-left corner is for calls
Upper-right is for navigation
Lower-left is for entertainment
Lower-right is for climate
The main screen shows a section of each of these so users can see the most important information at a glance and control some features like picking a new Sirius preset or turning on heated seats without diving into a specific section.
In order to use Navigation I had to add the option when I purchased the car, I enjoy having navigation on the big screen versus on a phone screen, but even with voice entry it is a pain to enter an address in the system and on occasion the system delivered the wrong address for a point of interest. Users can use MapQuest on a computer to send a location to the car, which is a nice feature to help get around a start of the trip delay.
I enjoy the ability to tell the system I need to take a detour to avoid traffic or a road closure and getting a fast re-route. Unfortunately, this command is started with voice, but requires several taps to complete the route, which means taking a hand off the wheel and eyes off the road. Even though the navigation system does not include free upgrades like Apple Maps and Google Maps offer on my phone, it is worth the price to add Navigation to the MyFord Touch experience.
MyFord Touch controls my iPhone or Android smartphones well, making calls, playing locally stored music and music from apps like Spotify, Pandora and other apps. MyFord Touch does not offer App Link, a SYNC service that connects to compatible apps to bring voice controls to the steering wheel. Ford is working on this option, but it isn't promised to come to older systems.
The 2013 Ford Fusion Titanium includes a backup camera and warning system that makes parallel parking, backing out of parking spots and maneuvering in tight situations easier. Ford offers lane assist and automated parallel parking features, but I did not splurge for these features.
The MyFord Touch system isn't perfect. There are times when I've had to turn the car off and back on or unplug and plug-in a phone to get something to work right, but the system functions properly most of the time. Ford routinely offers new MyFord Touch updates, which have improved performance of the system.
In every car I've owned, the first thing I've done is upgrade the speaker system, so I was pleased to hear the Sony audio system in the 2013 Ford Fusion and know I didn't need to swap out speakers. This is one upgrade I highly recommend for users who love listening to music or audiobooks in the car.
Instrument Custer and Steering Wheel
The driver is treated to two 4-inch displays nestled into the instrument cluster. Users can interact with the screens using steering wheel controls to see information from the MyFord Touch system and vehicle information. The right screen shows info from the MyFord Touch system and lets users perform tasks like setting a common destination, picking an audio source and controlling the temperature and fan speed. I use the steering wheel controls more often than voice or touch.
The left screen shows a collection of car information like RPM, engine temperature, trip info and access to some additional settings. I don't change this screen much, other than to see how many miles I can go on my current tank of gas. The speedometer is not on either screen, but a traditional dial that glows at night and thanks to the on the wheel paddle shifters is easy to get up to the speed limit.
Intelligent Key
The key is such a small part of the car, but the intelligent key with Push Button start was a major factor in my decision to go for the Titanium model. This smart key fob allows me to get in the car without pressing any buttons on the keyfob and start the car while the key is in my pocket. I can also open the trunk by pushing a button on the car, as long as the key is in my pocket.
The Ford Fusion 2013 intelligent key can remote start the car and allows me to open the sunroof and roll down all the windows with the push of a button, to quickly cool down a hot car. Users can also use the keypad on the door to lock and unlock the car with a set of numbers so it's tough to lock yourself out.
Drive, Performance and MPG
If a car looks good and delivers on connectivity, but can't drive it's not a very good car. Thankfully, the 2013 Ford Fusion excels on the road as much as it does in the previous two areas.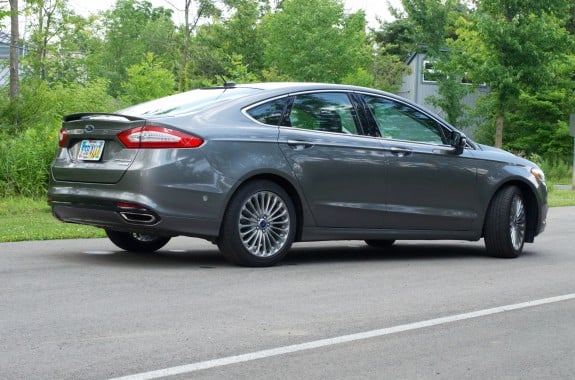 The 2013 Ford Fusion we reviewed comes with the 2.0L EcoBoost engine, an upgrade from the 1.6L model found in most Fusions. Ford offers front-wheel drive and all-wheel drive models, my Fusion is a front-wheel drive model.
Stepping on the gas delivers quick acceleration, and while it is not a sports car, it delivers a thrilling drive that combines the real world conveniences like passenger space and a large trunk with good handling, fast acceleration and enough power to get going quickly.
One of my favorite features is the Sport mode and the paddle shifters on the steering column. I can drive in automatic when I am just going from point A to point B, but when I want to have some fun I can take over the shifting for a more dynamic driving experience.
Ford provides a 22/33/26 estimated mpg rating for the 2013 Ford Fusion. Even with my faster than average accelerations and speedy driving, the car delivers an average combined mpg of 23 miles-per-gallon, with slightly more highway driving. Users who want higher fuel-efficiency should consider the Hybrid and the Fusion Energi Plug-In models.
Final Verdict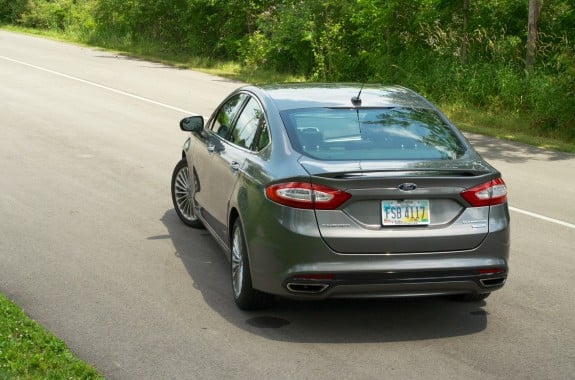 The 2013 Ford Fusion delivers an experience I couldn't find on competing sedans. While the model I purchased does not include Park assist, adaptive cruise control and lane keeping, but there is a lot of technology there to add to the driving experience.
My favorite 2013 Ford Fusion features are;
MyFord Touch
Steering Wheel controls and instrument cluster screens
Intelligent key
Backup camera
Paddle shifters
12-speaker Audio System
The 2013 Ford Fusion isn't a sports car, but it delivers an exciting driving experience that leads to many more impromptu trips and detours through curvy roads.
As my daily driver, with nearly 6,000 miles on it, I've spent more time with the 2013 Ford Fusion than many reviewers were lucky enough to get. After putting spending months and many miles in the 2013 Fusion, it's definitely a car I would buy again.

As an Amazon Associate I earn from qualifying purchases.