2014 Grammy Winning Albums hit Google Play for $1.99
When it comes to finding awesome music to fill our rooms Google has a great selection as they continue to try and take on iTunes, and today they've delivered tons of deals worth checking out.
In a similar fashion to past events and award shows, today Google is offering up tons of deals for all the Grammy award-winning music you may have seen on TV. The Google Play Store has free songs, discounted albums, and heavily discounted older tracks for all those music aficionados looking to add to their collection.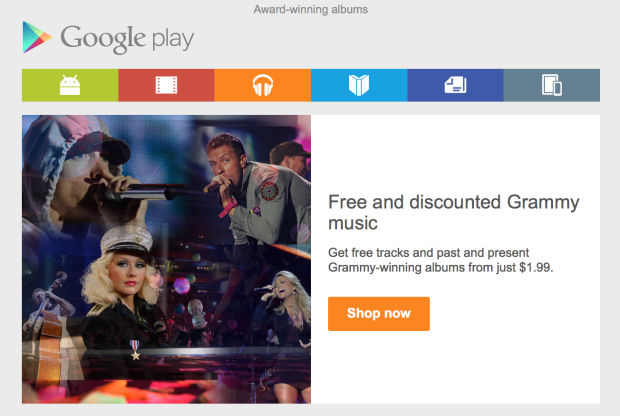 Google recently begun sending emails out confirming that multiple tracks and even full albums are free, or heavily discounted starting today. While you won't find everything that was shown during the Grammy's, all the winners, big hits, and runner-ups seem to be featured. Including winners from previous years.
If you're looking to get the latest Lana Del Rey song for free, they have that, as well as Royals by Lorde which won song of the year, that's also available. What's even better is the entire Lorde Album is only $1.99 for a limited time.
Read: How to Add a Password to the Google Play Store
Mumford & Sons "I Will Wait" is free, and tons of albums are currently going for $1.99, $3.99 and some for $7.99 at the moment. Some aren't the best deals, but if you head to the Google Play Store promotion page there's surely a little something for everyone.
Google even added current and past award-winning albums to the list of deals, so you'll find old stuff like the Eagles and more. If you've been looking to add to that Google Play Music collection now would be a good time to do so, while also catching up on the latest award-winning music from 2013.

As an Amazon Associate I earn from qualifying purchases.