2014 Mobile Tech Predictions
2013 is quickly preparing to exit stage right. 2014 has moved from the green room and is waiting in the wings for its entrance. Who really knows what the next year will bring? There have been some interesting signals and intriguing signs that might tell us something of where we are going in mobile tech. And there certainly are some changes in store that we already know about. What those changes will bring a year from now will be anybody's guess.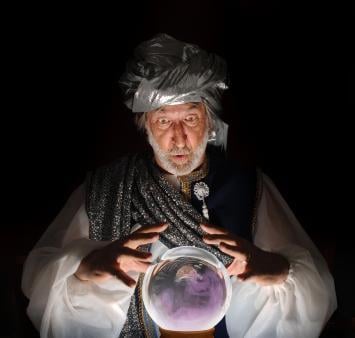 It's still a fight for market share among the mobile tech leaders, and those battles have yielded some positive advances for consumers as 2013 draws to a close.  The differences between devices and platforms have narrowed and consumers have the luxury of choosing between largely equivalent experiences. Yes, some devices have a leg or two up on the others in a category of two, but for most consumers those differences are diminishing. Price point has always been a key component in the purchasing equation, but it is becoming more important as the differences between device quality narrows.
Intel finally brought those who need laptops and ultrabooks a chance at all day battery life with the Haswell chipset, making the choice between a Tablet and a device with a keyboard more difficult in some cases. And for those who like and need Windows, Windows 8.1 looks to make those options even more attractive going forward.
But, the world seems very accustomed to Tablets and smartphones these days as it awaits what's next. And that "what's next" will be the battleground going forward. Just as the mobile tech companies are preparing to deliver context sensitive experiences that turn devices into everything from cash machines to targeted advertising platforms that follow consumers anywhere, the concerns about privacy are becoming a more prevalent topic thanks to Edward Snowden and the NSA. How companies that have been implicated in all of this and how consumers respond will be one of the interesting stories to watch in 2014 and beyond.
There have been some interesting signals tossed out as we near the end of 2013 that portend potential changes ahead. AT&T has said the the days of subsidized prices for smartphone may be coming to an end.   This comes after T-Mobile has shaken up the smartphone pricing structure a bit, and as AT&T says the business will shift more to consumers upgrading than new purchases. What's unsaid here is that we might be entering a period where the hectic and harried pace of new smartphone devices begins to settle down as new consumers have already bought into the game.
These thoughts from AT&T may be echoed by Samsung who seems to be ratcheting back revenue projections for high end smartphone sales and may be shifting its focus a bit to accessories and add on experiences. At the same time Samsung has said it needs to focus on creating a better software experience for its devices. Even with stumbles like being caught fixing benchmark scores, Samsung has been moving forward in awareness as the quality of its hardware increased, so it too may be feeling that the market is reaching a saturation point.
What does that mean? It means that by next holiday season after all the makers and marketers have new devices and new marketing campaigns things will be different than they are this year. How? Tough to say.
But here are some predictions of things I see coming in 2014. As usual these are guesses, some informed, some just hunches. We'll see how these predictions pan out next year this time.
Apple
Apple is still the one that sets the pace although the distance between those following is closing. This year Apple put forth its most "forward-looking" smartphone and Tablets by including what it says is a desktop class 64 bit A7 chip. That A7 chip is also accompanied by the M7 chip that reads and stores sensor data that can be later called upon by Apps that use that data. All well and good, but as 2013 draws to a close we're waiting to see what these "forward-looking" advances bring. Apple also rolled its iBeacon technology into its mobile devices and recently turned it on in its own stores. This technology, like NFC is supposed to bring a new age of context aware notifications. What does all this "forward-looking" tech portend? Who really knows. Here are some specific predictions:
Apple will release new iOS devices. This prediction is like falling off a log. The market demands it and Apple will comply. Two questions here. How "forward-looking" will these devices be, and has Apple already cannibalized sales of next year's devices with this year's tech that won't begin to show fruit until the next crop is ready for harvest.
Apple is due for a form factor change with the iPhone and will deliver one. The guts of the device won't change much though.
Apple will still have trouble with iCloud.
Apple's iBeacon technology will be much discussed, but unless Apple is willing to open the standard up it will be a feature set that won't go far as it could.
Much will be said about Apple releasing some form of smartwatch. Apple will do so in 2014. It will be the must have gadget for the trendy set next holiday.
Apple will release a 4K display.
Apple's focus on China will lead to big numbers that it needs to keep the market share game churning.
Google
Google is showing that it can put skin in the game when it comes to mobile devices, but it still has challenges when it comes to getting its partners moving the Android OS to each new level. Despite protestations from some of the geek-0-rati, Google's Chromebooks are making practical sense to segments of the consumer market and will continue to do so. Google's services continue to feel like there are too many cooks in a chaotic kitchen who can't pay attention to every boiling pot at once. The pace of change here is so rapid at times that many just stop paying attention, except to complain when they notice changes they don't like. And then there is Google's roll out of Google Glass to consumers. Who knows how that will go.
Google will release Google Glass to the general market. It will still be a beta product and it will stumble. Price point will be key, as will functionality for those who need prescription lenses. By year's end it will still be looked at as a specialty item for a select few.
Google will try to take the lead regarding privacy and data security.
As Google continues to market hardware it will discover that customer service is a headache that algorithms can't solve.
Android will continue to improve but Google will still fall short when it comes to moving large numbers of users to each new level. This will continue to be a drag in some quarters and Google will decide once and for all not to worry about third parties and focus on doing its own thing with devices it can control.
Google will continue to advance Chrome and Chromebooks.
Google's Chromecast will pick up more content partners and more features.
Microsoft
Just when Windows 8.1 started to turn heads in Microsoft's favor, the company will be hiring a new CEO as Steve Ballmer steps down. That means change, but we probably won't see the effect of those changes until 2015 at the earliest.  Microsoft is working to corral its hydra-headed Windows systems into a more manageable number and that talk will continue through the management change. Big changes are coming to Redmond.
The uncertainty surrounding changes at Microsoft may slow down some of the momentum Microsoft has created in 2013.
Microsoft's acquisition of Nokia will give a boost to Windows Phone that we'll start to see register by the close of the year. Real changes won't happen until 2015.
Microsoft's Windows RT platform will get a new name that makes more sense. The strategy will still be murky though.
Microsoft will rename Skydrive. (They have to. )
Microsoft will most likely surrender and bring the Start Button back just about the time that it becomes unnecessary to do so.
Microsoft will continue to win fans by keeping up a brisk pace of firmware and software updates to its Tablets and Xbox platforms. It will look to have the same thing happen with Windows Phone.
Microsoft will continue to use negative advertising against its competitors because it works. Mark Penn will leave to get back into politics.
The new CEO at Microsoft will have his/her hands full, somewhat tied, and won't have an immediate impact other than to provoke speculation.
Amazon
Amazon continues on its own pace and is making news with improved Kindle hardware as well as hype about delivery drones. With Jeff Bezos in control figuring out Amazon's next play is always a guessing game.
Amazon will discover that once you deliver winning hardware with improved software functionality, the crowd is tougher to please with the next act.
Amazon will raise the price of Amazon Prime, or change what features are offered.
Amazon will continue not releasing sales figures for its hardware.
Amazon will not release an Amazon phone.
Amazon will release an Amazon Prime branded set top box.
Security and Privacy
Data security and privacy will continue to be a big topic of discussion. Companies will continue to make announcements about the steps they are taking to protect users in the wake of the Snowden leaks. Most of this will be PR thrown up as a delaying tactic before any real solutions can take place.
As the US elections of 2014 and 2016 begin to dominate the news, Tech Companies will begin to force the discussion of user privacy into the political debates.
More news stories springing from the Snowden leaks will continue to be delivered as shocking news, even though most of it isn't.
More users will begin to ask hard questions before blindly submitting their data to Internet services, but it won't matter. There are always new users who don't pay enough attention to get caught in the web.
The Age of Context aware advertising will be slowed by the debate over privacy.
New money transaction initiatives (Google Wallet and Coin) will have slow starts because of consumer privacy and data theft concerns.
Wearables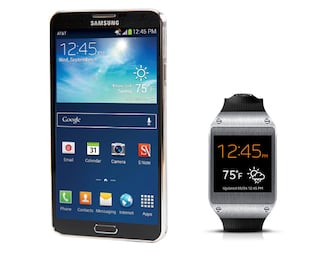 Wearables are already the hoped for next big thing. Google Glass, smart watches, smart rings, even clothing are all talked about as the next wave to wash money out of consumers' pockets. Wearables will grab more attention than real market share and be a hot property next holiday season. But the price points for the early lines of these devices won't help matters and the first phase of the wearable revolution will be viewed as a fad.
The Attention Span Wars
The hectic pace in mobile tech of the last few years may be slowing or shifting at the same time as consumers are finally catching up and realizing that feature sets and functionality aren't that different anymore. All makers will be following Apple's lead by putting 64 bit devices on sale in 2014 but the news will only be seen as exciting by the geek set. Whether it be devices, new features, or new Apps, consumers are starting to settle in ways that require bigger hype efforts to catch and hold their attention. What does capture our attention feels more like a "feature of the moment" than something that will last. In some ways it feels like the Mobile experience aids in decreasing our attention span with experiences that seem almost as disposable as they are easy to take with us.
Mobile is also starting to feel very much like the age before Mobile when desktops and laptops ruled and the only thing really new was the next processor bump. That was a relatively short time ago. And yet, it seems like we've been here forever. If there is a next big thing that shifts our attention, it may not have to be something bigger than we've seen before, but it will need to grab and hold our attention in some new way.
It's going to be a very interesting year.