New MacBook Pro Retina Gets Better Battery, New TouchPad
Apple took the stage this morning and announced a slew of new products including the newly redesigned MacBook Air, the Apple Watch, as well as updates to the popular MacBook Pro with Retina. But only for the 13-inch Pro. And while the new MacBook Retina is beautiful, those looking for a Pro will be happy to know a brand new model was just announced.
The MacBook Pro is still Apple's best laptop around, but it just got even better. The company delivered multiple new features today, better battery life, more power, and completely revamped the touchpad with the new Force Touch TrackPad.
Read: Why You Should Wait for the 2015 MacBook Pro
While the new MacBook Pro for 2015 didn't get a design change or the new low-power Intel M processors and gold color option from the brand new MacBook Air, it does have plenty of noteworthy changes we'll talk about below. We can expect another refresh later this year, but this is what the current Air and Pro with Retina models will have starting today.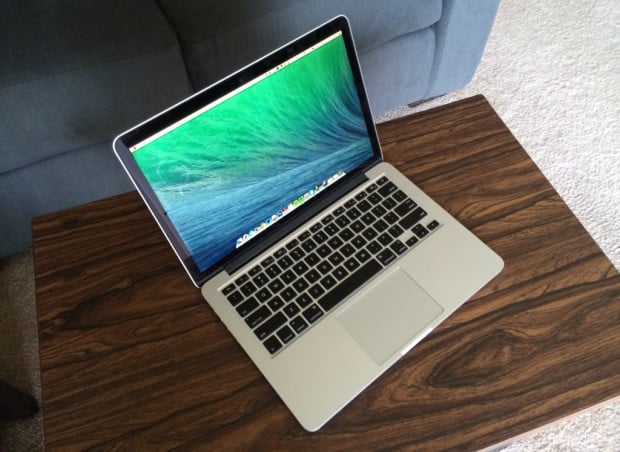 With the 2014 MacBook Pro, the processors saw a slight increase in speed, with the entry-level 2.4GHz Intel Core i5 boosted to 2.6GHz. However, the machines now have double the memory as a standard option, with the entry-level MacBook Pros now sporting 8GB of RAM instead of only 4GB.
More specifically, the entry-level 13-inch Retina MacBook Pro currently comes with a 2.6GHz Core i5 processor, 8GB of RAM and 128GB of flash storage for $1,299. This same price has been the standard, and the improved 2015 model detailed below has the same low price point.
Today though, Apple changed things up a bit, but not as much as we expected. The 2015 MacBook Pro Retina in 13 and 15-inch sizes will start shipping today, and will come with the brand new Force Touch Trackpad, which has haptic vibration feedback and is pressure sensitive to deliver even more features from OS X Yosemite, and more.
Currently the Apple store is down, so not all the details are available just yet, but we'll update once we know more. What buyers do need to know about the new MacBook Pro Retina's for 2015 is they'll be getting faster processors with the latest Intel 5th generation chipsets, faster flash memory offering 2x performance, Thunderbolt 2, and an updated and improved battery now offering 10 hours of battery life. This is a little over an hour more than before, which is extremely important to buyers.
Pricing and Specs
The 13-inch MacBook Pro with Retina display will be available later today through the Apple Online Store, Apple's retail stores and select Apple Authorized Resellers with a 2.7 GHz dual-core Intel Core i5 processor with Turbo Boost speeds up to 3.1 GHz, 8GB of memory and 128GB of flash storage starting at $1,299. This is the same price as the previous model released in 2014.
Alternatively there's a model with 256GB of storage and faster processors for $1,499, and a 512GB 2015 MacBook Pro Retina 13-inch for $1,799. Additional technical specifications and storage options up to 1TB will be available from Apple's store, and we'll update as we learn more details.

As an Amazon Associate I earn from qualifying purchases.