2015 Moto G Release: 5 Things You Need to Know
The past few weeks have been very telling for Motorola and its new smartphones, most notably the new 3rd Gen Moto G for 2015. For months we've been hearing rumors about a new Moto X, and now we have all the details about the new Moto G too, including the launch date. Here we'll go over five things buyers need to know.
Up until only a few weeks ago all the leaks and rumors were about a new Moto X for 2015, but lately focus has turned to the Moto G and what it will offer all for a low price. The last two weeks it has leaked on video, photos have emerged, details about specs, and now we even have all the details.
Read: Moto G 2015 Release: What We Know So Far
The Moto G is a well rounded budget friendly device that has rang in at $179 over the past two years, outright, without a contract. Making it instantly one of the best smartphones for the price. However, in 2015 Motorola looks to offer a much better Moto G, all for the same low price.
Around the end of June some official press photos surfaced showing us what to expect, and earlier this week we received a leak that shared some of the biggest news yet. Claiming the new Moto G for 2015 will support MotoMaker.com customization just like the bigger Moto X. Meaning buyers will be able to choose from a variety of different colors, accent colors, wallpapers and more all for the same low price.
The photo above recently leaked, showing us the final finished form factor of the new Moto G, which looks very similar to the Moto X with the aluminum bar on back. However, this afternoon Motorola sent out invites confirming earlier rumors of a July 28th release date, and now that buyers are curious, we're rounding up all the details in one place for those interested.
At this point we know what the Moto G 3rd Gen for 2015 looks like, when it will be announced, what we can expect in terms of features, specs and customization, and likely the price. The slideshow below will tell you everything you need to know about the new 3rd Gen Moto G.
Moto G 2015 Launch Date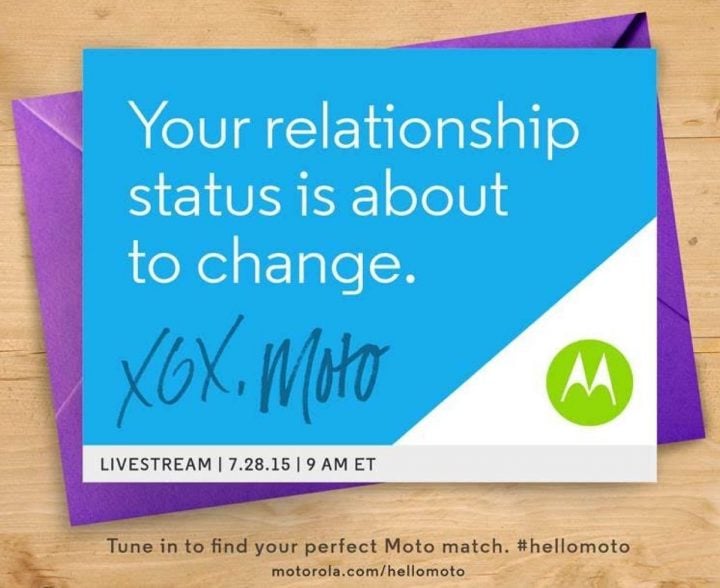 This morning Motorola officially confirmed when the Moto G will be announced, and possibly released. The company started sending out invites for a Moto event on July 28th, and hinted that smartphone buyers will be changing their relationship status soon. It's an odd way to tease the event, but it ended with Moto saying "XOX, Moto".
However that XOX actually looks like "XGX" hinting at a new Moto X or two, and of course the Moto G that has leaked time and time again.
We know the new Moto G and most likely the Moto X will both be announced on July 28th live online, in New York City, and a few other events around the globe.