2015 Moto X & Moto G Images Leak Ahead of Release
After months of reports and rumors this afternoon Motorola put everything to rest by confirming its new lineup of smartphones for 2015 will be announced on July 28th. Now, just weeks ahead of the new Moto X and Moto G launch date, some of the clearest photos yet have leaked.
The second generation Moto X and Moto G were both announced and released in Septemer of 2014, and a similar release happened with the original phones in 2013, only in August. We knew the company was planning to stick to a similar release pattern, and that's now been confirmed.
Read: 2015 Moto X Release: 5 Things You Need to Know
With the official announcement and launch quickly approaching, users are likely wondering what to expect and what these new phones will look like. And while the Moto G has leaked time and time again, we're still unclear about what to expect from the 2015 Moto X 3rd Gen coming soon. Below are a few photos of both.
This week the often accurate leaksters HelloMotoHK posted some images over on Google+ showing off two potential new phones coming soon from Motorola. One is clearly the Moto G (4G) based on the image and stickers on the device, but the second image shown above is a complete mystery.
We know the new Moto G will have a 5-inch 720p HD display with a decent quad-core processor and 1-2GB of RAM, coming in 8 or 16GB storage configurations, a better 13 megapixel camera, and a decently sized 2,700 mAh battery running Android 5.1.1 Lollipop. Below is a collection of recently leaked photos.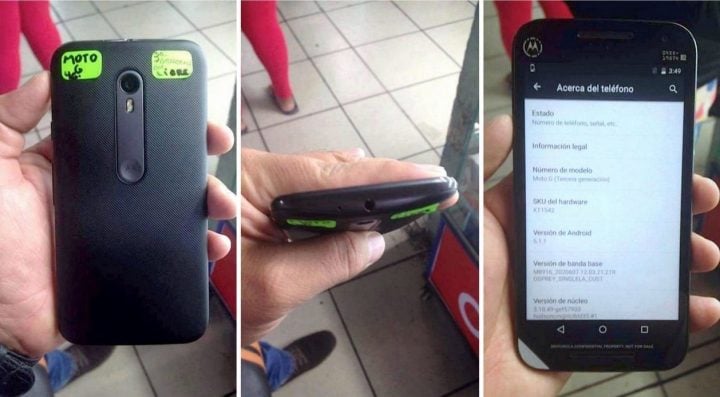 The images surfaced late last night, just hours before Motorola sent out invites formally inviting the press to see its new smartphones in New York City on July 28th. Now, ahead of the release date, we know exactly what to expect.
However, the second device, is somewhat of a mystery. It doesn't look like some of the other Moto X leaks, and looks to have a removable back. No Moto X has a back that can be removed, but instead they're customizable on Motomaker.com with over 18 colors, leather backs, and even real wood.
What we see above is a completely unknown device, but according to earlier leaks and HelloMotoHK, this is the Moto X Sport. A 5.2 or 5.5-inch (Moto XL) smartphone that will be more rugged, have a rubber and aluminum design, and be fully waterproof, not just water-resistant. So far we're not exactly sure what the device above is, but we'll know soon enough.
Motorola's invite teased two new Moto X smartphones and a Moto G, and there's also a chance the company could announce and release a new Moto 360 smartwatch as well, just like last year.
For now we're not sure if the device above is the Moto X 3rd Gen for 2015 with a slight redesign, or something completely different. What we do know though, is all the information will be fully revealed on July 28th live in New York City. We're expecting the new Moto X, Moto G, and possible a third Moto smartphone (along with some Verizon DROID phones) to be released in September. Stay tuned for more details.

As an Amazon Associate I earn from qualifying purchases.