2015 Moto X vs Moto X 2nd Gen: What to Expect
Yesterday after months of reports and rumors Motorola finally announced a launch date for the new Moto G, and possibly two new Moto X smartphones for 2015. They will be unveiled on July 28th. This will be the 3rd generation Moto X, and below we want to compare it to last years model based on what we know so far.
The first and original Moto X was announced in August of 2013, and the 2nd Gen model that replaced it arrived just over a year later in September of 2014. And now over the last two months we've learned a lot about the new 3rd Gen Moto X for 2015, and it's coming sooner than later.
Read: Moto X 2015: 5 Things You Need to Know
Rumors first started back in May about the new 3rd Gen Moto X, and since then we've continued to receive tons of information about what's coming next. From multiple screen sizes, to more customization, leather and wood backs like last year, and much more. Read on to see how the rumored device compares to last years model.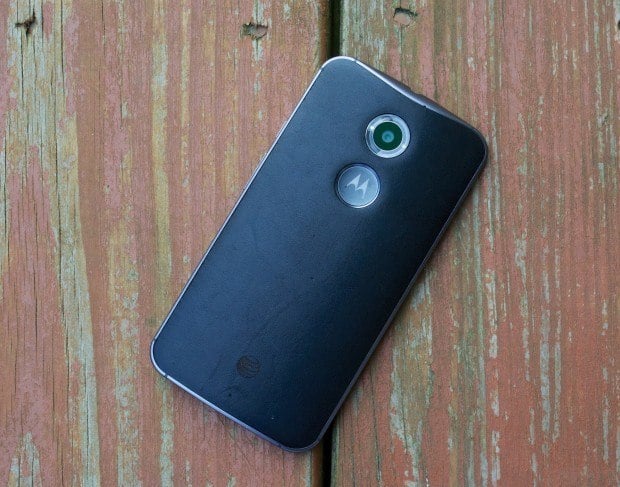 The 2014 Moto X (2nd Gen) that was announced and released in September of 2014 was one of the best smartphones of the year, and had plenty to offer. Motorola increased the screen size, added more features, improved the camera and more, but it still can be better.
In 2015, the company looks to finally deliver a premium Motorola smartphone that can compete with Samsung's Galaxy S6, the LG G4, and even the upcoming iPhone 6s. If rumors are accurate they've finally listened to owners and will be addressing two key areas: camera and battery life. We loved last years Moto X and for more details you can see our full review below.
Read: Moto X 2014 Review
Now, as for the new Moto X in 2015, we have a lot of rumors that are unconfirmed, so this comparison will be based off of those. The first leak with actual details came from an unconfirmed report in May that revealed some impressive specs and details about the device, which was followed by even more information in June that revealed just about everything. We've seen a lot of photos leak since then, which may or may not be the device, but we have a pretty good idea regarding specs, so that's what we'll break down below.
Design
Based on countless leaks we've seen over the past few months, Motorola is changing a few small aspects of the design in an effort to make all 2015 smartphones look similar. That said, the new Moto X will reportedly have a very similar look and overall design as last year, only they've added an aluminum bar on back that goes from the camera down to the Motorola logo. There's rumors that logo will have a fingerprint scanner inside, but that's yet to be confirmed.
With Android M natively supporting fingerprint scanners, we're expecting Motorola to fully take advantage of that. At the same time, the last two years we've heard the Moto logo on the back of the Moto X would do something, yet it's only been a logo, nothing more and nothing less.
We can expect the same curved back, dual front facing speakers, sensors everywhere for all of Motorola's touchless controls, gestures, and voice commands, and more. However, all the leaks so far have been about the specs and not the design. A few photos have leaked, but we've yet to get a clear look at the Moto X. Yesterday an image surfaced but we're hearing that was a Moto X Sport, or Moto XL, which could be announced on July 28th as well, but it wasn't the new 2015 Moto X 3rd Gen.
Display
From everything we've been hearing the new Moto X in 2015 won't get an increase in size like it did last year, but the screen will be significantly better. Users can expect the same perfectly sized 5.2-inch screen that isn't too big, nor too small, but be increased to have a full 2560 x 1440 Quad-HD (2k) resolution. That's what rumors are pointing to at least.
This means it will be the same size as last year but much better, brighter, more crisp, and be a high-res screen that can compete with the current 2015 competition. Sadly that's about all we know about the new Moto X display for now.
It's worth noting though, that a few rumors are suggesting two Moto X smartphones in 2015. Similar to the two-size approach from Samsung, Apple and others, the Moto X could be complimented by a 5.5-inch or 5.7-inch Moto XL or Moto X Sport.
Specs
The leak we mentioned earlier from June didn't give us an actual look at the smartphone, but it was a benchmark that revealed all the details and specs of the new Moto X. Since then we've seen the same numbers again and again, all but confirming what's coming from the Moto X 3rd Gen in 2015.  Here's the hard numbers.
Moto X 2015 Specs (Rumored)
5.2-inch 2560 x 1440 Quad-HD AMOLED Display
8-core Snapdragon 810 processor with 4GB of RAM
32/64GB storage with a micro-SD slot for user expandable storage
Android 5.1.1 Lollipop (then Android M)
16 megapixel rear and 5 megapixel front camera
3,280 mAh battery
more
As you can see above this year looks to have some major improvements in all aspects, and fix two key areas the Moto X didn't live up to the hype. Those being the mediocre camera performance, and small battery that didn't offer very good battery life. It also looks like Motorola could return the micro-SD slot for user expandable storage.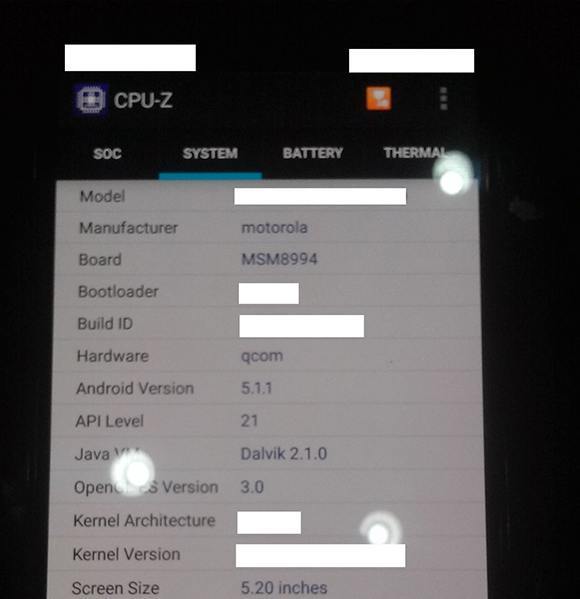 The image above is the first solid image suggesting those specs are accurate, but we'll have to wait until July 28th when Motorola officially announces the phone to know for sure.
Moto X 2014 Specs
5.2-inch 1080p Display
2.5 GHz Snapdragon 801 Quad-core processor
2GB of RAM
16GB and 32GB storage options
2,300mAh battery
13MP rear facing camera w/ 4k video, 2MP front camera
Dual LED Ring Flash
Android 4.4.4 KitKat
Over 25 customizable back options
140.8 x 72.4 x 10 mm and 144 grams
As you can see, Motorola has made improvements across the board if all the rumors are accurate. From a better screen, twice the processing power and more RAM, extra storage, a better camera, and most importantly, a much bigger battery.
The screen, camera, and battery alone will make this a worthy upgrade, even if nothing else changes.
Customization
One of the key selling points of the Moto X over the past few years has been MotoMaker.com customization. Allowing owners to choose from over 25 different colors for the back, accent colors for kys and the ring around the camera, wood backs, leather and more.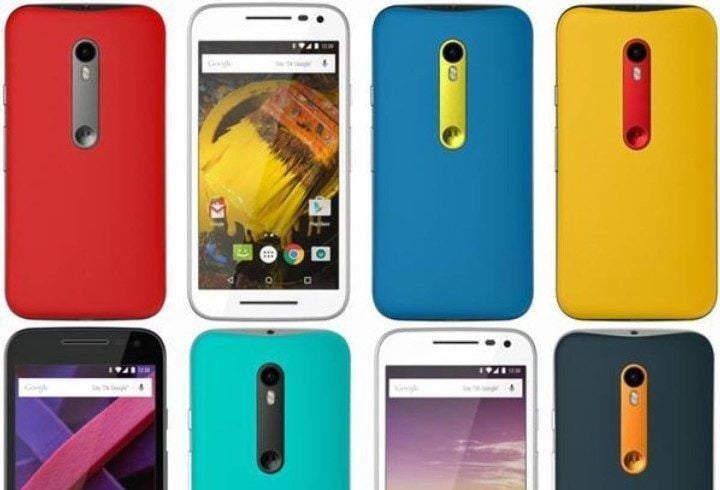 This is still something we can expect in 2015, and rumors even suggest the cheaper Moto G will get access to customization as well.
Sadly, we've yet to hear much in terms of what could be changing with Moto Maker this year. Last year they added more wood and leather options, so we're not sure what's coming in 2015. However, a few small reports suggest additional leathers with more textures, carbon fiber, and even some other fabrics on the back similar to the Ballistic Nylon finish on the DROID Turbo from late October that debuted on Verizon Wireless.
Price
Last but certainly not least is the price. The Moto X has always been cheaper than the competition, but it also wasn't quite as powerful or had a few cutbacks. In 2015 Motorola took no shortcuts and are delivering a premium high-end flagship smartphone with all the bells and whistles.
Last year the Moto X 2014 was $499 outright, which was around $100 less than almost all other flagship devices. Then of course MotoMaker was free, allowing owners to customize it as they saw fit.
2014 Moto X Pricing
Moto X 16GB – $99 on contract
Moto X 32GB – $149 on contract
Moto X 16GB – $499 outright
The Moto X 2nd Gen in 2014 was only $149 with a new 2-year contract for the 32GB option, which was a great price. Currently the phone is only $399 outright and even less from carriers, which is likely done to move inventory and make way for the new 2015 model.
While we can't say for sure, we have a feeling Motorola will once again strive for the same $499 asking price on the 2015 Moto X. With all the added features though, it could ring in at $549 outright, $149 for the 32GB, and $199 for the 64GB models on contact, but we'll have to wait and see.
In closing, this smartphone is stacking up to be one of the best devices in all of 2015. It has a great screen, a nice design that customizable, a better camera, and one of the biggest batteries inside of any flagship device. Bigger than the Galaxy S6, HTC One M9, LG G4 and others.
We only have a few more weeks of waiting before we finally find out what Motorola has in store, and now that the company is owned by Lenovo, it should be a special event. Many expected a late September release date but with the announcement being on July 28th, the new Moto X should be available in August. Stay tuned for more details.