2015 Skylanders Superchargers Release Leaked
For the past for years video game developer and publisher Activision has introduced a brand new entry in its popular Skylanders toys and games franchise. Thanks to new leaks we're learning more about this year's new Skylanders release and a sliver of how Activision plans to market the game.
What leaked Skylanders release details we're learning this week is thanks to Travis Pastrana. Though his name might not be familiar, he's enormously popular and recognizable, having dominated professional motocross racing for some time. On May 5th, Pastrana posted a picture saying that he'd just finished "filming some cool stuff for a new Activision game called Skylanders Superchargers."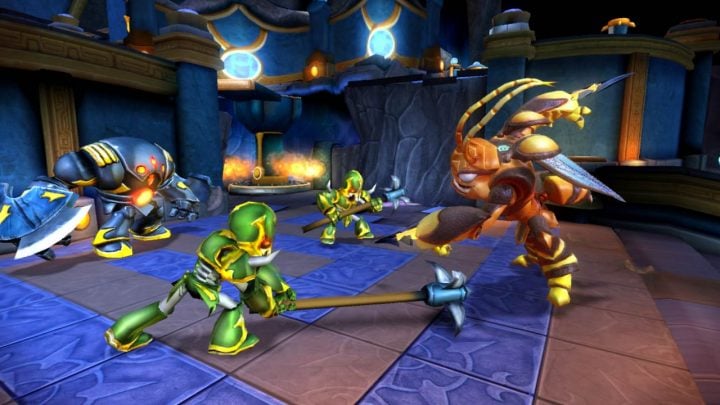 Though Pastrana later removed the image, website Videogamer was able to find a backup of the picture and its caption on Twiends.
For its part, Activision has yet to formally reveal this year's Skylanders release. Right now, the company is focusing on Skylanders Trap Team, the title that debuted last year. Even with the game nam leaked, we don't know much about its theme. For example, "Trap Team" was a hint about gamers being able to capture their opponents in last year's game. Swap Force allowed players to change the different parts of their figures and then place them on their Portal of Power for different combinations. The Portal of Power is a device that allows players to get their figurines into the game.
"Superchargers" could be a hint that users players will be able to introduce specific power ups for their characters, but that's pure speculation at this point. The report from Videogamer itself indicates that vehicles could be in the works.
No doubt, Activision will have plenty to say about Skylanders Superchargers during this year's Electronic Entertainment Expo in June. For starters, the company has introduced a new entry in the franchise every year since it debuted. Besides Swap Force and Trap Team, there was the original Spyro's Adventures game and Skylanders Giants. It's at the show that we'll likely learn about Skylanders Superchargers figurine sets and pre-order bonuses.
Activision kicked started an entirely new category with the first Skylanders release. Each year both children and adults search for the latest Skylanders figures and information about the plot and upgrades coming in the latest version of the game. Each Skylanders creature is simply a figure that unlocks an In-game counterpart, but for many they're much more than that. To a growing number of gamers they are invaluable collectibles, trinkets that they collect and cherish.
Along with each year's game Activision unveils a new set of Skylanders action figures. Though Activision hasn't confirmed it, this year shouldn't be any different. Players should be able to buy starter packs complete with figures and a all-inclusive pack that includes some figurines, a Power Portal and the game itself.
Read: Every Disney Infinity 3.0 Figure We Know of So Far
Though video game developers are already in the middle of transitioning the biggest franchises over to Microsoft's Xbox One and Sony's PS4, potential Skylanders Superchargers buyers shouldn't have anything to worry. For the most part, developers are only seem to be transferring over titles that would be unable to run — or at least not as great looking. Skylanders has always had an artistic style that lends itself well to current-generation and last-generation consoles. For example, Skyalnders: Trap Team is available on the Xbox One, Xbox 360, PS4, PS3, Wii, Wii U and Nintendo 3DS. It was also the first game to launch on mobile platforms, coming to Apple's iOS and Google's Android operating system.
Read: More Lego Dimensions Playsets Get Surprise Reveal
Skylanders Superchargers will have some heavy competition when it arrives on store shelves this year. Activision's success in the space inspired more than a few video game developers to launch their own entries in the so-called toys-to-life category. Nintendo introduced its own Amiibo figures for its games last year. Disney only recently confirmed Disney Infinity 3.0, a refreshed and tweaked version of its own long running series in the space. Warner Brothers Interactive Entertainment and toy maker Lego are teaming up for their own entry, called Lego Dimensions.

As an Amazon Associate I earn from qualifying purchases.