2016 Chrysler 300S Review
The long, squat body of the 2016 Chrysler 300s looks menacing in Gloss Black, but it handles better and moves quicker than you'd expect given the size.
We spent the week in the Chrysler 300S All Wheel Drive with the Alloy package that adds a touch of bronze across the badging and the rims.
Driving across Ohio to a wedding, we fit right in at the reception held behind a gated entry with a buzzer but still had fun getting there and back thanks to the 3.6L V6 paired with an 8 Speed Automatic Transmission that peps up in Sport mode.
2016 Chrysler 300S Review Summary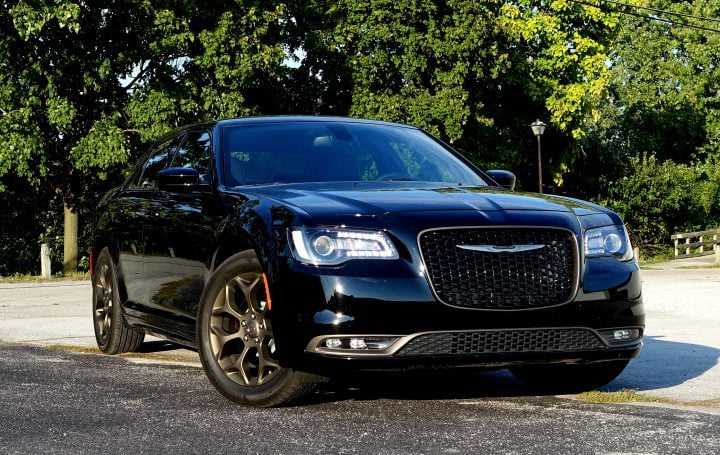 This is not a big boat that you sail down the highway like a retiree. The Chrysler 300S is a chameleon that is fast when you want it to be and upscale and quiet when the situation requires.
What We Love
Dominating design that manages to look refined and menacing at the same time.
Quiet, smooth ride even on rough roads.
Upscale interior that looks and feels very nice.
Preimum Beats audio system is impressive.
UConnect system is easy to use and supports Siri Eyes Free.
In Sport mode the Chrysler 300S is outright fun to drive.
What Needs Work
Visibility out the rear window is poor due to large pillars and a small window.
Front seats are too firm for long drives.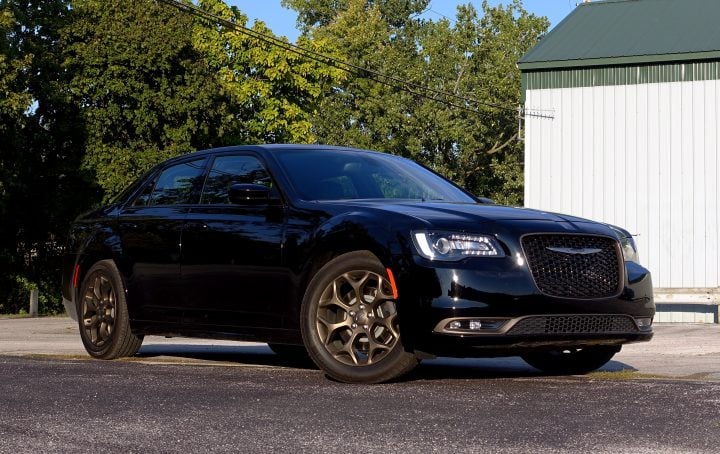 The Chrysler 300 starts at $32,260 while the 300s starts at 35,690. Our Chrysler 300s AWD Alloy Edition retails for $39.960 as equipped with the Alloy upgrade and Uconnect plus Navigation.
We highly recommend the $2,995 SafetyTec Plus package that includes safety and convenience features like blind spot monitors, adaptive cruise control and other essentials.
2016 Chrysler 300S Driving & Performance
The 2106 Chrysler 300s is available in rear wheel drive, which is one of the reasons it appeals to drivers looking to combine performance with an upscale smooth ride when you just need to get to the grocery store or haul a client to a meeting.
We spent the week in an All Wheel Drive Chrysler 300s, mostly in Sport Mode. This isn't our first choice of a vehicle for running through twisting backroads, but it does handle curves way better than you'd expect for the size.
The long, squat body sticks to the ground and you can fly past slow traffic as you overtake them on a country road with no problems at all.
I'm not a big fan of the turn dial to shift into reverse, drive and sport mode. I do like the paddle shifters on the steering wheel that offer a little more control of the driving experience.
While driving across the state of Ohio over rough country roads and through construction on the Interstate and Toll Road the Chrysler 300S offered a smooth ride minimizing bumps and did an excellent job at killing road noise.
The Chrysler 300S is rated to 18 MPG city and 27 MPG highway with a 21 Mixed fuel economy. This matches up with our driving, which averaged 25.8 miles per gallon with a week of predominantly highway traffic in Sport mode.
2016 Chrysler 300S Design & Interior
Somehow Chrysler manages to blend an intimidating exterior that isn't overly aggressive. The exterior of the Chrysler 300S is like Robert De Niro. Both De Niro and The Chrysler 300S fit in fine in a quiet upscale restaurant, but under there's a little twinkle in the eye or cut to the steel that lets you know there's more to this car.
We spent the week in the Alloy Edition that includes small visual upgrades including;
19-inch x 7.5-inch Bronze Painted Aluminum Wheels
All Wheel Drive Badge
Alloy Edition Badging
Alloy Edition Floor Mats
Allow Edition Surround and Grille
Nickel Finish Analog Clock
Titanium Exhaust Tips
This is a $995 package that changes the appearance of the 300s is small, but noticeable ways.
Inside the interior is upscale with leather and soft materials throughout. The seats are spacious and accommodating, but are quite firm after a long day spent in the car. We never felt cramped in this large car and passengers enjoyed the deep and roomy rear seat.
There is an incredible amount of trunk space in the Chrysler 300S. You can fit enough groceries in the trunk to prepare for an impending storm or to haul luggage for a family of four.
2016 Chrysler 300S Technology & Safety
The Chrysler 300S includes a collection of smart tech features that drivers will enjoy. The Uconnect system has an easy to control 8.4-inch center screen that offers access to apps, navigation media and to a 3G hotspot.
We like that the Uconnect system is easy to use and offers up access to apps like Pandora, Aha, iHeart Radio and Yelp. There is also a 3G Wi-Fi hotspot that you can connect a computer or tablet to for Internet access while on the go.
Chrysler doesn't include Apple CarPlay or Android Auto, but the system does offer Siri Eyes Free to let you activate Siri by holding a button on the steering wheel. In many cases this is a faster way to send messages and tap into your phone than using the standard Uconnect system.
The standard safety features are pretty sparse. You definitely want to opt for the Blind Spot Monitoring System that is bundled into the SafetyTec Plus Group that is $2,995 and includes;
Adaptive Cruise Control with Stop
Forward Collision Warning
Driver's Auto Dimming Exterior Mirror
Automatic High Beam Headlight Control
Blind Spot and Cross Path Detection
Power Multi-Function Mirros with Manual FOld Away
Rain Sensitive Windshield Wipers/
The large rear pillars and small rear window make the Blind Spot monitors an essential upgrade. We sorely missed this option while driving on busy toll roads with merges after merges and exit only lanes at night.

As an Amazon Associate I earn from qualifying purchases.