2016 Ford Explorer Platinum Review
The 2016 Ford Explorer Platinum offers a wide array of smart driver assist technology that improves the everyday driving experience and safety. The Platinum trim package bumps up the luxury inside with style and features that may leave you thinking you are driving a Lincoln or other luxury brand.
Ford packs in a 3.5L V6 EcoBoost engine that delivers the power traditionally confined to the Explorer Sport, and the high-end look and feel of the Explorer Limited. The biggest area that needs improvement is the infotainment center, which Ford is upgrading for the next model year to deliver a better experience.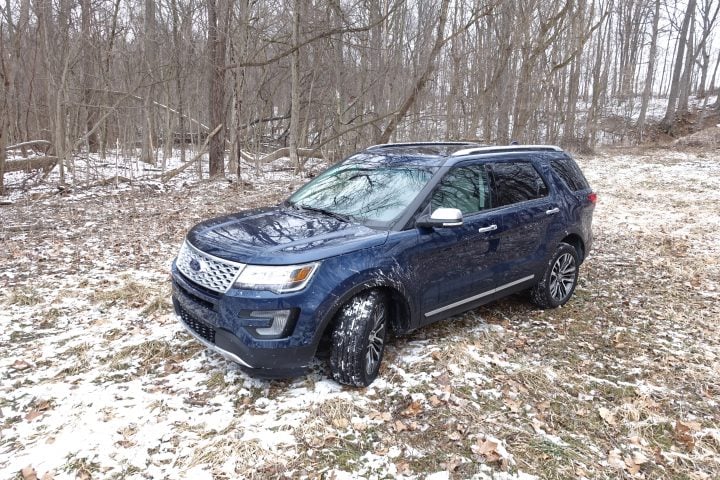 After spending a week in the 2016 Ford Explorer Platinum it's clear that this offers the best of both worlds, keeping the driver and passengers comfortable in a beautiful interior while still delivering the power and four-wheel drive needed to go wherever you need to.
At $54,760 the Ford Explorer Platinum packs in everything you would expect at the price, and you don't need to tick off more options to round out the experience.
Ford Explorer Platinum Driving Experience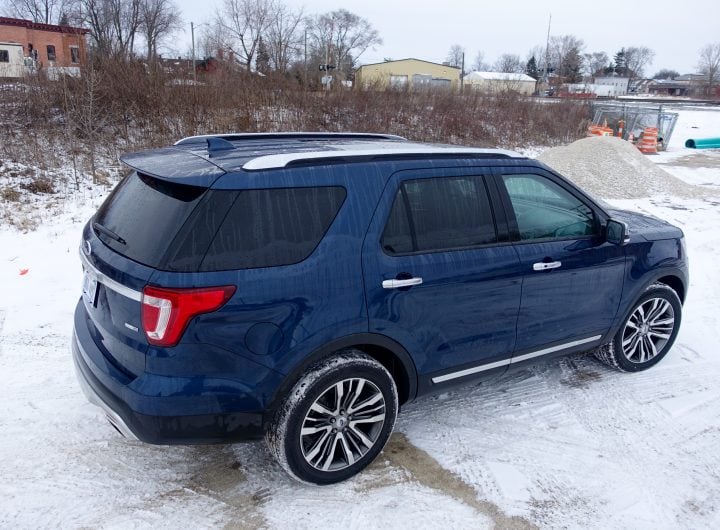 Driving on the Interstate through construction zones the smart cruise control kept a safe distance between us and the car in front, even as it bounced between multiple speeds. When the weekend arrived the Intelligent 4 wheel drive let us drive through a snowy, grassy ravine for a short getaway and on the way home the hill descent assist simplified the task of coming down a steep incline.
The Explorer is larger than the Escape we typically drive and the added room for passengers and for cargo is a nice upgrade. Behind the wheel you definitely notice the larger frame of the body, but sensors positioned around the car, front and rear facing cameras and parking assist help you navigate tight areas and parallel park like a pro.
There is a small section to haul groceries or a few backpacks with all the seats in use. When folding down the rear seat there is enough room to haul several large totes or luggage.
Ford Explorer Platinum Fuel Efficiency & Power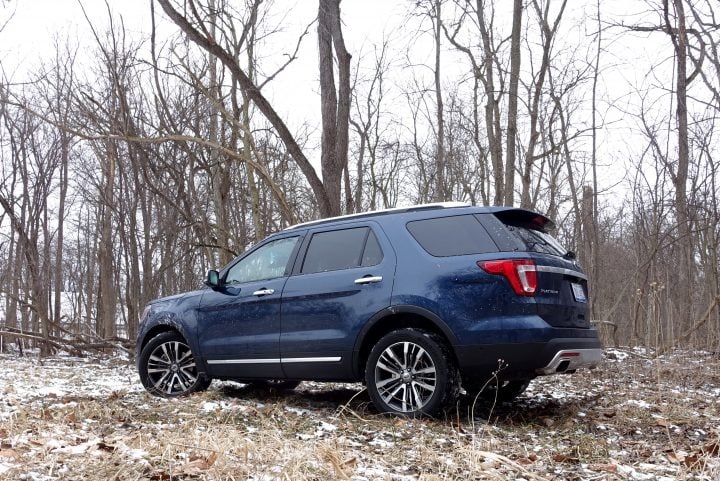 Under the hood a 3.5L V6 EcoBoost engine delivers a good amount of power so that the vehicle has the get-up-and-go that you normally associate with a V8. This is a six-speed automatic that delivers 18MPG combined fuel efficiency and 23.5 highway during our week with the vehicle.
Although this does feel like a large vehicle at times, it is not hard to turn and maneuver through crowded parking lots or tight corners. The intelligent four-wheel drive kept grip on snowy and icy roads in Ohio and we used the Snow and Grass setting of the Terrain Management System to delivery steady traction while exploring around a small ravine. On the way back down an incline the Hill Descent assistance proved useful, but after a short leveling off and then a second incline the assist did not immediately start back up.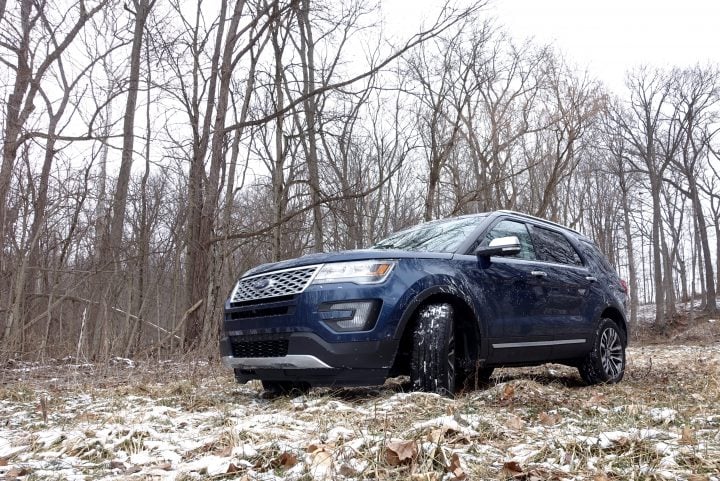 A towing package is standard and rated to tow up to 5,000 pounds. A hitch hides inside a cover while not in use. There is also a trailer sway control feature included in the Ford Explorer Platinum package.
Ford Explorer Platinum Safety
From a safety standpoint there are many useful features that are included in the 2016 Ford Explorer Platinum. The forward collision warning and breaking system is a very useful feature quickly alerting us to a car that failed to completely exit the road with an audible alert and a flashing red light. If we hadn't adjusted fast enough the system could then pre-charge the brakes and even apply them to prevent an accident.
Additional driver assist features include;
Adaptive cruise control – Perfect for setting the cruise control so you don't need to constantly adjust the settings when people in front of you yo-y0 between five over and five under the speed limit.
Lane keeping assist – The sensors detect if you wander outside your lane and can alert and correct steering to keep you in your lane.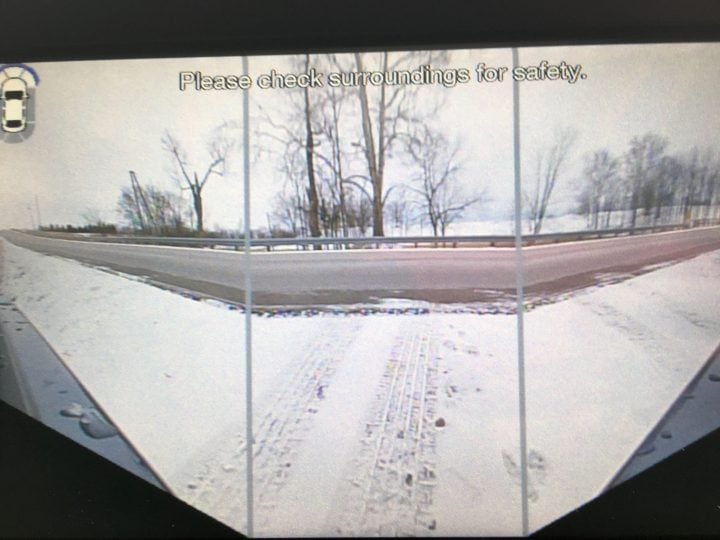 Front facing camera – Press a dedicated camera button on the dash to flip on a front facing camera that lets you see traffic coming from the sides, which is great for pulling out of otherwise obstructed drives.
Rain sensing wipers – The wipers will automatically come on when it starts to rain or snow so that you don't need to adjust settings manually.
The LED lights are quite bright, delivering a wide and long path of light to pierce the dark winter night. Flipping on the brights dramatically expands the visible area.
Ford Explorer Platinum Luxury & Comfort
Inside the 2016 Ford Explorer Platinum you'll find comfortable wide leather seats a luxurious dashboard with real wood and aluminum trim and style that carries through the three rows of seating.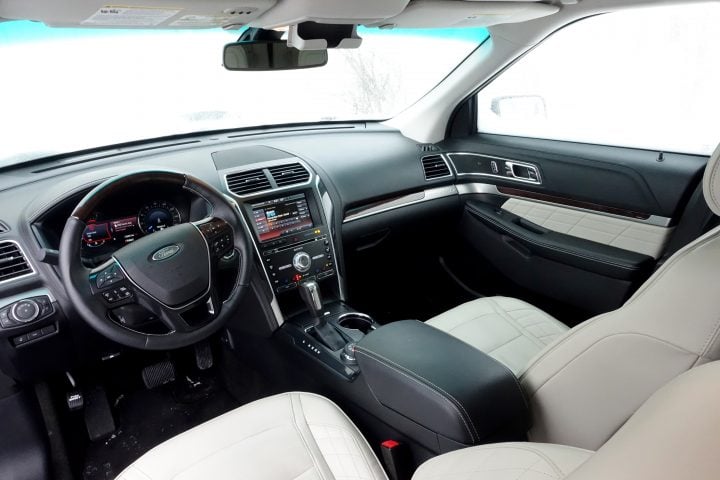 The front seats offer heating, air conditioning and massaging options, and the steering wheel is also heated. Turning on the massage feature is confusing, as Ford buries it in the settings of the MyFord Touch system. Once enabled the massage feature helps with longer trips. The front seats also allow for adjustments to support from the settings.
With options to move the driver seat up, down front and back as well as adjust the angle it's easy to find a comfortable position that allows you to see your surroundings. The steering wheel moves in similar directions to let you position it perfectly for your driving preference. One nice touch is that driver seat can slide back and the steering wheel forward when you stop driving to make entering and exiting the vehicle easier.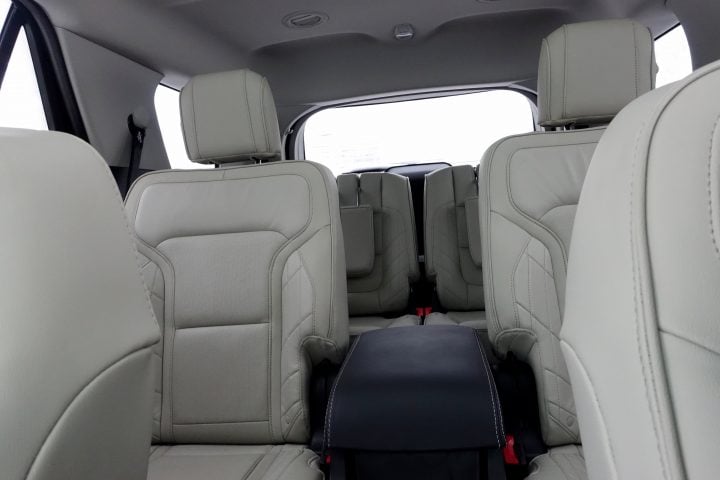 The center row of seats are also comfortable and include individual heating controls. One touch to a button can fold the middle seats forward for access to the rear of the car. After hauling around a tall friend in the back of the car, he promptly declared that the third-row is only good for children. In a pinch you could carry two adults in the furthest seat, but if that is a common activity, you may need to look for a bigger vehicle.
Both rear rows include power options to fold and to stow, so if you don't have the strength to flip seats up and down to haul kids and cargo, you don't need to worry. Push a button and the seats go where you need them, and press another to put them back into position to haul people.
The foot activated liftgate is simple, but it is one of those features you will wonder how you lived without. With the key in your pocket, stick a foot under the tailgate and it will open. You can repeat this to close the tailgate. After a week of hauling stuff from my in-laws to my house, buying groceries and running errands we wish we chose this option on our Ford Escape.
The keyfob includes remote start, and you can leave it in your pocket during regular use. Touch either of the front doors to unlock the Explorer Platinum and then use the push button start to get going. Power mirrors fold in when you park and automatically slide out when you are ready to drive.
Amazing Sony Sound
Remember that moment you upgraded your headphones from the stock ones that Apple includes with the iPhone to a high-end pair? That's what it sounds like to go from a basic car audio system to the 500 Watt Sony sound system is impressive.
Sony tunes the system so you don't need to adjust anything. Just get in and start playing your music and you'll pick up on instruments and sounds you won't hear in other cars.
We loaded up our headphone test tracks to see just how good it was, and the sound was impressive with no need to do any aftermarket upgrades.
2016 Ford Explorer Platinum Technology
The biggest area of the 2016 Ford Explorer Platinum that needs an upgrade is the infotainment system. The MyFord Touch panel and software feels dated when compared to what you find in a luxury vehicle from Volvo, BMW and others.
Ford's solution to this is Sync 3, which uses touch screen technology like you have on your phone, better support for apps and support for Apple CarPlay and Android Auto.
Unfortunately this is not available as a software upgrade. If this is important you will need to wait for a 2017 Ford Explorer Platinum.
The MyFord Touch System does include support for Siri Eyes Free, which allows you to control many iPhone functions by holding in the voice command button on the steering wheel.
MyFord Touch supports Bluetooth connectivity to make calls, stream music, send text messages and depending on your phone listen to incoming messages.
Is the Ford Explorer Platinum Worth the Price?
After replacing our main car with the 2016 Ford Explorer Platinum for a week, there are clearly benefits to the driver assist features that were evident every day. The upgraded interior with heated, massaging seats and a heated steering wheel came in very handy and the Sony sound system rounds out the look, feel and sound of the vehicle.
At $54,760 as equipped, with an array of options a beautiful interior, a 3.5L V6 and intelligent four-wheel drive the 2016 Ford Explorer Platinum delivers more than enough value for the price. This isn't the Explorer for every user, but if you want an Explorer that delivers power and style this is the vehicle for you.

As an Amazon Associate I earn from qualifying purchases.