2016 Jeep Wrangler Review
The 2016 Jeep Wrangler Unlimited is incredibly capable off-road and our Jeep Wrangler review vehicle came with a few more creature comforts that upgrade the on-road driving as well.
A Jeep Wrangler is not the perfect vehicle for everyone, but for many drivers it is the best vehicle on the road — or off.
As you read this Jeep Wrangler review, you may see some downsides that leave you wondering how someone could choose this as a daily driver. That's where the phrase, "It's a Jeep thing, you wouldn't understand," comes in.
There are some things that seem impractical, but the upsides outweigh these issues for most Jeep shoppers.
After putting hundreds of miles on a 2016 Jeep Wrangler Unlimited Sahara with the 75th Anniversary package ($48,530 as equipped), and taking it to an off-road park, it's clear that the Jeep Wrangler is the right vehicle for many buyers.
Even without any modifications, the 2016 Jeep Wrangler excelled in off-road situations, climbing huge sand dunes, driving through mud, sand and wet gravel with ease thanks to four-wheel drive and a rear locking axle.
We even took the Wrangler on a trip down the creek and back without any issues. Trail Rated is more than just a badge: it means you're ready to go off-road as soon as you drive off the lot.
The 4×4 system is easy to engage and proved capable on any surface that we found ourselves on, even in lots of mud after a big downpour. Underneath the Wrangler is a skid plate to keep important parts of the vehicle safe. During our trip we heard contact with the skid plate twice, but had no mechanical issues.
While exploring the Badlands off-road park in Attica, Indiana, from inside the 2016 Jeep Wrangler it felt like we were living in a Jeep commercial. The Jeep aftermarket is full of upgrades, but I remain impressed with what the Jeep offers right off the dealer lot.
The 75th Anniversary edition adds steel bumpers that are ready for a winch, but also upgrade the Jeep with a more aggressive look. Two hooks on the front and the rear allow you to pull others out, or to get a pull if you are stuck.
On the 460 mile, 8 hour, round trip journey to get to the Badlands off-road park we also tested the 2016 Jeep Wrangler on highways, back roads and through too many small towns in Indiana to count.
On the road you'll notice that steering takes a little more attention than your average car, and the braking distance is a little bit longer than other vehicles we've driven, but it was not a chore to drive long distances by any means.
Stepping on the gas does not deliver the instantaneous burst of speed that I'm used to in my Ford Fusion, but I had no trouble getting up to speed while entering a highway.
The 2016 Jeep Wrangler needs a lot of gas, getting around 20-21 miles per gallon on the highway and a tough 18 to 19 mpg in the city. There's no doubt that this vehicle requires more money while you own it. Thankfully the Jeep Wrangler Unlimited includes a 22.5 gallon fuel tank, so you aren't stopping for gas constantly.
On the road you will notice some drawbacks to the 2016 Wrangler. Switching from a car to the Wrangler, there are important changes to how you travel, some of which will require small lifestyle changes.
There is more road noise than you will find on most 2016 vehicles, but that is a trade off we are happy to take for the ability to remove the top of the Jeep. The road noise noticeable, but it didn't impede our ability to have a conversation with another passenger, use walkie talkies to communicate with another car or listen to the radio. It's there and you need to be aware of it, but this should not be a dealbreaker for most buyers looking at the Wrangler.
One of the best parts of spending a week in the 2016 Jeep Wrangler in the summer is taking the top off. Our Wrangler came with a hard top and Freedom top. It's very easy to remove the two front panels to open up the driver and passenger seats to the sun with the Freedom top. You can do that by yourself.
Removing the entire hard top from the back of the Wrangler takes about 5 minutes to remove eight bolts, but it does require two people to lift the top off. It's not heavy, just awkward to lift and move by yourself.
Driving with the top completely off is well worth the time it takes to remove it, and it's an essential part of the Jeep Wrangler experience. When you take the top off and start driving you will notice that what you can do while driving changes in important ways.
You won't be taking long phone calls while driving with the top off. I normally schedule my driving time around phone calls during the day, but that's something I gladly gave up for the fun of driving with the top off. You will think about what you are bringing and the order you go to stores since using a soft top or driving with the top off leaves you with only two places to lock stuff up. You'll quickly learn to keep some bungie cords handy to keep bags in the back when you get up to highway speed.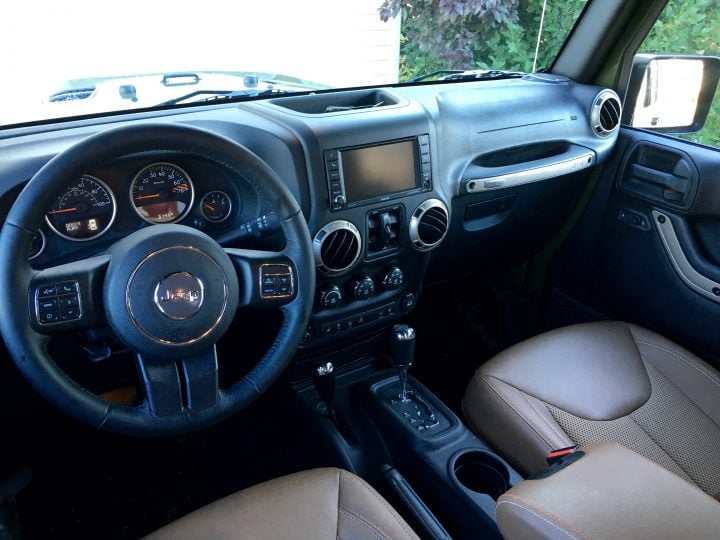 The interior of the 2016 Jeep Wrangler Unlimited is not as spartan as Wranglers of the past. The dash and interior are functional but also pleasant to touch and look at, and our model came with a leather wrapped steering wheel with controls for the radio and cruise control. The 75th Anniversary package on our 2016 Jeep Wrangler Unlimited Safari includes heated front seats wrapped in leather with a 1941 badge.
There is a capable stereo in the Jeep Wrangler, including a 6.5-inch touch screen that supports Bluetooth streaming, phone calls, Sirius XM radio and a hard drive to store your music.
The uConnect system supports the basic connectivity features you would expect to find in a car in 2016, but you will not find Apple CarPlay or Android Auto. It's not the best infotainment system on the road, but it handled most common tasks.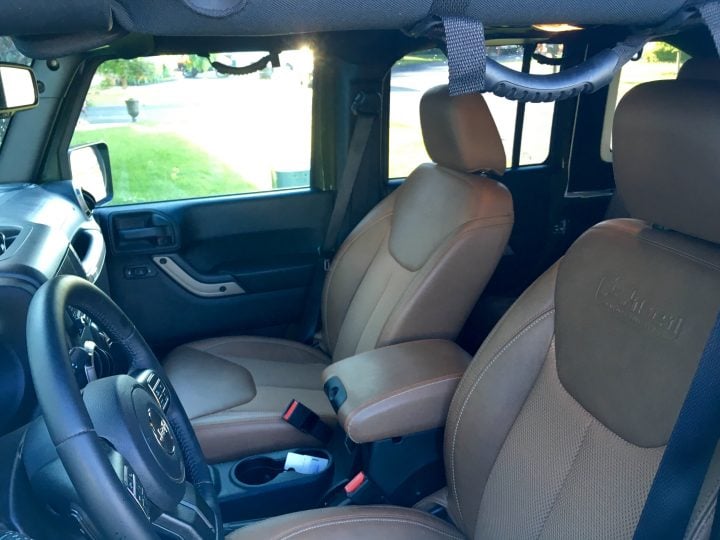 There is a USB port and audio line in to use in addition to streaming. With the optional 9-speaker Alpine stereo upgrade that includes a weather resistant subwoofer, music sounds great — even while driving at highway speeds with the top off. There are multiple places to plug-in phones and other gadgets that get power off 12V and there is a standard plug that can charge a laptop or other gadget.
There is no backup camera option, or any other parking aids, on the 2016 Jeep Wrangler. A 360 camera view would be helpful for when offroading, and while I do miss a backup camera it is not essential on this vehicle.
The IIHS Jeep Wrangler safety tests are good for small and moderate overlap front crash tests. Side impact is Moderate, and Head restraints and seats are also Moderate.
The 2016 Jeep Wrangler starts at $23,895 for the two-door Sport, and special editions with extras go up to $37,995 before you start ticking option boxes. The resale value of the Jeep Wrangler is very high, which is a factor to keep in mind as you shop.
Choosing a Jeep Wrangler is more of a lifestyle choice than buying most vehicles if you plan to use it like a Jeep. Yes, you give up some features inside and need to adjust some of your habits, but at the end of the day, you get a lot from the 2016 Jeep Wrangler.