The 2016 Lexus ES 350 delivers a smooth ride, good handling and an upscale interior with the right mix of performance and refinement that you would expect in an entry level luxury sedan.
The Lexus ES 350 is an upscale cousin to the 2016 Toyota Camry, with a nicer interior and less road noise. Unfortunately it doesn't have the easy to use touch screen that the Camry offers, leaving users with an awkward control knob that is distracting to use while driving.
New for 2016, Lexus improves the cabin with better noise isolation from the road and upgrades the front and rear look of the car to a slightly more aggressive, and decidedly more modern, style. Lexus also includes new pre-collision safety features with pedestrian detection, features new headlight options and lets users choose a panoramic sunroof as a standalone option when outfitting a new Lexus ES 350.
Driving enthusiasts should look towards the more capable IS or GS Lexus models, but the 3.5L V6 engine delivers 268 horsepower that allows you to quickly get to speed on a highway and to accelerate through town competently.
What You'll Love About the Lexus ES 350
Smooth ride with little road noise.
Capable V6 engine delivers good overall performance.
Spacious cabin and including back seat with lots of leg room.
Upscale interior looks nice and is comfortable.
Where the Lexus ES 350 Falls Short
Infotainment system controls are awkward and difficult to use while driving.
The 2016 LexusES 350 starts at $38,100, with our Lexus ES 350 review vehicle arriving with a few options that bump the price to $39,853. Buyers should consider upgrading their Lexus ES 350 with Intuitive Park Assist ($500) and Blind Spot Monitor with Rear Cross Traffic Alert ($500).
2016 Lexus ES 350 Performance & Efficiency
Lexus offers the 3.5L V6 engine a standard in the Lexus ES 350, which is a smart choice — it powers the entry level luxury sedan with enough speed and acceleration to satisfy the needs of the average driver.
When you need more speed, use the drive selector to go to Sport mode and then shift into S driving and you get more spirited acceleration. This is not to the level of Lexus IS or GS, but it's a nice boost compared to driving in the normal mode or the eco mode.
Drivers can toggle into ECO mode to use less gas when performance is less important and they can see indicators for smart ECO driving on the dash and on the in-dash screen.
Expect to meet or beat the 31MPG highway rating if you drive with the intent to save fuel. In the city a 21MPG fuel rating is also very realistic so long as you aren't driving in Sport mode with a heavy foot.
2016 Lexus ES 350 Design & Interior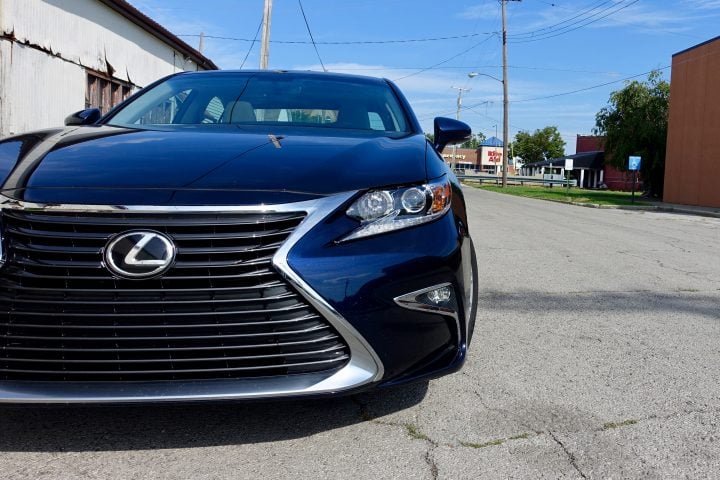 We like the 2016 Lexus ES 350 design much better than the 2015 models. The new grill goes to to the ground in a continuous flow that looks more modern and more upscale than previous models. The more stylized rear also increases the overall look and appeal of the ES 350.
While similar to the Camry in a number of ways, the Lexus ES 350 design offers a more refined appearance that fits the luxury brand better.
Inside, the ES 350 delivers an upscale dash with leather and accented stitching. Lexus includes soft, upscale materials anywhere your hand will touch or rest for more than a second.
Comfortable seats with power adjustments on the driver and passenger side offer a luxurious way to travel across town or on a longer road trip.
The back of the Lexus ES 350 includes comfortable seats, plenty of legroom, vents and a power point to charge phones or tablets.
2016 Lexus ES 350 Technology and Safety
While the Lexus ES 350 includes many luxury options that check off all the marks in the segment, the infotainment system and controls are not up to par.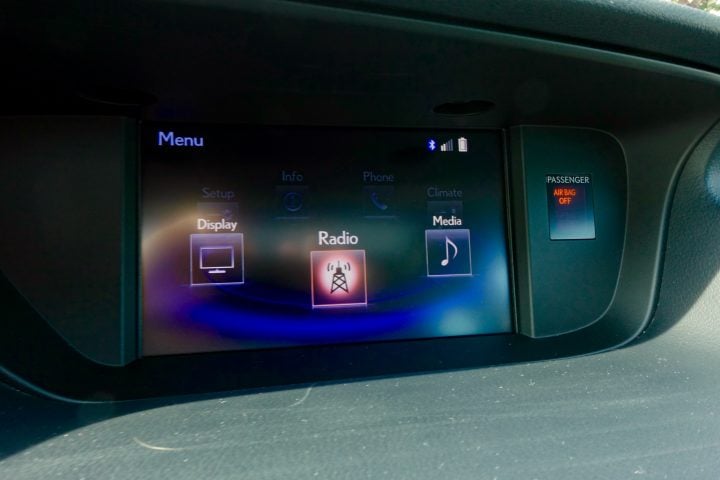 Our review Lexus ES 350 did not come with Navigation, which also means it did not come with any of the apps and Lexus Enform features.
Users still get a large screen and the ability to connect a smartphone with Bluetooth, but that's about it.
The biggest pain point of this system is the knob that you need to turn and move as a joystick to navigate the on-screen options. You cannot tap on the screen like you do in many cars, including the Toyota Camry.
Remote control options on the center console are more common on luxury cars, but ultimately a touch screen is a better way to interact with your car than using a knob that twists and pushes up, down, left or right.
Automatic high-beam headlights allow you to turn on the brights when you need them and leave the option on. The car detects traffic and automatically switches back to normal headlights.
We recommend buyers look into the automatic park assist and blind spot monitors, which adds $1,000 to the price tag, but after using similar features in other cars, it's something that is well worth the price.
Buyers who chose to wait for the 2017 Lexus ES 350 get additional safety features standard including Lane Departure Alert and Dynamic Radar Cruise Control — both of which are great safety and driver assist features.
2016 Lexus ES 350 Review Summary
The 2016 Lexus ES 350 delivers on the promise of luxury at an entry level price point. This is a good car that checks the right boxes for performance and upscale interior design while remaining under $40,000 to start. The infotainment system is frustrating to use if you are used to the convenience of reaching out and touching a screen to control music and other in car options.
Buyers should also look at the Hyundai Genesis or Acura TLX, which fit the bill and fall into the same category as the ES 350. If you prefer technology over luxury, look at the 2016 Toyota Camry XLE, which includes a better infotainment system and more safety options at an aggressive price point without giving up much.