The Lexus RX 350 is fun to drive and offers a luxurious interior with driver and passenger comfort in mind, although the cargo space is limited.
Lexus delivers a beautiful interior, gorgeous lines on the exterior and wraps up a very responsive engine paired with all wheel drive to deliver a sporty ride with good fuel economy for a SUV. One downside is that the new design leaves less room for cargo in the rear.
Add in driver safety and convenience features that allow you to drive confidently in a torrential downpour and you have a clear winner.
Lexus rX 350 Review Summary
The Lexus RX 350 is all new for 2016, and delivers a strong value for luxury SUV buyers. Lexus' attention to detail shines both in and out of the RX 350.
What We Love:
Strong exterior design that stands out in crowded SUV segment
Beautiful luxurious interior with little road noise
Smooth ride with responsive steering
Great value for a luxury SUV
What Needs Work:
Cargo space is limited compared to similar size SUVs
Remote Touch Infotainment controls aren't as easy as a touch screen.
The 2016 Lexus RX 350 starts at $42,875. Our Lexus RX 350 review vehicle is $52,968 with a Heads Up Display, the Lexus Safety + system that includes adaptive headlights, the premium package and other upgrades.
2016 Lexus RX 350 Driving & Performance
The standard Lexus RX 350 is fun to drive. Steering is responsive and acceleration is quick for a luxury SUV. If you want a sportier drive, you should consider upgrading to the Lexus RX 350 F Sport, but the standard version is still quite thrilling to drive.
Drivers can choose from three driving modes: Eco, Normal and Sport, depending on their preference. In Normal the RX 350 offers a smooth ride that was calm enough for my in laws to appreciate during a lift to get dinner. Switch into Sport mode and the RX 350 accelerates a little faster for a more spirited driving session. Road noise is all but cut out, the handling is responsive.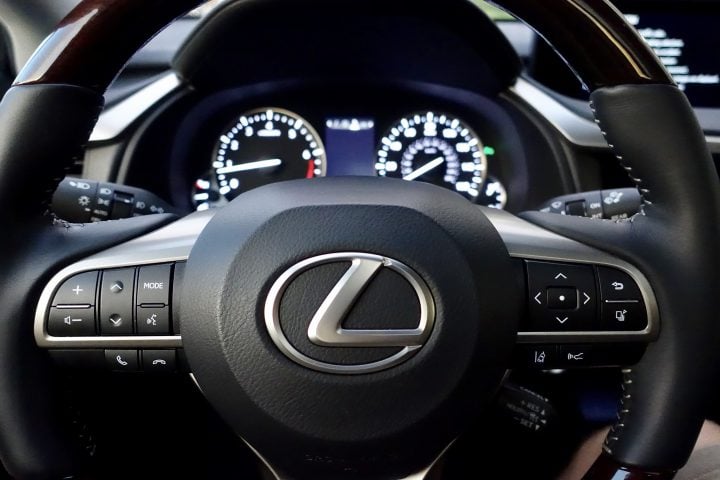 Lexus upgrades the engine for 2016 to deliver a little more horsepower. With a standard eight speed automatic transmission fuel economy gets a small boost as well.
The RX 350 beats the highway fuel economy on the sticker delivering 31.7 MPG while leaving town, driving on the highway, going through a small city and heading back to take the highway home.
2016 Lexus RX 350 Design & Interior
The RX 350 grille is massive, but it fits the new longer, closer to the ground look that helps the vehicle look less like a traditional SUV. Angles and sharp edges dominate the aggressive exterior, while curves and leather command the interior.
Thanks to the longer wheelbase in this new model there is plenty of legroom for passengers in the front and back seats. Plush leather seats with electronic controls on the front are soft and comfortable. The optional ventilated and heated seats proved essential while drying off after running through the rain.
Anywhere you rest your arms or hands is covered in a supple leather, with requisite accent stitching in key areas. With an electronics control you can move the heated steering wheel wherever you need it to comfortably command the RX 350.
There's a reason every car commercial shows a huge panoramic moon roof that spans from the front to the rear seat: it's impressive. With the push of a button a cloth cover slides back to reveal the sky to all passengers. The front portion also opens up to let the air in. This is a small feature that will stand out every time you get in the car.
The sharp angles and sleek look do cut into the cargo room some with a small rear storage space. There's room for groceries or to haul suitcases to the airport, but it's less than the competition.
2016 Lexus RX 350 Technology & Safety
The Lexus RX 350 includes a huge display that connects to apps, shows your entertainment options and, in our case, includes navigation. The screen looks nice: it's easy to read. Navigation worked wonderfully, even routing me around a traffic jam to get me to a meeting on time.
Instead of letting you touch the display to make selections, you need to use a Remote Touch controller. This small rectangle sits on the center console and moves around on a small pad.
It's much better than the touchpad and jog wheel we've used on other Lexus models, but still not as easy to use as a touch screen. Thankfully voice control works for many things and holding the phone call button will activate Siri Eye's Free.
Night driving, even in the rain, was no problem thanks to bright LED headlights, automatic brights and adaptive headlights that follow the road. When you approach a curve in the road, the RX 350 headlights automatically point that way to light it before you turn the car. If you hate driving at night and turning around dark corners or onto a dark street, this is a must have feature.
While traveling through miles and miles of construction on the interstate the radar cruise control proved essential. This keeps the car a safe distance from the car ahead without constant manual adjustments. When a torrential downpour hit the automatic wipers kicked on and the Lane Keep Assist helped keep us in the skinnier lanes even when visibility was poor.
An optional Heads Up Display, or HUD projects the speed, speed limit, directions and other information on the windshield allowing you to easily see important details without taking your eyes off the road.