2016 Moto X Release: What We Know So Far
With summer here, Motorola and its new parent company Lenovo are working hard on the 2016 Moto X which could be called the Moto Z. Recently more and more reports have started to surface, not to mention a slew of images have appeared giving us our first look at the new 4th Gen Moto X 2016. Here we'll be going over everything we know so far, along with Motorola's official June 9th launch event which has now been confirmed.
Back in July of 2015 Motorola announced the Moto X Pure Edition, months earlier than anyone expected as all prior models arrived around September. The release date still came in September, right on time. This year though, it could be released even sooner with a bold new name and look.
Read: Moto X Pure Edition Review
The Moto X Pure Edition, Style, and DROID lineup were all great phones. And while we don't know what to expect this year, a photo leaked back in December teasing a potential all metal design that looks nothing like its predecessors. Then this weekend the popular and often accurate leakster HelloMotoHK revealed three renders that are reportedly the real Moto X for 2016, or the Moto Z. Here's what we know so far.
Over the past couple of years Motorola has gone through lots of changes. From being split up from the main company, sold to Google, then sold again and bought up by Lenovo, the PC Giant. However, during that time Google and Motorola released some of the best Moto X and Moto G smartphones ever made. In 2016 though, things are taking a radical shift in a different direction.
Update: Brand new information surfaced last week suggesting Motorola will have two models of the Moto X. Currently codenamed the Vertex, and the brown model is the Vertex Thin. Being extremely thin, and customizable with 6 modules that connect to the pogo pins on back, which isn't a speaker.
Update #2: According to @evleaks Lenovo may be ditching the Moto X name, and instead going with Moto Z.
Goodbye, Moto X; Hello, Moto Z https://t.co/ZuoBCAMBGB pic.twitter.com/zXwZuUBH9w

— Evan Blass (@evleaks) May 17, 2016
To make things more confusing, Motorola has confirmed an event will take place on June 9th, and here's a sign up page and a teaser video. In that video there are subtle hints reminding us of the iconic Moto RAZR from the old days, suggesting the Z could be accurate, or it will be the Moto RAZR and not the Moto X. This makes sense considering one of the leaked renders is an extremely thin 5.4mm thick Moto for 2016.
If the brand new renders we received last week are the final design, the new Moto for 2016 won't look anything like previous models. Three renders have leaked showing the regular 2016 Moto X, a customized model, and the new DROID for Verizon Wireless, looking exactly like the Moto X. These all match a photo from December, which leads us to believe they're real photos.
Motorola and Lenovo announced that their new phone will be unveiled tomorrow, June 9th at Lenovo TechWorld. The livestream will be over two hours long, with the new Moto Z, MotoMods and more all being announced during the second hour. Stay tuned for more details.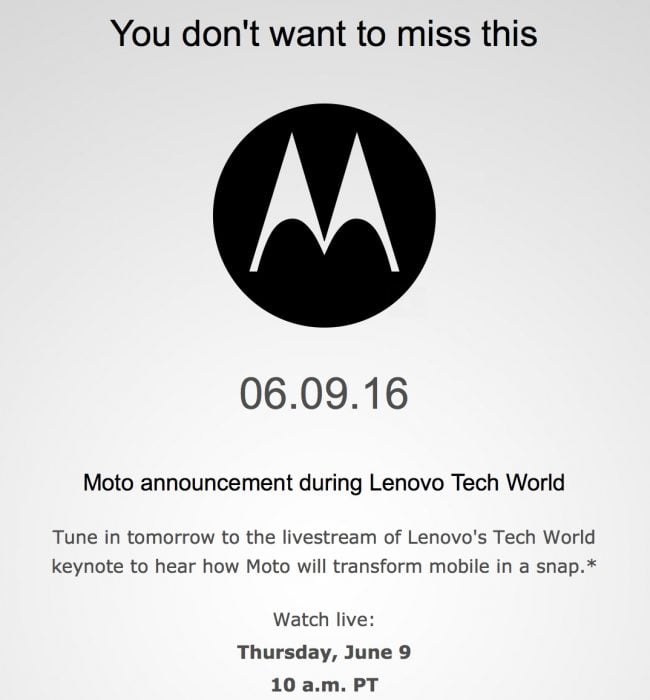 The company teased they will transform mobile in a  "snap" which is likely a hint to the snap-on MotoMod accessories detailed below.
HelloMotoHK had a few comments to share regarding potential features, where the speaker will be and the huge massive camera on back, but the fine details remain a mystery for now. That said, we have a good idea of what to expect in terms of features, specs, and even a launch and release date.
Moto X 2016 Design
As we can see above and below, the new Moto X for 2016 will be completely different from all other version. Motorola has shifted to an all metal or aluminum frame, to better compete with Samsung, HTC, Apple and even LG. The camera received a major overhaul as well, which has been the weakest link in the Moto lineup for years.
The first photo shows metal sides and back, with a white front. Then our second image reveals what appears to be a Black Moto X 2016, that has been customized on MotoMaker.com with an almost bronze colored metal frame. It's also said to be a different model with a lower end 1080p HD display, Snapdragon 625 8-core processor, 2GB of RAM, and be just 5.5mm thin. However, it's the oddly huge camera with integrated flash and sensors, a square front-facing fingerprint scanner, and rear cutout pinholes users will notice most.
If this photo is real, the Moto X 2016 will be an odd looking yet possibly very capable smartphone. Being the first Moto device with a fingerprint scanner, and potentially one of the best cameras around. This year most manufacturers went down in megapixels, but bigger sensors for improved low-light photography, and Motorola looks to follow that trend with an even bigger camera sensor. Or at least a big lens.
We can see three very pronounced buttons on the side, which are likely power and volume keys, but that's about it. There's also pinholes on the bottom, which we're not hearing will connect six different modular accessories similar to the LG G5 idea. Only they'll be stereo speakers, battery cases, camera cases with a big lens, a pico projector and more. These will be called Moto "Amps" that attach to the phone.
There's also a noticeable front facing camera and LED flash for improved selfies, a large cutout for the USB Type-C charging port, and a huge chin with a lot of bezel on bottom before the fingerprint scanner. It isn't the sleekest looking phone, and has a big camera bulge, but we'll reserve judgement until we learn more details. Thoughts on the new design, if it's indeed real? Let us know in the comment section below.
Moto X 2016 Specs
So far we've receiving nothing but photos and a few small details about the design, with no mention of specs for the new 2016 Moto X. That said, early reports suggested a large 5.7-inch screen similar to last years Moto X Pure Edition, and specs that match most phones released in 2016. The information below has yet to be confirmed, and is purely speculation at this point.
Moto X 4th Gen Specs
5.5-inch 2560 x 1440 Quad-HD Display, one with 1080p HD screen
Quad-Core Snapdragon 820 processor with 4GB of RAM (or 820 Lite)
16 or 32GB of storage and micro-SD slot (like last year)
Android 6.0.1 Marshmallow or Android N
16 Megapixel Rear Camera with Dual LED Flash, sensors, auto focus, OIS
8 Megapixel Front Camera with auto-focus and flash
Metal Frame with MotoMaker customization
USB Type-C Port with Fast Charging, front fingerprint scanner
2,600 mAh and 3,600 mAh battery options
Modular accessories that attach to the pinholes on back
more
Again, the information above has yet to be remotely confirmed, but makes sense given Motorola's recent history. In previous models they use specs just slightly lower than the competition, but release phones $200-300 less than others in the market. We need to wait for more leaks or reports from Motorola themselves to be sure.
The leakster who revealed the photos claims the speaker will be ported to also come out the front earpiece up top, but again, that's yet to be confirmed.
Moto DROID for Verizon
As many already know, each year Motorola releases their phones, then a Verizon exclusive "DROID" smartphone with slightly improved specs or features. However, in recent years it's become almost identical to the Moto X, and that could be the case in 2016.
The leaks also shared a Moto DROID photo for 2016, which looks nearly identical to the Moto X but with a few visual changes.
If the photo above is real, the Moto DROID could be very similar to the Moto X but with a more rounded front fingerprint scanner, slightly different speakers or pins on back, and offer a more unique design and possibly longer battery life.
2016 Moto X Release Date
The new design is a bit odd and some will love it, others won't, but in the end what everyone wants to know is the release date. We have no concrete evidence to backup any reports at the moment, but the photos do state August 24th on the screen weather widget. At the same time an event is scheduled for June 9th, which would be nearly two months later if the 24th is accurate. Still, that's earlier than prior models which arrived in September.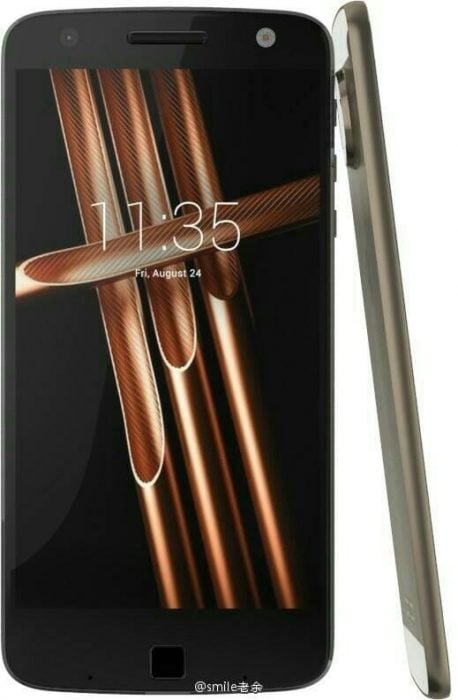 Putting the release date on press photo screens has been something most manufacturers do, including Motorola. Suggesting this phone could arrive around August 24th.
The original Moto X debuted in August and was released in September, and most others arrived around the same time. Last year it was announced in July but released in early September, lining up with prior years. That said, with June 9th official the end of August makes a lot of sense At the end of the day we'll have to wait and see. Lenovo Tech World is scheduled for June 9th, and we'll see some new Moto smartphones get announced. Whether that's the Moto X, Moto Z or a new RAZR, remains to be seen.
A new Moto G4 was revealed in the middle of May, and now all we need is Moto's high-end phone to complete their main launches for 2016. Stay tuned for more details.

As an Amazon Associate I earn from qualifying purchases.