The 2016 Toyota Camry is a competent and well equipped car that will get you where you are going. When you need a reliable car with the right safety and entertainment options, the Toyota Camry is the car to look at.
Buyers looking for a car to carry them from point a to point b can appreciate the entry-level Camry, but users who want a little more zip should upgrade to the 2016 Toyota Camry XLE with a V6.
With the upgraded engine you still get good fuel efficiency, 21 in the city and 31 on the highway, but you also get the pep that many of us crave — and that you need to merge into highway traffic.
You or your teen won't be drag racing with the Camry, but the V6 equipped XLE that we reviewed can do 0 to 60 mph in under six seconds and hit a quarter-mile in a little over 14 seconds.
Toyota upgraded the looks of the Camry in 2015, so there aren't any major visual changes for 2016, which is OK thanks to a more aggressive look than older models.
What You'll Love About the 2016 Camry
Impressive V6 Engine
Comfortable, large cabin and backseat.
Easy to use infotainment system with apps
Excellent steering wheel controls
Easy to use smart safety features are a must upgrade
Where the 2016 Camry Falls Short
Mushy ride on curvy roads
More cabin noise than some competitors
The 2016 Toyota Camry starts at $23,070 for the base model with a less powerful 2.5L engine. Our 2016 Toyota Camry XLE retails for $31,370 with a faster than you would expect V6, a 7-inch touchscreen display and JBL premium audio as well as important safety features and wireless charging for your smartphone.
2016 Toyota Camry Performance & Efficiency
The 2016 Toyota Camry with the 268 horsepower V6 makes the Camry faster than it looks. Even if you don't think you need a fast car this is an upgrade you'll appreciate paying for every time you merge into highway traffic or need to get up to speed fast in town.
Even with the more powerful V6, the Toyota Camry still delivers 31 miles per gallon on the highway and in our test 26 miles per gallon mixed fuel efficiency. That's slightly better than the 25 MPG rating for mixed.
2016 Toyota Camry Design & Interior
The Toyota Camry design is visually appealing without going so far as to be bold. Toyota's 2016 Camry design stands in stark contrast to the 2014 model, and it's in line with what we expect a mid-size sedan to look like in 2016. We love with the simplicity of tapping on the door handles to lock and to unlock the car.
Inside the Camry offers a comfortable and sizable interior that can comfortably seat four adults, without knees touching the backs of seats. Oddly there is no power connection in the back seat to charge smartphones on long trips.
The front of the Camry includes dual zone climate control and in the XLE there are two vents for the back seat. Most of the surfaces you will touch while driving are soft, with a pleasing feel, but there are some harder plastic textured interior panels.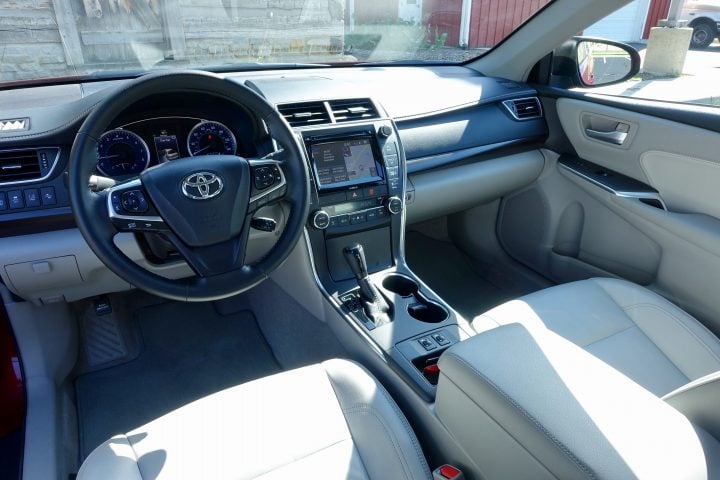 Seats are comfortable with 8-way power adjustment and lumbar support for the driver and 4-way adjustment for the passenger. Our XLE included heated seats as well.
2016 Toyota Camry Technology
The Toyota Camry stands out in the technology and safety department, offering access to an easy to use Entune system and many driver assistance and safety features that you'll use every day.
Users control the infotainment on a 7-inch touch screen, through steering wheel controls and voice control. Unlike some car systems, the touch screen is responsive and offers fast access to important options. Users can customize the home screen to see what is most important at a glance and can get there by touching a physical home button to the left of the display.
There are a variety of apps including Pandora, IHeartRadio, Yelp, Facebook Places and Open Table as well as a sports app to check scores and an app to show you the cheapest gas prices near you. There is no Spotify app or Apple Music app, but you can still stream those through Bluetooth. The system also supports Siri Eyes Free so that you can control your iPhone without touching it.
Inside the small opening under the center console is a Qi wireless charger that will charge many Android phones and an iPhone in the Mophie Charge Force case without plugging in.
The only thing missing from the technology inside the Camry is Apple CarPlay and Android Auto support. With these options you can plug in an iPhone or newer Android and get access to apps and smartphone features on a car screen. Toyota does not have plans to offer this on any vehicles at this point.
2016 Toyota Camry Safety
Our 2016 Toyota Camry review vehicle arrived equipped with an Advanced Technology package that includes smart safety features and driver assist features that are well worth the upgrade.
Dynamic Radar Cruise Control is a fancy way of saying you can set your cruise control at the speed you want to go, and if the person in front of you slows down you don't need to adjust cruise or tap the break. When engaged the car will keep you one, two or three car lengths back and keep speed. This is amazing for long trips on two lane roads and through construction on the Interstate.
Another safety feature is Lane Departure Alert, which will beep at you if you drift over the right or left lanes. This works when traveling 32 miles per hour or faster and is a feature you can turn on and off.
Blind spot monitors make changing lanes on the highway with confidence easy, even in congested traffic.
Drivers also get a pre collision system with this package that will in some cases automatically apply the brakes.
A standard rear backup camera offers a full view of what's behind you when parking and when backing out of a drive or a parking spot.
Automatic high-beams allow you to fully light up the road ahead, and will dim when a car is approaching or coming at you so that you don't blind other drivers.
Rounding out these features is Toyota Safety Connect which offers a 24/7 call center at the touch of a button to help you with emergency assistance, roadside assistance, to help you locate a stolen vehicle and includes automatic collision notification.
2016 Toyota Camry Review Summary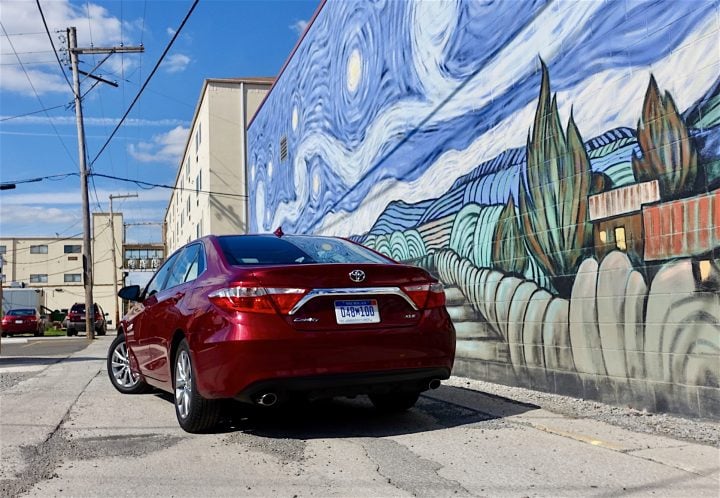 Toyota manages to make a sedan that excels by delivering all the right features for all the right people — and that's why it's a perennial best seller.
The competition is upping the game with 2016 and 2017 models that buyers should also look at, but the total package Toyota delivers at the right price is hard to beat.

As an Amazon Associate I earn from qualifying purchases.