The 2016 Toyota Prius is an impressive car that surprised and amazed us while spending a week driving this hyper-efficient car.
The 2016 Prius Three hatchback is not a plug in electric vehicle with a specific range. It's a hybrid that combines a gas and an electric motor into a single car to deliver 58 MPG in our testing and a range upwards of 500 miles on a single fill up.
New for 2016 the Toyota Prius features a more aggressive look with more stylized lines. You'll notice this on the front, but especially on the back of the Prius where zig-zag taillights and curves quickly catch your attention.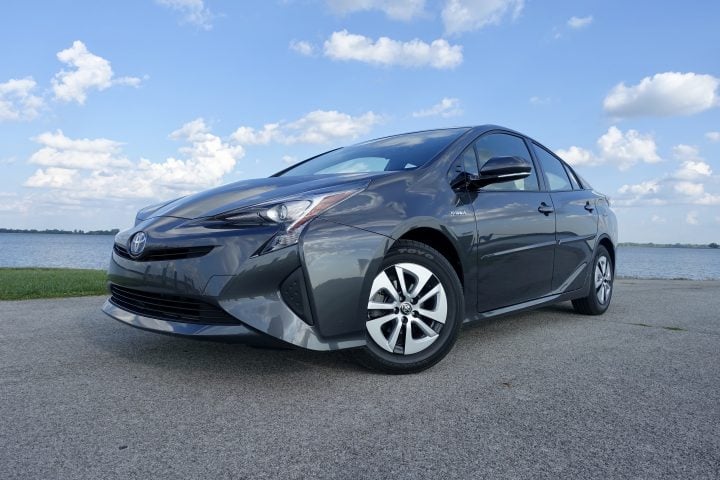 Before you first drive a hybrid car you'll have concerns about acceleration, performance, speed and a need to drive with a soft foot. This is the first hybrid car I've driven for any real length of time and I had these same questions.
The 2016 Prius is no slouch when you need to get up to speed to get on the highway or to overtake a slow and slumbering old car on a two lane country road. The switch from electric to gasoline is so seamless that you won't know unless you're paying attention to the engine sound or looking at the various screens to tell you how you are driving.
I like that the 2016 Prius offers three different places to look to see how friendly you are driving — on the dash, on the infotainment screen and on the heads up display. That said, I really like that you don't need to pay close attention to them to get decent fuel economy.
The 2016 Toyota Prius starts at $24,200, while the Prius Three we drove starts at $26,250. With the Advanced Technology Package and other upgrades the MSRP of our model is $29,842.
2016 Toyota Prius Driving & Performance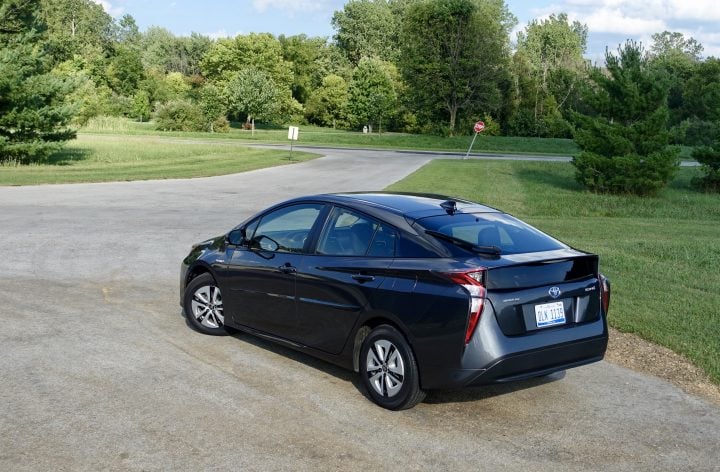 While there's something to be said for the impressive power and driving feel that a Mustang GT, Dodge Challenger or a Lexus RC F deliver — it's impressive what Toyota is able to do with the tiny 1.8L 4-cylinder engine that rests under the hood.
While reviewing each of those vehicles, a trip to the gas station was something that I did every few days, but during a week with the Prius Three I didn't even think to check where the next gas station was.
The Toyota Prius may not deliver the same thrills as a sports car, but compared to the daily drivers that many of us rely on — a Ford Fusion, a Toyota Camry or a Honda Civic — it's in the ballpark.
Steering is responsive and the small car is quick to accelerate when you need to get to speed or pass. Driving through town and on the highway at speeds of 75 miles per hour the Prius never felt like it needed anything more than it already brought to the table.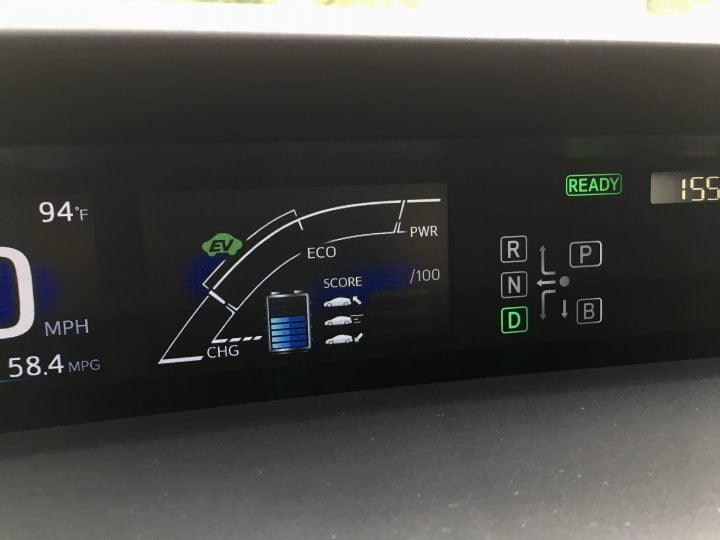 The Prius includes four driving modes; Normal, ECO, Electric and Power. If you switch into Power you get a small boost in overall performance, while ECO helps maximize fuel economy.
Toyota includes fuel economy data on the infotainment screen so that you can easily see your driving stats, including how much energy is regenerated.
Couple a good driving experience with the 58 miles per gallon that I achieved this week and it's a clear winner for drivers with a daily commute. This exceeds the EPA estimate and, aside from a few trips to specifically test how eco-friendly I could drive, I was not dramatically changing how I drive.
2016 Toyota Prius Design & Interior
The 2016 Prius Three design is more aggressive than on earlier models, with sharper lines that draw the eye and an attention seeking rear end with zigzag taillights.
We like sportier look of the Prius Three and the hatchback is an essential option that allows users to carry an impressive amount even though the car is compact.
The white center console and accents in our 2016 Prius Three review loaner definitely takes some getting used to, and while I appreciate the Sci-Fi color scheme my wife never came around to this white accent.
Toyota mounts a small, toy-like blue shifter in the middle of the dash. It works perfectly fine and only takes a trip to adjust to. The blue finish practically invites passengers to touch it, just ask them to avoid doing so while you are driving.
Seats in the Toyota Prius Three are comfortable, with height and distance adjustments. The rear seat fits adult passengers without knees touching the seat in front. There is a place to charge your phone in the rear seat. The driver can control the heating and cooling to focus on the front of the car only, or to include the whole car.
Fold down the rear eats and use the hatchback to greatly expand the cargo hauling capabilities of the Prius Three.
2016 Toyota Prius Technology & Safety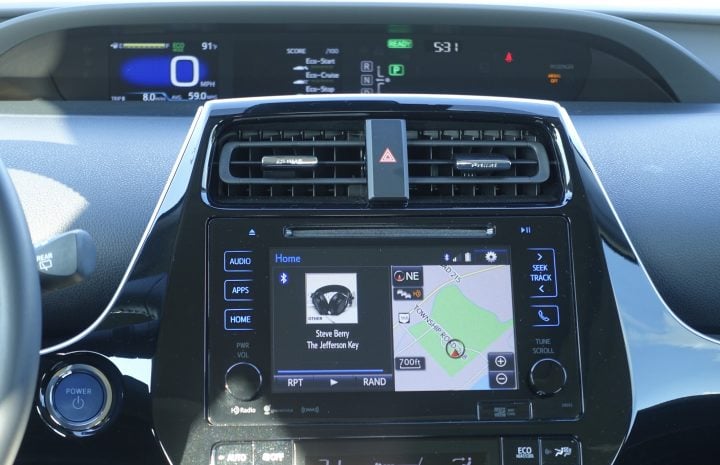 The 2016 Toyota Prius includes a large touch screen that supports all the basics, like Satellite radio and Bluetooth connectivity — and it also includes support for apps like Pandora, sports scores and a way to check gas prices for the rare time you need to fill up. The system is responsive and includes easy to use voice controls.
Users also get a wide screen in the center of the dash that replaces the traditional gauges with a screen to show you speed, how eco-friendly your driving is and to help coach you to drive better to save gas.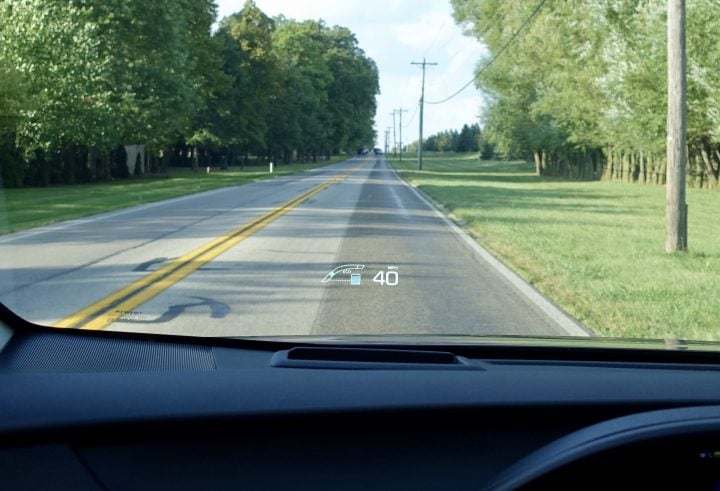 Another interesting option is the Heads Up Display, or HUD, that allows you to see the speed, eco options and directions on the windshield in front of the driver. It's a cool way to see the important details while looking straight ahead. You can turn this on or off.
Safety features include radar cruise control that automatically adjusts to the speed of the traffic in front of you so that there is no need to constantly toggle with the cruise control. Lane Departure Assist with Lane Keeping Assist will notify you if you cross over a road line and attempt to steer you back into your lane. This isn't self driving, it's an assistance feature to keep you safe. Toyota also includes automatic high-beams so that you won't flash oncoming traffic with your brights.
While we couldn't test it, the 2016 Prius Three with the Advanced Technology Package also includes a pre-collision system with pedestrian detection to help keep you and people on the street near you safe.
2016 Toyota Prius Three Review Summary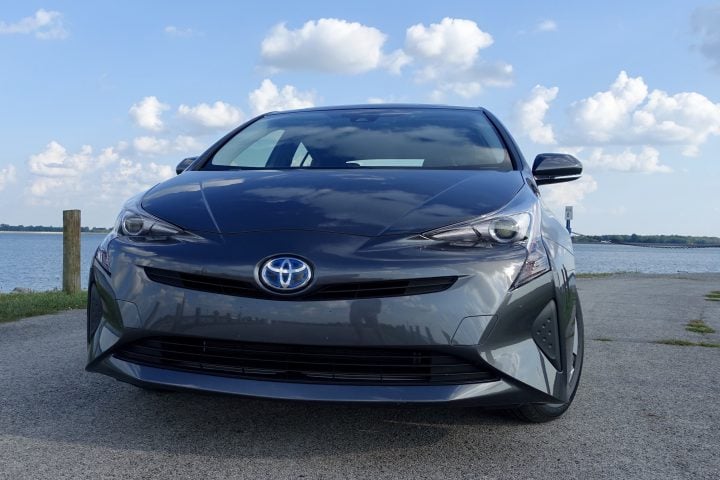 There's a reason that Toyota sells so many Prius cars every year: It is the perfect car for commuting. With it you trade a little of the power of a gasoline-only car for the fact that you'll rarely visit a gas station.
I never felt like I needed more power to zip through an intersection or merge onto a highway. The transition from electric to gas was smooth and seamless, delivering a comfortable ride.
The 2016 Prius Three is practical, without the compromises you might think it has.

As an Amazon Associate I earn from qualifying purchases.