2016 Toyota Tacoma Review
The 2016 Toyota Tacoma is a midsize pickup that can go anywhere you need to go on the road or off, tow up to 6,800 pounds and tie down cargo with smart tie down options in the bed. We spend a week with the 2016 Tacoma TRD Off-Road and it's clearly a truck that's ready to go places.
Toyota completely redesigned the Tacoma for 2016, but it doesn't feel like the first year of a new car thanks to a finished look and feel. With the TRD version it has the chops to go off-road and get you out of a tough situation due to a Crawl feature and other smart terrain management options.
What You'll Love About the Tacoma
Comfortable ride, fairly quiet ride for a pickup.
3.5L V6 is capable and powerful
Solid steering and handling.
TRD Off-Road models are incredibly capable, now with Crawl control.
Great cargo management system with tie downs.
Sharp looking interior with easy to use infotainment.
High resale value
What You'll Need to Adjust To
Your legs stick out front, more like a car.
You'll likely want to upgrade speakers.
 Longer wheel base may limit you on tight trails or climbing some obstacles.
The 2016 Toyota Tacoma starts at $23,660 for a base model up to $35,105 for a Limited model. We put 600 miles on the 2016 Toyota Tacoma TRD Off Road that starts at $31,125.
Our 2016 Tacoma review vehicle was $36,028 as equipped — ready for work, play and off-roading. This came equipped with a 5-foot short bed and a double cab that can accommodate 5 people.
The only thing missing from our review vehicle was the Premium and Technology package that adds in blind spot monitoring, dual zone climate control, automatic headlights, rear parking sensors and a moon roof.
2016 Toyota Tacoma TRD Performance
The updated 3.5L V6 is quieter and more fuel-efficient than the V6 from 2015, which performs well with the six speed automatic transmission.
Acceleration is slow at times when in the standard drive mode as shifting prioritizes fuel economy. Slide the shifter into Sport mode or press the ECT power button on the dash to enhance performance at the cost of fuel economy. In Sport mode you'll have absolutely no trouble accelerating out into traffic.
You will hear some road noise, but it is much quieter than a Jeep Wrangler and overall it is quieter than I expect for a pickup.
Steering is great with good control, with a wheel that comes easily back to center and feels solid.
The Toyota Tacoma TRD Off-Road pickup is very capable off-road. We took the midsize pickup to Bundy Hill Offroad in Michigan to test the performance in a sea of Jeeps.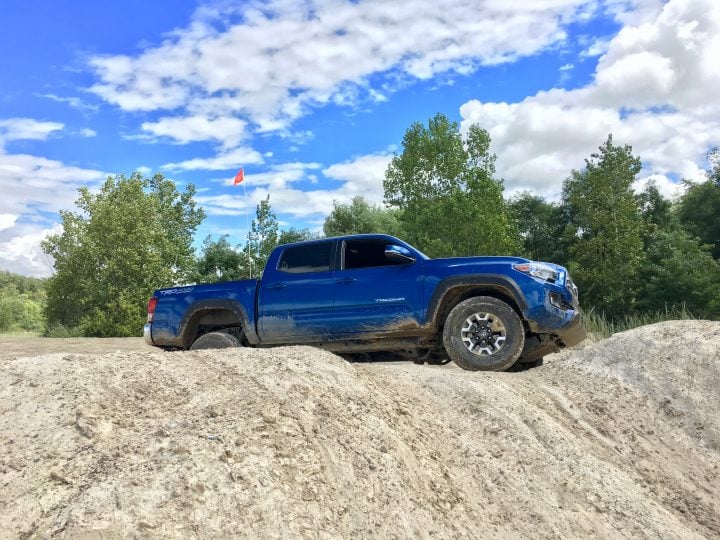 While driving through the sloppy mud of Buck Lake the Tacoma TRD maintained traction and didn't get bogged down in deep wet mud. We then took the Tacoma TRD through multiple trails and the only real challenge we ran into was the overall size of the vehicle compared to the shorter Jeeps that typically run the trails.
Rutted and washed out trails weren't a problem and our stock Tacoma TRD climbed steep loose hills easily and, while balanced precariously on the way down one hill, maintained grip and delivered us back to the mud with ease.
Toyota includes a Crawl Control system that can dig you out of a hole if you are stuck in the sand. While we did not bury ourselves as deep as the demonstration above, the system was able to pull us out of the a sandy hole at the bottom of a hill.
In addition to Crawl Control, you can choose the terrain you are driving on when in 4 Low for better traction and control. If you are taking this midsize pickup out to your fields and woods to work, the Tacoma TRD Off-Road will get you to the job and back.
Fuel economy is rated at 18 city and 23 highway, with a mixed 20mpg. This is in line with what we experienced while driving on the highway and toll roads into Michigan and back.
2016 Toyota Tacoma Design & Interior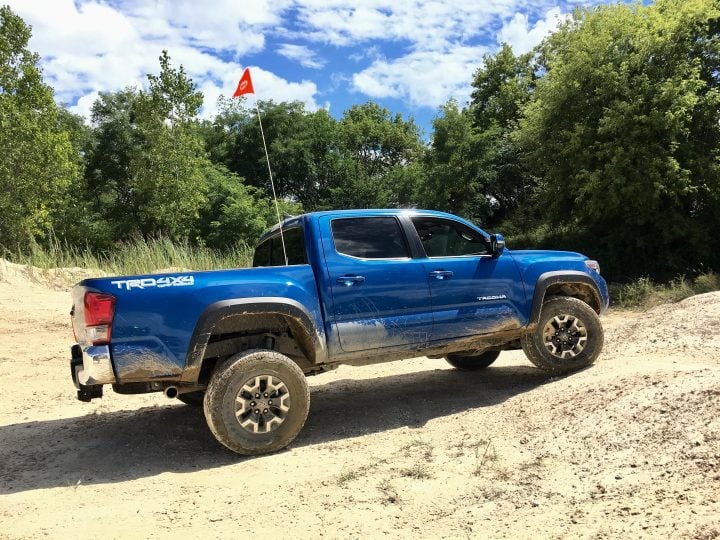 The 2016 Toyota Tacoma TRD features a new more aggressive style with a beautiful front end and a strong look to the sides. This new look for 2016 works really well.
The Tacoma bed includes multiple tie downs in the bed and a deck rail system with four movable tie down cleats that allow you to secure cargo of many shapes and sizes. Lights on the back of the cab and on the tailgate light up the cargo area and rear of the truck when you exit so that you can see what you are doing. Our truck also includes a 120V power outlet to run tools right from the bed of the truck. There are also two small storage bins in the bed, but you cannot lock them.
Inside the Tacoma you'll find a well laid out interior with controls where you expect them. Seats are comfortable, even after a full day on the road. The backseat has enough room for cargo you need to lock up, or you can bring three friends with you. The rear seats fold down and there is a storage compartment below the seats, though one side includes your jack.
There is a GoPro mount on the windshield of the 2016 Toyota Tacoma standard, so you can record your adventures easily.
One adjustment is that you sit in the Tacoma more like you are in a car than a truck, with your feet out in front of you instead of down. There is no height adjustment to the seat and the steering wheel only telescopes out a short way, which could prove problematic for some drivers.
2016 Toyota Tacoma Technology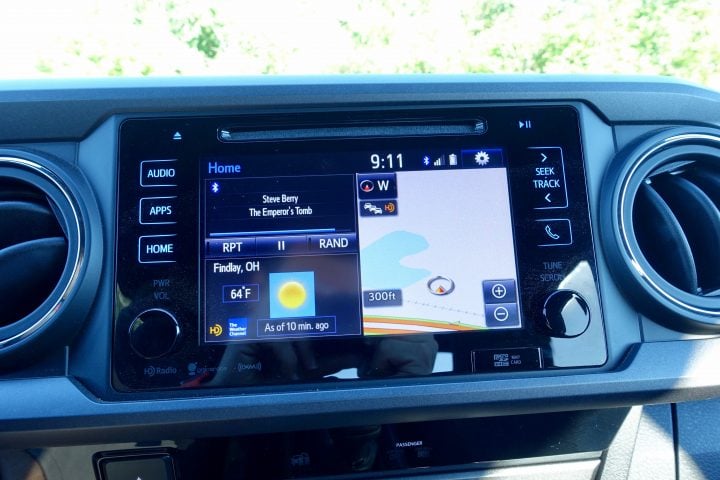 The 7-inch screen in the 2016 Toyota Tacoma is easy to see and responds to touch fast. The system includes access to easy to use navigation that will help you get to your destination and even alert you to traffic jams on your way.
With Entune, you can access apps and stream music over Bluetooth easily. When backing up, the camera is a great companion in the city or on the trail. If you upgrade to the right package you can get backup alerts when you get too close to something.
There is also a Qi wireless charger in the cabin, that can charge a compatible smartphone without the need to plug-in a wire. Many Samsung phones support wireless charging and with the Mophie Charge Force iPhone case we are able to wirelessly charge the iPhone 6s with this feature.
Voice control allows drivers to use the infotainment system with the push of a button, and iPhone owners can use Siri Eyes Free to complete many actions by holding the phone button.
Toyota would do well to upgrade the sound system to deliver richer sound and more volume.
2016 Toyota Tacoma Review Summary
The Toyota Tacoma TRD Off-Road is an excellent midsize pickup that delivers in all the key places with only a few downsides.
With a smart cargo management system, easy to use infotainment system, great off-road capabilities and good overall ride — the 2016 Toyota Tacoma is a great choice for your next mid-size pickup.

As an Amazon Associate I earn from qualifying purchases.