2017 Lincoln Continental: 5 Standout Features
The 2017 Lincoln Continental utilizes technology to deliver a safer, more serene driving experience.
Reviving the Lincoln Continental for America and China, Lincoln Motor Company strives to deliver an upgraded experience for drivers and passengers in a full-size sedan that relies on technology to aid the driver, upgrade the experience from the second you approach and offer a premium experience.
Lincoln announced the 2017 Continental at the North American International Auto Show in Detroit.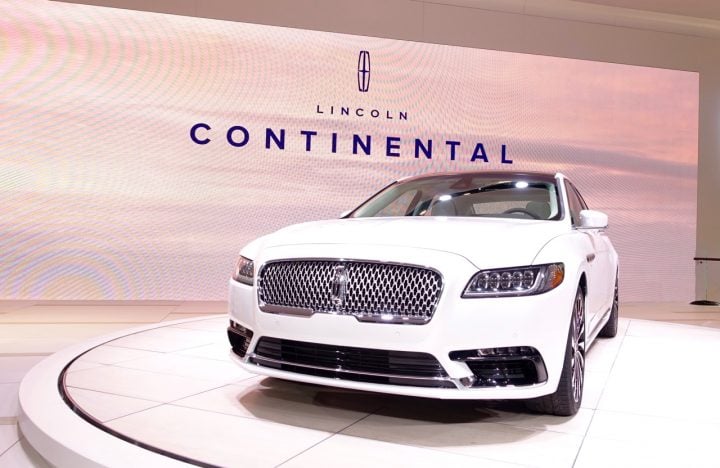 Here are the stand out features from the new 2017 Continental that use technology to upgrade the experience.
Embrace Lighting – When you approach the Continental, LED lighting in the front and rear of the car lights up in a flowing motion, a light illuminates the area near the front doors and interior lights come on.
Pedestrian Detection – The new Continental includes a variety of driver assistance features including Pre-Collision Assist with Pedestrian Detection that uses sensors to detect a potential collision and apply the brakes automatically with the capability to bring the car to a full stop.
Road Noise Control Tech – The 2017 Continental uses Active Noise Control to listen for unwanted noises using microphones and then cancel them out using speakers in the car. Acoustic laminated side windows also help cut down on unwanted wind and road noise. Optional 20-inch tires are lined with foam to reduce road noise from the tire cavity up to seven decibels.
eLatch System – Instead of pulling on a door handle, press a button to pop the door open. This allows designers to put the speakers in the best location and to keep a clean exterior look.
360 Degree Camera System – The included 360 degree camera uses a number of cameras mounted on the car to see what the surroundings look like, simulating an overhead view that helps drivers park easily.
Lincoln Motor Company will start selling the new Continental this fall. The car will be produced in Michigan. No price was provided at this time.
Ford provided accommodations while attending NAIAS.