2017 Mazda MX 5 Miata Club Review
Slide into the 2017 Mazda Miata Club and you can instantly tell that there is something special about this car.
The low slung seat grips your sides, letting you know that excitement is just around the corner. As you look out through the oh-wait-it's-that-close windshield the curved hood re-enforces the fact that you are about to have fun.
Depress the clutch, push to start and the engine comes to life. Before engaging the manual transmission it's time to put the soft top down. Now the experience is complete and you're ready to drive.
There is clearly something special about the 2017 Mazda Miata Club, and it can be yours for around $30,000 — which is much less than you'll expect after driving it.
2017 Mazda Miata Club Review Summary
The 2017 Mazda MX 5 Miata Club is as good as it gets. It is just squirrely enough to have fun, and fast enough to be thrilling: but not so much that it pairs the potential of jail time with that exciting ride.
What We Love
Beautiful design inside and out
Quick open manual top
Thrilling driving experience
Incredible balance
What Needs Work
Limited storage
A backup camera would be great
Mazda has not yet announced the MSRP of the 2017 Mazda MX 5 Miata Club, but the 2016 model starts at $28,600 and we expect a similar price for this model. Our 2017 Miata included the Brembo/BBS package that adds $3,400 to the cost of a 2016 model.
2017 Mazda MX 5 Miata Driving & Performance
The 2017 Mazda MX-5 Miata Club drives like a much more expensive car. After a major refresh in 2016, the Miata is back and it's ready to play. Mazda cut the weight dramatically all through the vehicle, which allows the naturally aspirated 2.0 liter 4 cylinder engine's 155 horsepower and 148 pound foot of torque to propel you quickly down the road and around curves.
Skilled drivers can put the six speed manual through its paces to go 0 to 60 mph in under six seconds. You can buy a more powerful car in this price range, but looking only at engine specs cannot capture what the 2017 Mazda MX 5 Miata Club delivers.
Although you can buy the Miata in automatic, manual is where this car shines. Every shift is short and clean with a confidence inspiring click when as you flick through gears.
Press the gas pedal to the floor and you'll feel the 2017 Mazda Miata kick-start your ride with a good amount of low-end torque. Once you get into third and fourth gear you'll really appreciate what Mazda is able to do with the SkyActiv engine. You can wring a lot of power and speed out of the Miata in third and fourth at over 3,000 rpm to fly through twisty roads like you're living a commercial.
If you want to swing the rear end of the car out on a turn you can, but the balance of power and weight means you won't end up spinning out accidentally.
Unlike hyper-powered cars that tempt the local constabulary to pull you over before you're out of third gear, the Mazda Miata delivers fun at all speeds without the same potential for a huge ticket.
Some drivers may bemoan the switch to electrically assisted steering, but they should stop complaining and test the new system out. With every turn of the wheel you're rewarded with a fast response the inspires confidence and delivers fun on straight aways and around corners. You'll start to find a way to include a curvy road into every trip you take, even it adds 20 minutes to your trip to buy groceries.
We spent the week in the Miata Club, which adds a limited slip differential, shock tower brace and Bilstein dampers. With the optional Brembo brake upgrade you get upgraded front breaks and 17-inch black forged alloy wheels that increase the stopping power.
Simply put, the 2017 Mazda MX 5 Miata Club drives like a vastly more expensive car. 
Add in the option to quickly open the manual top when you come to a stoplight, along with a beautiful design, and it's a clear winner at a bargain price.
2017 Mazda MX 5 Miata Design & Interior
In addition to a otherworldy driving experience, the car also nails it in the looks department.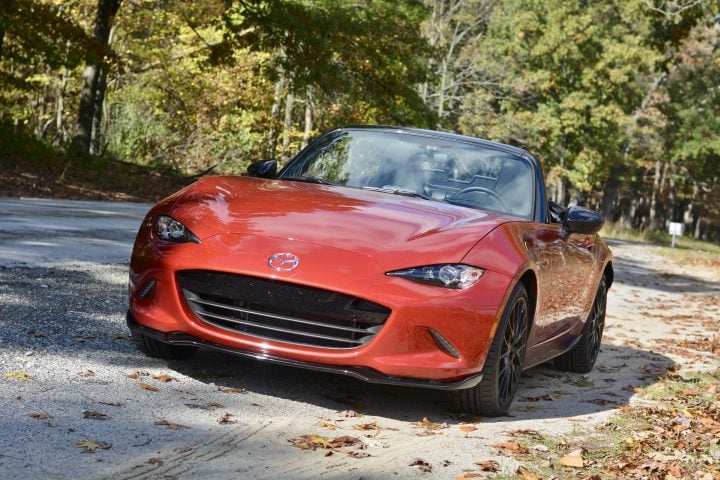 These three photos sum up the sheer attractiveness of the 2017 Mazda MX 5 Miata Club. Above you see the wide, but not obscene, grill that matches up to the squinted headlights.
From here small bumps curve up over the front wheels before curving back in along the side until rising slightly in the back where the curves round back to small circular tail lights. The Miata Club looks great with the top up or the top down, striking a pose wherever you take it.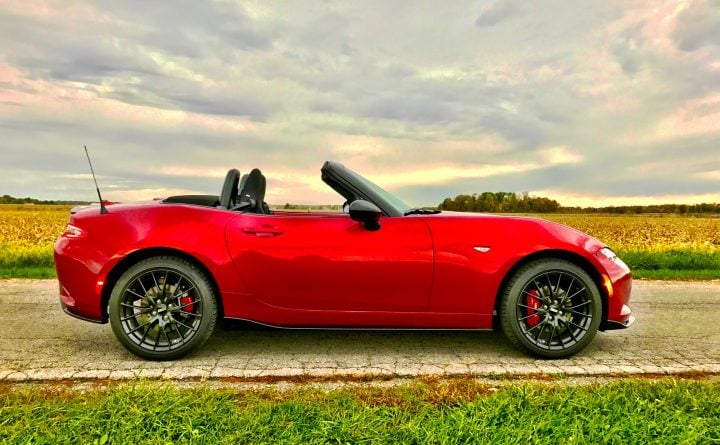 From the side you really get a sense of the low slung style and how it all pieces together to deliver looks you don't expect for under $30,000. The soul red paint, matching Brembo brake pads and dark alloy wheels, seal the deal.
Inside prepare for a small cabin. The driver has more room than the passenger, and even if you are a little over six-foot tall you will have plenty of room to drive. The soul red paint job carries over to the inside of the doors, matching well with leather, red stitching and faux carbon fiber.
The steering wheel offers access to many infotainment controls, but they don't get in the way of driving. The shifter is perfectly placed, although the knob to control the infotainment system isn't. When shifting during spirited driving it is easy to knock the large dial and change the station.
Seats don't really go back in the Miata, which my wife didn't like. Opening the top helps the car feel bigger and that is a simple operation. You can open the top with one hand in a few seconds.
Even in crisp October weather we couldn't help but open the top whenever we left the highway and entered traffic. It's a perfect way to say good morning to kids heading to school while you are off to enjoy an unusually warm day. Even with the top down you can carry on a conversation at 55 miles an hour without screaming.
There is a locking glove box near your elbow, a place to put your sunglasses under your arm and a small cubby in the main dash area. You can put a cupholder on the passenger side or by your elbows. You'll learn to live with the one on the passenger side because placing one near your elbow doesn't match up with driving manual.
The trunk in the 2017 Miata is larger than I expected, but ultimately limiting. I was able to fit a full week of groceries in the trunk — including a small air filter I had to pick up for my in-laws. I had to put my own air filter in the front of the car. You can get groceries or two overnight bags, but you won't be bringing much else.
2017 Mazda MX 5 Miata Tech & Safety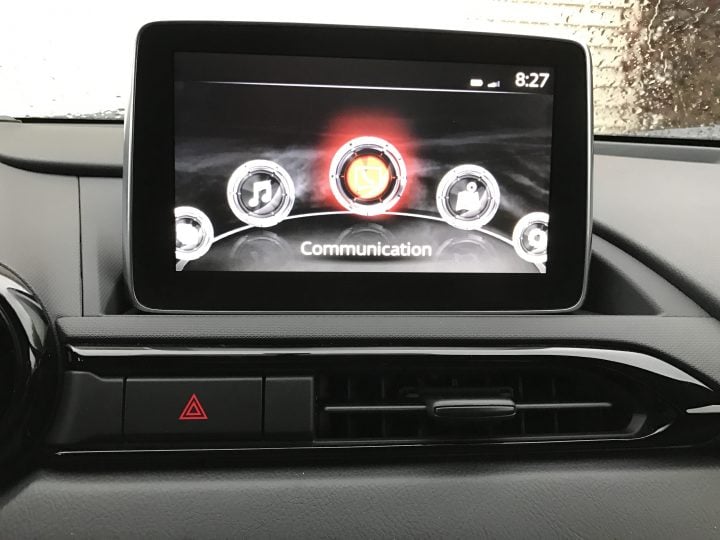 Although fairly spartan to save weight, the interior includes a traditional infotainment system. Mazda doesn't offer Apple CarPlay or Android Auto, but you do have access to GPS, Bluetooth and line in functionality. There is a knob to control this next to the driver, but it is also a touch screen so you aren't relegated to using a knob.
With a screen on the dash the lack of a backup camera is confusing. This is a small car so we didn't need the backup camera for parallel parking, but when exiting a space in a parking lot it would be very nice to have.
Blind Spot monitors on both mirrors allow you to easily know if you can get over into the fast lane while on the interstate and are especially useful when the top is up.

As an Amazon Associate I earn from qualifying purchases.