21 Exciting Galaxy Note 4 Features
The Samsung Galaxy Note 4 features are what make up the new device and the reason you'll want to buy one as soon as the U.S. Galaxy Note 4 release date approaches.
We're going to run through 21 exciting Galaxy Note 4 features that you'll enjoy using this fall. Samsung always packs in a lot of options and features, but this year we see a more focused attempt at solving key smartphone problems like battery life and bad photos.
Samsung also goes big with a new design that could help sway some iPhone users over to the new metal and soft touch Galaxy Note 4 design.
We also see refinements of popular Galaxy Note features like Multitasking or Multi-Window mode and new S Pen features to help it feel like you are writing on paper instead of on a screen.
The Samsung Galaxy Note 4 includes a fast 2.7Ghz processor and a large screen, but it is much more than just a big screen smartphone thanks to these features.
After going hands on with the Galaxy Note 4 and taking a closer look at everything Samsung promises will arrive in October Gotta Be Mobile is sharing the most exciting Galaxy Note 4 features that we think you will use as soon as you get the device.
The Samsung Galaxy Note 4 release date is in October and the price is not announced but you can expect a Note 4 price around $299 on contract. The Galaxy Note 4 is coming to all major U.S. carriers, though Verizon is not sharing any details about the device at this time.
21 Exciting Galaxy Note 4 Features
Samsung delivers a refined Galaxy Note experience with a collection of Galaxy Note 4 features that are improvements from earlier models, favorites from the Galaxy S5 and new features just for the Note 4.
Metal Galaxy Note 4 Design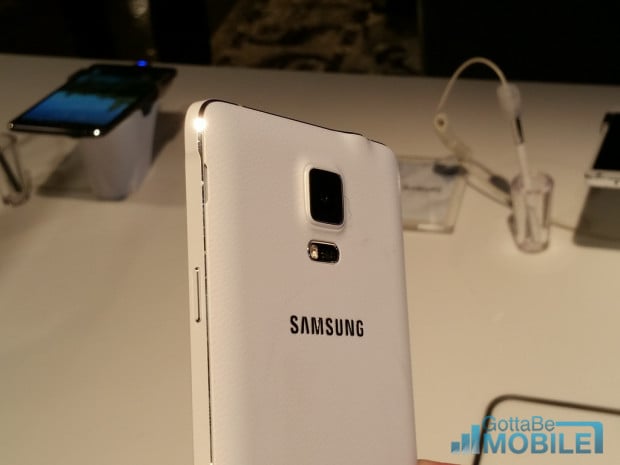 The new premium Galaxy Note 4 design is something we think users will really enjoy about the new Galaxy Note. Instead of plastic, users get a metal frame and a soft textured back. The plastic frame on the Note 3 was easy to chip, but this should stand up to drops better.
Quad HD Display
The Galaxy Note 4 display is a Quad HD display which means a 2560 x 1440 resolution and a lot of pixels packed together to deliver a stunning visual experience for owners. We enjoyed a similar screen on the LG G3 and Samsung claims the Note 4 display is better thanks to Super AMOLED technology that often leads to more vibrant colors.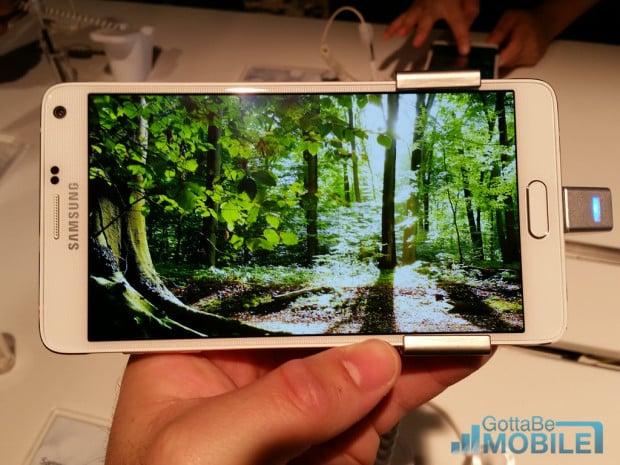 New Multi-Window Mode
Samsung revamped Multi-Window mode, the feature that lets users run two apps at the same time on the Galaxy Note 4. Now users can access this through the multitasking area of Android and can use a pop out window that makes more sense than previous versions. Users can also minimize an app on the Note 4 into a Chat Head style icon while they use one app full screen and then bring the second app back into use.
S Pen Feels More Like Handwriting
Samsung increased the S Pen sensitivity on the Note 4 screen to make the note taking experience on the Galaxy Note 4 feel more like writing on paper. More sensitivity also leads to better looking text from handwriting with more adaption to twists, turns and speed of writing.
S Note Widget
There is a new S Note widget that delivers faster access to all the S Note features right from your home screen. One thing that happened on the older Note was users would forget about S Note or it would take to long to launch. That shouldn't happen with the Galaxy Note 4.
Snap Note
You can take a photo of writing on a chalkboard or white board and Snap Note will correct for any tilt and then pull the text off the board so it looks like a note you created and then you can add to it. This is awesome for meetings and class.
16MP Camera with Smart OIS
The Galaxy Note 4 camera includes Smart Optical Image Stabilization (OIS). With OIS you can take a photo without shaky hands ruining a shot when in poor lighting. Traditionally this slows down the shutter but Samsung claims the shutter isn't slow on the Note 4. If you take a lot of photos on the Note 4 you'll love this feature.
3.7MP Front Facing Camera
Samsung upped the quality of the front facing camera to help users that take selfies and thanks to the new tech it captures 60% more light to deliver better looking photos in low light. The lens is now wide-angle to capture more of the user and surroundings in each photo.
Panoramic Selfie
Although we don't know if you'll actually be taking group selfies with this mode it is a great way to get yourself in the photo while on vacation. Use this to tilt the phone side to side and capture yourself plus the beach, Mount Rushmore, a city skyline or whatever you are doing.
Smart Select
You can use the Galaxy Note 4 S Pen like a mouse to select items. When in gallery you can hold the S Pen button and drag over photos to select them. This is simple, but really handy. You can do the same with text on a page.
Heart Rate Shutter
You can use the heart rate monitor on the back of the Note 4 to take a picture while using the front facing camera. This way your finger is in a natural spot and you don't need to worry about shaking the camera when you try to press the on-screen shutter.
Fast Charge
Samsung packs in a bigger battery and power saving modes, and when you need to charge you can do it faster. With Fast Charge the Galaxy Note 4 goes to 50% charge in 30 minutes, which took almost an hour on the Note 3.
Ultra Power Saving Mode
You won't use Ultra Power Saving mode on the Galaxy Note 4 every day, but when you need more power this is an awesome feature. It turns the screen black and white and disables some battery sapping features while still letting you use the Internet, texting and phone pushing even 10% battery to almost a full day.
Replaceable 3,200 mAH Battery
Samsung includes a slightly larger 3,200mAh battery in the Galaxy Note 4 and like other Galaxy devices allows users to swap to a new battery when they need more power. Samsung boasted that there are more efficient parts on the Note 4 so you'll get great battery life even with the similar size battery. We'll be testing this as soon as we get our Galaxy Note 4 review device.
Micro SD Card Slot
In the U.S. you'll get a 32GB Galaxy Note 4 and you can expect about 20GB of free space on the device. You can also add 64GB of additional storage with a Micro SD card. It would not be a shock to see this jump to 128GB of Micro SD card support.
Noise Cancellation or Speakerphone
The Galaxy Note 4 and multiple microphones to deliver noise cancellation that enables better sounding speaker phone calls. With a large device like the Note 4 it is more common to use speakerphone on a large device like this.
Galaxy Note 4 Gifts
Some may call this bloatware, but 50GB of Dropbox space is nothing to scoff at. In addition to Dropbox storage you get Onlive games and many other free items that you can use just for buying a Galaxy Note 4.
S Health
S Health looked like a gimmick on the Galaxy S5, but it quickly became an easy place to track health and fitness as well as stress level and other health information. On the Galaxy Note 4 we get S Health 3.5 which keeps the same features as the Note Galaxy S5.
Galaxy Note 4 Remote Control
There is an IR port on the top of the Galaxy Note 4 that turns the Note 4 into a Remote Control for your HDTV and home theater. This is incredibly convenient and a perfect way to use the Note 4 as a second screen while watching TV.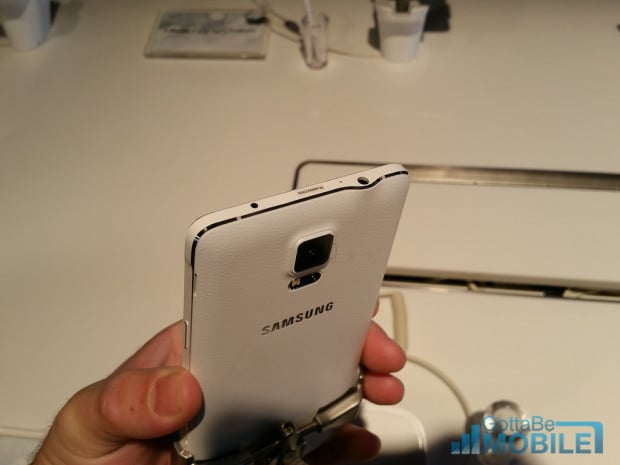 Finger Scanner
Samsung tells us the Galaxy Note 4 finger scanner is improved, so it should deliver better performance than the Galaxy S5 scanner. You can use this to unlock the Note 4 and to secure files from other users.
UV Sensor
The Samsung Galaxy Note 4 includes a UV sensor that can help you avoid exposure to harmful UV rays by measuring the amount of UV you are exposed to at a given time and letting you know if you need to get out of the sun.