25 Awesome Microsoft Surface 3 Accessories You Need to Get
Did you grab a new Microsoft Surface 3? If so you likely will enjoy the new tablet, especially if you have simple needs. However, there are a few gadgets you should add to the mix to enjoy it even more. Here's our list of 25 awesome Microsoft Surface 3 accessories you need to pick up as soon as possible.
Most people assume that those who use the Microsoft Surface 3 will get the Microsoft Type Cover for the Surface and matching Surface Pen. But a mouse makes the device more like a computer when you use it that way. Ditch the Surface loop for the excellent Cleanint holder listed below. Protect the Surface 3 with a case or a skin. And you'll want to get something to help you listen while playing music, podcasts or streaming video.
Microsoft Surface 3 Case
Many will carry their Surface 3 around without a case since the Type Cover protects the screen nicely. However, keeping the edges free of dents and the back free of scratches like the one above on my Surface Pro 3 will boost resale value when it's time to upgrade to the new Surface 4 or 5, if Microsoft releases one. Here are three great options.
WaterField Designs Outback Slip Case
Some of the best gadget cases come from WaterField Designs. The Outback Slip Case for Tablets ($59) will cover the Surface 3 with an attractive distressed look made from waxed canvas and beautiful leather accents. WaterField Designs cases hold up well with lots of use. In fact, the case starts to look better the more the person carries it. The oldest WaterField Designs case I own from about five years ago still works and looks great.
Slip the tablet in and out easily while not worrying about it falling out thanks to the snug fit and the strap. The strap over the opening buttons closed to hold the tablet secure inside.
The company also sells other Surface 3 cases ranging in price from $49 for another sleeve style case on up to $239 for the Muzetto Leather Bag, which is a leather shoulder bag.
Nuvango Skin
A second approach involves finding a good adhesive skin to cover the Surface 3. Nuvango, formerly Gelaskins, which we've recommended before, will make a custom skin to fit the Surface 3 if you give them the dimensions. You'll need the exact measurements of the Surface 3 and a high quality photo, if you want to use your own picture. Otherwise use one from their gallery.
ProCase Premium Folio Cover Case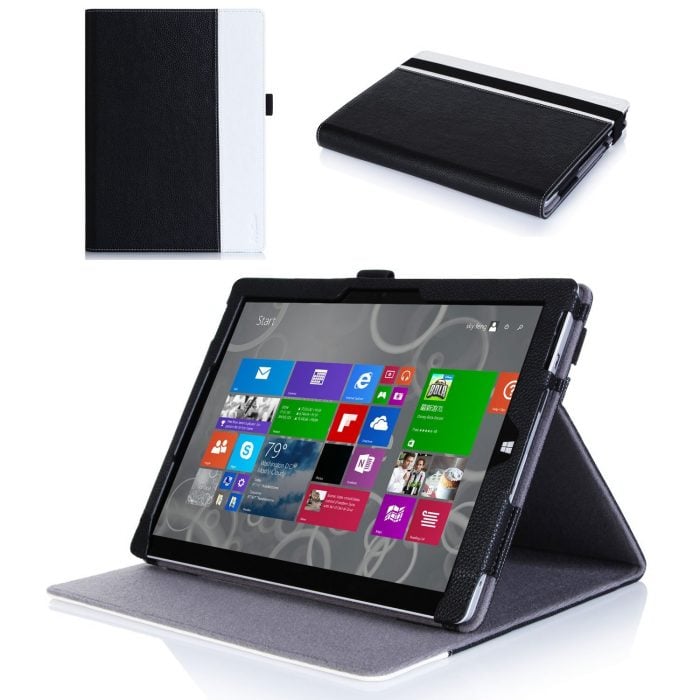 For a nice cheap folio style case take a look at the $20 [amazon_link id="B00X4SUQFE" target="_blank" ]ProCase Premium Folio Cover Case with Stand[/amazon_link]. It adds some bulk, but also includes a stand, since the Surface 3's built-in kickstand will get covered up. The faux leather will look more elegant than most cheap cases. At this price it's a throw away item if it falls apart, but it shouldn't. This is a great option for people who don't have much cash left over after buying the Surface 3, Type Cover and Surface Pen.
Microsoft Universal Mobile Keyboard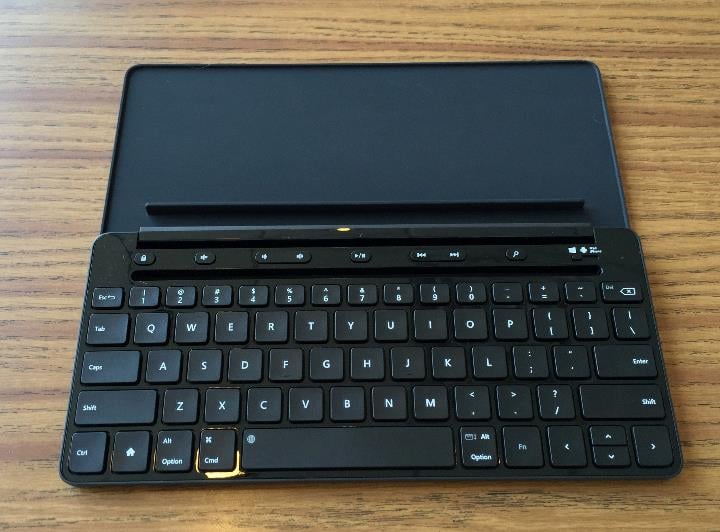 What if you don't like the Type Cover or don't want to shell out $130 for it. Any Bluetooth keyboard will work. Owning this keyboard tempted me to not bother with the Type Cover since the Microsoft Universal Mobile Keyboard works great. It retails for $79.95, but take a look at [amazon_link id="B00GWGLUZ0″ target="_blank" ]the keyboard on Amazon for much less[/amazon_link].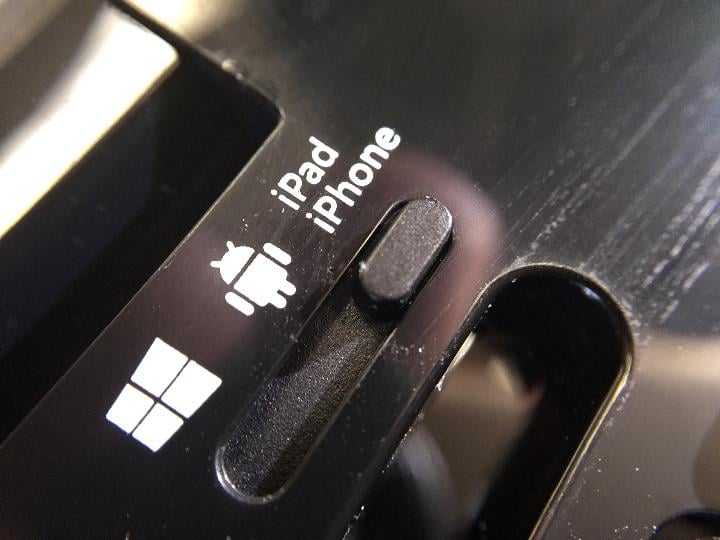 It's universal with a three-position switch in the upper right corner. This lets the user pair it with three devices. The switch includes icons for Windows, Android and iPhone or iPad. That means you could connect the Surface 3, your Android phone or tablet and an iPad or iPhone. Flip the switch to change which device you want to type on.
Charging Tools
Charging the Microsoft Surface 3 should be easier than the Surface Pro 3 thanks to the generic micro-USB connector. However, it requires more power than the typical micro-USB charger pushes. Even a fast-charging 2.1A micro-USB charger will only trickle charge the Surface 3 and the power icon in the Windows system tray in desktop mode will read "plugged in not charging". To get a good charge look for a charger that can handle the load needed. That means get a 2.5A charger like the official Microsoft Surface 3 Power Adapter.
Surface 3 Power Supply
The Microsoft Surface 3 comes with one 2.5A micro-USB/AC charger, but get can get a second one so you can just unplug the tablet and take it with you. Keep one at home and one at work or one in a computer bag and one plugged in near the couch or nightstand. Stick with the official Microsoft Power Supply ($39.99) to make sure you get one that is properly compatible.
Battery Backup for Mobile Charging
It's hard to find a mobile battery backup and charging cord that will actually charge the Surface 3, because of the 2.5 Amp requirement. Even powerful 2.1 Amp models will result in an error showing up in the Windows system tray in the lower right corner that reads "plugged in not charging". However, a 2.1 Amp charger with a good cable will keep the Surface 3 battery from draining and it will trickle charge the tablet when it's turned off. This will take a lot longer than the Microsoft charger, but it's useful in emergencies.
The [amazon_link id="B003X1REPW" target="_blank" ]Scosche goBAT II Portable Backup Battery[/amazon_link] ($24) will work as described above. It comes with 2 USB ports, one rated for 2.1 Amps and the other at 1.2 Amps for smaller devices like a phone or other USB-powered accessories. The LED lights on top help the user tell how much battery life they've got available (in 20-percent increments). The battery charges up with an included USB to micro-USB cable. Plug it into your favorite USB to AC adapter. It took about four hours to charge from less than 20% to 100%.
Bracketron Road Boost XL
The Bracketron Road Boost XL will also charge the Surface 3 and other USB devices. It includes a unique second feature. It will also jump start your car's dead battery. It plugs into some included jumper cables and gives the car enough power to turn over.
Satechi 7-Port USB Charging Station Dock
Satechi offers another option for people who own a number of tablets and phones. The [amazon_link id="B00TT9O0SG" target="_blank" ]Satechi 7-Port USB Charging Station Dock[/amazon_link] includes typical 1A ports for charging smaller devices or slow charging a phone. Plus it adds 3 2.4A ports that will charge the Surface 3 almost as quickly as the official charger. In my tests, it works as expected. The Surface 3 will make it wobbly if the user places it in the back slot without any other devices, so place it in the third from the rear or put it in after plugging in other devices.
The docking station holds up to 7 devices with vertical holders and USB ports. Plug the dock into the wall and plug each device into one of the USB ports. This organizes all the family's tablets and phones in one neat solution.
The charging cables don't come in the box so get some short cables like these.
[amazon_link id="B00L5S2JJ6″ target="_blank" ]CreatePros Apple Certified Short Lightning to USB Cable[/amazon_link] for iPhone and iPad ($13.95)
Microsoft Surface 3 Docking Station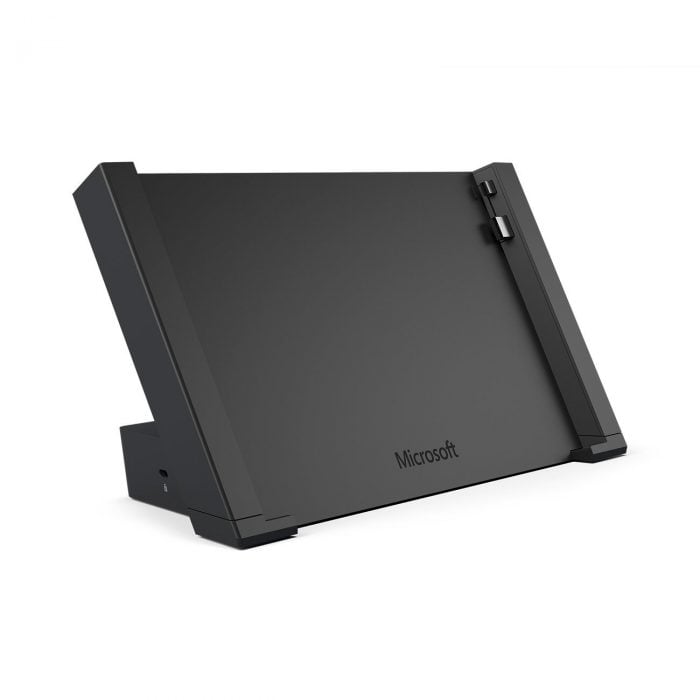 The Surface works great as a tablet and a laptop replacement. It's one of the best mobile solutions available for Windows users. However, sliding it into the Microsoft Surface 3 Docking Station turns it into a desktop system like the Surface Pro 3 dock does for the Surface 3's big brother.  Use it as a great multimedia dock in the living room hooked up to a TV or Business users could hook the dock to boardroom accessories for a fast connection between the Surface 3 and accessories like a keyboard, pointing device, wired networking or USB storage. It comes with a mini-Display port connector. Hook that into a TV, monitor or projector. A magnet on the front left edge holds the Surface Pen while the tablet's docked.
Logitech Illuminated Living-Room Keyboard
The Logitech Illuminated Living-Room Keyboard and it becomes an awesome home entertainment system computer or office/school presentation computer.
The keyboard uses Logitech's Unifying Receiver to hook up wirelessly with a range of 33 feet. The battery in the keyboard recharges via USB. Use the keyboard/touchpad for easily interacting with the Surface 3 while it's docked and connected to your TV or projector with or without the Surface 3 Docking Station.
Logitech MX Master for Desktop & Mobile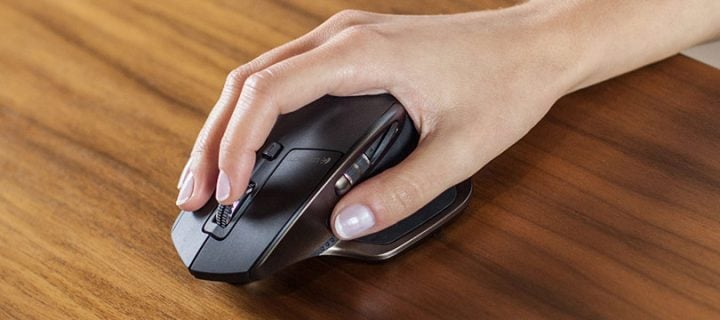 If users wants to hook up their Surface 3 to the Docking Station for use as a desktop replacement computer, then the Logitech MX Master will give them the best desktop mouse available that can also transition to mobile.
The mouse fills the user's hand. It comes with two scroll wheels that scroll vertically and horizontally, by default. The wheels also function as extra buttons configurable with the Logitech Setpoint software. The top wheel will scroll with a clicking action for fine control or it scrolls smoothly for fast scrolling to the top or bottom of a long web page or document.
The mouse will connect using the Logitech Unifying Receiver USB wireless connector. However, it also connects via Bluetooth. This makes it more versatile than typical mouse. Hook it up via the USB receiver to the Surface 3 Docking Station, but then flip the switch on the bottom of the mouse to turn it into Bluetooth mode. Notice in the photo above there's another button that switches between three connected devices while in Bluetooth mode. The user can hook this mouse to their Surface 3 and use it as a Bluetooth mouse. The person can also hook it up to another Bluetooth device, like a second tablet or an Android phone.
Logitech MS Anywhere 2
Logitech just announced a more mobile friendly version of this mouse called the Logitech MX Anywhere 2. It's the same mouse but without the second scroll wheel. It's also lighter and thinner.
If you want to control your Surface 3 without a mouse, use your phone and apps like Remote Mouse for Android or iPhone. It also available on Windows Phone, but I've not tested it and reviews aren't good.
Pick speakers based on your listening tastes. Speakers with a simple 3.5mm stereo jack will work or you could get some USB speakers. Bluetooth speakers like those below will work as well since the Surface includes Bluetooth. You could just use the built-in sound on the Surface 3.
Headphones and Speakers
We've got speakers and headphones for hooking up the Surface 3 directly or via the Docking Station.
Cyber Acoustic 30 Watt Powered Speakers
Want a recommendation for lower cost speakers? Grab the [amazon_link id="B00BXF5HQ8″ target="_blank" ]Cyber Acoustics 30 Watt Powered Speakers with Subwoofer [/amazon_link] for only $40 if you plan to use the Surface 3 Docking Station. A mobile friendly speaker comes from Dell.
Panasonic ErgoFit In-Ear Earbuds
Want a cheap pair of low-end headphone/earbuds? Take a look at the [amazon_link id="B00HXTHFJA" target="_blank" ]Panasonic ErgoFit In-Ear Earbuds[/amazon_link]. It's hard to beat $13 for two pair. They're comfortable and don't sound too bad.
Panasonic RP-HTX7A-B Headphones
For an on ear pair of wired headphones, try out the [amazon_link id="B004UDTM1Q" target="_blank" ]Panasonic RP-HTX7A-B Headphones[/amazon_link]. They're less than $35 and come in multiple colors. They also sound decent and feel comfortable for people who don't have a big head or large ears. They also look kind of cool.
Bose QuietComfort 20 Acoustic Noise Cancelling Earbuds
For those who want better sound, give a look to Bose. If all you care about is great sound, then the [amazon_link id="B00D42A16E" target="_blank" ]Bose QuietComfort 20 Acoustic Noise Canceling[/amazon_link] earbuds ($250) will do nicely. For audiophiles who love great sound, they're worth it. Noise cancelling makes a big difference as it filters out the room noise. The in-line mic will let users do video chat too.
Bose QuietComfort 25 Headphones
Headphone fans should look at the $299 [amazon_link id="B00M1NEUKK" target="_blank" ]Bose QuietComfort 25 Headphones[/amazon_link] will appeal to headphone fans. These headphones also include an in-line mic.
SanDisk Connect 64GB Wireless Flash Drive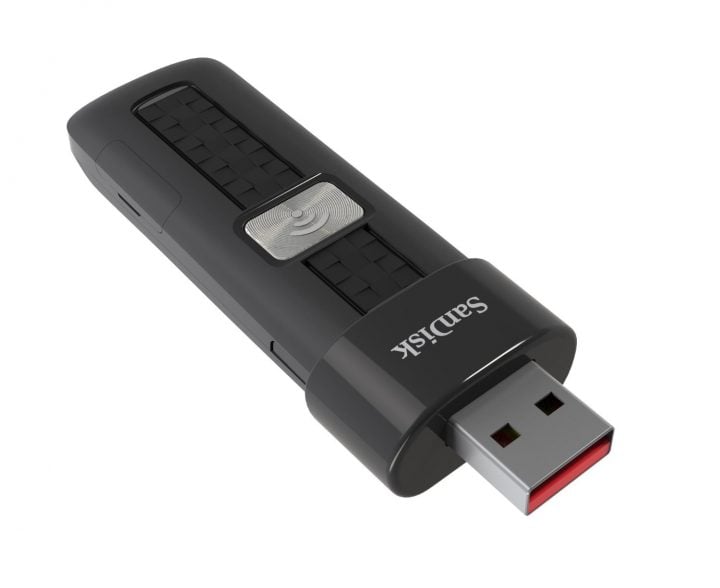 The Surface 3 comes in either 64GB or 128GB of flash storage. That's not enough for many people. Add some cheap storage with a USB hard drive or flash drive or go wireless with the [amazon_link id="B00H4BBWGY" target="_blank" ]SanDisk Connect 64GB Wireless Flash Drive[/amazon_link] for under $55. It's a nice option for streaming video or music while on the go. It uses Wi-Fi and can connect to Android and iOS devices too. Use the browser-based interface for Windows.
Juiced Systems Microsoft Surface 5 in 1 Adapter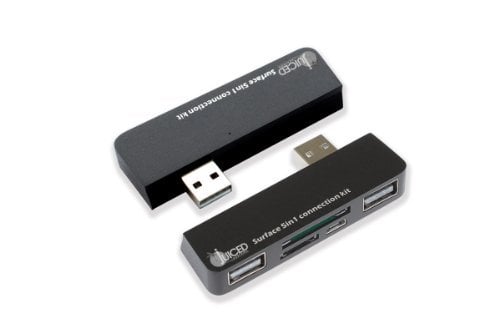 With the [amazon_link id="B00C7AQXQQ" target="_blank" ]Juiced Systems Microsoft Surface 5 in 1 Adapter[/amazon_link] Surface 3 owners will get a device to plug into the full-sized USB port on the tablet. That turns one USB port into two plus adds micro-USB, micro-SD card reading, full-size SD card reading and lets the user plug their power supply into the adapter for charging. In other words, it's a kind of mini dock. Hook up a USB mouse and flash drive plus the power adapter for one quick hookup.
Micro-SD Card
These Microsoft Surface 3 accessories add functionality or make the tablet more enjoyable and safer, but like the Type Cover and the Surface Pen, a good micro-SD card is a must. The slot behind the kickstand on the back of the Surface 3 supports up to a 128GB card, so find one that fits. I prefer Sandisk cards and opted for a 64GB card because it's a better value. 128GB cards still cost a premium.
https://www.youtube.com/watch?v=g-_0o04WLj8
The [amazon_link id="B00NUB3530″ target="_blank" ]SanDisk Extreme Pro[/amazon_link] 64GB micro-SD card costs about $55 on Amazon and runs fast enough for anything you might want to do with it on the Surface 3.
Cleanint Cleanstylus Surface 3 Pen Holder
The stupid fabric loop that Microsoft includes with the Surface Pen and Surface Type Cover looks ugly, doesn't stay put well enough and flops around too much. If you do use it, connect it to the tablet, not the keyboard. However, there's a better way. Grab the Cleanint Cleanstylus Surface 3 Surface Pen holder. It's made of durable material and comes with reusable adhesive to keep it in place. Snap it on the upper right or upper left corner of the Surface 3 and then snap the Surface Pen into place and slide it so the pen's clip clicks into place, as shown in the video above.
They come in all the same colors as the Surface Type Cover and Surface Pen. Buy one for $19.95. I didn't get mine till after I lost my Surface Pen because the loop fell off after losing its adhesive.
Microsoft Surface 3 Type Cover and Surface Pen
Like I wrote in my review of the Surface 3, using the Microsoft Surface 3 without the Surface Type Cover and the Surface Pen feels like buying a car without the air conditioner/heater and the radio. People can do it, but who would want to. The appeal of the Surface 3 drops considerably and makes it just another iPad knock-off. If you only want a tablet, get an iPad. Add the Type Cover and Pen and it becomes something special. Plus, Microsoft includes these two accessories in every Surface 3 ad. They should just throw it in, even if it bumps up the price.
So which of the color options should you pick? That's a matter of taste, but let us give you one tip. Make sure the Type Cover and Surface Pen match. I don't mean that buyers can't mix different colors, but consider the color when buying.
I got a blue Type Cover and black Surface Pen. They look great together.

This article may contain affiliate links. Click here for more details.