25 More Hidden iOS 7.1 Features, Tips & Tricks
iOS 7 is a completely new experience for iPhone, iPad and iPod touch users with tons of hidden features and new tricks. So many that after writing up 25 Hidden iOS 7 Features once, we found another 25 iOS 7 features that you need to know about.
If you own an iPhone or iPad running iOS 7 these hidden features will help you do more with the device and in some cases bring back a little taste of some favorite iOS 6 features that took a back seat to the new IOS 7 design.
There are also a few hidden iOS 7 features that aren't new for this update, but are worth sharing for users who want to know all the tips and tricks Apple includes in iOS 7, especially if this is their first device or if it is the first iPhone or iPad that they have time to explore and make full use of.
None of these iOS 7 hidden features require the user to buy any apps or accessories, though we do have a list of 100 iPhone apps you need to explore and a list of great iPhone Accessories for users who are looking for those.
It's worth remembering that these iOS 7 features are not hidden behind a secret code or unlocked with special taps. Rather, these are features that are hidden in menus or that our readers have discovered by accident and wrote in to share their excitement over Control Center and many other IOS 7 features.
25 More Hidden iOS 7 Features Video
The video below showcases 25 new hidden iOS 7 features that all iPhone, iPad and iPod touch owners should know. Check out our roundup for additional iOS 7 Guides and how-to articles that address how to use many of the best known iOS 7 features.
Use Control Center
The iOS 7 Control Center is a fast way to control many common iPhone settings, launch a flashlight app and control music playback. It replaces some of the multitasking features from iOS 6, and is definitely worth checking out.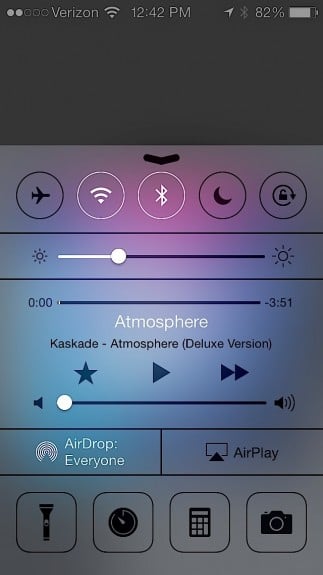 To use Control Center, just slide up from any screen on the iPhone. If you don't want this on your lock screen or during games, you can turn off this access in Settings -> Control Center.
Make Use of Siri's New Features
Siri comes with a new voice and the option to pick a male or female gender and users can also now do more with Siri in iOS 7.  We already covered changing controls on the iPhone but that's not all.
Press and hold the home button to use Siri to check what someone they follow on Twitter is saying, "What is Contact Name saying?" As long as you have Twitter connected and contact names linked to Twitter accounts you can say their name. Siri may ask for permission the first time.
Shake to Undo Deleting Email
If you use the default Mail app for your preferred way to check email on the iPhone, it's easy to accidentally delete an email, and it used to be a pain to go to the trash folder and restore it.
In iOS 7 shake the iPhone right after deleting a message to bring the email back to your inbox. This is similar to the Shake to Undo typing option that will clear what you've typed in a text box with a shake.
Use Night Mode in Apple Maps
When using Apple Maps, iPhone and iPad owners get a new look that uses the screen better and when the sun sets it should automatically switch to night mode which changes the colors for an easier to use at night experience.
This only works while you are on the turn-by-turn directions mode and it should automatically switch to a darker mode that won't be as distracting while driving.
Create Custom Vibrations for Contacts
Apple allows users to create a custom vibration for contacts in iOS 7 which they can use for phone calls and messages. This is a handy way to know who is calling or texting without taking the iPhone out of your pocket, especially if you use Silent mode.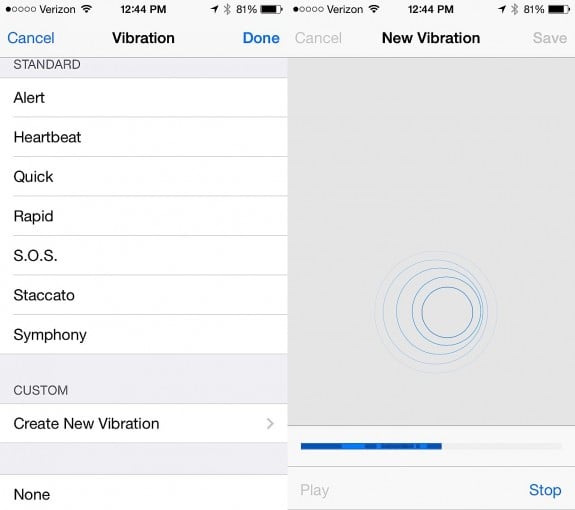 Go to Contacts -> Pick a Contact -> Edit -> Tap on Custom Vibration -> Scroll down then follow the on-screen guide to make a vibration alert.
Send an iMessage as a Text
IMessages are great to avoid running over text message limits and for talking to other iPhone, iPad, iPod touch and Mac users, but sometimes they fail. Users can turn on a setting that will send a message as a text as a backup. This should happen automatically and is a nice way to avoid missed communications.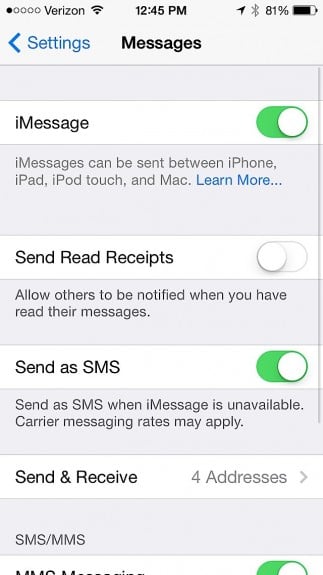 Go to Settings -> Messages -> Send as SMS. With this on you will hopefully avoid any un-sent iMessages when service is bad or iMessages fail to send.
Drag and Drop Calendar items
If you use the built-in calendar app in iOS 7, you can quickly move appointments with a drag and a drop. This is perfect for correcting Siri's small mistakes.
Tap and hold on an appointment and then drag it up or down to change the time. Drag to the edge of the screen to change the date.
Use the Camera Flash for Alerts
If you miss the LED notifications of Android smartphones, you can turn the LED flash on the iPhone into a visual alert that is impossible to miss.
Tap on Settings -> Accessibility -> LED Flash for Alerts to turn this on. Just be warned it can be very bright while you are driving or trying to sleep.
Make Your Car Read Text Messages
If you have a car with an in dash entertainment system that pairs to the iPhone it may be able to read your text messages. This isn't brand new in iOS 7, but it is a recent addition to our vehicle.
Tap on Settings -> Bluetooth -> the i for your in car system -> Show Notifications. if that doesn't do it, look up details for your specific in car system.
Safari Can Remember Your Passwords and Credit Cards
Safari can remember your personal information including passwords and credit cards so you never have to type them in again. This feature is hidden in settings and can simplify online shopping from the iPhone or iPad.
An update should make this sync on iCloud to your Mac, but for now you will need to go to Settings -> Safari -> Passwords & Autofill. From here you an turn on individual features add or remove passwords and credit cards and tweak your personal information.
Customize the Notification Center
The iOS 7 Notification Center comes with a new look and a special Today view that shows your upcoming appointments, weather, to do items and stock information.
If you don't like all of this information go to Settings -> Notification Center -> and toggle items off or on in the Today View section. This will customize your Notification Center to what you need.
Quickly type .com like in iOS 6
The iOS 6 keyboard included a .com button for entering the end of a web address or email, but the button is missing in iOS 7. Thankfully you can tap and hold for access to common web address endings like .com, .edu and more.
Tap an hold on the period to bring up a menu of five domain name endings. When this pops up, slide up to the one you want and remove your finger to insert it.
Share Photos with AirDrop
iOS 7 brings AirDrop to many of the current iPhone and iPad models, making it easier to share photos with another iOS 7 device. This feature isn't available on all iOS 7 devices, but for those it works on it's an easier way to share photos.
Read: How to Use AirDrop in iOS 7.
This works form inside the Photos app and sends it over WiFi, even if you are not connected to a WiFi network. Soon it should work to send photos from iPhone to Mac.
Set Custom Ringers
Now that you've set up a custom vibration for common callers, set a custom ringer so you know who is calling or texting without looking.
Open Contacts -> tap on Contact Name -> Edit -> Pick the new ringtone. Users can buy ringtones or create their own and load them with iTunes.
Catch Up on Shared Links and Your Open Safari Tabs
If you want a faster way to read the links shared by users you follow on Twitter, use the Safari Shared Links section. This collects the links shared by people you follow on twitter and makes it easy to read through them.
Tap on one to get started and when you scroll to the bottom of the page you can keep scrolling to read the next story. It's on as soon as you link your Twitter account to the iPhone. To access the menu tap on the bookmarks icon at the bottom of Safari and on the "@" symbol on the next screen.
Check iTunes Radio History
If you want to track down the song you heard on iTunes Radio while driving, Apple makes it easy to see what it was, so that you can buy the song from them for $1.29.
The history shows up in the Music app on the iPhone and in iTunes making it easy to find the song you loved, but were too busy to remember the name of. In iTunes, click on the radio station image to see the history. In Music on the iPhone or iPad tap on Radio and History in the upper left corner. This is also where you can see things you've added to wishlist.
Use Split Keyboard on the iPad
The iPad and iPad mini still come with an option for a split keyboard that can make typing easier while holding the iPad in landscape mode. This is perfect for walking around with an iPad in a store or while using the iPad somewhere other than your lap.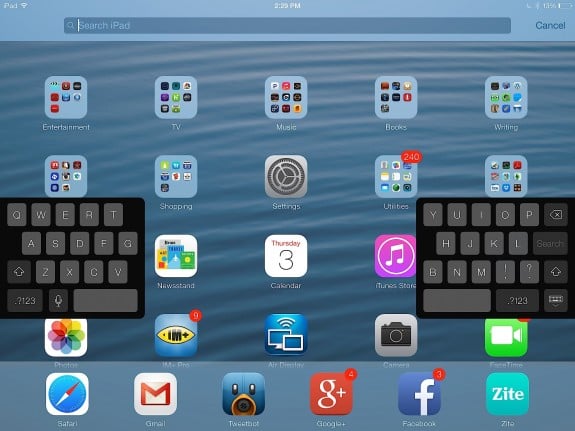 While using the iPad, tap and hold the small keyboard icon on the right side of the screen and choose split. Once the keyboard is split it's possible to move it up or down on the screen for a better position.
Switch Between Bluetooth, Speaker and iPhone in Control Center
Switching between the speaker, iPhone and a Bluetooth headset while the iPhone is locked can be a pain, but if you have Control Center enabled on the lock screen it's easy to swipe it up and change the source.
Pull up the Control Center and in the lower right, above the camera icon, there is a toggle switch that lets users tap once to bring up a menu and then tap on the source you want to use.
Switch to Digital Clock in the Clock App
By default the iPhone clock app shows the time in analog, and while that's great if you like watching the seconds tick by just like in elementary school, it's not as good as comparing two digital clocks to see the time difference.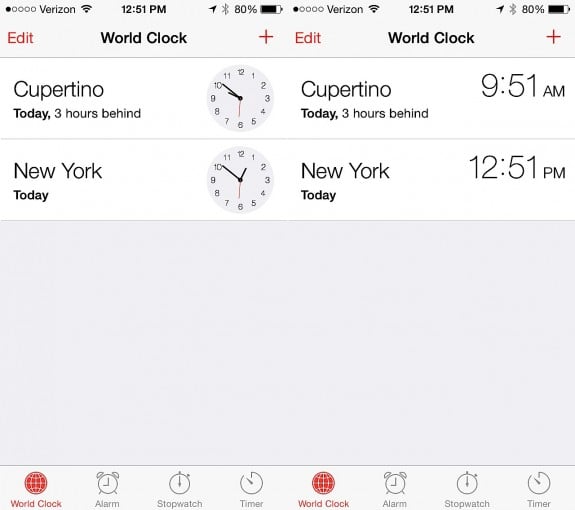 Tap on the clock to switch to digital mode. The clock app also shows how far off the time zone is with a handy , "3 hours behind" or "2 hours ahead" message.
Share All Photos from an Event at Once
The iPhone camera is one of the most popular according to uploads to Flicker, which means it's the go to camera for many birthdays, vacations concert trips, school plays and pretty much any other event you share with friends and family.
The new Photos app makes sharing all the photos from an event easier than ever. In the Photos app tap on Photos -> go to Moments and then tap the Share button next to the moment you wan tot share. You can share the moment on PhotoStream, Facebook or Flickr.
Press and Hold the , for a ' on the iPad
Another iPad keyboard trick in iOS 7 will save you a few taps a day if you like to get your punctuation in correctly without the help of auto correct. Normally putting an apostrophe in would require tapping on the punctuation button and then on the apostrophe.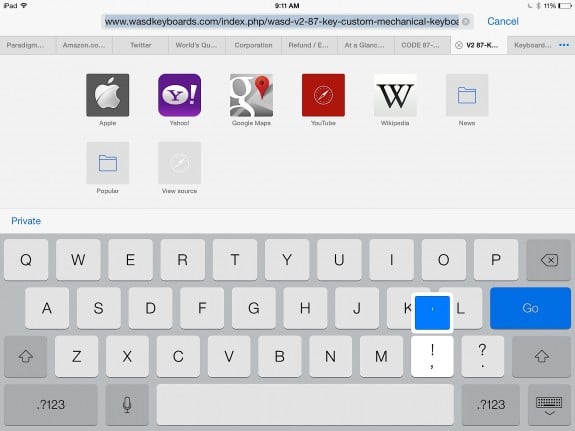 With this trick you can skip that to save time. While using the iPad tap and hold on the comma button and slide up to insert an apostrophe.
Control Music and Siri with Your Headphones
Another trick that many iPhone and iPad owners don't know is that they can control much of their device with the three button headphone controls that ship with the iPhone. If you plug these same headphones into an iPad, it will do the same thing.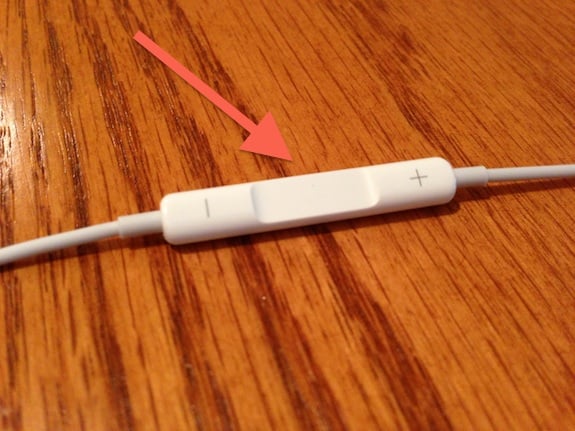 The volume controls are straightforward, but fewer people know you can use the volume button to take a photo, just like the volume button on the side of the phone. The center button can pause and play music with a tap. Holding it will start Siri on devices with the service.
See Scrollable List of Calendar Events
Users who miss the scrolling list of calendar events from iOS 6 can get them back in iOS 7 by tapping on the search icon in the calendar.
With a fast tap on this icon, you can now scroll through the events on your calendars without searching by name or another criteria.
Safari Private Browsing is Hidden, Not Missing
Private browsing in Safari for iOS 7 is tougher to find, but it's not missing from the latest software update on the iPhone and iPad. When in Private browsing mode the iPhone will not save searches or web addresses. The menu colors will change to gray. This does not hide your identity, only what you have looked at from someone with access to your iPhone.
Open Safari and tap on the tab or bookmark icon and the Private mode will show up on the lower left. Users can choose to keep all pages that are open or, to close them all. To exit private browsing mode tap on bookmarks or menu again and then on Private and choose to keep or close windows again.
Hide NewsStand
Apple is still pushing NewsStand as a great way to read newspapers and magazines, but if you don't use NewsStand you can now push the icon into a folder and hide it out of sight.
Now NewsStand behaves like any other app from Apple. You can't delete the NewsStand app, but you can tap and hold on it until it jiggles. When it is ready, tap and hold, drag it to a folder and if you really want it out of sight put it on the second page of a folder.