25 Tips to Master iOS 5, Unleash Siri and Maximize iCloud
With the introduction of iOS 5 and iCloud, Apple has brought a collection of new features and functionality to the iPhone, iPad and iPod Touch.
The new iPhone 4S also has all of these new features, plus the added bonus of Siri. Siri is a virtual personal assistant, that can perform actions based by your voice commands.
We've rounded up 25 tips and tricks to help you get the most out of your iPhone.
Whether it is the new iPhone 4S, or an old iPhone 3GS running iOS 5, we'll show you how to do more with your device.
(Read: iPhone 4S Review)
Do More in iOS 5 – Tips and Tricks

Top Ten Settings to Change in iOS 5
The iPhone works pretty well right out of the box, but if you want to get the most of your device, you'll want to change these 10 iOS 5  settings.
From setting up a PassCode for security to turning on the battery percentage indicator this guide has it all.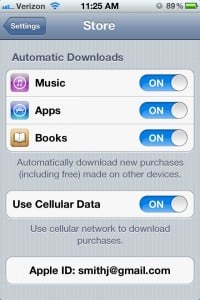 One of the best tips is to turn on automatic downloads. Once you do this, you can purchase an app or music on any of your devices, including on your computer, and it will automatically download to your iPhone.
How to Get Better Battery Life on the iPhone
The iPhone is known for good battery life, but if you want to make your iPhone battery last longer, we have the tips you need to make your iPhone battery last longer.

Many of these battery tips take just seconds to do, and will help you keep your iPhone running through the end of your day, even on busy days. At least half of these tips won't impact the way you use your iPhone on a regular basis.
5 iPad iOS 5 Tips
If you have an iPad or iPad 2, there are a collection of iPad specific iOS 5 features that deliver awesome new functions.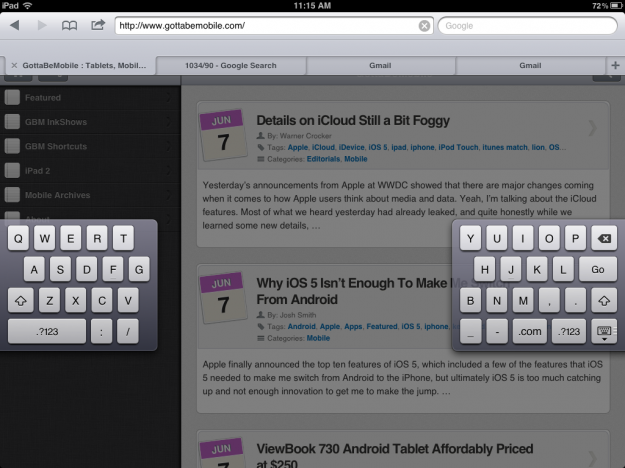 My favorite is the split keyboard, which allows you to type with your thumbs. This lets you type longer and faster. Real tabbed browsing in Safari and Multitouch gestures round out this list.
How to Use the Notification Center in iOS 5
iOS 5 revolutionized notifications on the iPhone. Many notifications will work right out of the box, but if you want to control what notifications appear where, this iOS 5 Notifications Guide will help you take control.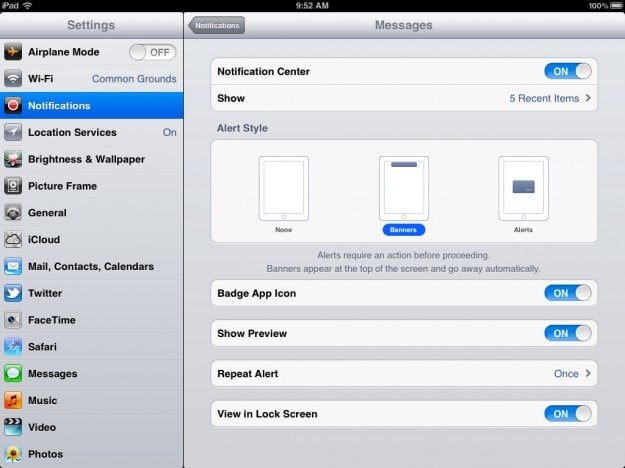 We show you how to control what applications are part of the notification center and how they will alert you. You can change the settings for individual notifications and control sound alerts with these settings.
How to Tell if You Are Sending an iMessage
Another nice feature in iOS 5 is the new iMessage service, which allows you to send messages to other iOS 5 devices, including the iPhone, iPad and iPod Touch.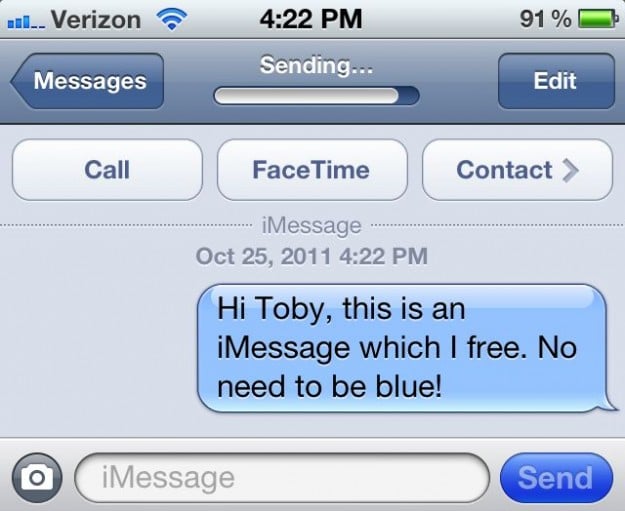 When you send a message in the iOS 5 messages app, the bubble will appear blue if you are sending a free message. Best of all, you don't need to know if you are sending an iMessage, the app figures that out for you.
How to Do More With the iPhone Camera in iOS 5
Even if you don't have the new iPhone 4S, iOS 5 brings big improvements to camera usability. This free upgrade has a number of key camera improvements, including;
Fast access to your camera — double tap the home button from the lock screen.
Use the volume button as a shutter.
Photo editing on your iPhone.
In addition to these features, check out our camera  guide for more on how to make better use of
How To Make Your Own Ringtones and Alerts for iOS 5
If you want to customize your iPhone ringtones and alerts, you can purchase ringers from Apple, but the selection is somewhat limited. To get your favorite movie quotes, songs and more, you can create your own iPhone ringtones and alerts.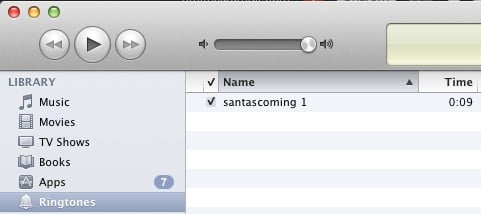 This process is straightforward and only requires iTunes and the music file you want to make into a ringer. We walk you through the whole process of creating an iPhone ringtone and getting it on to your iPhone. You can also download iPhone ringtones from some websites and use this guide to sync them to your iPhone.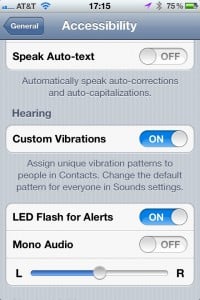 How To Add a Blinking Indicator to your iPhone 
If you love the flashing visual indicators that come on every Android phone, you can get a flashing visual indicator on your iPhone.
The catch is, the indicator is your camera flash. This means you will need to keep your phone facedown to see the notification. Unlike Android notifications that flash until you check the notification, the flash notification will stop after a few seconds.
How to Add Custom Vibration Alerts to the iPhone 
Another nice alert feature that is part of the iOS 5 update is the ability to add custom vibration alerts to your contacts.
You can choose from a selection of pre-configured alerts, or make your ow vibration alerts. After you create a new alert, you can add different vibrations patterns to different contacts. This way, you know who is calling or texting without taking your phone out of your pocket.
How to Use AirPlay to Game and Present in iOS 5
If you have an iPhone 4S or an iPad 2, you can use Airplay to wirelessly stream your games and presentations to an Apple TV.
Setting up AirPlay is straightforward, and will allow you to mirror your display to a projector or HDTV. This is pretty amazing to see in person, and also works for streaming Hulu and Netflix to your HDTV.
How to Sync Your iPhone over WiFi on iOS 5
Once you set up WiFi Sync with iTunes, you can sync your iPhone, iPad and iPod Touch to your computer without plugging in. This allows you to sync new music, playlists etc. to your device as long as your computer and iPhone are on the same network.
This is different from the iCloud backup, or to your computer backup, so make sure you enable one of those to keep your files backed up.
Turn on Private Browsing in Safari
If you want to hand your iPhone to someone else for a brief browsing session, hide christmas gift shopping or just keep the sites you visit private, you can turn on Private browsing in iOS 5.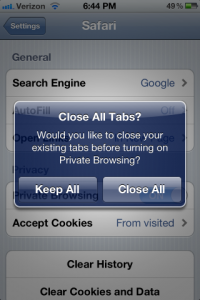 This setting is easy to toggle, and thankfully closes all of your windows when you switch, so you don't have to worry about forgetting to close your private tabs.
How to Use Reading List to Sync Websites
The new Reading List in Safari allows you to sync articles and pages you want to read between multiple iOS devices and the Safari browser on your computer.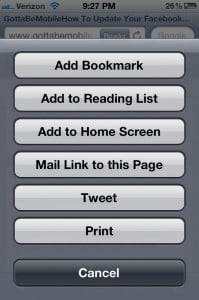 This is handy for taking a short article with you on the go, and for saving a longer article to read later. The syncing happens wirelessly, so you can quickly go from device to device.
Use Reader for Easier Reading
Another new feature is Reader. When you are looking at a page in Safari, you can tap on Reader in the address bar and get a nicely formatted webpage. This allows you to change your font size as well as get a cleaner view.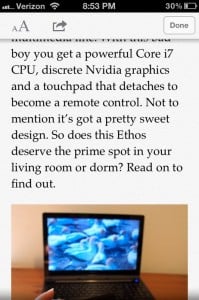 This addresses one of the biggest iPhone browsing issues I have had.
How To Do More With Siri
Siri can do a number of tasks right off the bat, but if you really want to use the Siri application like a personal assistant, here's how to do more with the app. We are hoping that Apple will allow you to do more, but until then, here are the best hacks for doing more with Siri.
Teach Siri Your Contact Relationships
We all know to add our spouse as a contact relationship, but you can make anyone in your contact a relationship, to speed up texting and calling.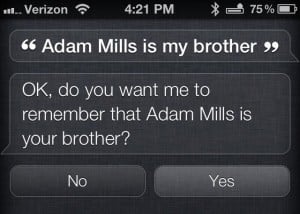 For example, I added someone as my best friend, and I added Xavier as my boss. This lets me use nicknames when I make calls.
Create Siri Reminders from Any Location
Siri will allow you to add reminders for home and work pretty easily, but did you know that you can set up even more locations with Siri? Here we show you how to add more locations to contacts and how to use Siri with them.
We show you how to set up reminders for any location. You can even ask Siri for directions to any location after you set them up.
How to Tweet with Siri
If you are a fan of Twitter, you may be disappointed that you can't send a tweet with Siri right out of the box. However, if you add the Twitter text contact, you can send a text update to Twitter using Siri. Read: How to Tweet with Siri.
How to Update Facebook with Siri
Facebook fans can also use a similar method to send updates to Facebook by talking to Siri. The process takes about 2 minutes to set up, and you're good to go. Read: How to Update Facebook with Siri
How to Change Siri Voices
While you can't pick and choose new voices on the App Store yet, you can change Siri's voice. Unfortunately, you have to put up with some oddities.
If you change Siri's voice to another, you will need to deal with international limitations, like not being able to search for local businesses. Probably not worth it for everyone, but if you can't stand the sound of Siri, it may be worth trying out.
How to Maximize iCloud
iCloud connects all of your devices together without wires. This, mostly seamless, process keeps your photos, contacts and more in sync. It even allows you to backup your iPhone to the cloud each night.
Backup to iCloud
When you boot up your iPhone or iPad running iOS 5, you will be asked if you want to backup to iCloud. If you didn't say yes, you can still do it.
Go to Settings -> iCloud -> Storage & Backup
Set iCloud backup to On. This will also keep your App data backed up — and synced between your devices.
Sync Email, Contacts and Calendar to iCloud
Another nice feature, is the ability to sync your personal information to iCloud. On Windows, Mac and on iOS 5, you can sync your Mail, Contacts and Calendar to your devices.
This quick guide will show you how to turn on iCloud Email, Contact and Calendar Sync one Mac, Windows and iOS 5 devices.
How to Download Previously Purchased Apps
Another nice part of iCloud is the ability to re-download all of your apps on a new device. The process takes some time to do, but is much better than re-buying or searching for individual apps for hours.
For the details, read: How to Download Previously Purchased Apps on iOS 5.
How to Set Up Photo Stream
In order to reap the benefits of iCloud, you will need to set up Photo Stream. This service syncs all of your pictures between your devices. While there are some limitations regarding the time images stay online and how many you can sync.
Still, it is an amazing way to sync your photos to your computer.
Read: How to Setup Photo Stream on a Mac
Read: How to Setup Photo Stream on a Windows PC
iOS 5 Performance
One of the biggest question older device users have about the new version of iOS is whether it will slow down their iPhone 3GS. Based on our experiences, iOS 5 on the iPhone 3GS is pleasant, and a worthwhile upgrade.
Adam Mills has the following to say in his report: iOS 5 on the iPhone 3GS: Final Impressions and Performance,
In summary, I can't complain. This was not the experience I was expecting after hearing about all of the horror stories from iPhone 3G owners upgrading to iOS 4. In fact, the experience has been so good that I am thinking about passing on the iPhone 4S.
More Tips?
Did we miss your favorite iPhone, Siri, iCloud or iOS 5 tip or trick? If so, leave us a comment so that we can share with the rest of our readers.

As an Amazon Associate I earn from qualifying purchases.