$299 Xbox One Deal is The Best Savings in Gaming
Best Buy, the United States' largest electronics' retailer, has a huge Xbox One deal for anyone who has yet to invest in Microsoft's new console. Beginning this week, Best Buy shoppers can pick up the Xbox One for just $299.
When Best Buy began offering this Xbox One deal is unclear, but the savings is. The retailer allows gamers to trade in their used consoles, accessories and equipment for store credit towards other items. The $299 console in this Xbox One deal are the consoles that shoppers traded in. Each comes complete with a wireless controller and an Xbox One power cable.
The Xbox One arrived on store shelves in November of 2013 for $499. That original bundle included an Xbox One console, a Kinect 2 sensor, a wired Xbox One Chat Headset and a power cable. It had 500GB of storage with an option to add more through built-in USB ports. Microsoft sells Xbox One bundles with and without the Kinect now. They start at $349 for a model without a Kinect sensor or $499 with a Kinect sensor. Kinect lets users control their television and perform in-game actions, depending on the title. A Kinect sensor costs $149.99 on its own.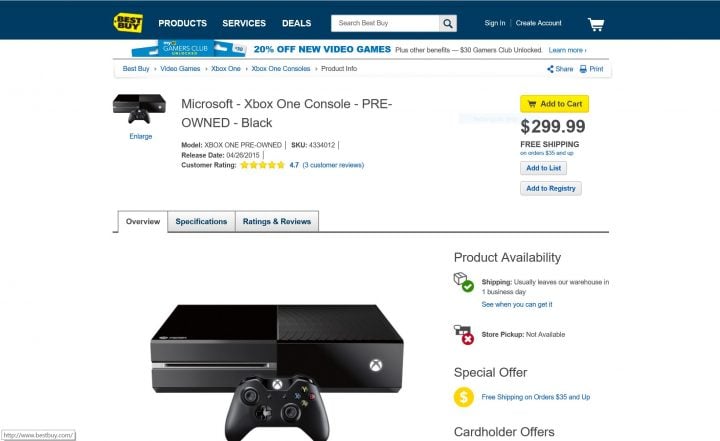 Read: Why and Where to Buy a Kinect for Xbox One
Microsoft also makes a $399 version of the Xbox One that comes with double the storage of the version offered in Best Buy's Xbox One deal.
For now, shoppers are forced to take advantage of this deal only at BestBuy.com, but this new price could roll out to its many retail stores over time. Users should check with their favorite Best Buy locations to see if they are offering the savings. Theoretically, purchasing a used Xbox One console isn't that different from purchasing a new one – provided you're willing to forgo a few extras.
Best Buy warns that used consoles purchased from it are sold without the original packaging. Additionally, some "parts and accessories" could be missing. New Xbox One consoles come with a code to unlock a free digital game like Madden NFL 16 or Gears of War Ultimate Edition. A free trial of Xbox Live, Microsoft's multiplayer gaming service is also included.
It's unclear whether Best Buy runs checks on the consoles it takes in to see if they are banned from Xbox Live too. Best Buy does say that users can return the console they get in this Xbox One deal if they run into any series issues. That is, as long as the issue is discovered within 15 days from the time of purchase.
Read: Where to Get a Cheap Xbox One
By far, Best Buy's Xbox One deal is the lowest priced Xbox One available directly from a store anywhere. Retailer and Best Buy rival GameStop is selling versions of the Xbox One without a Kinect 2 sensor for $319.99, $19 more than what Best Buy is. $334.98 gets shoppers an Xbox One console with a three-month long subscription to Xbox Live Gold at no additional cost. Purchasing that same amount of Xbox Live Gold time would cost $24.99 regularly.
Target doesn't sell consoles used, but does offer a bit of savings. Anyone who purchases an Xbox Live Gold membership with the Xbox One Halo Master Chief Collection Bundle for $349 gets $10 off a Wireless Controller or Xbox Live Gold purchase online. Anyone who can't make it to a Target Store automatically gets free shipping.
All told, these bundles are terrific for anyone looking to adopt Microsoft's latest console on the cheap. Best Buy will let users trade in their old consoles too, dropping the buy-in cost of the Xbox One down even more.

As an Amazon Associate I earn from qualifying purchases.