2TB PS4 Arrives Packing Heat in War with Xbox One
Video game retailer GameStop isn't waiting for Sony to create a 1TB PS4 console to compete with the Xbox One that Microsoft announced just before this year's E3 2015 trade show. Revealed today, the new PS4 bundle gets shoppers a whopping 2TB in storage for the relatively low cost of $479.99.
When GameStop launched this new PS4 bundle is unclear, but shoppers at its American website noticed the new console up for sale today. Called the PlayStation 4 Supercharged 2TB System, GameStop is pretty much taking stock versions of the PS4 console that shoppers have sold to it and replaced their original 500GB hard drives with larger 2TB drives.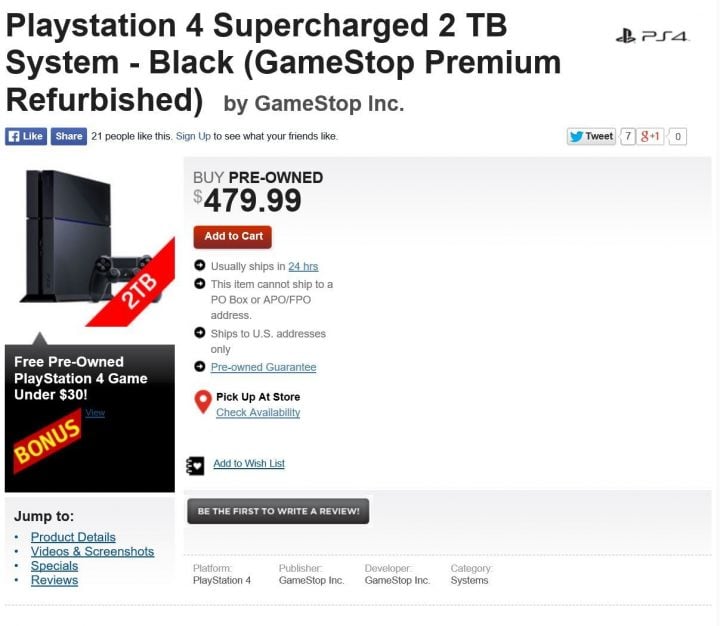 Microsoft's 1TB Xbox One offers double the storage of the original 500GB version. It costs $399, $50 more than the original Xbox One with 500GB of storage and the same price as the 500GB PS4. In effect, it's a better deal storage-wise to get an Xbox One right now instead of PS4. Again, that's if storage for digital games is part of your buying decision. This new bundle sways the pendulum back in favor of the PS4, sort of.
For now you can purchase this pre-owned PS4 Supercharged 2TB system if you're wiling to order from GameStop.com. Some GameStop stores are also carrying the system in limited quantities. Users who plan to take advantage of the additional storage boost and savings should call their local GameStop locations before heading there.
Read: 1TB Xbox One Confirmed
A quick check on Amazon reveals that a 2TB internal hard drive like the one that the PS4 requires can cost users as little as $98. Users who purchased that and an regular PS4 instead of a used one would spend about $20 more than this PS4 Supercharged bundle. GameStop seems to have noticed that too and is sweetening the 2TB PS4 Supercharged deal with another layer of savings. Sony built the PS4 with storage upgrades in mind. The Xbox One requires that either Microsoft upgrade storage or users purchase an external drive. The PS4 has a door that users can slide off and add storage to the system.
Besides getting an extra 2TB hard drive that would cost extra in any other circumstance, GameStop says users who purchase this bundle will get a free used game to go along with their console purchase. Unfortunately, that additional offer only represents $30 in extra savings since GameStop says users can't redeem the bonus offer for games that cost more than that. That's very disappointing. For comparison, a used copy of Grand Theft Auto 5 for the PS4 costs $54.99 at GameStop. That game debuted last November.
All told, the 2TB PS4 Supercharged bundle is a decent deal, but not a shocking one. For those who are uncomfortable dropping more storage into their console themselves, it's a perfectly fair option. The PS4 doesn't offer support for USB storage when it comes to games.
Inevitably PS4 buyers will need more storage. Both the Xbox One and PS4 place a heavy emphasis on digital titles and digital downloads. Every new game that arrives for the PS4 is available digitally the same day it arrives on store shelves. Digital games often take up between 20GB of and 40GB of storage each. Compilation games — like Uncharted: The Nathan Drake Collection — will certainly take up more space than that.
Even if you buy a physical copy of a game you aren't safe. Getting games going requires that users install a portion of the game to their console too. Features like video clip recording require a certain amount of space be empty on a console. If you run out of space you'll need to remove unplayed games and reinstall them from your library when you are ready to play them again.