3 Destiny Beta Videos That Prove You Should Pre-Order
We're only a single day into the Destiny Beta, but already a few Destiny Beta videos have cropped up, showcasing the best of the game's combat and why Xbox One and PS4 users should pre-order the game as soon as they can.
The first of these spectacular Destiny Beta videos began appearing last night, just after the PlayStation Network, Sony's online gaming service, recovered from PS4 and PS3 owners all trying to download the game at the same time.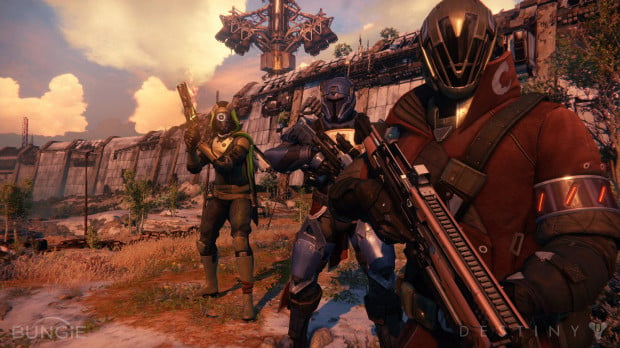 A Destiny Beta video posted last night provides a great overview of the game's Control multiplayer play-type. In it users are tasked with capturing specific areas by eliminating the opposition. Users who've played a Bungie-made game before will find the combat familiar, but this video does showcase one of the coolest things about Destiny, the automated killing robots that can be just as deadly as other Destiny Beta players.
Another Destiny Beta video showcases the game's in-depth character customization. Forget just being able to add different helmets and emblems that you collect over time. Destiny Beta players can customize their character's gender, hair, markings on their face and their facial express. This Destiny beta video also reveals that users can customize the actual color of just about everything, from their character's skin color and markings, to their eye color. Again, of course users can choose to cover all that up with helmets and outfits of their choice.
A final Destiny Beta video reveals just how varied the gameplay in Destiny is. YouTube user Austyn Fuller uses a combination of automatic rifles, grenades, magical powers and sheer know-how to absolutely dominate a match he's playing in. By the time he finishes, he's managed to stack an impressive 30 kills in a single match. Sure, he seems to be a seasoned player, but it's hard to deny that Destiny offers a lot for everyone.
https://www.youtube.com/watch?v=gRd5qc744AQ
The Destiny Beta launched on the PS4 and PS3 yesterday, but Xbox One and Xbox 360 users won't have to wait long until they're able to create Destiny Beta videos of their own. Owners of Microsoft's Xbox One and Xbox 360 consoles will get access to the Destiny Beta on July 23rd. There they'll be able to create a character built around one of the game's three classes and take on enemies just as PS4 users can today. The Destiny Beta includes access to the Tower, a social area for users to catch up with other Destiny Beta players. There's also a bit of story mode, a competitive multiplayer experience and the option to just free roam around the game's worlds.
Unfortunately, for those who weren't planning to pre-order, how you get into the Destiny Beta remains the same. To make it in, users need to pre-order a copy of Destiny from a participating retailer. Once they have, they'll find a beta code in their email or on their receipt if they're ordering a physical copy from stores like GameStop. The Xbox One still doesn't have a digital pre-order system. As such, Xbox One users who want to join in on the festivities will actually need to pre-order the game at a participating retailer, then cancel their pre-order once the Destiny Beta is over.
Nothing has changed about the advantages owners of Sony's PS4 get either. Those who purchase one of the limited edition versions of the game on Sony's platforms will get access to exclusive content that Xbox One and Xbox 360 users won't get until the fall of 2015 at the earliest. That's a shame considering Bungie and Activision haven't seen fit to lower the price of the limited games on Microsoft's platforms because of this.
The final version of Destiny launches September 9th.