3 Impressive Technologies in the 2014 Toyota Corolla
Toyota's Corolla is a small, inexpensive vehicle that is safe to drive. It also gets great fuel economy. Other vehicles in this class, including the Ford Focus, are more expensive for the same features. That makes the Corolla great value for the money.
There are some technology features in the latest Corolla that we liked during our week of testing. Here are three of the top technology features on the 2014 Toyota Corolla that you need to know about.
Entune Supports Apps
Toyota's infotainment system, called Entune, supports a variety of third party apps. If you are someone who uses Yelp, Pandora, Google Places or iHeartRadio, you will feel right at home with this system. The system has a dedicated Apps menu and the driver can use the steering wheel controls for app control.
More Fuel Efficiency with Eco Mode
By default the Corolla remains in Eco Mode. A green Eco Mode light lights up on the instrument cluster, and if the trip computer is displaying Average MPG there is also an Eco gauge.
When the driver accelerates, the Eco gauge shows how much faster the driver can speed up to keep the car in the mode. We got over 40 miles per gallon without extra effort by keeping the car in Eco Mode.
LED Headlights Bring Luxury Car Technology Mainstream
All Corollas come standard with LED headlights. They are brighter than normal lights, making it easier to see road signs, animals and pedestrians at night. LEDs will also last the lifetime of the car, meaning the driver doesn't have to worry about another large expense while still benefiting from the improved safety. They are typically an expensive add-on on to premium cars. BMW charges $1,900 on the M4 for the upgrade.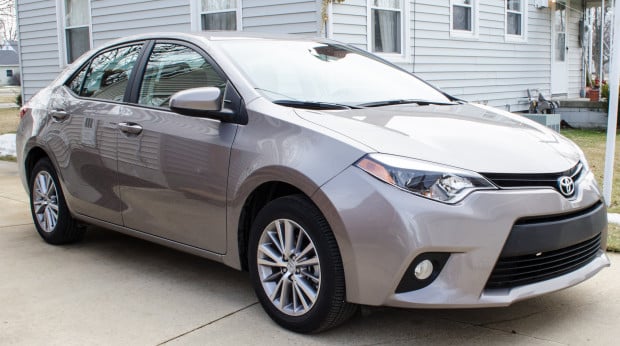 READ: 2014 Toyota Corolla Review: There's a Reason This Car Is a Top Seller
The Toyota Corolla impressed us during our week of testing. The car is great value for money. It includes two years of free scheduled maintenance. It also got better fuel economy than we were expecting. If you are looking for an inexpensive, reliable and affordable small car, the Corolla should be on your short list.