3 More Smartphones Rumored for Sprint: LG Optimus Slider, BlackBerry Bold 9930, BlackBerry Torch 9850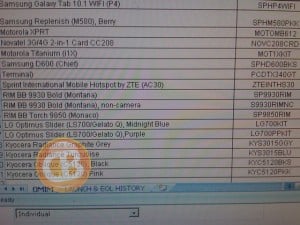 Sprint's going on the offensive with its smartphone lineup as the Now Network is now rumored to be moving closer to launching three more smartphones. It's unclear when these devices will launch as the Bold 9900 for GSM networks is reportedly delayed until September, and RIM usually releases GSM handsets before those for CDMA networks, but Sprint will be getting its new Bold in the form of the 9930.
The Bold 9930 will be similar to the 9900 as it will be among the first of RIM's BlackBerry devices to sport BlackBerry OS 7. Also on-board is an improved 640 X 480 resolution 2.8-inch touchscreen display along with a 1.2 GHz processor with a 5-megapixel camera that can encode 720p HD videos.
The carrier will also be getting the BlackBerry Torch 9850, which is different than the Torch on AT&T and also the recently leaked Torch 2 sliding smartphone. The 9850 won't have the sliding form factor and will instead be a 3.7-inch WVGA touchscreen device that's an extension of RIM's Storm franchise. In the past, the device has been leaks as the Monaco, Monza, Volt, and Torch.
The carrier will be getting an LG Optimus Slider as well, which as its name implies, will sport a sliding form factor. Codenamed the Gelato, the LG device will probably run Android and will continue LG's low-end Optimus S series on Sprint, but with a new form factor. The device was previously also leaked for T-Mobile as the LG Gelato Optimus II.
Timing of the release of these three new devices are not known at this time, nor are their prices upon launch.
Via: IntoMobile