3 Navigation Features That Google Maps Should Borrow From Nokia's Here Drive+
With all the leading smartphone platforms coming with their own voice-guided turn-by-turn GPS navigation app for free, Google Maps is still the leading free navigation platform given the market share that Android has picked up. Yet, despite Google Maps being a common tool online and Google Maps with Navigation being a much sought after experience on Android and now on iOS as a third-party client, there's still room for improvement. Here are three ideas that Nokia had implemented on its Here Drive+ app, which is available as a free solution for the company's range of Lumia and Asha devices, and as a paid option for Windows Phone 8 devices from other manufacturers.
1. Speed Warning
Drivers with a lead foot on the acceleration would appreciate speed warnings and speed limit notifications. Google Maps with Navigation on Android has neither. On Nokia's Here Drive+ platform, you'll see on the map screen the speed limit for the street you're traveling on, as well as your own actual speed. If you go over the speed limit, Here Drive+'s backseat driving kicks in with audible and visual alerts, notifying you that you're in danger of getting a speeding ticket.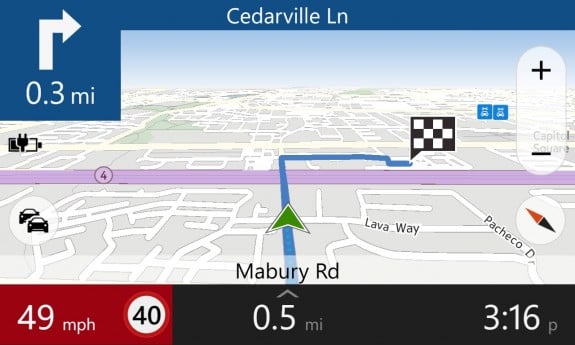 It's a nice feature, and you can toggle various settings so that it only nags you when you're cruising over a set speed over the limit, and you can even disable this option if you choose.
2. Personalized Commute Traffic at a Glance
Given the large user base of Android and iOS users of Google's mapping service, Google has a lot of data for traffic, and that information comes in useful. Sure, whenever you type in an address, Google's mapping information gives you an estimated time of arrival with traffic considerations, but Here Drive+ does it a bit more elegantly. Thanks to a new feature called My Commute, Here Drive+ allows you to save your commute information. I saved San Francisco's Moscone Conference Center, for example, as a work address, and Here Drive+ asks me for my normal commute–which I've listed as 8 AM to 3 PM.
Now, instead of having to type in the work address and get route guidance to show traffic, Here Drive+ will automatically display traffic for my commute to and from work, to and from my grandparents' home, and to and from my parents' home when I go into the My Commute menu. It saves a few screen taps and I can glance at that information before I even decide to hit the road so I know not to leave the office if traffic is particularly congested.
3. Better On-Board Map Storage
Through iterative revisions and updates to Google Maps and Google Maps with Navigation, users can save portions of the map to use offline when they either don't want to use their data plans or go into an area without cellular coverage. However, that requires planning–you'll have to know to start to download the maps while in a WiFi area, for example, or else you'll find yourself eating into your data plan. With Here Drive+, you can just pre-download maps for either your state or your country and never have to worry about maps, reception, or connectivity again.
Maps are stored locally on your phone, and the maps you download will work with both Here Drive+, which is the equivalent of Android's Google Maps with Navigation feature, as well as with Here Maps, which is similar to Google Maps for searching and exploring.

As an Amazon Associate I earn from qualifying purchases.