3 New HTC One M8 Details Leak
The all-new HTC One M8 is finally on shelves and available across the country from all major US carriers, but that hasn't stopped new details and leaks from arriving. In fact, over the past few weeks multiple new details have emerged.
Here we take a look at three brand new and important post-launch details regarding the HTC One M8. The phone may be on shelves and in consumers pockets, but that isn't the end of the line.
Read: HTC One M8 vs Moto X: 5 Key Differences
The HTC One M8 was announced and launched on March 25th across the US, but now a month later more reports are starting to emerge with talks of exclusive colors, Mini variants, and even a completely different HTC One M8 coming soon. Below are the three biggest reports and rumors floating around that potential customers need to know about.
Last month HTC finally delivered its newest smartphone by announcing and releasing it on the same day, something we don't see often in the smartphone world. As a result we knew everything about more about the device well ahead of time from a slew of leaks that appeared almost everyday for weeks leading up to the release date.
Now that the phone is finally here many users figured the details would stop, but they haven't. In fact, it looks like there is at least three other important details regarding the HTC One M8, and possibly even a fourth. Below we'll rundown everything prospective buyers should know before making a decision.
Verizon HTC One M8 in Red
The HTC One M8 was announced and revealed with three awesome colors. A brushed gunmetal gray, the same silver option as the original 2013 HTC One, and an all-new HTC One Amber Gold. While the gold model is still hard to find, we're expecting other options to arrive soon. Last year Best Buy offered a pretty blue variant, and new leaks suggest Verizon will have an exclusive Red HTC One M8 soon.
The popular @evleaks posted the photo shown above, suggesting at least one more color is in the works for the HTC One M8. If the Gunmetal gray or current colors don't please all customers, maybe a blue or red version will instead. We don't know exactly when to expect this to arrive, but most likely it will be in the coming weeks.
HTC One M8 Mini
Just like 2013, HTC is planning to offer a smaller variant of its flagship smartphone. Rumors have swirled for months about an HTC One M8 Mini, and days after the bigger phone debuted the reports started to surface again. Reports suggest an HTC One M8 Mini is coming soon, and even an unknown device called the HTC M8 Ace.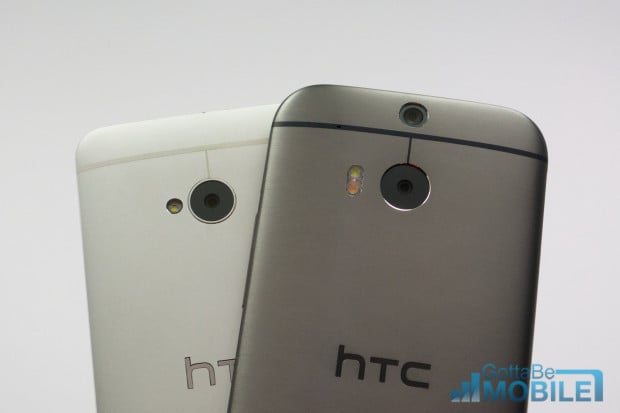 Talks of a 4.5-inch 720p HD display, dual or quad-core low-end processor with 1GB of RAM, and even a 5 megapixel camera. The HTC One M8 Mini could have 16GB of internal storage, and will be running Android 4.4.2 KitKat and the latest Sense 6 software like its bigger brother. Again rumors for now, but we've heard similar reports from multiple sources. The original One Mini arrived months and months late, but we have a feeling a summer release may be in store.
Read: How to Change Apps on the HTC One M8 Lockscreen
The latest bit of details however, is that Verizon may have yet another exclusive. Once again the always accurate @evleaks has revealed the HTC One M8 Mini will be headed to Verizon, but there's no details on when.  If the large 5-inch and super tall HTC One M8 is too big for consumers but they love the all aluminum design, a smaller variant should be coming soon to a US carrier near you.
HTC One M8 in Plastic
One of the most impressive aspects of the HTC One M8, something the company is proud of and uses to poke fun of Samsung with, is the all aluminum design they've used. The HTC One M8 is wrapped in a beautiful brushed aluminum design, rather than cheap lightweight plastics. As a result though, the phone is big, heavy, and expensive.
If buying a high end flagship device is something consumers want, but can't afford, there may be another option that isn't smaller. Earlier this month rumors surfaced stating that HTC will be manufacturing and releasing a plastic version of the flagship HTC One M8.
Leaks suggests the $649-$699 outright price of the HTC One M8 is a little high for some, and as a result an identical device made from plastic will be released for under $500. The report suggests a $480 price range, give or take, which would mean carriers could offer this handset at a great price for consumers.
The same 5-inch 1080p HD display and quad-core processor will be included, as well as the Duo Camera system on back and front facing speakers. It sounds like a decent option, but we'll have to wait for more details before we can confirm this one. With HTC touting the design so much, we doubt they'd circle back to plastic, but you never know.
A leaked photo arrived earlier this month calling itself the HTC M8 Ace, and looked to be a plastic variant, but that's all we have thus far. More details should arrive soon.
Final Thoughts
From all these leaks one thing is clear, and that is HTC doesn't want to just stop with the one smartphone. A Mini HTC One M8 is coming soon for those on a budget or who want something smaller. More color options should be arriving for their bread and butter, the HTC One M8, and a lower priced plastic model could also be in the works to steal more sales from Samsung and Apple.
Evleaks has been dead accurate in the past, which suggests at least a few of the rumors mentioned above will end up true. We'll keep our eyes open, and expect more details and reports coming soon.

As an Amazon Associate I earn from qualifying purchases.