3 Things Windows Phone Needs in Order to Compete with iOS and Android
As Apple's World Wide Developers Conference and Google's I/O developer conference passes by, it's time to take take a look at how Microsoft's Windows Phone operating system is stacking up against the competition… or rather isn't.
The Windows Phone operating system and the devices it powers have come a long way. In seven months Windows Phone users have been introduced to phones with dual-core processors, high-definition screens and seen applications rolled out that finally put the ecosystem in the same church as Android and iOS.
However, that isn't to say it's located the right pew.
With Microsoft's BUILD 2013 conference rapidly approaching, and Windows Phone being confirmed as a major part of the conference's agenda, it's time to diagnose the issues Windows Phone needs tackled.
Personalization
When Microsoft first announced that it would be rebooting its mobile efforts, many feared that the completely new operating system might drop support for features they found important to their daily workflow.
Read: Microsoft Announces Windows Phone 7 Series
What no one counted on was the amount of personalization Windows Phone would drop in the name of creating its new Zune-like Metro experience. Users of Microsoft's new mobile operating system have suffered from a complete lack of ways to customize their device beyond choosing a color for their Live Tile, repositioning Live Tiles and choosing a picture to use on their lock screen. While users can also specify a ringtone, they cannot even customize their audio alerts.
The lack of these customization options gives some the impression that their Windows Phone 8X, isn't in fact really, their Windows Phone 8X. It would be nice to see Microsoft make moves to let people use, or at least brighten up, their device with a colored pattern as they do in Windows 8. It would even be nice to choose a photo that appears behind the tiles on the operating systems home screen. Our devices should reflect our personalities.
Standardization
Microsoft makes a huge deal out of the fact that Windows Phone 8 shares a common core with its Windows 8 operating system, and they have every right to. In theory, sharing the same code between both operating systems cuts down on development time and creates a sort of unified experience when switching between the two.
However, that's only in theory. The Metro design language, much like all design, is open to interpretation and so far Microsoft's Windows Phone and Windows Teams have chosen to approach them both differently.
For example, Windows 8 allows users to choose the background of their Start Screen, but not adjust the colors of apps' Live Tiles. On the other side of that spectrum Windows Phone 8 allows users to do change their Live Tile colors but only choose between black and white for their background color.
Worse yet, the application paradigms on both platforms couldn't be more different. On Windows Phone there is no consistent way of navigating to an application's settings or search functions at all, whereas Windows 8 users need only use the Charms bar, regardless of what app they're in.
If Microsoft ever hopes to create a world in which users purchase a device running one of these operating system and decides to use the other as well, it'll need to bridge these gaps.
Interoperability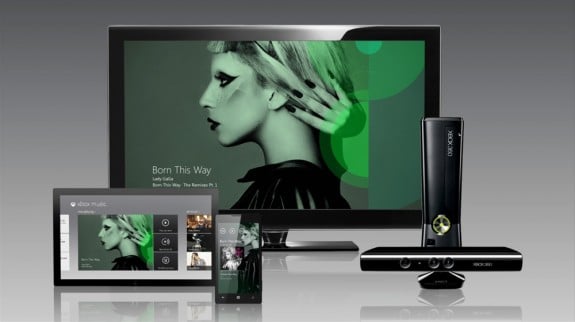 There's nothing better than having devices that let technology get out of the way while letting users get their job done, or lets them enjoy the latest music and television shows. Apple does it with its iOS based tablets, and the Apple TV. Google attempts to do this with its Android-powered tablets and smartphones, and the Google Play Store.
On the other hand, Windows Phone does very little in that respect. Yes, it allows users to insert their Microsoft Account and sync over their Xbox Gamertag and Xbox Music subscriptions. Yes, it allows people to install its SmartGlass application and control their Xbox.
Read: Microsoft Launches Xbox Music for Windows Phone and Windows 8
What it doesn't do is allow users to stream content stored on their device to their Xbox. It's also not able to stream videos that were purchased in Xbox Video, to say nothing of actually downloading the content manually and loading it to the device.
The company is starting to show progress. SkyDrive is now universally available on all of its platforms, and automatically syncs between Windows and Windows Phone 8 devices. Users can even open their synced files in a new Xbox application. They need to continue to do more of this, quickly.
In a world where users can purchase applications, music, movies, television shows and books on their iOS devices on a whim, Microsoft's ecosystem just doesn't make it easy to move between its platforms.
Overall it's not that Windows Phone has any systematic problems, it's that it's that it's now been three years and none of us are getting any younger. The Windows Phone Team needs to focus on principles that don't just enable it to move onto the next big thing, but also provide the same experiences that are expected and demanded by other smartphone users.

This article may contain affiliate links. Click here for more details.