3 Tips for A Better Windows 8 Tablet Experience
All at once, Microsoft is both new to tablets and one of the oldest tablet focused companies there are. In the early parts of the last decade, Microsoft focused a bit of effort on making the tablet, or what was then considered the tablet PC, a market it could effectively compete in. The company released Windows XP Tablet Edition and continued releasing slightly modified versions of its namesake operating system that it hoped PC makers would create devices for. Unfortunately, technology at that time and the way Microsoft enabled touch in Windows didn't translate to success.
Now, the company is back to reclaim the tablet market with Windows 8 and a new generation of tablets. And with a few choice tips they're miles better for everyday computing than that first generation of Windows tablets or even notebooks and desktops for casual users.
For the most part, Microsoft seems to have learned some of the lessons it should have taken away from its experiences in tablets last time. The company created a new version of Windows, dubbed Windows RT, it's specifically made to address the issues tablet PC users care about most: battery life. Windows RT dumps compatibility with Desktop apps like iTunes, but manages to reach the same battery life of the iPad. Almost all the user interface is redesigned to work well with touch or a mouse and keyboard.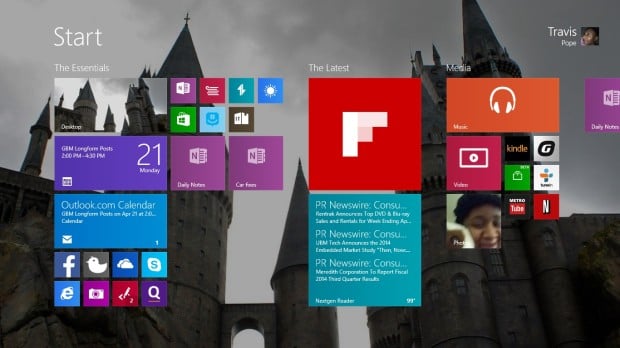 Thankfully, Microsoft didn't throughout Desktop apps from its entire tablet equation. It seems Windows RT devices were only meant to bridge the gap until Microsoft and partners like Intel, Dell and Lenovo could deliver tablets in thin form factors with great battery life and Desktop app compatibility. That's where the full version of Windows 8 comes in. Tablets running it have all the capabilities usually reserved for desktops and notebooks but are svelte, quiet and more powerful than the iPad.
Embrace Updates
It's been said that for users to really appreciate Windows tablets they first have to be willing to embrace change. I don't think that's a false assumption, there's a lot of things that are different in Windows 8 and later updates. On the other hand, I think it's more important that users embrace the idea that updates to Windows tablets don't dribble out as is what's typical for Microsoft.
Shortly after release, Microsoft announced that it would be upgrading Windows on a much faster schedule. Initially, it seemed like the plan was to release new features and upgrades every year just like Apple does with the iPhone and iPad. More recently, it appears that Microsoft plans on releasing updates quicker than that. Microsoft has updated Windows 8 once this year already and new reports now indicate that the company plans to add more features, including an adaptive Start Menu, this August. That's roughly four months after the Windows 8.1 Update.
Windows 8 tablet users have to embrace a quick updating schedule. Microsoft is quickly trying to mature the Windows experience for tablet and desktop users alike, and the only way you're going to see the fruits of their labor is if you keep your machine current. To a certain extent, Windows does this by itself automatically, but some larger updates require users to start an update manually. If you see an update in the Windows Store, perform it when you have the spare time and leap into the new.
Embrace Multiple Ways of Doing Things
The biggest piece of knowledge I can pass on to potential Windows tablet buyers, or anyone considering a tablet in general, is to rid yourself of the notion that tablets and PCs aren't and shouldn't necessarily be the same thing. I know that sounds a bit vague, let me explain.
With the arrival of the iPad, users – particularly those who already owned a desktop or notebook – classified these devices as just computer companions. The idea was that anyone who needed to consume content would reach for their tablet and people who really wanted to get work done would just use a proper PC. This type of thinking has forced concessions on users, for example the iPad doesn't include Flash plugins and doesn't allow users to open more than one app at a time.
Because Windows 8 tablets, well run Windows, they don't share this issue. Multitasking, Flash plugins, and mouse and keyboard support are all there. So is USB functionality for easy printing and just about any other accessory you'd like to deal with. In short, Windows 8 tablets can be your everything. Attach an external monitor and a mouse and keyboard to make them your desktop, remove them to just consume media. Looking for a new notebook? Get a convertible and use the same device for everything. There's just one you and you don't need multiple devices for every scenario in your life with Windows 8.
Use the Windows Store to Your Advantage
At this point I'm of the opinion that the Windows Store is both Microsoft and mainstream computing's last hope for serious survival. Our smartphones have taught us to think about apps differently. I don't think it makes sense to force users to install plugins and apps from third-party websites, when it's far easier for them to simply download apps in the Windows Store.
Of course, today the Windows Store obviously needs more apps before this future is a reality. Microsoft also needs to bring Windows Store apps to the desktop, which it already committed to doing based on what it showed off at its BUILD 2014 developer conference.
Despite these issues, even today I encourage users Windows tablet users to browse the Windows Store for legitimate replacements to their Desktop apps. Purchasing and downloading apps through the store syncs them and the information they contain to other Windows 8 devices, free. They also are much more touch friendly than anything than you could download in the Desktop. I should also note that they're more secure and integrate with the Search, Share, Notifications and Settings Charms in Windows 8.
Beyond these things, explore the operating system. Learn about its features and what it can do to improve your work flow. I'm wont go so far as to say embracing Windows 8 will change your life. I'm of the opinion that you can only change your life from within. However, the first step to doing that is finding the right tools to make life easier to manage and a Windows 8 tablet is certainly a great tool to have in your arsenal.

This article may contain affiliate links. Click here for more details.