3 Windows Features Microsoft Needs in the Next Windows Update
Facing increasing competition from Google and Apple, Microsoft needed to reinvent Windows. It needed to think outside of the box and deliver something exciting and different.
With Windows 8.1, Microsoft's reinvention has turned into something worth using in every form factor that it comes in. However, there are a few key changes I think Microsoft needs to make before it can declare Windows a reinvented and vibrant platform.
Fortunately, users might not have to wait that long for the next update to Windows. When Microsoft announced that it would reinvent the operating system it also detailed a new development process that will bring rapid updates to Windows over the long term. Here are a few of the updates I hope to see in the next update to Windows.
Read: Windows 8.1 Review
Background Tasks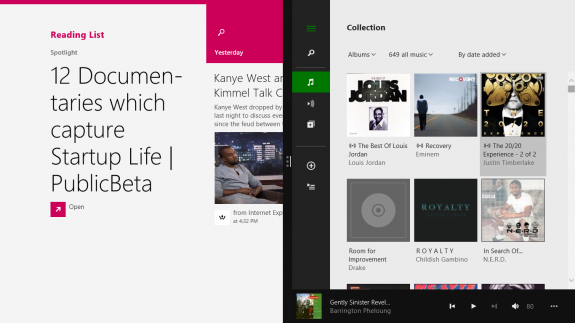 To its credit, the Windows Store is beginning to slowly fill with the utilities it needs to be considered an actual alternative to simply downloading desktop applications. For example, CodeWriter is one of the most fully featured text and code writing applications we've seen on any platform. Windows 8 even has its own file transfer application that lets it talk to servers. There's even a torrent application for users who enjoy downloading things a bit at a time.
The problem is that most of these applications are hobbled by Microsoft's rather interesting decision to not include functions that allow applications to stay running in the background. In their defense, this protects performance and insures a better experience for everyone, however it also means that things like BitTorrent applications and FTP apps stop doing whatever they are doing the moment they are not on the screen. That's simply not functional and leaves even the best attempts at Windows Store applications feeling somewhat useless.
A Notification Center
When Microsoft said that it would use the same design principles across its entire portfolio of products many users thought it would lead to an easily identifiable brand identity. It has, and by no means should anyone complain about that. However, it also seems to have ensured that the company's products share a few of the same weaknesses.
Take Windows 8.1 for example. Neither of these operating systems offer users anything other than one-time toast notifications and live tile notifications. This means that users have just one opportunity to see a notification for an application that's not pinned to the Start Screen. Should they miss it, they'll need to track down whatever application originally triggered the notification. This leads to missed messages from friends and family.
Microsoft has to resolve this with the next update to Windows. For the record, Windows Phone 8 also shares this issue.
Clocks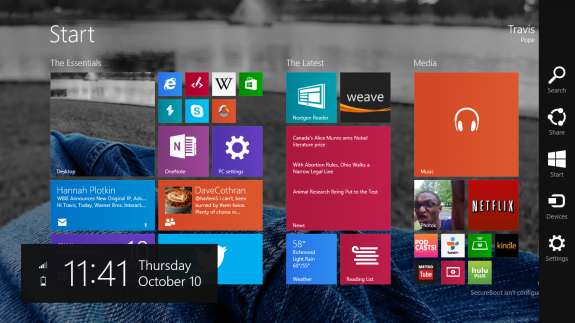 I don't know what Microsoft's designers have against users letting users simply glance at their screen and instantly know the time. Maybe they feel clocks break the user's experience, maybe they like to force users to swipe from the right of the screen or download third-party tools in-order to see the time in the Start Screen. Whatever it is, they've got to get over it. Give people their clock back, please.
With Windows 8.1, the Windows reinvention is almost there. It has the options that power users crave and the modern features that operating systems need to stay competitive. Hopefully users will see these features in a coming update soon. Windows 8 owners can download the Windows 8.1 update for free from the Windows Store.
Read: The Next Big Update to Windows to Come in Spring 2015?
Unfortunately, timing for the any updates past Windows 8.1 remains unclear. Recent reports have indicated that Microsoft plans to introduce the next large update to Windows sometime in the spring of 2015. However, that timeline hasn't been confirmed by Microsoft.
Regardless of the timing, let's just hope that the update includes some of these changes.

This article may contain affiliate links. Click here for more details.