30 Amazing iPad 2 Cases, Covers and Skins
The iPad 2 remains the most popular tablet out there, and with popularity comes a plethora of cases, covers and skins.
I've rounded up 30 of the most useful, creative and good looking iPad 2 cases I could find to help you protect your iPad in style.
(Read: iPad 2 Review)
Some of these options are expensive, but we have a few hidden gems to meet the needs of budget case lovers too.
If you still need some cool iPad 2 accessories, check out our iPad 2 Acessory Gift Guide and Gifts for iPad 2 Gamers.
Apple Smart Cover – $30
Simple, affordable, versatile and in an array of colors.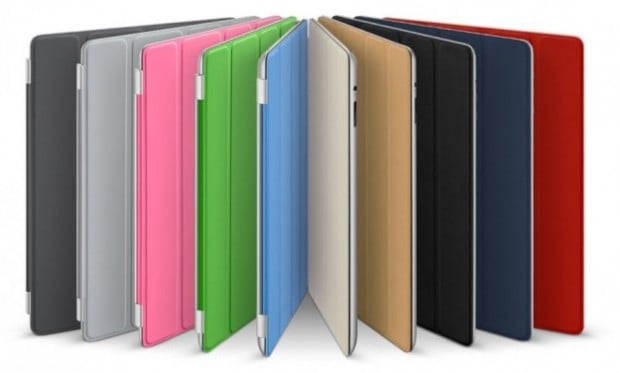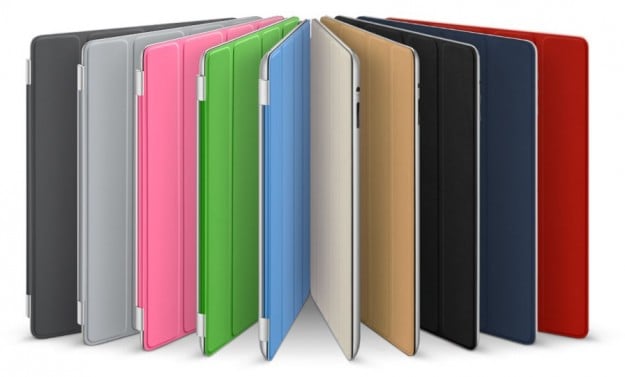 The most popular iPad 2 case I have seen is the smart cover which comes in polyurethane and leather and in a variety of colors. The Smart Cover attaches to your iPad 2 with strong magnets so you can remove it incredibly easily. The Smart Cover earns the smart moniker by turning your iPad's screen on and off when you open or close the cover. These cases will work with some others on the list, but you will definitely want to look for some form of iPad 2 back protection to keep your iPad's back scratch free. You can fold up the cover to form a viewing stand or a typing stand.
Speck Handy Shell – $39
iPad 2 case with a handle that doubles as a stand.

I love this Handyshell iPad 2 case from Speck because it lets me hang on to the iPad while talking in front of a group of people, but is able to double as a stand in portrait or landscape orientation when I want to read or watch a movie later. You can even use the handle to hang it on a doorknob or cabinet nob for easy use in the kitchen.
Speck CandyShell Wrap – $39
Like the Smart Cover, but with back protection.

If you want the convenience of the Apple Smart Cover, but need to protect the rear of your iPad, check out this two piece from Speck. The CandyShell Wrap for iPad 2 protects your iPad front to back and the cover doubles as a typing or viewing stand. You can even pull the front cover off when you want to go with just a back.
Speck Magfolio – $60
Slim cover with magnets to turn the iPad 2 on and off.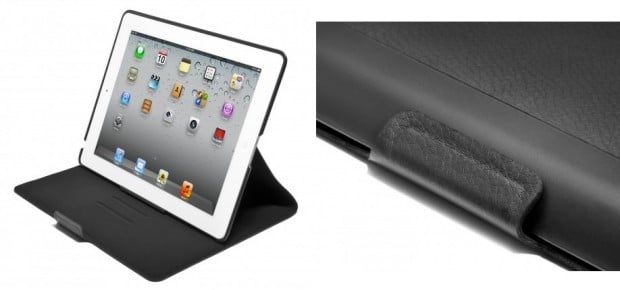 The MagFolio for iPad 2 is a new slim case that fits the ipad's slender frame rather well. The big sell here is the inclusion of magnets to activate the wake and sleep functions of the iPad, but you also get multiple viewing angles for typing or watching content in landscape.
Speck SmartShell – $23
Colorful iPad 2 Protection that plays nice with the Smart Cover.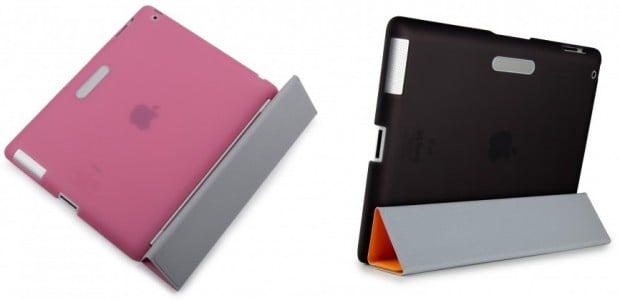 The SmartShell for iPad 2 is fully compatible with the Smart Cover, but brings about rear iPad 2 protection and a soft touch feel that many users like. This case is cheaper, at $35, but keep in mind it is meant to be used in conjunction with a $40 cover.
OtterBox Defender for iPad 2 – $47
Rugged and incredibly thought out iPad 2 protection.
The OtterBox Defender for the iPad 2 is lighter than the original iPad model, and brings about many refinements so that you can use your ipad 2 in harsh environments without giving up on the nice form factor and feel of Apple's latest tablet.
OtterBox Reflex for iPad 2 – $39
Perhaps the sexiest iPad 2 case that can survive a fall.
My favorite feature of the OtterBox Reflex for iPad 2 case is the screen protection that will keep debris and other items from damaging your screen, and that it quickly turns into a stand when you get to your destination. This is definitely an enticing iPad 2 case.
BooqPad iPad 2 Folio – $50
The perfect iPad 2 cover for avid note takers and Evernote lovers.
I love the BooqPad Folio for iPad 2 case for the iPad 2 for days where meetings are a big part of my day. While you can take notes on the iPad 2 with a stylus, even the best apps have trouble keeping up with fast paced meetings, and lack the preciseness of ink on paper. I don't use this folio every day, but it is one of my favorite iPad cases.  (Review)
Schosche Folio p2 – $19
Carbon fiber folio case for the iPad 2.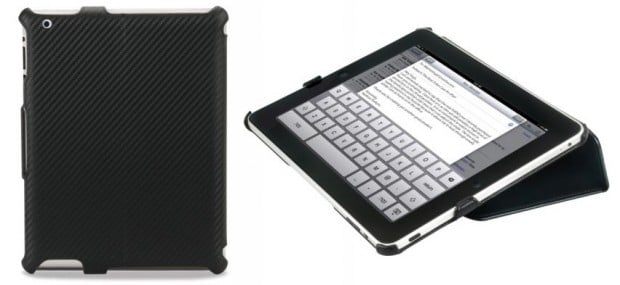 The Scosche Folio p2 offers a carbon fiber back plate and a dfoldiong front cover that allows you to position the iPad 2 in a number of angles. If you need to type or watch a movie your bases are covered with this case. (Review)
Marware Microshell Folio – $33
Thin folio with magnets for sleep and wake.
The Marware Microshell Folio for the iPad 2 is thin and light, but still pretects your iPad 2 during everyday use. There are magnets built in to replicate the Smart Cover functionality and you can also use the screen cover to prop your iPad 2 up at a variety of angles.
Pad & Quill Contega Case – $90
Looks like a book, but is much more.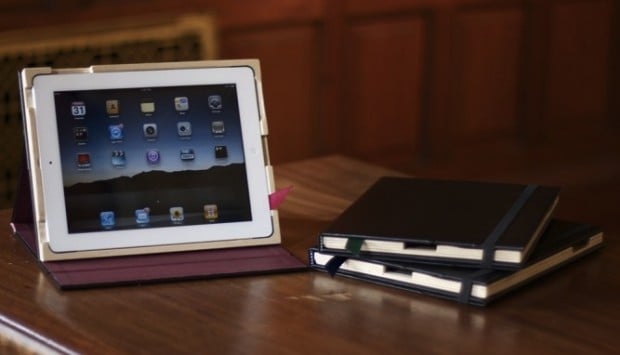 The Pad & Quill Contega Case for iPad 2 is made of Italian bonded leather and offers multiple standing positions to hold your iPad up in style. This case comes with the option of 3 internal colors and a hidden pocket, but the leather and wood are the real reason to buy.
Timbuk2 Plush – $28
Great looking memory foam padded iPad 2 sleeve.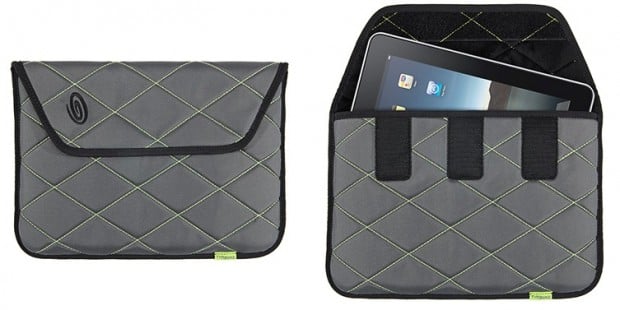 I've been using the Timbuk 2 Plush sleeve for the iPad and the iPad 2 for a year now, and I love the look and feel of this slim case. You can put the iPad 2 in it with the Smart Cover on, and it is perfect for keeping your iPad safe while in a lager bag, or just for a short afternoon trip around town.(Review)
Timbuk2 Popup Case – $39
A slim sleeve that doubles as a stand.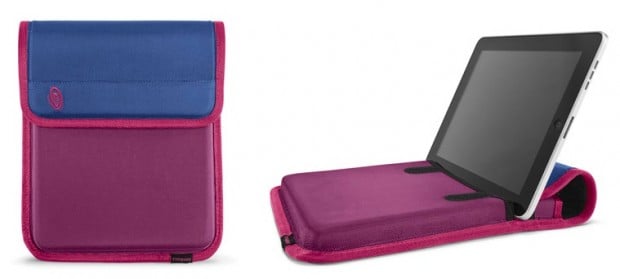 The Timbuk2 Popup Sleeve for the iPad 2 doesn't just protect your iPad 2 in transit, you can use it as a stand to watch movies or use your iPad in landscape mode when you get there.
Tom Bihn Cache – $30
A slim, no frills sleeve for travelers.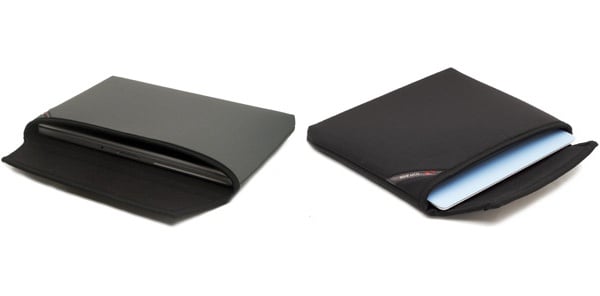 Tom Bihn makes great products, and this Cache sleeve is no different. For $30 you get a well crafted sleeve that slides right in your bag for safe travel.
Joby Yogi – $40
A case with limitless positions.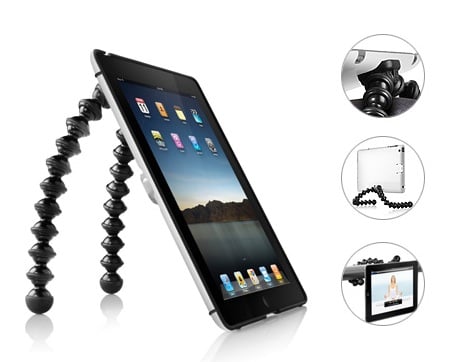 Don't let the funny name fool you. The Joby Yogi 2 is an iPad 2 case that can stand or cling to anything you have nearby. From the makers of the Gorillapod line, you get a case that acts as a stand or wraps to doors, poles, chairs and more.
Waterfield Designs Smart Case – $59
A simply elegant iPad 2 sleeve.
The iPad Smart Case from Waterfield Designs protects your iPad 2 with a high impact insert, but keeps the interior smooth as Ultrasuede. The sleeve hides all the stitchwork for a very clean look.
Waterfield Designs iPad Wallet Case – $79
This iPad 2 case accommodates other cases and the Apple Bluetooth Keyboard.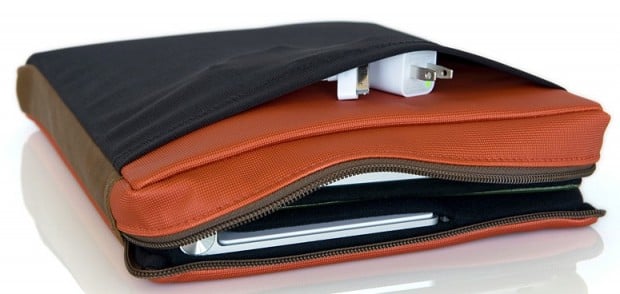 If you can't get by with just your iPad, and want the charger, keyboard and some other small items in a convenient package, check out the iPad Wallet from Waterfield Designs. This iPad 2 case has room for much more than the iPad, but is still a decent size. You can add a shoulder strap if you want an easier way to carry the combo. (Review)
G-Form Extreme Sleeve  – $60
Enough protection to survive falls and bowling balls.
If you need an iPad 2 sleeve that can withstand spills and falls, check out the G-Form Extreme Sleeve. As you can see in the video above, it handles a 12 pound bowling ball being dropped on it. Don't test this on your own, as the case doesn't provide a warranty for your gadgets. (Review)
Kensington SecureBack iPad 2 Case – $50
Lock your ipad 2 to a table, bag or chair with this case.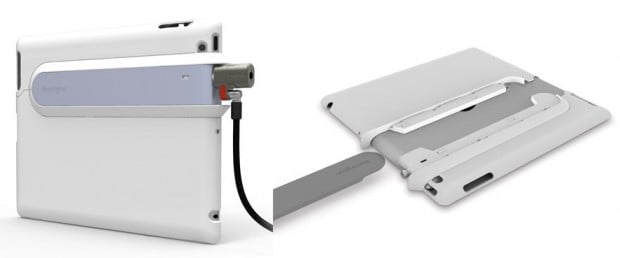 The Kensington SecureBack iPad 2 case locks your iPad in a case, then allows you to lock it to a table, bag or other secure item so you don't have to worry about it walking away when a random stranger runs past.
ZAGG Folio iPad 2 Keyboard Case – $100
The standard for iPad 2 keyboard cases.
Available in an array of colors, the ZAGG Folio iPad 2 Keyboard case protects your iPad and when you need to get to work, it opens up to reveal a built in Bluetooth keyboard and a handy stand. This is a top pick for many on the go professionals and writers.
MIC Aluminum Keyboard Case for iPad 2 – $50
Turn your ipad 2 into a MacBook Air lookalike.
https://vimeo.com/25998427
If you want one of the most stylish iPad 2 keyboard cases, use the MIC Aluminum Keyboard Buddy Case for the iPad 2. Half the price of the ZAGG case, this slim keyboard case clips to your iPad 2 to give it a MacBook Air look and speed up your typing.
Snugg iPad 2 Leather Case Cover – $30
Leather iPad 2 folio at an awesome price.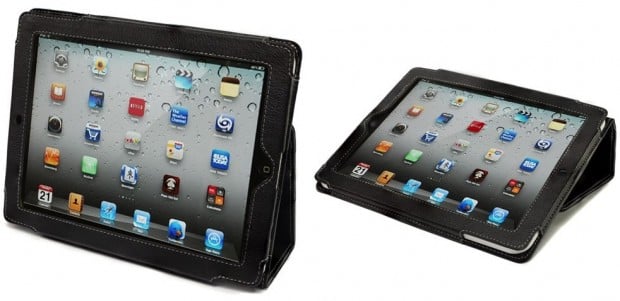 The Snugg iPad 2 Leather portfolio may not look like much at first, but this is continually one of the most recommended ipad 2 cases when I ask around. The price is right and the quality and feel is also great. This case will protect yoru iPad and allows you to use it in an array of angles.
Vogel's All in One Mount and Cover System – $120
One case to mount to your wall, your car seat and stand on a table.
The Vogel's All in One Mount and Ringo mounting system allows you to set up a number of mounts throughout your house, office or car in order to keep one case on your ipad and use it in a variety of ways. Perfect for parents who may need to look up a recipe in the kitchen while it is mounted on a wall and then play a video for their kid while on  along car ride. (Review)
LifeProof iPad 2 Case – TBA
An iPad case that is able to handle whatever life throws at it.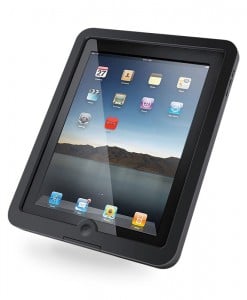 The LifeProof iPad 2 case isn't available yet, but when it is, you can enjoy a case that the company claims can even survive the dishwasher after you use the iPad to look up recipes for dinner. 
Case Mate iPad 2 Tuxedo Case – $60
Slim, Sexy and dressed to the 9's.
https://www.youtube.com/watch?feature=player_embedded&v=nO5UotNzICo
The Case Mate iPad 2 Tuxedo case has a "magic" adhesive tape to keep your iPad in this slim case with a protective fold over front and a slim rear protection. The front cover folds back to support your iPad 2 in a number of angles.
M-Edge Recon Jacket – $50
Military style iPad 2 carrying case with pockets and hooks.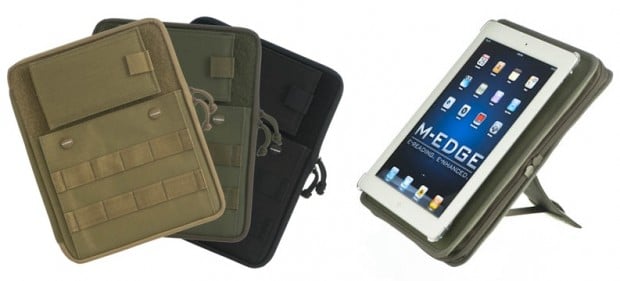 The M-Edge Recon Jacket looks just like the military bags and gear you see on TV and on soldiers. While it isn't a rugged case, the looks are just right and it allows you to attach items to the outside just like many military bags.
M-Edge Out of Print Jacket – $50
Protect your iPad 2 and show your love for old classics.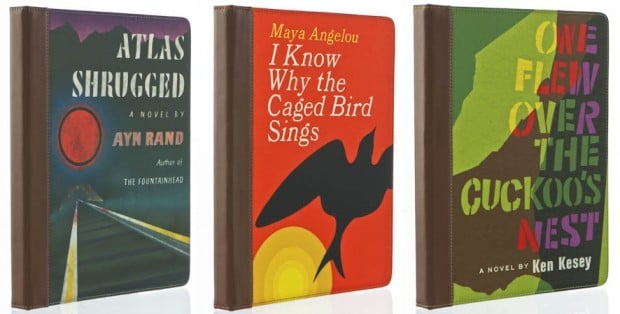 The M-Edge Out of Print Jacket offers a way to protect your iPad 2 during daily use and show off your love of out of print classics with old covers from Atlas Shrugged, I Know Why the Caged Bird Sings, One Flew Over the Cuckoo's Nest and other old covers.
DecalGirl iPad 2 Skins – $20
Artistic, easy to apply skins for minimal protection.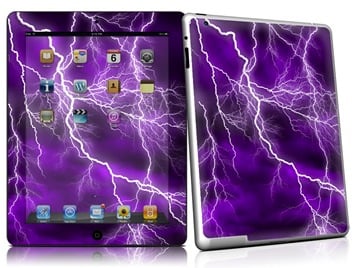 If you want to protect your iPad 2 without adding a lot of bulk, skins are a great option. The Decal Girl skins offer a wide array of designs and abstract images. The skins also come with matching wallpapers.
Bodyguardz Armor Carbon Fiber Skin – $30
Carbon fiber style stick on protection for the iPad 2.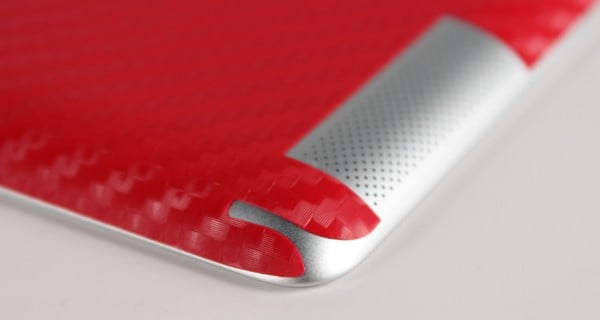 Choose from red, white or black to protect your iPad 2 from scratches and add a softer feel to the back with the iPad 2 Armor Carbon Fiber skin from BodyGuardz. This also includes a screen protector. I use the black skin to protect the back of my iPad 2 no matter what other case I am testing. (Review)
Gelaskins iPad 2 Skins – $30
Skins from wll known designers, comics and more.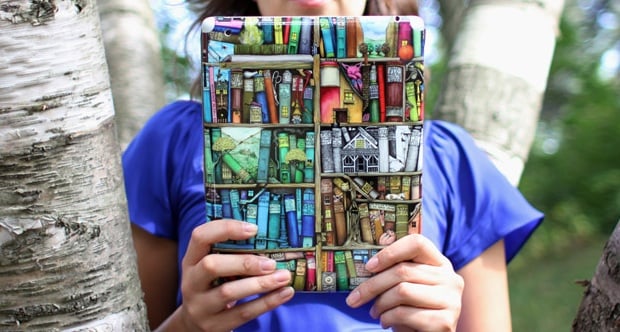 Gelaskins make some of the best fitting, scratch and fade resistant skins I have used, and the Gelaskins iPad 2 skins are no different. Choose form licensed characters, independent artists and many other fun designs.
Stay tuned for more fun iPad 2 cases, covers and sleeves as we find them.