$3,000 Swiss Army Knife Packs in 1 TB of Flash Storage (Video)
For mobile users who are always worried about not having enough storage space to tote around their digital files with them, Victorinox has a 1 TB flash drive solution. Like the company's other USB thumb drives, the flash drive carries the Swiss Army Knife-maker's signature looks. The 1 TB flash drive, which is thicker than Victorinox's other smaller capacity USB thumb drives, comes with two outer shells–one with the classic Swiss army knife and other tools, and another TSA-safe, airplane-friendly shell that eschews the tools and just holds the knife.
The USB thumb drive is like a knife blade that swivels out from the case, much like how the knife portion would on a Swiss army knife. There's also a small LCD that stays powered on and will tell you how much space you have remaining and have used on the drive.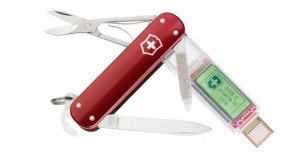 The thumb drive itself is $3,000.