35 Galaxy Note 7 Tips & Tricks
The new Galaxy Note 7 is Samsung's most impressive phone yet, and still a great buy even after the earlier recall problem. These 35 Galaxy Note 7 tips and tricks will show owners how to get as much as possible out of their new or replacement phone. Whether this is your first Galaxy or one of many Androids, we go over steps like transferring data from an old phone, creating GIFs with the stylus, running two apps at once and even add a bit of customization to your Galaxy.
Owners won't need to read the boring manual or search through the extensive settings pages on the phone. Nor sit and Google how to do some of the fun things Samsung has bundled with the phone and S-Pen stylus. We cover everything and more.
Read: 17 Best Galaxy Note 7 Cases
Being a big smartphone with the latest version of Android and tons of software features there is a lot to learn. With our help you'll master the Galaxy Note 7 in no time. We'll start with changing tons of settings to improve the out-of-the-box state and get you setup for success in the long run. Perfect for those who are now finally able to enjoy the Note 7 after the recall. Then detail even more helpful Note 7 tips, tricks and hidden features.
When you first get the Galaxy Note 7 you'll start by setting up the fingerprint and Iris scanner, adding a passcode or security measure, then sign into Gmail to get all of your content, apps, games and more. That is stuff everyone knows, so we'll be focusing on other important areas. It runs the latest Android 6.0.1 Marshmallow and expect even more features to arrive with Android 7.0 Nougat in the near future.
Galaxy Note 7 Tips & Tricks
Some of these tips and tricks will be something you've known for a long time, while others may be completely new. There are so many features jammed inside this phone that you'll surely learn a thing or two about the Galaxy Note 7 right here. Like we said above, we'll start with changing a bunch of settings, then get into tips so you can master the new Note. Lets get started.
Alphabetize the App Tray
One of the first things you probably noticed is the application tray doesn't show apps in order, especially once you download a bunch from the Google Play Store. Instead they are out of order, and new downloads are at the end of the list when they're probably what you use the most. Thankfully there's a way to quickly re-sort them all in alphabetical order.
Hit the bottom right icon to open the application tray, then tap the 3-dot settings button at the top and select "A-Z" and then tap save. This will list apps alphabetically, they way it should have from the beginning, and make finding apps easier. The next time you install an app though, you'll have to do it again because it will go to the back of the list. How frustrating.
Customize the Always-On Display
One of our favorite new features is the Always-On display. Using less than 5% power throughout an entire day the Note 7 shows helpful information like the time, date, battery life, calendar, incoming notifications or even a subtle background wallpaper on the screen 24/7. It does move, occasionally, to keep the screen from having "burn-in" which bothers some. You can disable it, but we'd recommend keeping this feature turned on.
The average user turns on their phone over 140 times a day to check silly things like the time, battery or see notifications. Always-On display does that in a low power state for you. And thankfully it's completely customizable.
Head into Settings > Display > Always-On Display > Layouts > and choose what works best for you. Everything from a clock, digital clock, calendar and more. There is content type, themes and wallpapers. Then hit back and set a schedule if you'd like. This way the Always-On display works during the day, but won't keep the screen on at night or if you're at work and the phone isn't being used.
Setup Do-Not-Disturb
Just like setting a schedule for the AOD screen we just mentioned, we'd also recommend all owners set up Do-Not-Disturb. I've used this for years, and it's easier than ever before on the Note 7. Keep the phone on when you need it, and have it automatically go silent or on vibrate at work, or at night.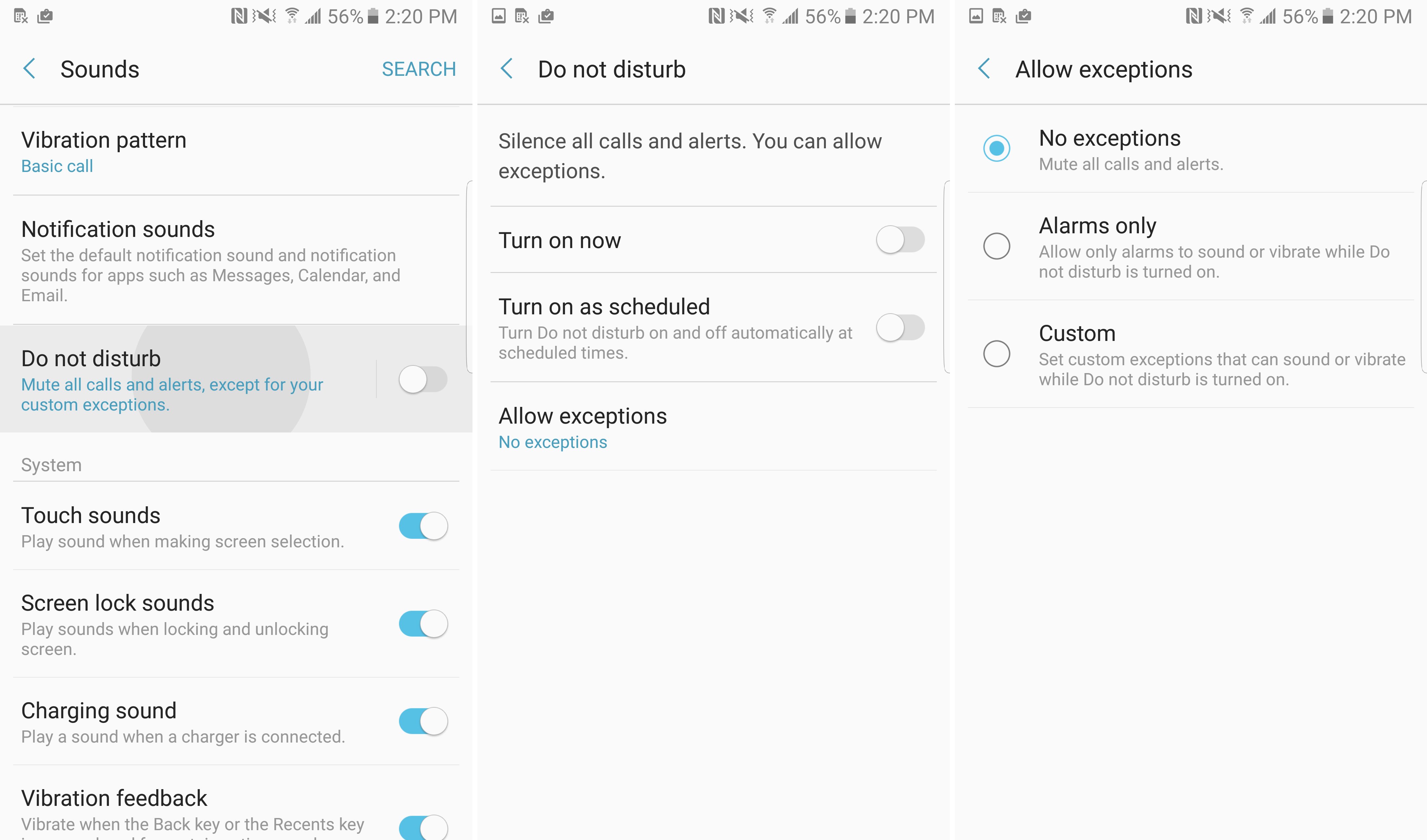 To use this navigate to Settings > Sounds > Do Not Disturb and explore the options. Samsung allows a schedule to be set (like nightly from 10PM-7AM) days of the week to match your schedule and more. Don't forget the "allow exceptions" at the bottom so select contacts or apps can still get through at all times. Perfect for friends, family members or your boss.
Keep in mind that this won't even let alarms get through if you don't set it up and allow a few exceptions. Once it's done right though, it's a lifesaver.
Setup the Fingerprint & Iris Scanner
During the first boot the phone likely suggested setting up a security measure, but if you skipped that now would be a good time. We'd recommend the fingerprint scanner as it's easiest, but the Iris scanner is neat, fast, and technically more secure.
Start by going to Settings > Lockscreen > Irises > Enter or create a security pin > and follow the setup instructions. It will save a scan of your eyes, and works great. We noticed some fingerprints on the screen interfered with it trying to get an accurate scan so make sure the screen and sensors by the earpiece are clean.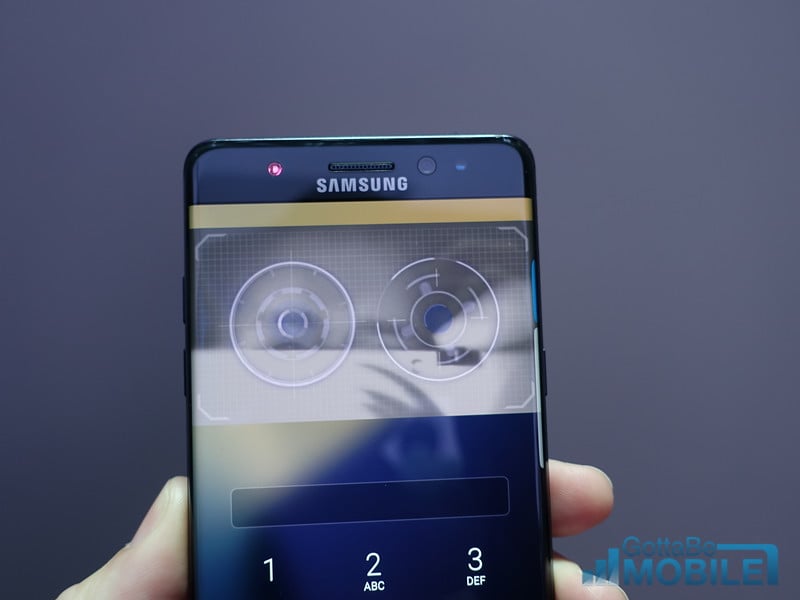 This same area is where you can setup a fingerprint or two as well. In Lockscreen select "Fingerprints" and scan one or both thumbs by following the on-screen prompts. We'd also recommend maybe a pointer finger, for when the phone is laying flat on a table or desk.
Use the Blue Light Filter
One of the best new features many don't know about is the blue light filter that makes the phone easier on your eyes at night. It's like night mode. Studies have shown the blue light from displays, especially Samsung's can keep users awake and cause eye strain. Using the blue light filter will be better on your eyes at night, and get you to fall asleep faster. Samsung even has a sunrise and sunset toggle so it's on only at night.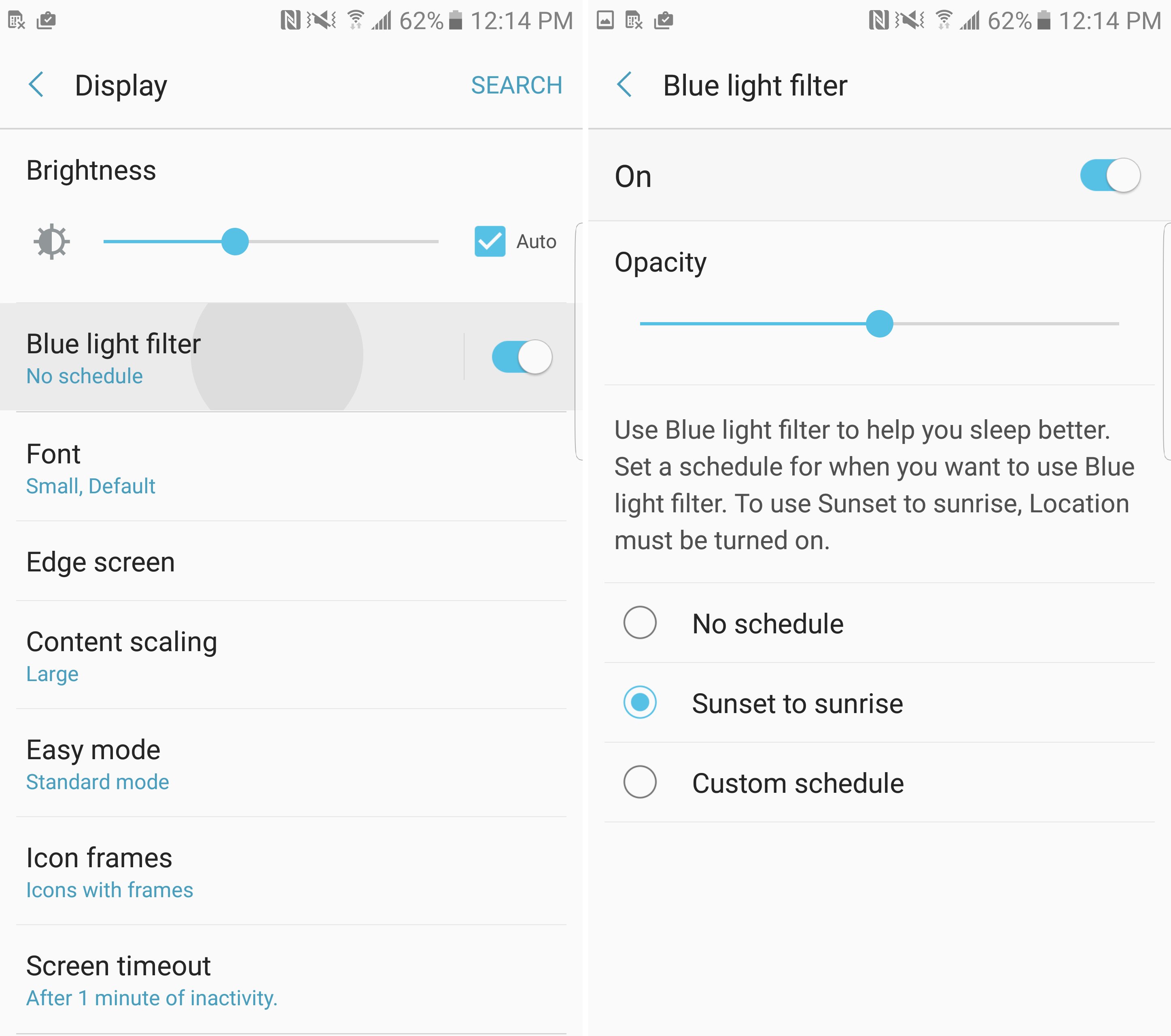 Head into Settings > Display > Select Blue Light Filter and use the schedule option if you'd like. Now the screen will be much warmer with less blue light, and easier on your eyes.
Customize Quick Settings
Another useful software tweak from Samsung is called Quick Settings. Pull down the notification bar and there are a bunch of quick and easy to access settings at the top. Pull down again to expand it with even more options, screen brightness slider and more.
Once you've swiped down twice and see the entire quick settings menu just long-press and hold down any icon, then drag it where you'd like. I keep a default list as my first five which are WiFi, Bluetooth, Vibrate (or Silent mode) the Flashlight, and now the Blue Light filter or Airplane mode. Customize this how you see fit, and what works best for you.
Transfer Old Phone to the Note 7
Samsung has a feature called SmartSwitch, and this will automatically transfer your old phone, Galaxy, iPhone and more to the Galaxy Note 7. It does literally everything for you. Just get the app, use the adapter that comes in the Note 7 box, and wait for it to finish. It's flawless.
Find the little white dongle (pictured above) that plugs into the Type-C charging port, and it transfers virtually anything and everything from an old phone to the Galaxy Note 7. The app, Smart Switch, makes this incredibly easy and straight forward.
When your first setup the phone (or if you want to redo it) this is how you should proceed. Full instructions for setting up a Galaxy, and using Smart Switch can be found here. It's from the Galaxy S7, but the same steps apply to the Note 7.
Turn Off Icon Frames (iPhone style)
A trend on Samsung devices is to add a frame around app icons for a more uniform look on our homescreen, which is something Apple does with the iPhone. Many don't like it, and Samsung's provided a way to disable it in seconds.
Head back into settings again and select Display > Icon Frames > Icon Only to make the phone look how you're probably used to apps looking. It's a small one, but something many will be happy to change.
Do More with the S-Pen Stylus
The new Note 7 has the best S-Pen stylus yet, with more and more features that help make a case for why we need a stylus. It's the size of a 0.7mm ballpoint pen for natural writing or drawing, water-resistant (just like the phone) and can even write on the screen while they're both under water.
The S-Pen can act as a mouse and show information about buttons just by hovering above them, and even show users a bigger preview of a photo or start playing a video just by holding it above, and not actually touching it.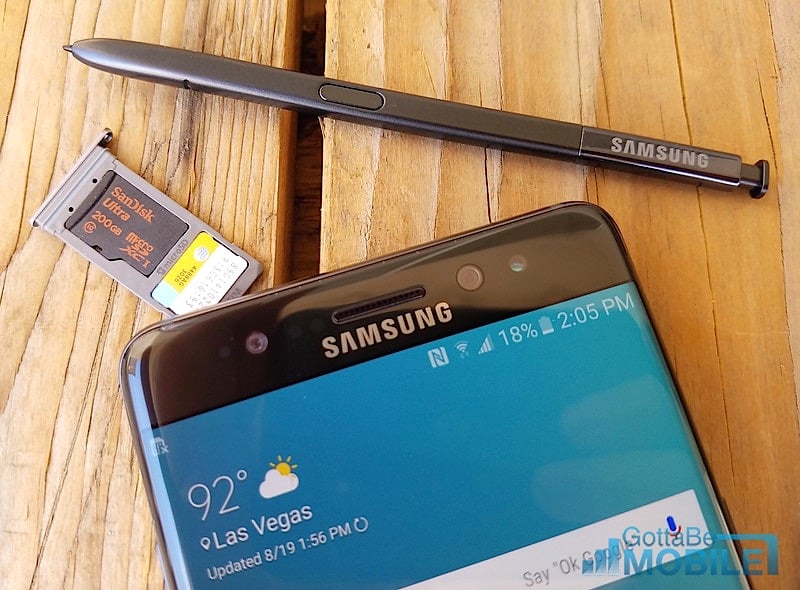 This year Samsung added some magnifying tools, lets owners translate language with the S-Pen, and even capture video and turn it into a GIF, which we'll explain shortly. All of this works extremely well on top of the Note-taking apps, precision drawing, and even writing a quick note while the screen is off. Give it a try. Just pull out the S-Pen and write a quick Note on the screen and put it away. The Galaxy instantly saves the information for later viewing. We'll have lots of S-Pen how to videos in the near future.
Change the Keyboard
One of the most popular 3rd party apps for Android are keyboards. From SwiftKey, Google Keyboard, Swype and more. Allowing users to type faster, add customization, have more control and other things. Samsung's keyboard is pretty good these days, but lets change it anyways.
One area it still struggles a bit is predictive text, which is why I opt to use Google Keyboard or SwiftKey. Head to the Google Play Store, search for your keyboard of choice (Google Keyboard) and install it. Once it's done open it up, follow the prompts, and it will set the Note 7 to use it by default. Other apps do the same thing so we don't have to fumble around in the settings menu.
Enable Power Saving Mode
The Note 7 has a big 3,500 mAh battery inside, bigger than any other Galaxy Note ever released. However, there will still be moments you need more juice or want the phone to last a little longer. The new Power Saving Modes are perfect, although these have been removed on the Verizon model. So for everyone else, lets use them.
In Settings > Device Maintenance > Battery you'll see a circle with remaining battery life, and some quick one-tap Power saving modes as shown below.
MID is medium power saving mode which can give users a lot of extra battery life by limiting screen brightness, turning the Quad-HD display down to 1080p resolution, and slowing just about everything else down a little to keep the phone running longer. It does turn off background network use, so Gmail won't sync unless the app is open and things of that nature. Only use this when truly needed.
MAX does the same thing but takes it a step further with a 720p resolution, and cuts down on anything that isn't essential to preserve the battery for another 24 hours if not longer. This mode won't give users much of a "smartphone" but the basics will work for a long, long time. We'd recommend these when users get below 20-30% or in case of emergencies. It can be customized to turn on at set battery percentage levels.
Try Easy Mode
Most that buy the Galaxy Note 7 do so because it's super powerful and loaded with features. However, if you're feeling overwhelmed and want things a bit simpler, there is an Easy Mode just for you. A lot of users buy this phone for the big screen, and we can change the size of text and everything in settings and retain full features, but Easy Mode is the best route.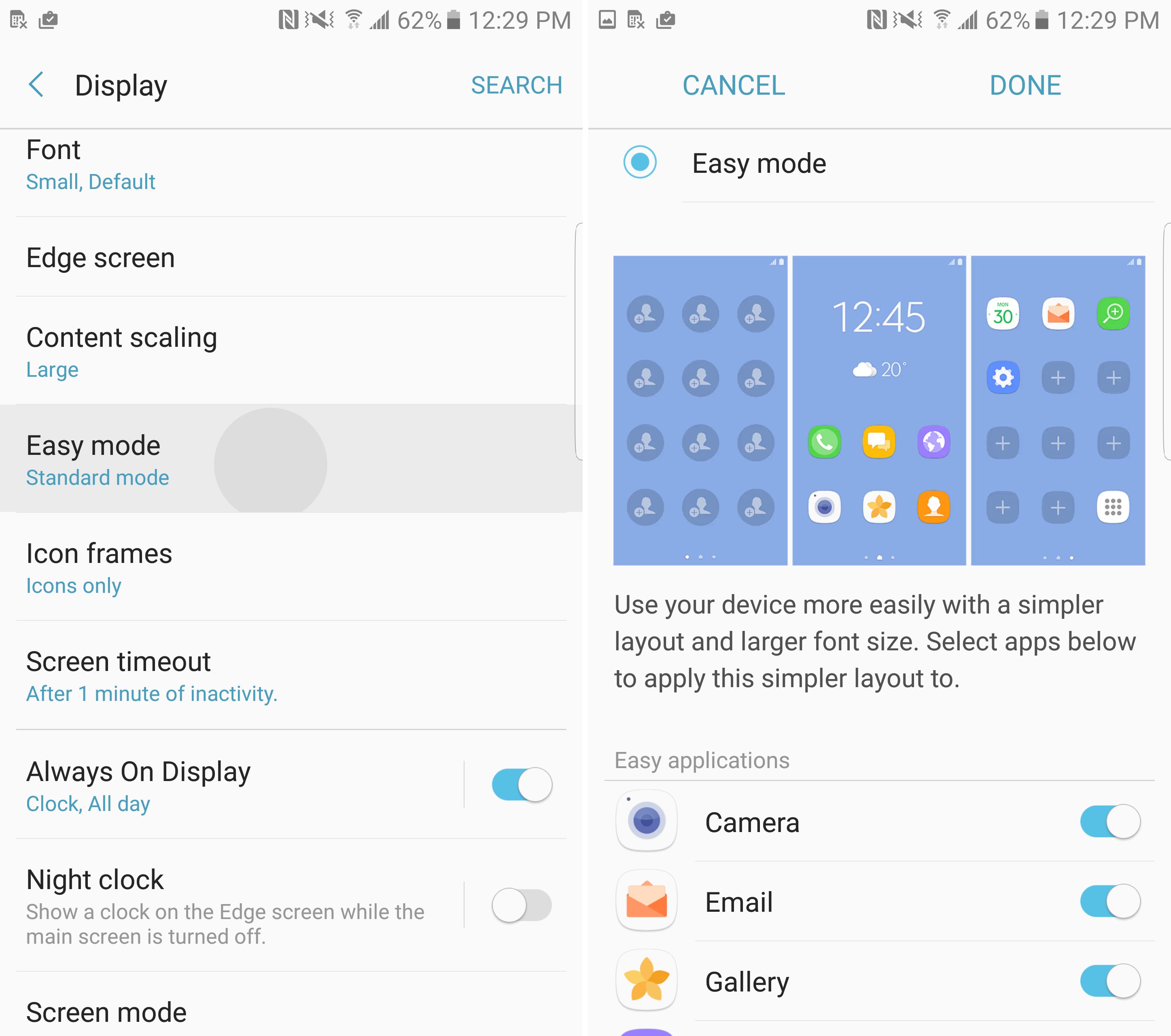 Star by going back into Settings > Display > Easy Mode and turn it on. You'll notice everything changes to big easy to use, find and click icons. There is quick access to important things right on the main screen, more can be added, and a swipe to the left has all of a users important contacts. This basically simplifies everything for those wanting an easier experience.
Note 7 One-Handed Mode
With a big 5.7-inch display some users may not be able to use the phone very comfortably or safe with one hand. As a result there is a special One-Handed mode that puts everything in fingers reach, minimizes windows, and is probably just what you were hoping to find.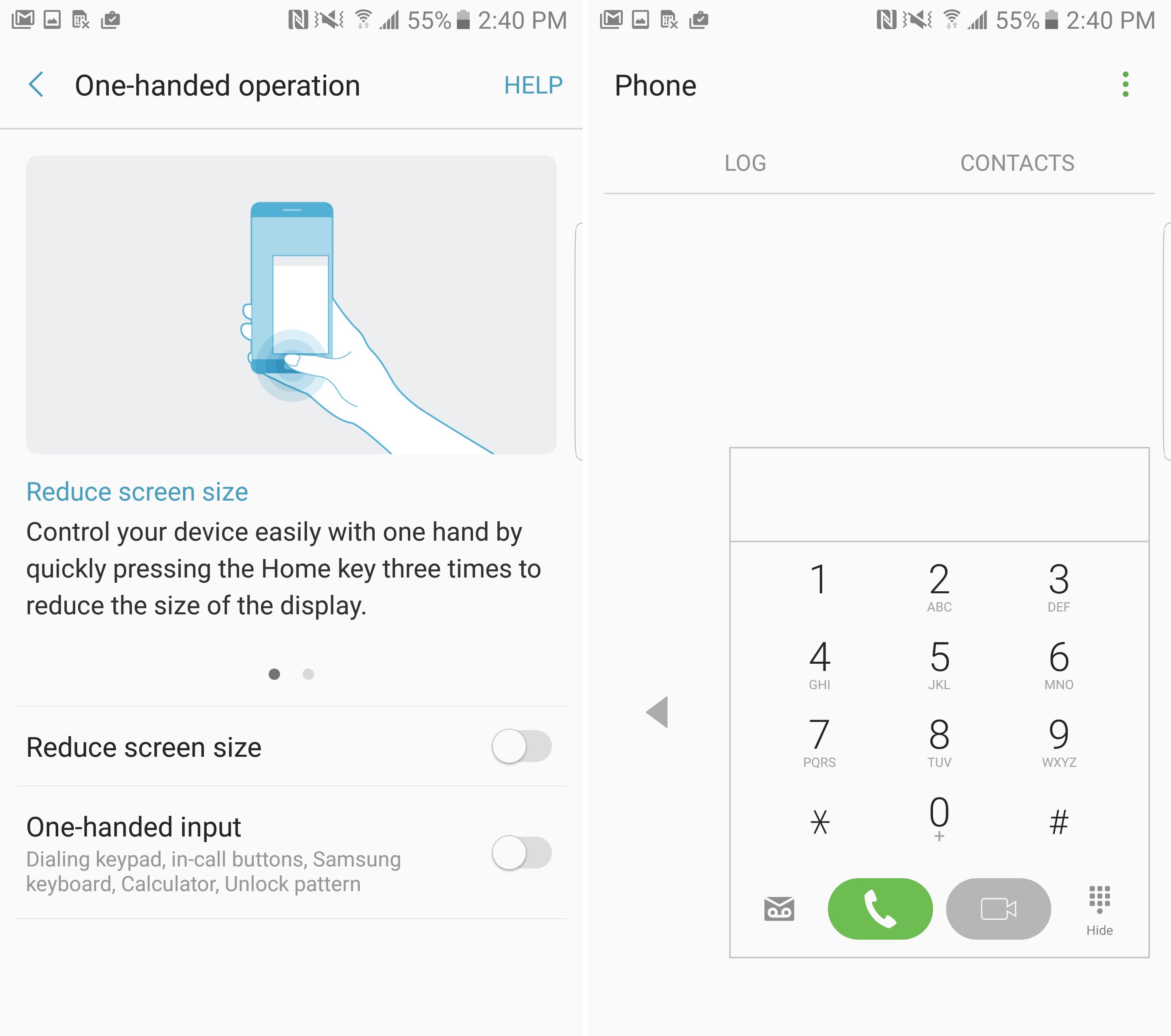 Start by going to Settings > Advanced Features > and turn on One-Handed Mode. From here there are two options: Reduce screen size by clicking the button button quickly 3 times, or One-Handed input that will shrink the keyboard and phone dialer off to one side of the screen for easier use.
Advanced Features
While we're in the advanced features menu for one-handed mode, check out everything else Samsung has to offer in here. Many of these options users turn on, but some are certainly worth using throughout the day.
In here owners can customize every aspect of the S-Pen, or do things like Smart Stay, Quick Launch Camera, Smart Capture, Palm Swipe Screenshots, Direct Call, and more.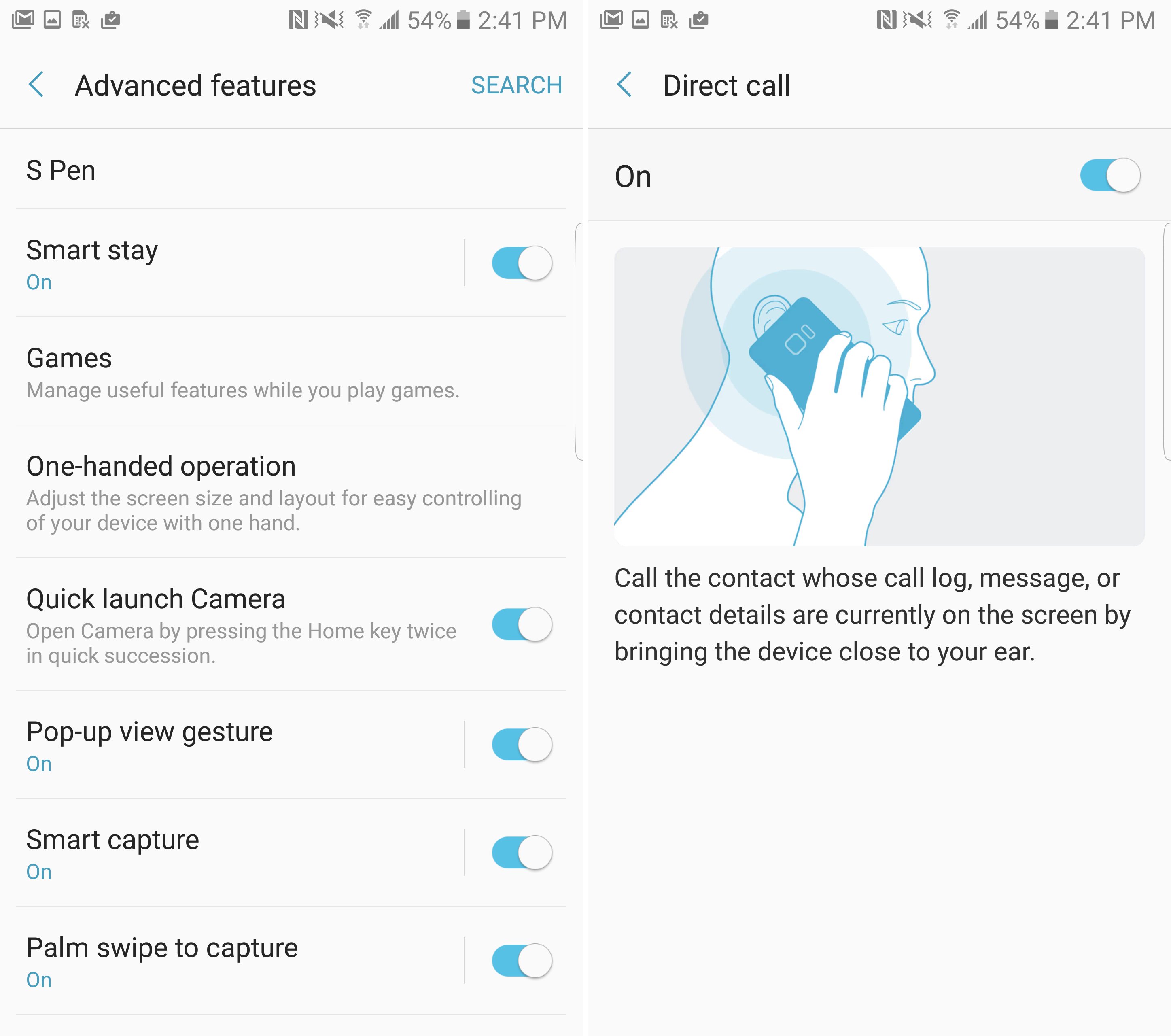 Direct Call works like this: while you're reading a text message or looking at a contact in the phonebook just put the Note 7 up to your ear and it instantly calls that person. So instead of replying to a text if you're in the messages app and about to text your buddy, just pull the phone up to your head and wait for it to make the call. It does it for you.
Smart Stay keeps the screen on as long as the sensors see your eyes looking at it, so it doesn't dim and turn off after 30 seconds. Which is the default screen sleep timer setting. All of these advanced features are pretty cool, but some use battery life so disable anything you won't use.
Change the Look and Feel (Themes)
Another feature we love is the Samsung Theme store. This allows us to completely change the entire look and feel of the Note 7. From the icons, wallpapers, settings menu, dialer and more. Make it look like stock Android with a "Material Design" theme, or try something a little more fun or edgy. There are tons of options.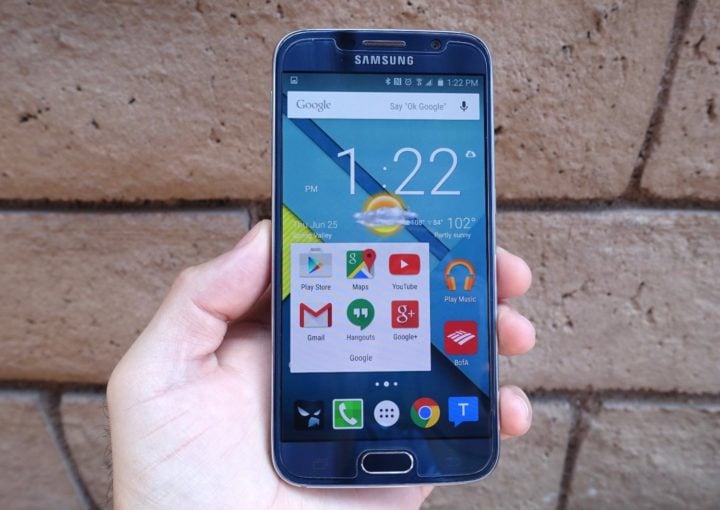 The image above is the older Galaxy S6 using a stock Android theme, but the same idea applies to the Note 7. In settings go to Wallpaper & Themes > and find whatever Theme you'd like to try and hit apply. There is something for everyone in the theme store. Go into "Themes" in the top middle and reapply the Default theme if you don't like the changes made.
Home Screen Grid (Icon Count)
Being a Note device you probably noticed one more row of app icons on your homescreens. This is because Samsung allows for five across instead of only four. However, this can be completely changed with ease.
Press and hold anywhere on the screen that doesn't have an app icon. The phone will zoom out into an edit mode where you can also go to add a wallpaper or try themes. Click the right option listed as "Screen Grid" and choose 4×5, 4×4 or whatever screen grid count works for you.
Disable Bloatware & Unnecessary Apps
Every carrier likes to add extra apps and bloatware that most owners never use. These waste space, take up room in the app tray, and are mostly worthless. Sadly we can't uninstall these, but we can disable and "hide" them from the system. That way the application tray is clean and only shows what you want and need, not all those AT&T apps you'll never use.
This is the best way to hide all of those apps you don't want. Head to Settings > Applications > Click on the app > hit Disable. Confirm you want to disable it, and it will be gone forever until you re-enable it in this same menu. Be careful not to disable any system apps or important things, or this could cause harm. I just removed everything from AT&T, Amazon, DirecTV, Lookout Security and a few others. It's all up to you.
Turn Off the Notification LED Light
Most people love the notification LED above the screen that flashes when you have a missed call or text, but the Always-On display shows that information now too. As a result some may want to disable this blinking LED, especially at night.
In settings you can navigate to Display > and simple uncheck the Notification LED option and turn it off. Done.
Now we're going to get into some of the fun stuff you can do with the Samsung Galaxy Note 7. Like running two apps at the same time, writing on the screen with the S-Pen while the phone is turned off, recording games that are on the screen, taking a screenshot and much more.
Take A Screenshot
Capturing whatever is on the Note 7 display is very easy, and this is called a screenshot. People do this to share things on social sites, save information and more. Simply press the power and home button down at the same time, hold until you see or hear the screenshot capture, and let go. It's that simple.
Read: How to Take a Screenshot on the Galaxy Note 7
There is another few ways to do it, including taking a scrolling screenshot of an entire webpage, text message conversation or email. The link above explains how for those curious.
Create a GIF with the Galaxy Note 7
For those that love social networks or Reddit, the Note 7 has a tool built-in to create GIFs, or JIFs. It's actually very neat, and works in a matter of seconds. It captures or records a video on the screen and turns it into a looping GIF you can then save and share with the world. Perfect to capture funny moments with your friends.
Have the video in the background, then proceed to pull out the stylus. When the S-Pen pop-up menu appears tap on "Smart Select" to get started. This will give you multiple options at the top of the screen. Select "GIF" on the top right side, then drag the window to cover what you want to capture for the moment. See our image below.
Position it right, hit play and tap record. That's all there is to it. Stop it when you're done and it will instantly make a GIF. Keep in mind the warning notification not to use this tool for copyright infringement.
Multi-Window Mode
This is nothing new, but if the Note 7 is your first Samsung device in a while you'll be happy to know the phone can run two apps simultaneously. It's called Multi-window mode. Tap the "recent apps" button to the left of the physical home key, and all the apps that can run multi-window have a little twin-rectangle icon next to the X to close running apps. Select an app you'd like to run, and it will fill the top of the screen.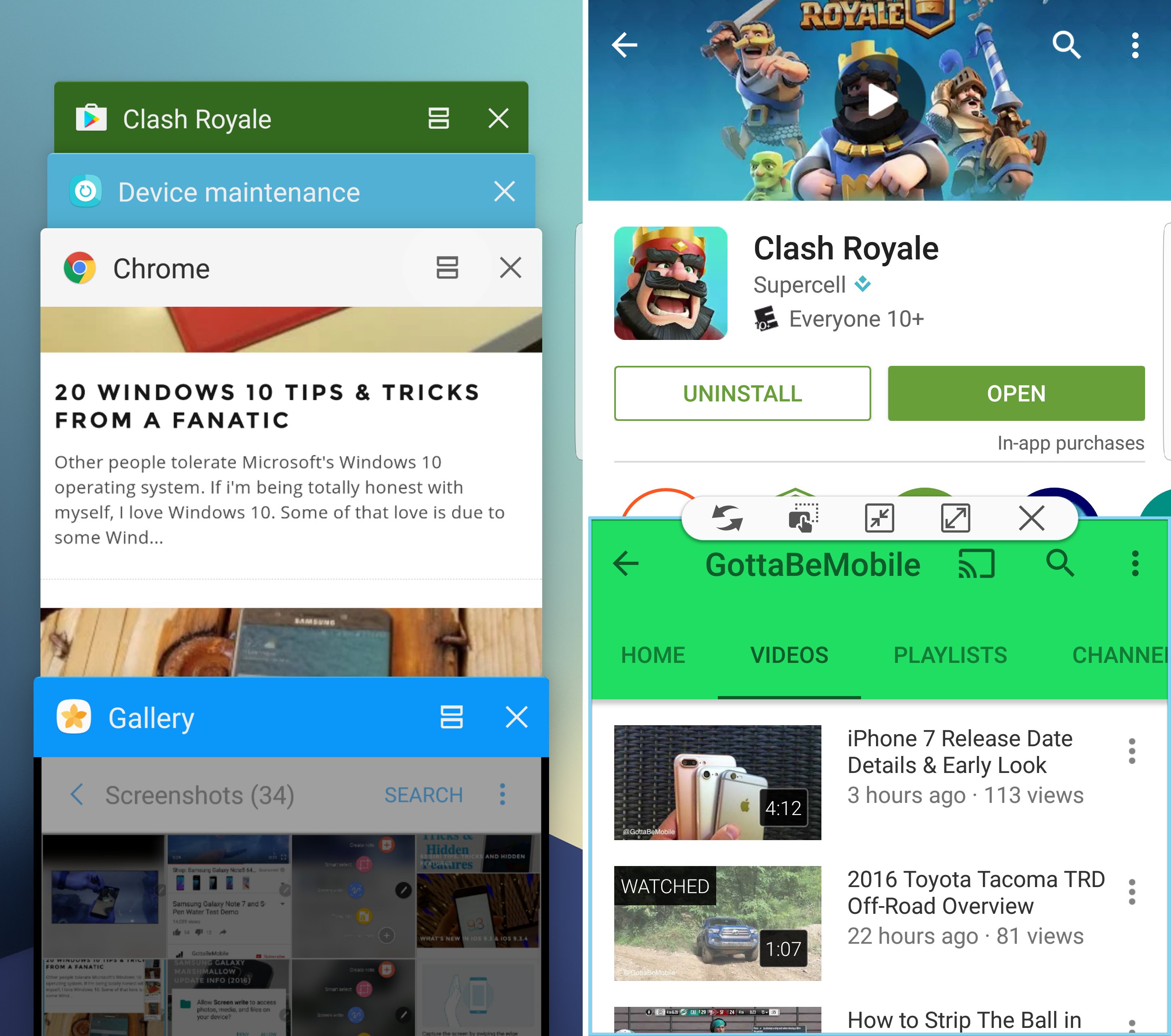 Not everything works with multi-window like we're seeing with Android 7.0 Nougat, so the bottom of the Note 7 displays all apps that can be ran simultaneously. Select another app like YouTube, and now you're doing two things at once. Above we're watching YouTube and installing a game at the same time. This can be resized by dragging the circle in the middle, or tap it for more options.
Quick Launch the Camera
This should be enabled by default, but if not we can turn it on, and it's something you'll want to know about and use. So many Galaxy owners I know don't use this helpful feature. In Settings > Advanced Features > Turn on "Quick Launch Camera" which allows you to double click the home bottom to instantly launch the camera.
Even if the screen is off and there's a password set, you're reading an email, or doing anything a double click of the home button will fire up the impressive 12 Dual Pixel camera in less than a second, focus, and be ready to take photos. I use this daily, and you will too.
While you're in the camera settings you can change photo sizes to save space, enable 4k video recording, Slow-motion video and more. There are a lot of options and even more you can download.
Take Photos With Your Voice
With the camera open head into the camera settings and scroll down to "Voice Controls" to use words like Smile, Cheese, Shoot, or Record to take photos and record video. It's really helpful for hands-free moments. There is also a "volume key function" option below that which lets us zoom or take a photo by tapping the volume buttons. This will make you more efficient and better with the Note 7 camera.
Take Better Selfies
While we're talking about the camera, we need to mention selfies. They're all the rage right now. Swipe up or down on the screen to switch to the front camera, then read the popup to take better selfies.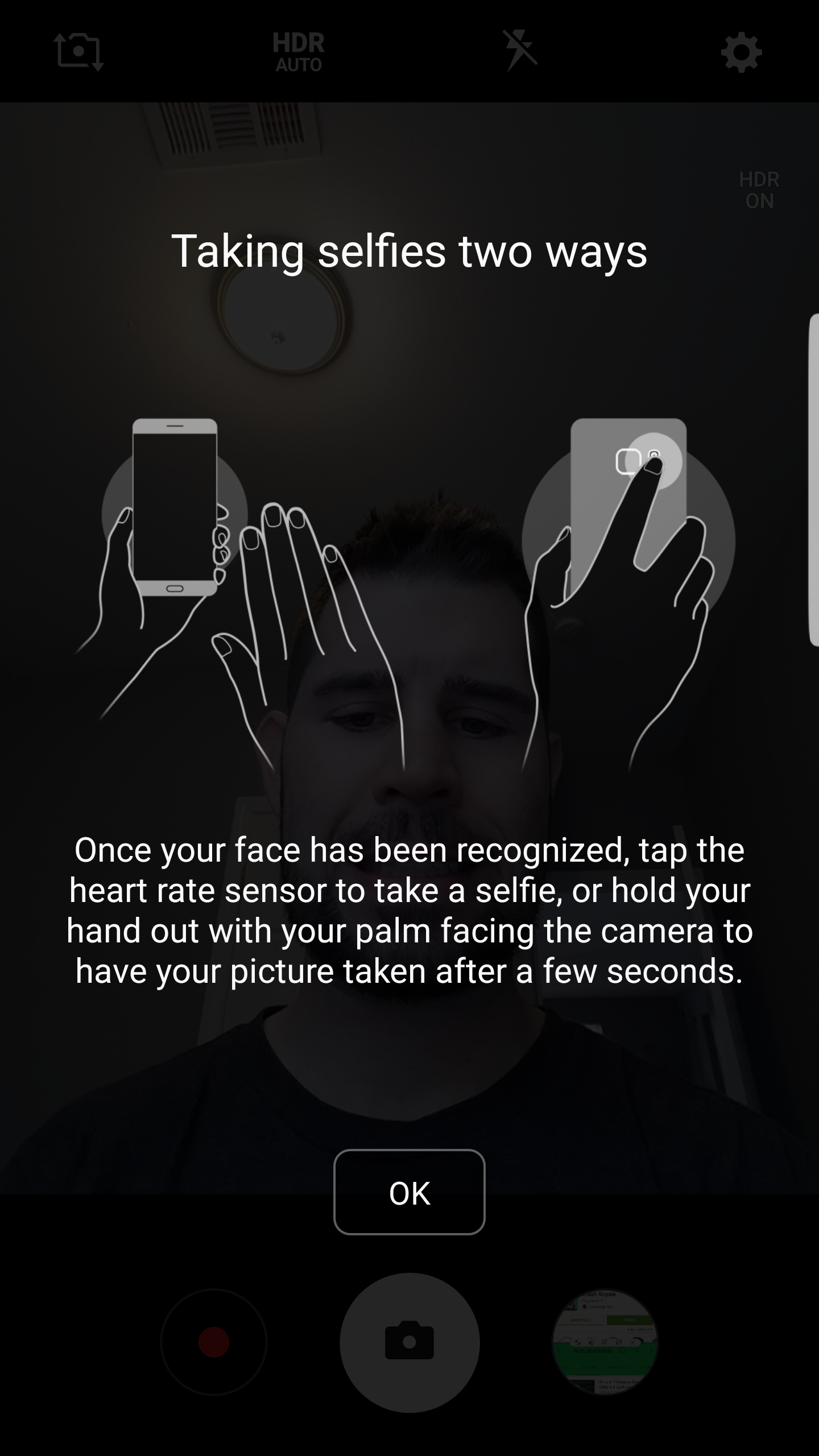 Gestures allow us to use our index finger on the back of the phone, by pressing it against the flash and heart rate sensor to take a photo rather than reaching out another hand and hitting the capture button on-screen. Another way is to wave at the screen, then sit back and let the timer countdown and take the perfect selfie. It's perfect, and works every time.
Keep Things Safe & Private with Secure Folder
A neat new feature on the Galaxy Note 7 is called the "Secure Folder" which can be found in the application tray. Go to Settings > Lockscreen & Security > Secure Folder and follow the on-screen steps. This will put a green icon called the Secure Folder on your homescreen, and it does some neat stuff.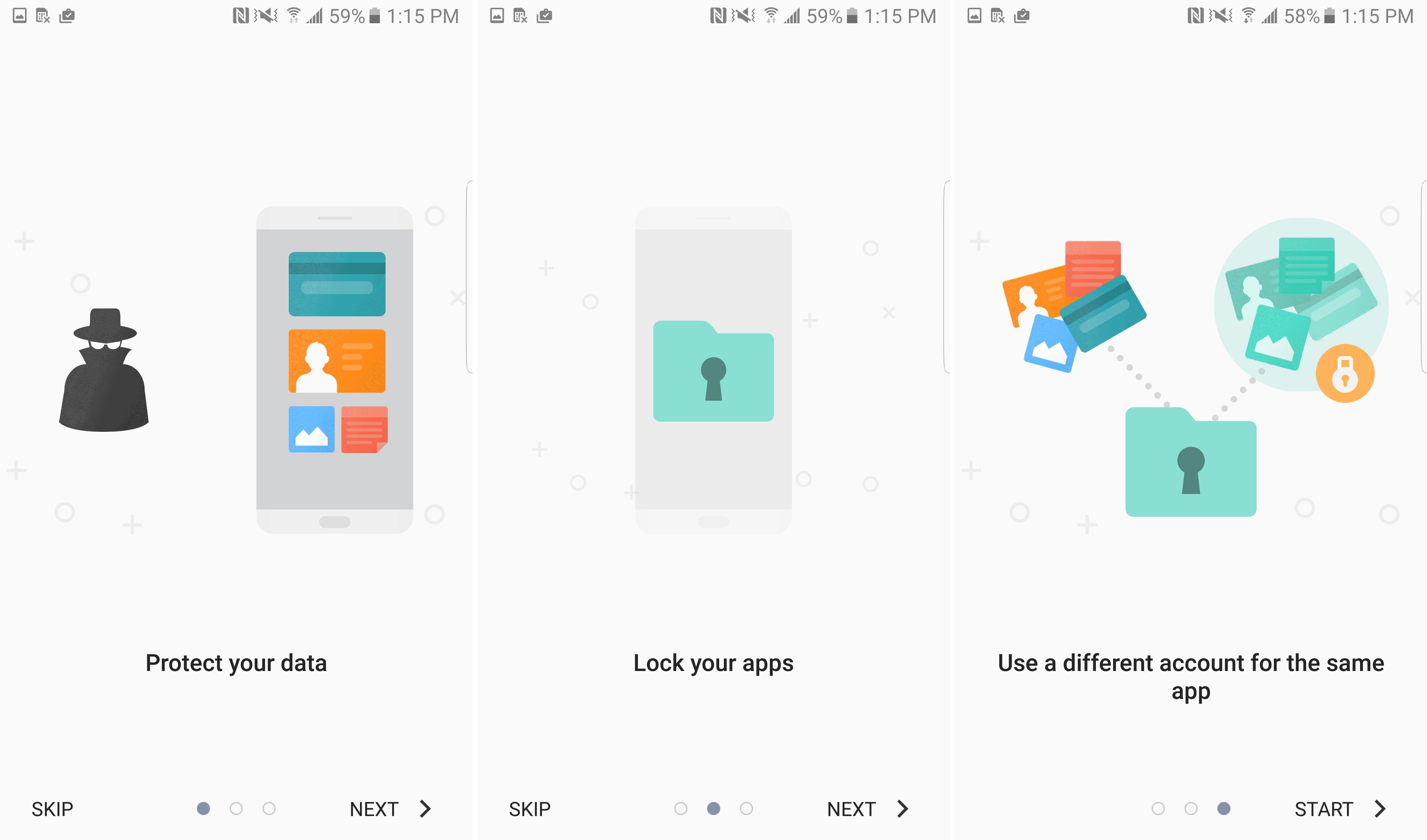 The Secure Folder can be locked with a fingerprint, or of course the new Iris eye scanner. Put important documents, password information, photos, or even entire applications in here. They are completely separate from the device, and can never be accessed without you allowing access with a fingerprint or Iris scan. Like Mission Impossible style.
Users can even add a second Facebook, Twitter, or Gmail account to the secure folder that will operate independently from the other one installed. It keeps everything separate, secure, and safe. It's actually really neat, and perfect for business use.
Use the Edge Display Features
The Note 7 has a curved display, so we might as well use it. Out of the box the Edge features and apps are enabled, and they're really neat to use. The entire Edge panel can be disabled if you'd like, too.
The Edge panel is that little white thing near the top right edge of the display. Swipe it open and you'll see everything it has to offer. There's the People Edge, for a list of your favorite contacts. A swipe and a tap instantly can make a call, rather than messing with the phone app and contacts list. There's also the Apps Edge, where owners can put all of their favorite apps. Simply swipe from the edge and keep swiping to go through all the panels. New to the Note we can now add individual contacts so one swipe will bring up any and all means of conversation with that specific person. The Edge Glow works here too. If the phone is face-down and you get a message from that contact, the color associated with them will glow on the table from the Edge of the screen. It's really neat.
Only a few are enabled out of the box, but there is a lot that can be done here. We can add Yahoo! Sports scores and updates, Twitter feeds, stocks, calendars, weather, a ruler, compass and even breaking news. Meaning rather than finding any of these apps mentioned, just swipe into the Edge and find what you want. Poke around in here and see everything it can do.
Owners can also move the Edge access panel to the left side, the bottom edge of the screen, or change how see-through it is and more. With this tool, the ability to be more efficient with the Note grows a lot.
Edge Feeds
That isn't all the Edge does, and Feeds are something you'll come to love once its setup right, and now that Football season is here. Enable this in the same Settings > Edge display settings menu. Now, when the screen is off simply swipe back and forth on the edge of the screen really fast (like up and down.)
It will instantly light up a small portion of your screen with notifications, weather information, Twitter messages, sports scores and other things you allow. There are a few notifications to add, and even more we can download from the Samsung Galaxy Apps Store.
Use the Note 7 for Internet with Tethering & Hotspot
A lot of people don't understand how awesome the hotspot feature is on smartphones. It allows you to share your Note 7 internet connection to other devices. Like a laptop or a tablet. In Settings > Connections > Mobile Hotspot we can make a name, add a password, and turn on the hotspot. Now, find that name you just made on a tablet or laptop and enter the password. Now you're using the fast 4G LTE of your carrier from the Note 7 to get on the internet with another device.
Don't use it too much, as it will go through your data limit pretty fast. That, or have unlimited data with T-Mobile.
Try Samsung Pay
You bought a Samsung Galaxy, and that means you have access to the easiest and best mobile payment system on the planet. It's called Samsung Pay.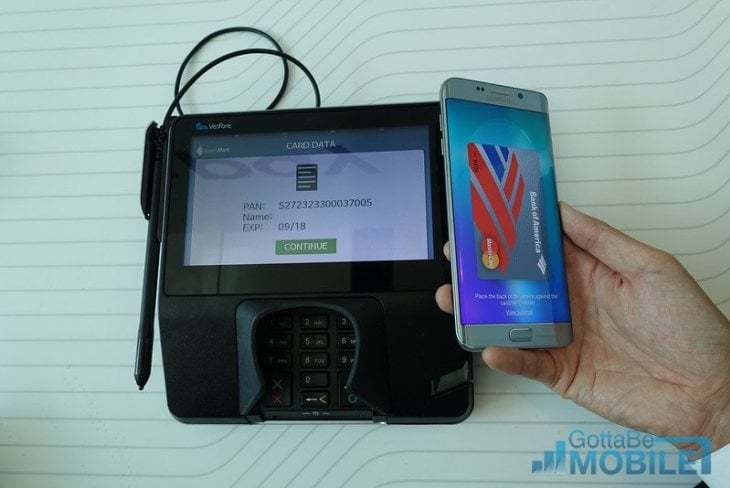 Similar to Apple Pay or Android Pay, we can make payments at stores throughout the United States, and select other regions all on our phone. The benefit here is this works at old swipe-based terminals, not just NFC places that accept Apple Pay. So it works almost everywhere. Something no other phone manufacturer can do.
Open Samsung Pay (or download it from Google Play) add a credit card by using your camera, then secure it with a fingerprint. Now just swipe up on the screen or launch Samsung Pay, allow a payment by verifying the purchase with a fingerprint, and tap it against the payment terminal. It's like magic, and works almost everywhere in the United States. More info on Samsung Pay can be found here.
Find a Lost Galaxy Note 7
You can find a lost or stolen Galaxy Note 7 using Samung's own tools, or the Android Device Manager. I prefer the latter and it's available on the Google Play Store and tracks it right down to a few meters of distance, but Samsung's own method is pretty great too.
Samsung includes a Find My Mobile option that lets you track a lost or stolen device, and prevents a thief from activating it too.
Go to Settings > Lock screen and security > Find My Mobile. Login with your Samsung account or fingerprint and then turn on remote controls, Google Location service and Reactivation lock.
If you lose your phone you can go to the Find My Mobile site and locate your device. You can make the phone ring, lock it, wipe it, turn on emergency mode or Ultra Power Saving mode and even grab the call logs. There is an option to remotely unlock it as well. Pretty handy in case of loss or theft.
Print from the Galaxy Note 7
If you have a wireless printer, you can print stuff right from the Note 7. You'll have to download a plugin, but here's how.
Open Settings > Connections> More Connection Settings > Printing > Download Plugin > Download Google Cloud Print > Follow on-screen instructions for setup and you're done. Now print from your Note 7.
Game Like a Pro, Game Recording & More
Samsung has this new feature called "Game Tools" and the Game Launcher. One is just a folder with apps and games in it, and Game Tools is what we want. It can be found in settings, and it does some neat stuff.
Once opened owners can select the highest performance possible, or a lower performance and screen resolution to save battery life, take screenshots, record video right to the Note 7, or even stream gaming sessions directly to YouTube. There are even controls to lock the capacitive buttons so you don't accidentally exit a game. There's even a mode to disable and block notification so you can play games in peace. Not everyone will use this, but recording is nice and lowering resolution to preserve battery life on light games or while traveling is a welcomed feature.
Reset a Frozen Galaxy Note 7
The battery is no longer removable for those coming from an old Note 4, so doing a reboot or reset doesn't work the same way. Yes you can push down power and reboot your Note 7, but if it's frozen you can't just pull out the battery and put it back in.
Instead, to reboot a frozen Galaxy Note 7 you can press and hold down both the power button and volume down for 7-10 seconds. The phone will shut down, reboot, and be back on in no time. This fixes little problems, and will make a frozen phone work again.
Factory Reset the Galaxy Note 7
Last but certainly not least is a tip to do a factory data reset. If for some reason you decide to return or sell the Note 7, or it's just acting funny after months and months of use or a big update, try a factory data reset.
This will erase everything on the phone, so be sure to backup anything of importance, then proceed. Start by heading to Settings > Accounts > Backup & Reset > Factory Data Reset. Select the last option to do a factory data reset and return the phone to the out-of-box state. This fixes most major problems, and is a last resort for some.
We hope some of these Galaxy Note 7 tips, tricks and features help you get the most of your phone, learn something new, or help you enjoy it for years to come.

As an Amazon Associate I earn from qualifying purchases.