36 Epic Windows 10 Features To Upgrade For
Microsoft began asking users to reserve Windows 10, its latest operating system update, earlier this week. Windows 10 is a free update for Windows 7 and Windows 8 users, packing everything they need and many of the features they'd expect from a modern operating system.
Read: Why You Should Reserve Windows 10
Here are 36 features you can expect when the Windows 10 Upgrade arrives later this year.
Windows 10 Features – New Design
The first thing you'll notice when you download the Windows 10 upgrade later this year is Microsoft's new design. Apps installed in the Desktop and the File Explorer simply have white title bars going forward. App developers can customize what their app's title bar looks like and how it behaves. The taskbar and Start experience can be set to gray, complete with transparency or users can add color to make it their own.
When in regular mode, most apps feature a Titlebar menu that holds commands like Search, Settings and Share. These are needed as Microsoft has killed the Charms Bar, which confused people a great deal.
Windows 10 Features – Cortana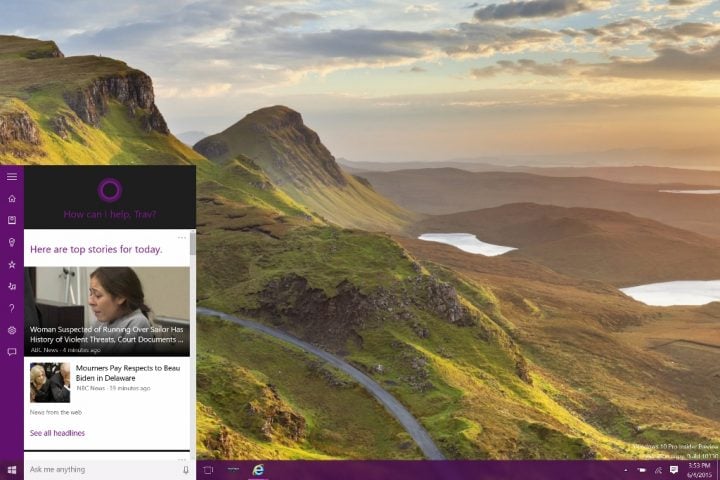 The personal assistant from Windows Phone is built into Windows 10 now. Named Cortana, she sits on the Taskbar, ready and willing to take voice commands and text commands. She can send messages, add events to your calendar, play your music and identify songs for you. She'll also remind you of upcoming appointments. Users can disable Cortana and get a simple Bing search bar too.
Besides text commands, users can configure their PC to listen for a "Hey Cortana" phrase and immediately take a command without having to press a single button.
Windows 10 Features – Free Office Apps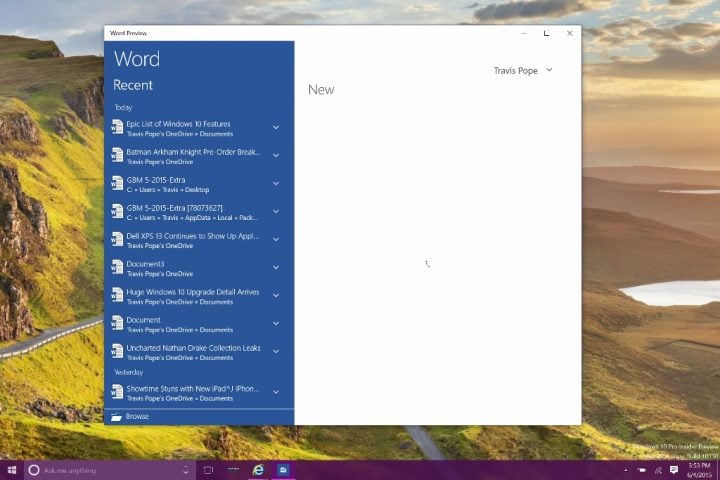 Microsoft made basic versions of Microsoft Office available on the iPad last year and Android tablets this year. Now the company is turning its attention to its own offerings with free versions of Word, PowerPoint and OneNote all available to Windows 10 users directly from the Windows Store.
Windows 10 Features – Updated Outlook Mail and Outlook Calendar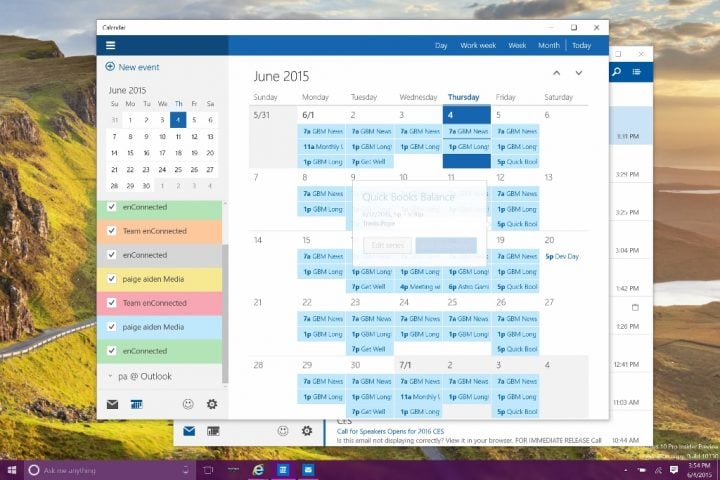 Outlook Mail and Outlook Calendar replace the rather basic Mail and Calendar apps from Windows 8.1. They're fully featured and work well with Google Mail and Google Calendar, which wasn't always the case before.
Windows 10 Features – Windows Store Has Music and Video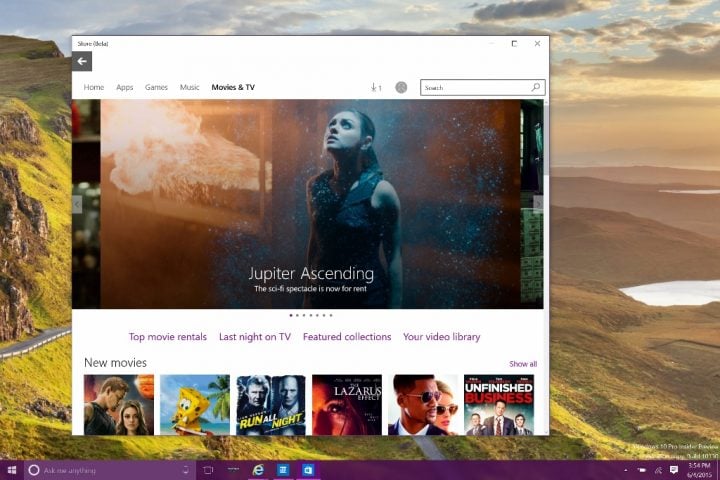 Microsoft is following Apple's example and ditching its many separate storefronts. The Xbox Music and Xbox Video stores are no more. Going forward, there's only one place to get apps, music, television shows and movies. That single place is the Windows Store.
Windows 10 Features – Game Screenshots & Recording Using the Game Bar
Windows PCs have long dominated the PC gaming space, but Microsoft has utterly failed to capitalize on that, leaving the market in control of relatively smaller stores and apps like EA's Origin and Valve's Steam.
The company is changing tactics with Windows 10, introducing a dedicated Xbox Live app that mostly works like any other social network. It's also allowing users to take screenshots and record video footage from their PC titles with the Windows key and the G key.
Windows 10 Features – New Music App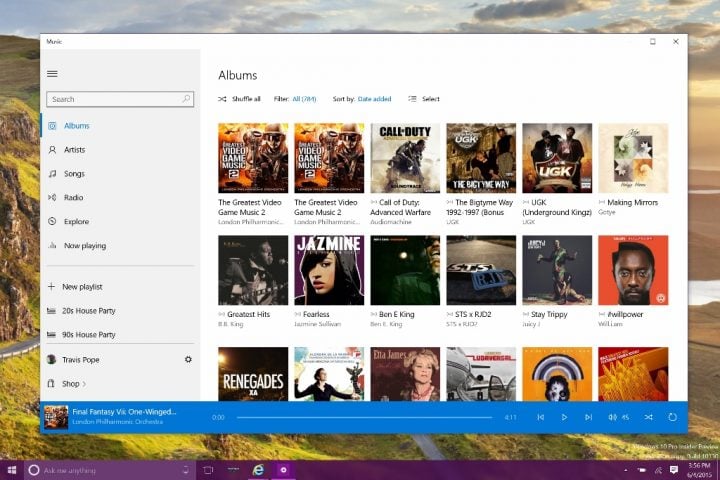 Microsoft has removed the Xbox Music name from its audio playing app and upgraded it with a better settings area. For now there aren't any huge changes besides an updated interface, quick account switching and Flac audio playback.
Windows 10 Features – New Movies & TV App
The Xbox Video app is no more. It's been replaced by the Movies & TV App, which still allows users to stream and download their video purchases from the Windows Store. An early version of the app already includes a new toggle for setting a default video quality level for downloaded content.
Windows 10 Features – Action Center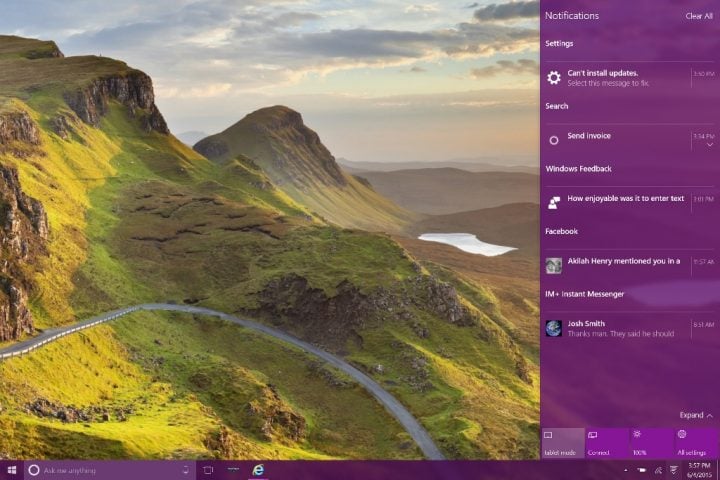 Windows Phone 8.1 was the first of Microsoft's operating system upgraded to include a unified notification area. Windows 8.1 apps could all provide users with notifications, but once they were gone there was no way to recover them.
Windows 10 fixes this egregious oversight, making it easier to keep track of what people and what apps sent you the notification you just heard. The Action Center also lets users choose four settings to quickly access without diving into the new Settings app.
Windows 10 Features – Start Menu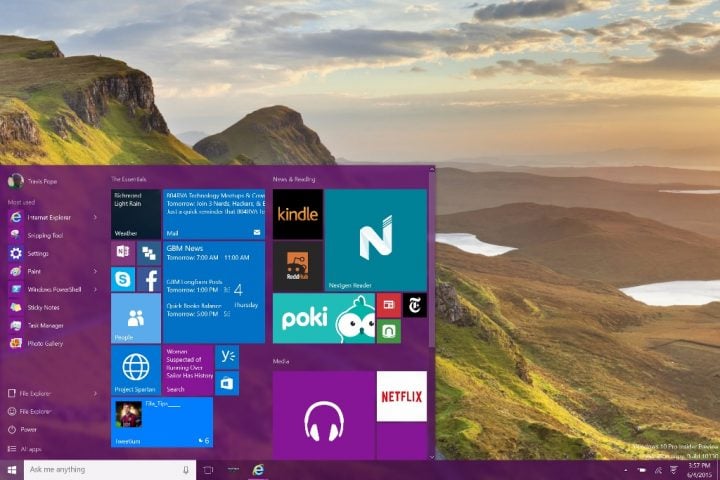 The Start Menu is back and it's almost as customizable as before. Users with a mouse and keyboard will only ever see this new Start Menu going forward. The area to the left allows users to pin Live Tiles. The area on the left comes complete with customizable shortcuts.
Windows 10 Features – Settings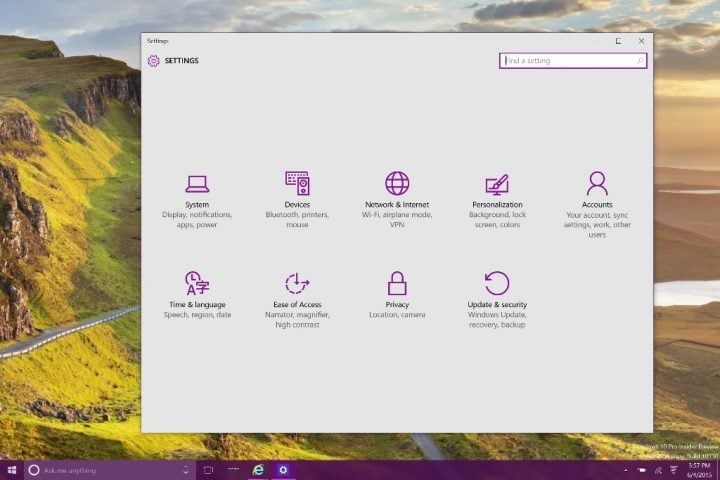 Microsoft is preparing to kill off the Windows Control Panel, effectively fixing one of its biggest blunders with Windows 8: having two separate ways to manage settings.
The new Settings app scales so that its comfortable on any device. The Settings are listed in common sense categories that'll be easier for users to interpret too.
Windows 10 Features – Windows Hello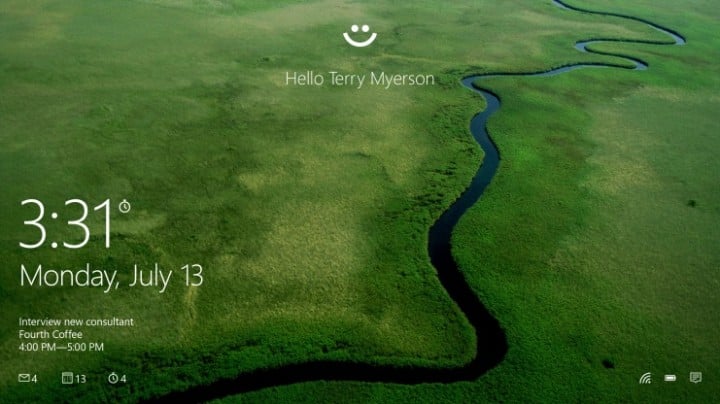 Windows 10 includes software support for hardware authentication. That's a long way of saying Microsoft is making it so that you can manage your entire online identity with a fingerprint reader or facial recognition using Intel's RealSense camera technology.
Windows 10 Features – Simplified People App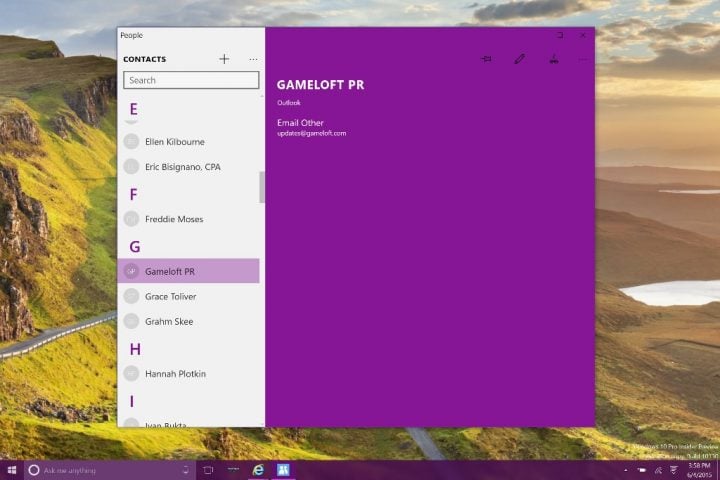 The People app now focuses on what it should have the entire time, weaving your contact information from different services in one place. App developers are able to add People app support for their apps.
Windows 10 Features – Xbox Live Connectivity & Gaming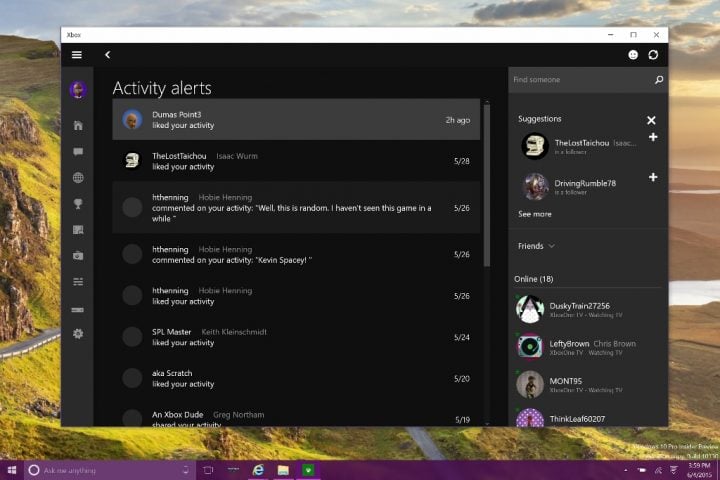 Windows 10 developers will be able to connect their games to Xbox Live so that users can play alongside their Xbox One counterparts. One of the first games to take advantage of this is Fable Legends, which is due out later this year. Gigantic, another game coming to Windows 10 will have multiplayer and transferable saves. It'll be up to developers to do decide if they want to let users purchase a single copy of their game for both platforms, according to Microsoft.
Windows 10 Features – Desktop Apps in the Windows Store
When Tablet Mode is off, apps open directly on the Desktop, allowing you to multitask and use them in a way you're familiar with if your PC doesn't have touch. Along with the new Start Menu, this is one of the biggest reasons to upgrade to Windows 10.
Desktop apps are included in the Windows Store too.
Windows 10 Features – Mobile Phone Companion Experiences
Windows 10 will include a smartphone companion app that'll make it easier for users to take all of Microsoft's different services with them if they have an iPhone or Android device. Microsoft is also building a Cortana personal assistant app for iPhone and Android users that directly syncs to the Windows 10 version.
Windows 10 Features – Xbox Accessory Functionality
Every Xbox One accessory that Microsoft sells will work on Windows 10 PCs too, according to the company's briefing at this year's Games Developer Conference. That's huge as users need to plug the Xbox 360 controller in with a USB cable today, even though it's wireless.
Windows 10 Features – Updated Alarm Clock App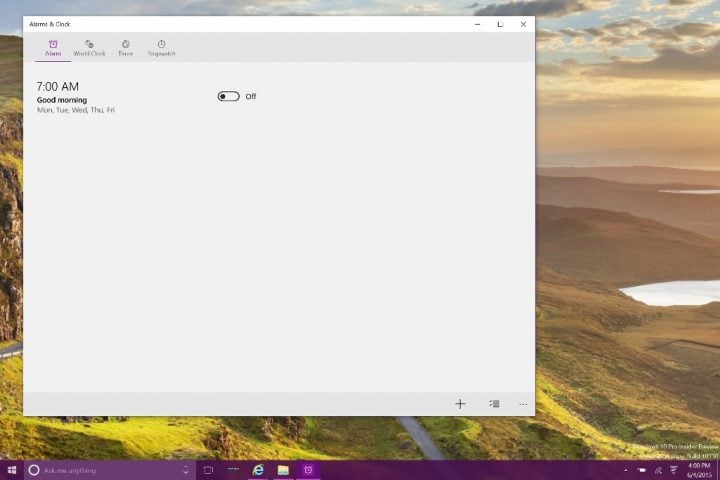 There's an updated Alarm & Clock app that includes a stopwatch, world clock and built-in Alarms functionality.
Windows 10 Features – Miracast Streaming
Windows 10 supports Miracast streaming, users can output what's on their screen directly to any display equipped with a wireless receiver. In Windows 8 Microsoft left this functionality up to individual hardware makers and companies.
Windows 10 Features – Completely Automated Updates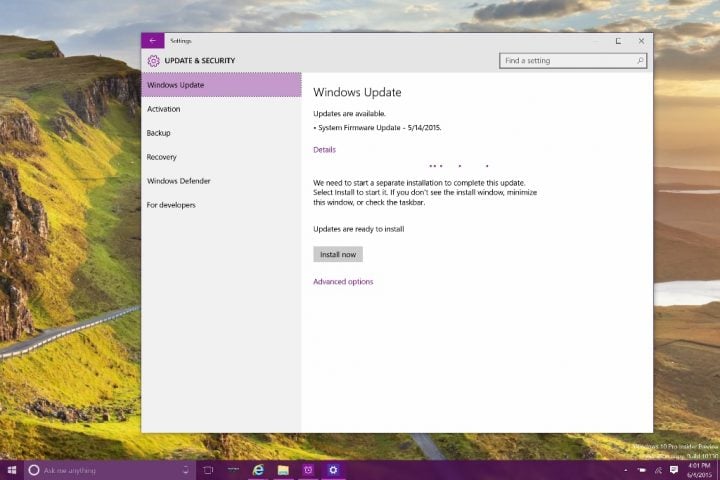 Windows 10 Home won't allow users to stop system software upgrades in the same way that it did previously. Going forward, there'll be no excuse for users to not have the latest updates and fixes, unless their device hasn't been connected to the Internet fairly recently.
Windows 10 Features – Free & Frequent Upgrades
This is the last major Windows upgrade as you know it. Previously, Microsoft released huge upgrades roughly every three to four years. Windows 10 will be upgraded on an ongoing basis, delivering smaller more frequent feature additions and upgrades. In addition to that, Microsoft will continue to update Music, Video, Pictures and more with new features directly through the Windows Store.
Windows 10 Features – Photos App with New Albums
The refreshed and better laid out Photos app now allows users to see their Photo Albums just like Microsoft's OneDrive cloud storage service.
Windows 10 Features – Spotlight Lock Screen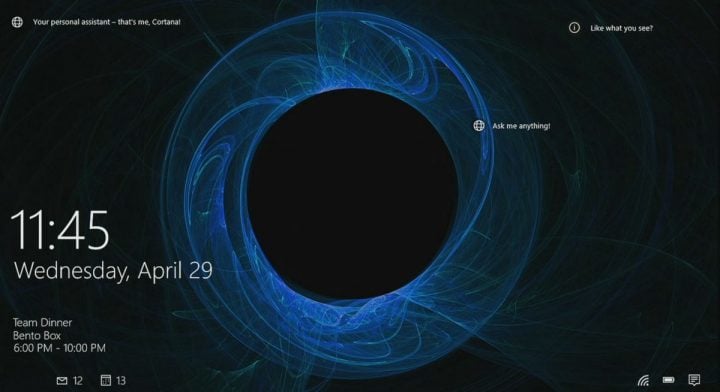 No doubt inspired by the custom lockscreen apps that are available on Windows Phone 8.1, Windows 10 now lets users switch between two Microsoft-made lockscrens. The first is a mirror of Windows 8.1, meaning you can have it showcase pictures and slideshows. The second is called Windows Spotlight. With it users get a different picture on their lock screen every day and tool tips about how best to use their PC.
Windows 10 Features – Updated Camera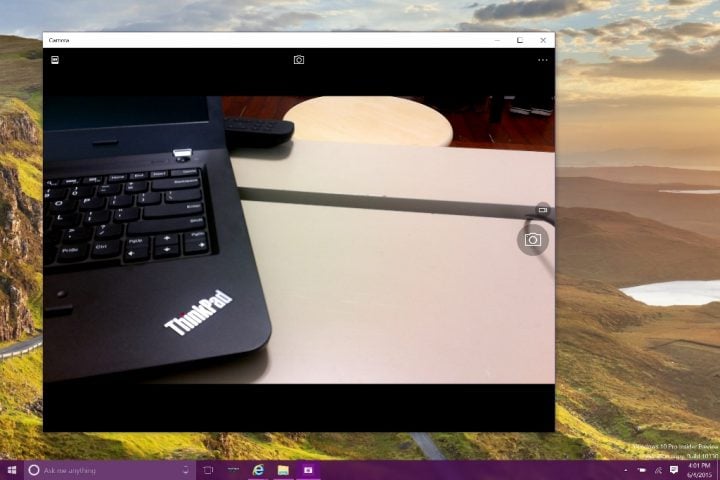 The built-in Camera app now has controls similar to those found in its Windows Phone 8.1 Lumia Camera app. It has tons of nested settings that simply weren't available in Windows 8.1.
Windows 10 Features – Calculator
Windows 10 users can open multiple versions of the Calculator app. Each has a new interface with detailed looks at match history.
Windows 10 Features – Quick Access in File Explorer
You no longer have to waste time searching through your files and folders looking for the file you just accidentally closed or that picture you just downloaded. Windows 10 has a new area for speedy recent file access called Quick Access. It's the first thing you see when you open File Explorer now.
Windows 10 Features – Microsoft Edge Browser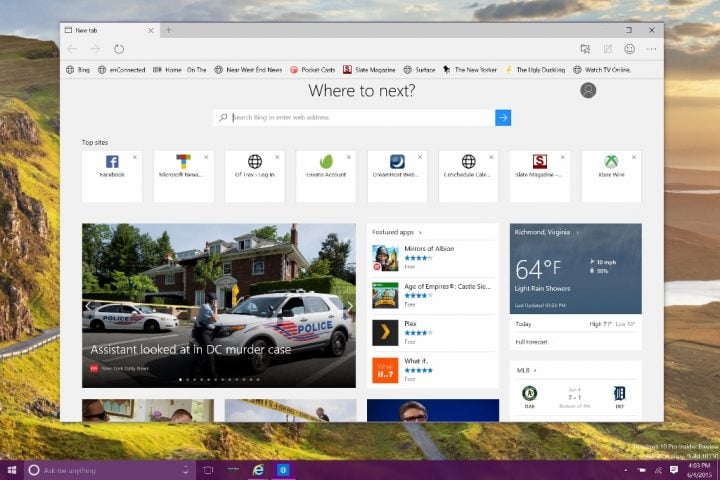 Internet Explorer is in Windows 10, but it's mainly on backup duty. Microsoft expects Windows 10 users to enjoy Edge, its new replacement for Internet Explorer.
Edge moves tabs to the title bar and has internal code that resembles Google's Chrome browser than it does Internet Explorer. There's support for taking notes on web pages and asking Cortana questions. Opening a new page in Microsoft Edge brings up a list of unread stories and most browsed sites.  Microsoft plans to add extension support for Microsoft Edge later this year. There's a built-in Reading Mode for long form reading too.
Windows 10 Features – Updated MSN Apps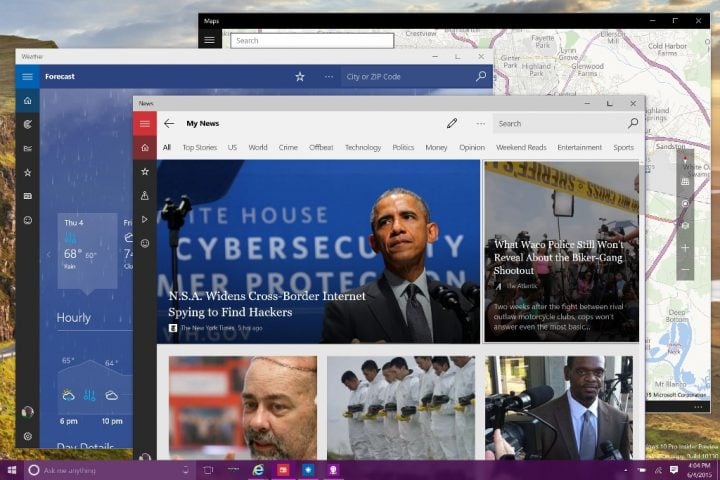 MSN News, MSN Weather, MSN Money,  MSN Sports and MSN Travel are all updated for Windows 10. They're no longer just great tablet apps, they beautiful and easy to navigate with a mouse and keyboard.
Windows 10 Features – Updated Games with Xbox Live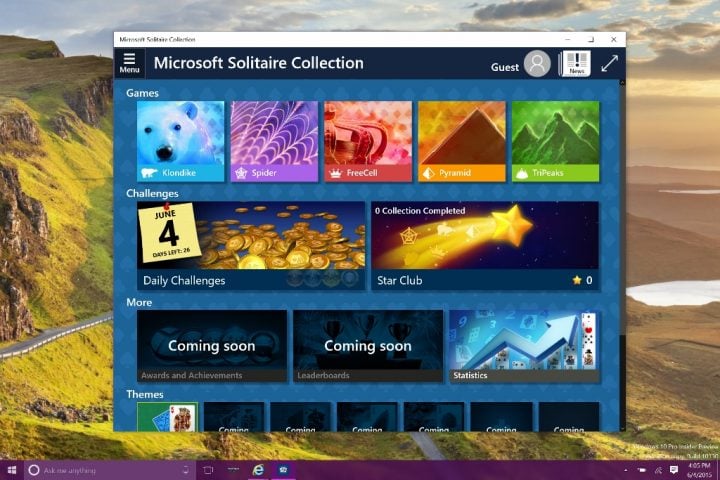 Solitaire as you know it is gone. Microsoft the game and its counterparts in Windows 8, hoping to lure users into downloading them for free from the Windows Store. New versions, complete with Xbox Live integration come pre-installed in Windows 10.
Windows 10 Features – Task View & Virtual Desktops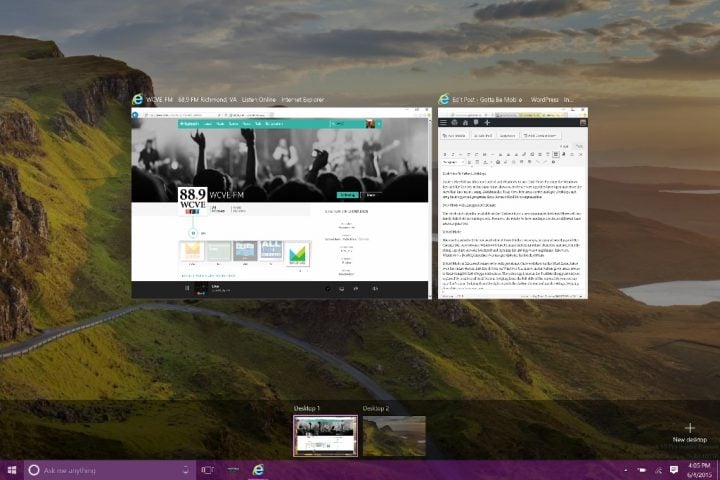 Apple's Mac OS has Mission Control and Windows 10 has Task View. Pressing the Windows Key and the Tab key at the same time allows users to see very app they have open and close the ones that they aren't using. Additionally, Task View lets users create multiple Desktops and drag their apps and programs there for an added bit of organization.
Windows 10 Features – New Clock with Integrated Calendar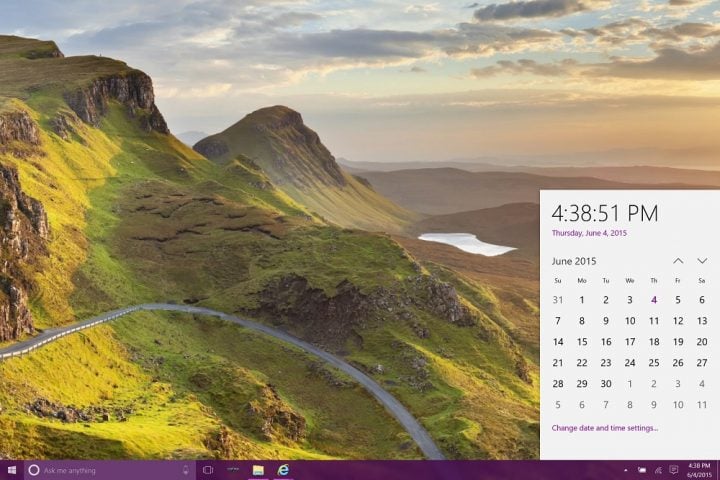 The clock and calendar available on the Taskbar have a new minimalist look and Microsoft has finally killed off the analog clock. For now, the ability to have multiple clocks for different time zones is gone too.
Windows 10 Features – Tablet Mode
Microsoft pushed a little too hard when it forced fullscreen apps, horizontal scrolling and the Charms Bar on everyone. Windows 8 had to many hidden interface elements and accidentally doing a gesture on your touchpad and opening the last app was a nightmare. Likewise, Windows 7's Desktop interface was an epic disaster for touch screens.
Tablet Mode is Microsoft's answer to both problems. Once switched on the Start Menu takes over the entire screen, just like it does on Windows 8.1. A new menu button gives users access to their complete list of apps and extras. The extra app icons in the Taskbar disappear and are replaced by a universal back button. Swiping from the left side of the screen lets you see any app that's open. Swiping from the right reveals the Action Center and quick settings. Swiping down lets you close any app.
Tablet Mode is the only time you'll see the on-screen keyboard complete with autocorrect unless you manually trigger it.
Windows 2-in-1 users can set Tablet Mode to turn on and off automatically when there's a keyboard present. There's an on-screen prompt for those who would prefer their device ask permission before changing its interface. Tablets always have Tablet Mode on by default.
Windows 10 Features – Snap Suggestions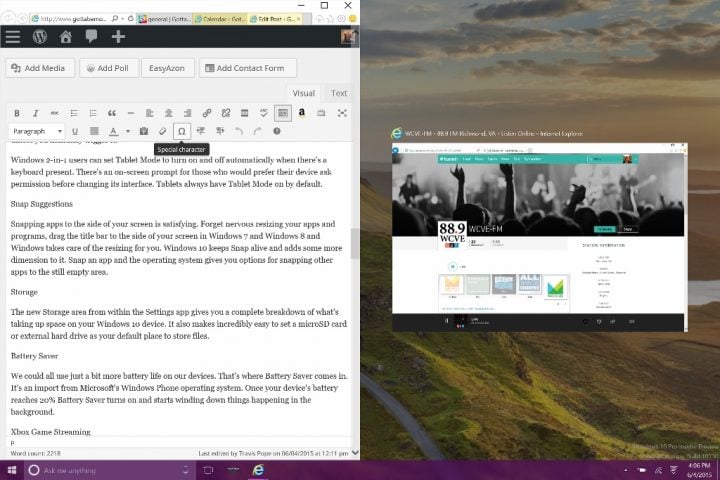 Snapping apps to the side of your screen is satisfying. Forget nervous resizing your apps and programs, drag the title bar to the side of your screen in Windows 7 and Windows 8 and Windows takes care of the resizing for you. Windows 10 keeps Snap alive and adds some more dimension to it. Snap an app and the operating system gives you options for snapping other apps to the still empty area.
Windows 10 Features – Better Storage Support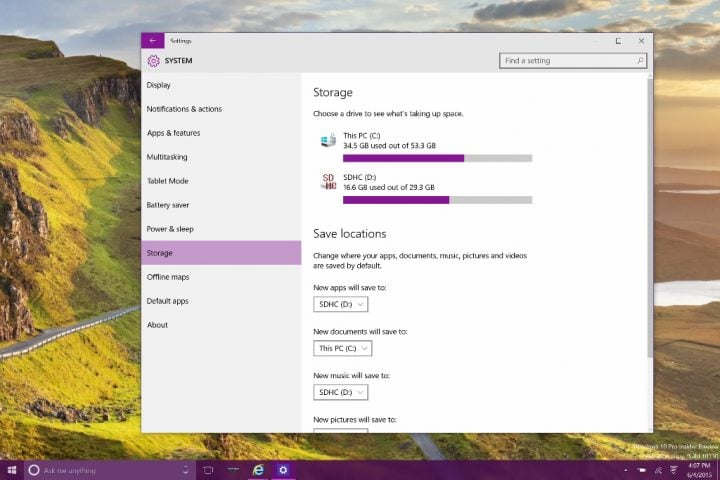 The new Storage area from within the Settings app gives you a complete breakdown of what's taking up space on your Windows 10 device. It also makes incredibly easy to set a microSD card or external hard drive as your default place to store files.
Windows 10 Features – Battery Saver
We could all use just a bit more battery life on our devices. That's where Battery Saver comes in. It's an import from Microsoft's Windows Phone operating system. Once your device's battery reaches 20% Battery Saver turns on and starts winding down things happening in the background.
Windows 10 Features – Xbox Game Streaming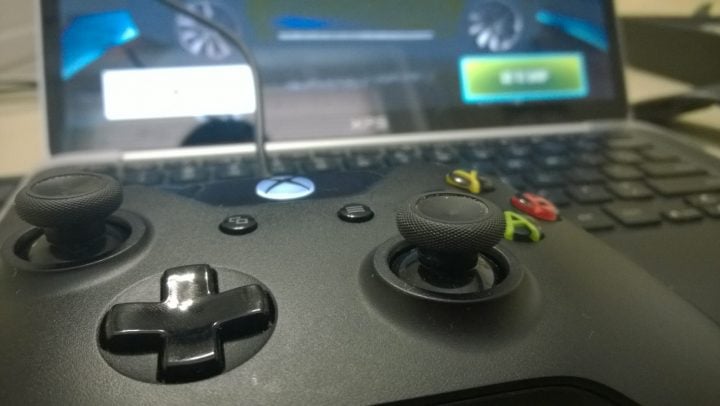 When Windows 10 arrives on Microsoft's Xbox One console users will be able to stream games directly from their console to their Windows 10 equipped PC through the Xbox app. Plug in your controller and your games can go with you wherever you are around the house.
Remember, Microsoft plans to unleash the Windows 10 upgrade on the world on July 29th. Reserve before then to avoid the massive rush of people all trying to download at the same time.

As an Amazon Associate I earn from qualifying purchases.