3M and Roku Announce Portable Streaming Projector
In a joint presentation today 3M and Roku introduced the new 3M Streaming Projector Powered By Roku, a small projector that can stream video from a number of different sources.
The 3M Streaming Projector is a handheld projector with a Roku Streaming Stick plugged into the back. The device specifically fits the Roku Streaming Stick, but can really handle any device with HDMI output.
Despite its small size the Streaming Projector can project screens of up to 120 inches. The display has a resolution of 800×480, and a brightness that tops out at 65 lumens. The Lithium-ion battery inside will last for 2 hours and 45 minutes on a single charge, which should last through almost any movie.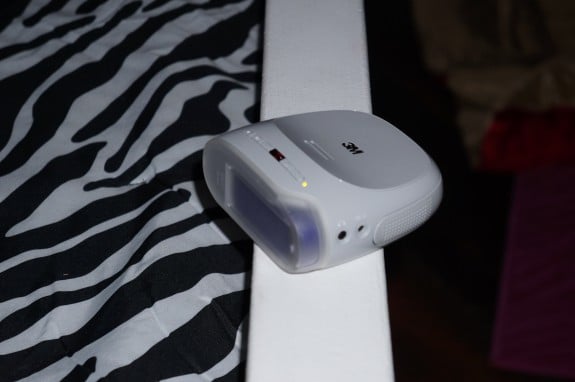 With the Roku Streaming Stick the Streaming Projector can access content from a large number of sources. Roku offers over 600 channels including Netflix, Hulu Plus, Amazon Instant Video, and CNBC.
The Streaming Projector is very light, which makes it easy to carry from room to room in a house. Despite the relatively low resolution the picture looked good in all the demos I saw of the device. From my few minutes with the device it's obvious that it won't replace an HDTV for anyone, but it's a good option for users who occasionally want to stream movies or TV shows around the house for a few people.
The built-in speaker is loud enough to be heard by a few people in a small room, but with larger groups it's a good idea to plug speakers into headphone jack on the device.
The 3M Streaming Projector Powered by Roku is only available through Amazon.com at the moment. It's available for pre-order now for $299 with a $20 credit to Amazon Instant Video. Amazon says it will ship on October 15, though 3M would only commit to October 22 as a target ship date.