4 Disruptive Apple Products That Tim Cook Won't Discuss
At its annual shareholders meeting, Apple CEO Tim Cook had shed some light on how the company will be delivering shareholder value. One way is by returning some of the over $137 billion cash that Apple has amassed over the years, though that really is uninteresting for geeks, unless you're an Apple (APPL) investor. The second strategy is to continue to innovate, and Cook promises that his company is "not constraining our investment in R&D by a desire to grow a cash pile."
"Obviously we're looking at new categories — we don't talk about them, but we're looking at them," Cook said.
In the past, Apple's been rumored to enter the space occupied by the living room to the car, and there is a lot of traditional space that Apple could lend its user experience expertise in. Here are four of the top ones we've seen rumored recently:
1. iWatch
Wearable computing will be a big focus moving forward as the emphasis from phones and tablets wane. Apple rival Google is promising that its wearable Google Glass technology will be released by the end of this year, and the Android OS-maker isn't shy about the $1,500 price tag either. Apple, on the other hand, has been rumored to be exploring smart watches as part of its wearable computing initiative, and recent Apple patent filings confirm that Apple has been toying with the idea, at least internally.
But 2013 and 2014 may prove to be a ripe battle ground for the smart watch concept to take off. We've seen new technologies come to market that would drive innovation for the iWatch. First, there's bendable and stretchable battery technology, which could extend and expand battery power from the device itself and into the wrist strap portion of the watch. Whereas the wrist strap would have been wasted space as far as electronics go, it is now a functional extension of the watch. Second, flexible OLED display panels may be used to create curved displays for the watch to contour to your wrist perfectly. And then there's also bendable glass to protect the OLED panels. Corning, makers of the Gorilla Glass, is also developing a new Willow glass technology that can bend to fit around the flexible OLED shape. A shape-shifting watch? We think so.
And to hype up the rumors even further, Apple's long-time nemesis Samsung is also rumored to be dabbling with its own Galaxy Watch with the Samsung Altius concept.
2. iTV
Apple has long maintained that its Apple TV set top box was just a hobby–the device never really sold in masses like the iPhone or iPad, though Apple TV is still considered a success in the industry. Simple, easy to use, and backed by a robust arsenal of media content, Apple TV's functionality and feature are not yet fully explored, and Apple has long been rumored to work on a full HDTV that may be called an iTV upon release with Siri integration.
iTV, at its core, would be an all-in-one device and would integrate core functionality of the Apple TV box along with a massive HDTV display, and probably may come with integrated WiFi connectivity. Think of it as an even bigger iMac designed for your living room, minus the Mac portion.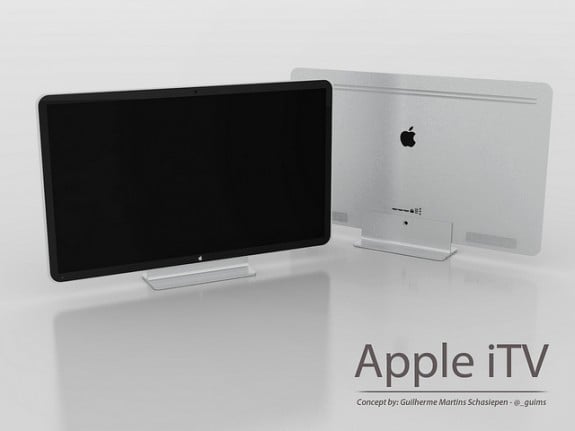 Apple could still open up the TV platform to more apps–its Apple TV is limited to a few select apps like Netflix and Hulu Plus–and iTV could become a game console, media streamer, news reader, and more. With iMessage and FaceTime through an integrated iSight camera on iTV, the device can be the center of your unified messaging and communication solution inside the home. Forget your home number–you can call friends over WiFi, like a VoIP call, and have your cell phone number displayed on their caller ID. When mom calls you, you can pick up on your iPad, iPhone, iPod Touch, or iTV.
iTV is then an expansion of your digital life and could be the living hub that handles everything from alerting you of breaking news via a news reader app, push important messages to you, lets you handle calls and video conferencing, and stream your favorite media.
This isn't about selling in big numbers either as iTV will be positioned as a premium product over the heavily discounted 50-inch TV sets on the market today, but Apple is okay with that as it is focused on the ecosystem. With content–digital TV shows and movies, apps, and robust connectivity options–iTV can be that big product that impacts every TV watcher out there.
"Success is not making the most," Cook commented, as reported by CNBC reported. "Where market share is important (is in being big enough to attract an ecosystem) …. We're really aware of the competition as well. "We don't have our heads stuck up … stuck in the sand. …. There's a button or two we could press to make the most …. That would not be good for Apple."
3. iPhone Expansion
Apple may be listening to what it's rivals are doing and the iPhone may be available with more configurations than today. Want an iPhone in pink? There's an Apple team that will deliver that. How about an iOS phablet? An even larger iPhone display is already rumored to be in the works.
By expanding options and choices, Apple stands a chance at meeting more needs of more consumers, who may be turning to Android and other platforms. Thus far, Android offers the most variety of screen sizes and resolutions, and that has been a success for rival Samsung.
4. iCar
The car and smart car market is still nascent. Apple's late co-founder and CEO Steve Jobs was said to have been interested in revolutionizing the car space. Larger touchscreen displays are now beginning to appear on premium electric vehicles, like those from Tesla. And Ford's partnership with Microsoft through its Sync technology has inspired apps to appear in cars.
We're seeing more players entering the car space, and Apple has already tried to put a foot forward with its Siri Eyes-Free technology.
Carriers such as Verizon, Sprint, and AT&T are all trying to enter the telematics space. AT&T is aiming for the consumer angle with connectivity and integration with the home while Sprint is gunning for safety with OBD II modules that can track sudden acceleration and braking to offer 'safer' drivers lower insurance premiums.
Apple could enter the telematics space in a number of ways. It could deliver an iOS operating system version designed for the car, with specific user interfaces that make sense for auto safety. This space is generally led by BlackBerry with its QNX division. QNX is the OS that's been embedded on center consoles of cars from Audi, Chrysler, BMW, Mercedes, and others. Microsoft is also a player in this space with its Windows Embedded architecture.
Apple could also try to work on car integration with existing players. Perhaps an iPhone that serves as an Apple TV for in-vehicle media streaming. With the wireless broadband module in place, users can use their iPhones to download movies and use AirPlay to mirror the content on rear headrest displays for passengers to view on long roadtrip.
Apple could even take the ground up approach and design everything in the car that relates to the car UI. This means it would have to work closely with car-makers to design the touchscreen displays, the intelligent OS, and the app ecosystem to power everything. Sharing control is not what Apple has been good at, and we'll have to see how the iCar will shape out to be.
What I'd like to see still is a modular car concept. Rather than having a center console with its own glass and ecosystem, I'd love to be able to dock my iPad or iPad mini (depending on dash size and car size) in the center and then the car information gets pulled up on my tablet with a specific UI that gets activated when docked. From there, I can adjust cabin temperature, turn on my heated seats, or even check my gas mileage and service record for my car. My iPhone would be another modular piece that would provide content to the rear headrest displays as well as serve as the wireless hotspot for the entire vehicle.

As an Amazon Associate I earn from qualifying purchases.