4 Exciting Devices to Skip The Surface Pro 4 For
Early next week, Microsoft begins selling its Surface Pro 4 and Surface Book. Both are Microsoft's attempt at revitalizing the Windows PC space. The Surface Book is a high-end notebook with a discrete graphics processor that users can turn into a tablet if they need to. Though the Surface Book is nice, Microsoft's hardware partners have offered similar form factors for years — just without the graphics card and spinal-looking dynamic fulcrum hinge. The Asus Transformer Book series is a perfectly good example of that. Competing with the Surface Pro 4 is something Windows device makers are new to.
Microsoft has said since the beginning of its hardware endeavors that it hopes partners follow the Surface's lead. The company is treating the devices as references designs. It hopes to prove that there's a craving for particular body styles or tricks. Once proven, HP, Lenovo and others can copy those ideas and create stunning devices of their own that people want to buy.
Read: Microsoft Surface Pro 4 Impressions
Already, Dell, Lenovo, Toshiba and HP have Surface Pro 4 alternatives capable of beating the Surface-line at its own game. Each of these devices run Microsoft's Windows 10 operating system and can be used as both a tablet and notebook PC replacement. A few of them even offer upgrades that you can't get in Microsoft's own Windows 2-in-1.
Dell XPS 12
The Dell XPS 12 moniker has always been used to experiment with device ideas. In the days of Windows 8, the XPS 12 was a regular notebook with a screen that flipped in place so that users could interact with it like they would a tablet. Dell has dumped that design and gone with something a little closer to what the Surface Pro 4 offers users.
Read: Dell's XPS 12 is a Surface Pro 4 Rival
The New XPS 12 is a 12-inch tablet with a 4K display that allows users to dock it with a companion hardware keyboard. 4K is shorthand for a display that has a resolution of 3840 pixels by 2160 pixels. Text, pictures and any high-definition video you can think of looks amazing on the display. Users can opt for an HD display too. The New XPS 12 has a media card slot, headset jack and two UBS 3.0 Type C ports.  Connecting to USB, HDMI VGA or anything else requires a separate Dell adapter.
The New XPS 12 doesn't copy Microsoft's kickstand. Instead, users slide it into a slim notch on the opposite end of the keyboard dock that comes included. Dell expects to ship the New XPS 12 this November beginning at $999.
[ See the New XPS 12 at Dell's Website ]
Lenovo Ideapad Miix 700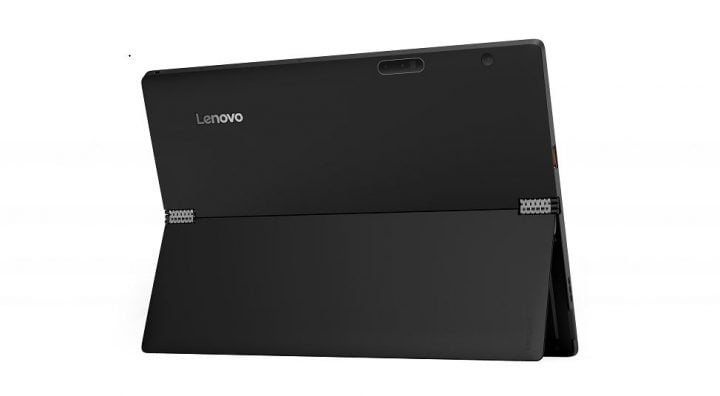 The Lenovo Ideapad Miix 700 does borrow Microsoft's kickstand idea, but it throws a new twist on it. The company's Yoga notebook PCs have offered a unique watchband hinge for years. The Ideapad Miix 700 has a pair of the hinges holding it's rear-facing kickstand in place.
Read: Lenovo Launches New 2015 IdeaPads and Miix 700 Surface Rival
The 12-inch FHD+ Plus display offers a resolution of 2160 x 1440 pixels. The display is smaller than the Surface Pro 4's 12.3-inch display, but not by much. Built-in are the latest Intel Skylake processors for the best performance and battery life possible. Lenovo bundles a stylus and an attachable keyboard with the Lenovo Ideapad Miix 700. This keyboard charges directly through the port located at the bottom of the IdeaPad Miix 700.
Smartly, Lenovo took things a step further than Microsoft did when it comes to providing extras The Miix 700 offers MicroHDMI out for connecting to display, and an optional 3D camera based on Intel's RealSense technology.
Lenovo's website only says that the IdeaPad Miix 700 is coming to stores and its website this November for as little as $699. That's $200 lower than the cheapest Surface Pro 4.
[ See the Lenovo IdeaPad Miix 700 at Lenovo's Website ]
Toshiba DynaPad
Toshiba and Microsoft teamed up to announce the Toshiba DynaPad earlier this month. It's a Surface Pro 4 alternative that embraces Wacom's pen technology and other software extras that Toshiba added to its touch devices beginning with Windows 8.1.
The DynaPad has a 12-inch display with a resolution of 1920 x 1280 pixels. The Surface Pro 4 has the sometimes reflective, Gorilla Glass, but the DynaPad has a special coating that makes it easy to see in bright light. The pen included with the DynaPad can sense 2048 different levels of pressure, far more than the Surface Pro 4 can.
This device works much like the XPS 12 does, giving users a notch in its keyboard to place the tablet half when they're ready to get work done. Toshiba has only said that the DynaPad will launch in the first quarter of 2016.
[ Read More About the Toshiba DynaPad at Microsoft's Windows Blog ]
HP Spectre X2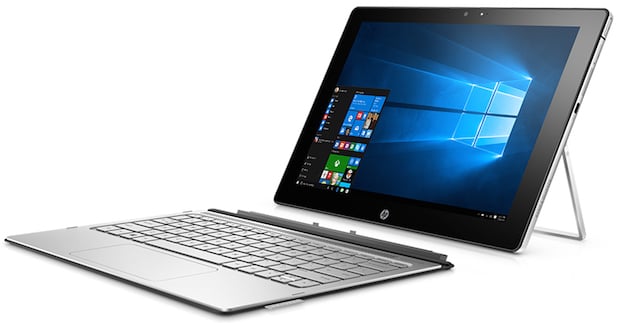 The HP Spectre X2 is one of the few Surface Pro 4 alternatives already available for pre-order. Coincidentally, it's also the most stylish and robust of all the hardware partners have released to take on Surface.
The company did copy the Surface Pro's basic design. A kickstand folds out from its back and an bundled keyboard cover communicates with the device through a port on the bottom. Inside is 4GB of RAM and a 6th generation Intel Core M Processor. A 12-inch 1920 x 1280 display anchors the front of the HP Spectre X2. So how are they different?
The Spectre X2 has an Intel RealSense Camera that faces the out side of the device, letting users take great pictures. What's more, the kickstand adjusts 150 degrees and slides out from a channel along the device. Users don't have to pry that kickstand open either, it has a release button. USB 3.0 Type C ports so that users can connect displays and perform speedy transfers. Somehow,  Microsoft decided to leave that out of the Surface Pro 4. Finally, models of the HP Xpectre X2 offer LTE connectivity so that users can connect to the internet wherever they are.
The HP Spectre X2 starts at $799.
[ Pre-Order the HP Spectre X2 at HP's Website for $799.99 ]
Regardless of what your priorities are, these Surface Pro 4 offer alternatives for just about everyone. Good luck choosing your next Windows PC.