4 New Smartphones Launched This Weekend on AT&T, Sprint
A total of four new smartphones launched this past weekend for consumer purchase on both Ma Bell and the Now Network in the U.S. Users interested in 3G and 4G devices now have a few more options from both BlackBerry and Android camps on Sprint and AT&T, with the former launching 3 new devices while the latter offering up 1 new device.
On Sprint, the carrier is now joining CDMA rival Verizon Wireless in offering the BlackBerry Bold 9930, which is a 3G CDMA/EV-DO phone in the U.S. with the option for 3G HSPA and GSM coverage oversees as the device is a world-phone with an option for a SIM card. The Bold 9930, similar to the GSM-only 9900 for AT&T and T-Mobile USA, offers up the classic BlackBerry form factor with a front-facing full QWERTY keyboard, but also packs in a touchscreen just above the keyboard. That device is now available for $200 on Sprint on its website.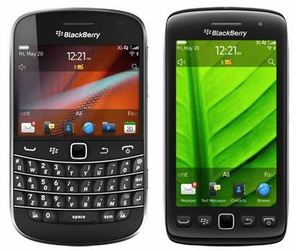 Next up on Sprint is the BlackBerry Torch 9850, which is a full touchscreen-only BlackBerry device, similar to the Storm franchise. The Torch 9850 is the first full touchscreen BlackBerry on the Now Network and will retail for $150 on a two-year contract. The device features a 3.7-inch WVGA resolution display.
And lastly, the more budget-friendly Samsung Conquer 4G is also going up for sale as an entry level smartphone to get on Sprint's 4G WiMax network, which promises up to ten times the speed of the carrier's 3G CDMA/EV-DO network.
The $99 smartphone with a contract has a 3.5-inch HVGA display–the more conservative screen resolution makes it an entry-level phone in an age of WVGA and qHD displays–along with Android 2.3 Gingerbread, 3.2-megapixel rear camera, front-facing camera, and the requisite radios and sensors found on many phones (WiFi, Bluetooth, GPS, proximity sensor, ambient light sensor).
To round out the new consumer availability of smartphones launching this past weekend is AT&T, which is launching its updated BlackBerry Torch. Unlike the touchscreen-only 9850 on Sprint, AT&T's Torch 9810 is the updated version to the Torch slider that's available on the network.
Like the two BlackBerry models on Sprint that launched, this device also features the BlackBerry 7 OS, along with a more robust 1.2 GHz CPU, Liquid Graphics display, and all the goodness that you'd expect from a RIM phone, including ease of email, messaging, and BBM.
The device is now going for $50 on the carrier's 4G HSPA+ network, and features a portrait-oriented screen that slides over a full QWERTY keyboard, though the keyboard isn't quite as roomy as that on the Bold 9900/9930 series.