4 Ways the Surface Pro 3 Beats the Apple iPad Pro
The Surface Pro didn't kick start a revolution, but it was enough to keep customers interested until Microsoft could come up with the right Windows 2-in-1 to make a splash in both the notebook and tablet spaces. The Surface Pro 3 was the true revolutionary Windows 2-in-1 and sales have been very high, according to Microsoft. So high that we're starting to see Windows hardware makers copy the Surface hardware formula. The iPad Pro is a Surface Pro 3 rival from the company that gave tablets the kick-start they needed to be successful.
Announced at an Apple event this week, the Apple iPad Pro is unabashedly influenced by the Surface Pro 3. It doesn't have a kickstand, but does have an enormous 12.9-inch screen. That's roughly the same market Microsoft aimed the Surface Pro 3 at: notebook buyers. On its own, it looks like a giant tablet, but Apple has added a port for a keyboard to snap onto the bottom, and a pen that lets users draw and navigate its refreshed iOS operating system. iOS 9 takes the rivalry beyond software, borrowing Microsoft's side-by-side app multitasking to give iPad Pro users a way to do two things on their device at once.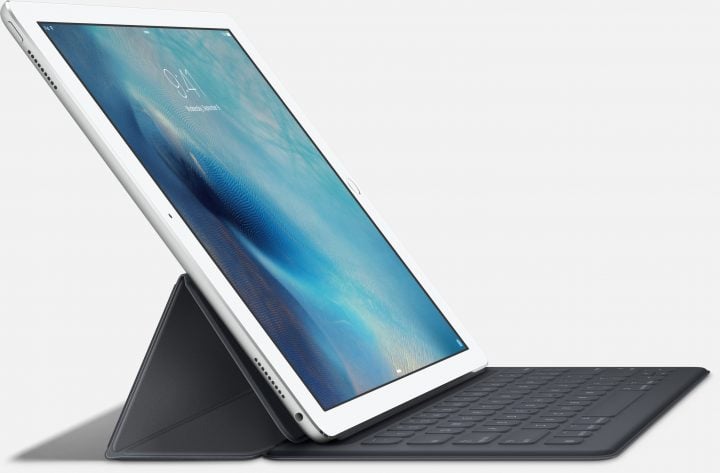 The iPad Pro is certainly an interesting device, one that deserves consideration from anyone looking to eliminate their notebook and tablet in favor of having one device. Problem is, the Surface Pro 3 has been around long enough that Microsoft has identified the market and refined its approach.
Better Operating System & Apps for Professionals
The problems for the iPad Pro start with its operating system. Microsoft did an absolutely terrible job meshing a touch and keyboard experiences with Windows 8. It learned some valuable lessons though. First, to truly be considered a professional grade computing device you need to give users access to professional grade apps and fit into the work flow they have now. The Surface 3 and the Surface Pro 3 both let users install desktop programs not available in the Windows Store. With Windows 10's Tablet Mode off, users get a Windows notebook, something they already know how to use and already have programs for.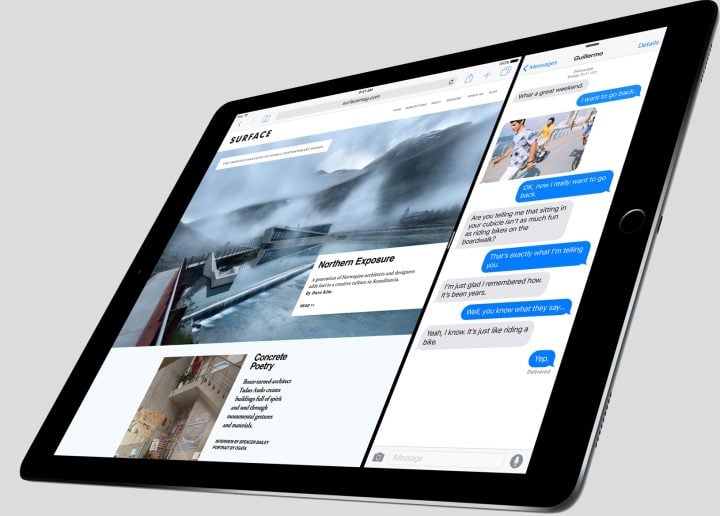 Apple's approach is very, very different. The company seems to have aired on he side of preserving its line-up without major changes. The iPad Pro does have a super gorgeous touch display and app multitasking, but it leaves behind the more productivity oriented Mac OS apps. iOS 9 supports Bluetooth keyboards, but doesn't support Bluetooth mice.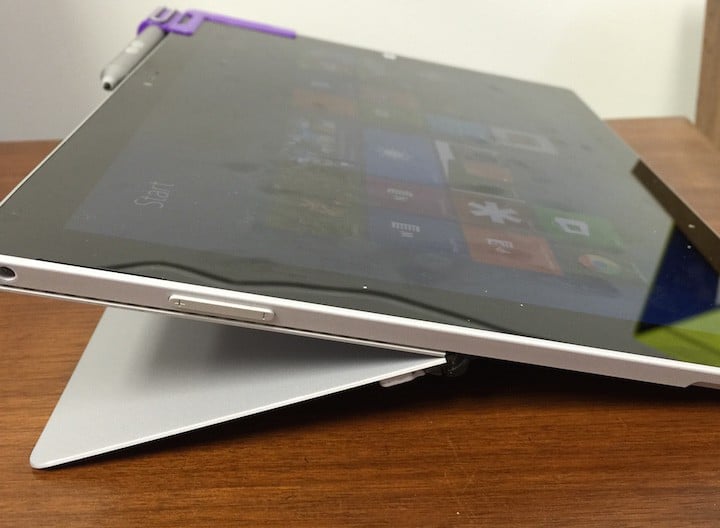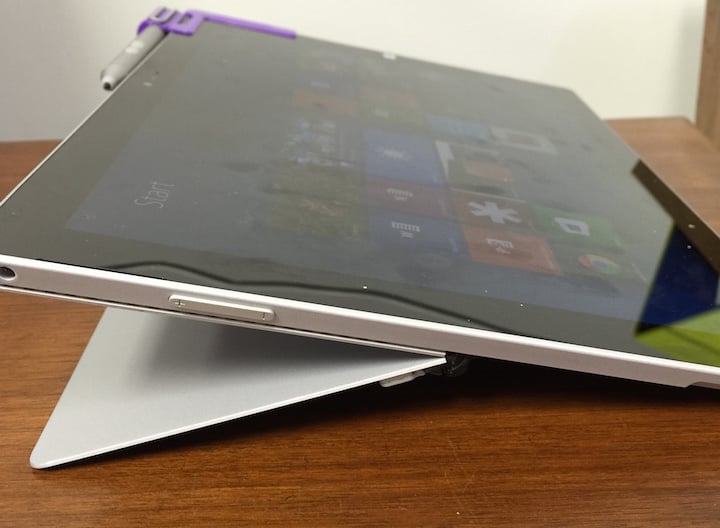 The iPad Pro can possibly get around not having Mac OS apps, with improved apps from its iTunes Store. Not having mouse support means users have to reach up and touch what they want to select on the screen, which can get very, very tiresome. You can't fix that with improved apps.
Better Storage Options & Hardware Features
The iPad Pro has a 12.9-inch display with a resolution of 2732 x 2048 pixels. That's simply a way of quantifying what the naked eye will tell you when it arrives in stores: It has a huge, gorgeous display. It weighs just 1.57 pounds and is 6.9 mm from thick. Four stereo speakers pump out audio in every direction. A Lightning port on the side lets it connect with different accessories. A keyboard port on another side allows users to turn the iPad Pro into a landscape work machine. Apple Smartly added a bit more choice to its line-up. It comes in Silver, Space Gray and Gold and users can purchase a 128GB version with mobile data if they'd like for $1079.
The Surface Pro 3 has a 2160 x 1440 12-inch display. It's neither as big nor as detailed as what iPad Pro users get. Anyone can get any color Surface Pro 3 they like as long as it's silver. Apple says that the iPad Pro will last 10 hours, whereas the Surface Pro 3 lasts about 9 hours. The iPad Pro has an 8 megapixel rear-facing camera that will likely handily beat the Surface Pro 3's rather basic 5 megapixel rear-facing camera.
Read: Surface Pro 3 vs iPad Pro: Which is Better?
The iPad Pro is lighter and has a better looking screen. Trick is, the Surface Pro 3 has some advantages professionals and anyone looking to replace their PC or Mac will enjoy. You could by expensive new iPad Pro Lightning dongles and connectors or use the USB accessories you already have for the Surface Pro 3. Have a display you like? You can keep using that too. Surface Pro 3 comes with a Mini Display Port and a full-size USB 3.0 port. A built-in kickstand elevates the display, not a separate $169.99 case, making it great for presentations or just watching a movie.

Every Surface Pro 3 has at least 4GB of RAM, 64GB of storage and an Intel Core processor of some kind. Users get all those extras – plus an included pen for $799. What's more, they don't have to keep an extra computer on standby since Surface Pro 3 can run apps from the Windows Store and Desktop apps.
Better & Cheaper Accessories
Finally, there's the accessories to consider. Both Microsoft and Apple require heavy investments in extras to get the most of their machines, I'd say.
The Surface Pro 3 comes with a Surface Pen, but doesn't come with the $129 Surface Pro 3 Type Keyboard. The Surface Pen unlocks the Surface Pro 3 for quick note-taking sessions and acts as a pretty handy way of interact with programs when a touch-friendly app from the Windows Store won't do. The Type Cover itself locks into a port on the bottom of the Surface Pro 3. Users can elevate they keyboard by pushing it slightly in on their display. This locking mechanism is great for using the Surface Pro 3 in a lap.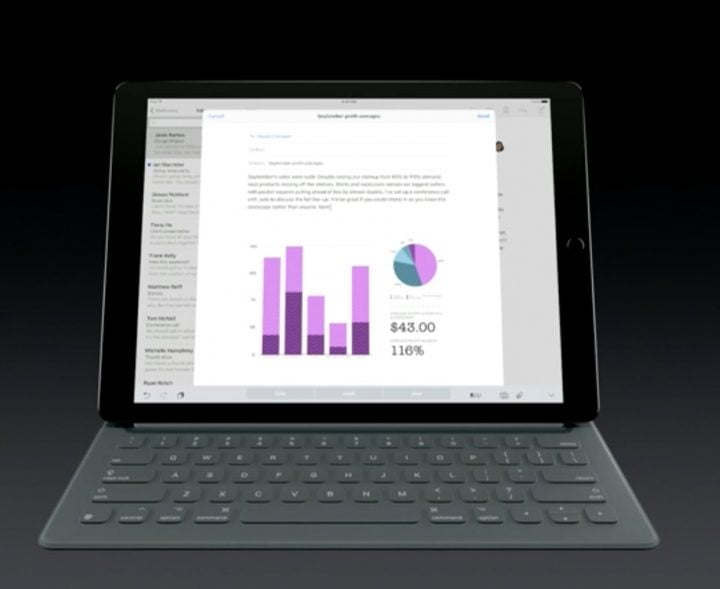 Meanwhile, the $99 Apple Pencil for the iPad Pro is just a rechargeable stylus. You can draw with it and navigate with it, but it doesn't come included with the device. The $169 Apple Smart Keyboard has an extra, slightly wonky looking flap that props up its display for productivity. This flap doesn't allow for as much angle adjust as the built-in freely adjustable kickstand on the Surface Pro 3. Those, it's a actually $40 more expensive than what Microsoft offers.
Conclusion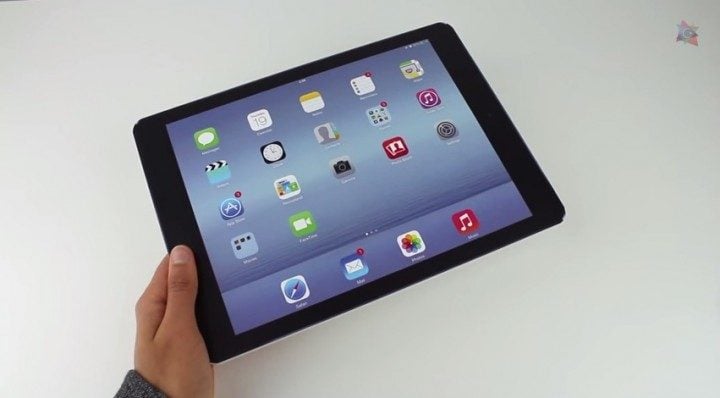 At the end of the day, users have to buy the right machine for their wallet and ecosystem. If you're already an iPad owner, you definitely have reasons to pick up the iPad Pro. You own apps, you already have an iCloud account and iTunes purchases. Your choice is clear. Get the iPad Pro this November.
If you have just an iPhone or an Android device and looking to replace a Windows notebook, the answer, I'd say, is very clear: go with the Surface Pro 3. It connects with iCloud and most of Apple's services, you get to keep your programs and Microsoft's many apps extend the Windows experience to your iPhone. Your getting a more robust machine if you buy the Surface Pro 3, minus a display and LTE connectivity.

As an Amazon Associate I earn from qualifying purchases.