41-Megapixel Nokia Lumia EOS Rumored for July Launch
Nokia is now rumored to be announcing the Windows Phone 8-powered Nokia Lumia EOS with a 41-megapixel PureView camera and new camera UI as early as July 9th. The phone was rumored for a release as early as February this year at Mobile World Congress on the anniversary of the Nokia 808, the first phone with a large sensor and 41-megapixel camera, but that date came and went and Nokia still has been silent about a high-megapixel Lumia.
According to an unnamed source to Mobile Geeks, the phone would launch sometime during the second week of July, "most probably July the 9th."
And though the sensor has a maximum resolution of 41 megapixels, depending on the image size and aspect ratio, the megapixel count would be lower. On the Nokia 808, a 4:3 aspect ratio would mean that the resulting photos came out at a 38-megapixel resolution while a 16:9 crop gave a 34-megapixel image. This appears to be the same case and images are said to be at around 34 megapixels on the Lumia EOS.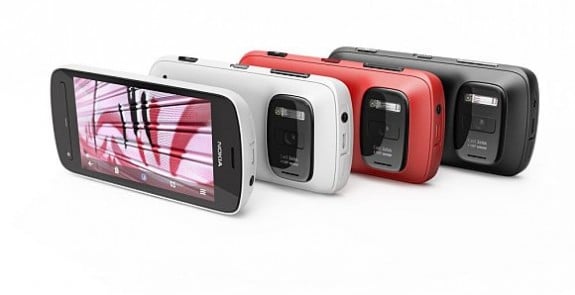 Additionally, the phone could capture 1080p full HD images at three different frame-rates.
And it looks like on the software front, Nokia may be adding a special ProCamera app to give users more control over the software UI. Circular dials to allow more manual controls and adjustments as well as DSLR-like sounds when the shutter is clicked are rumored to be coming on board. The flickable, circular dials sound similar to what Samsung is doing on the touchscreen UI for the Galaxy Camera.
The device is said to be constructed from plastic, and given the large sensor size, the Lumia EOS is impressively thin and is said to be thinner than the Lumia 920.
Not only does the PureView sensor cram an incredible amount of pixels, but the sensor is also very large, and is much larger than the traditional sensor on a smartphone and even the sensor size of a point-and-shoot camera and the Samsung Galaxy Camera. This allows for more light to pass through and helps the Lumia EOS capture more details with a high dynamic range.
This is a different PureView technology on current Lumia smartphones, like the Lumia 920, Lumia 925, and Lumia 928. The current devices use a smaller sensor size with an 8.7-megapixel count and focuses primarily on low-light photography.
We've reported some of the rumored specs from someone who claimed to have seen the Lumia EOS recently, and this appears to be an exciting camera and smartphone release for 2013.

As an Amazon Associate I earn from qualifying purchases.