45 Essential Microsoft Surface 3 Windows Apps
To hit a lower price-point, Microsoft designed the new Microsoft Surface 3 with an Intel Atom processor and only 2GB of RAM on the lower cost $500 model. Even on the more powerful 4GB model that I bought, software requiring lots of muscle won't run smoothly on the Surface 3.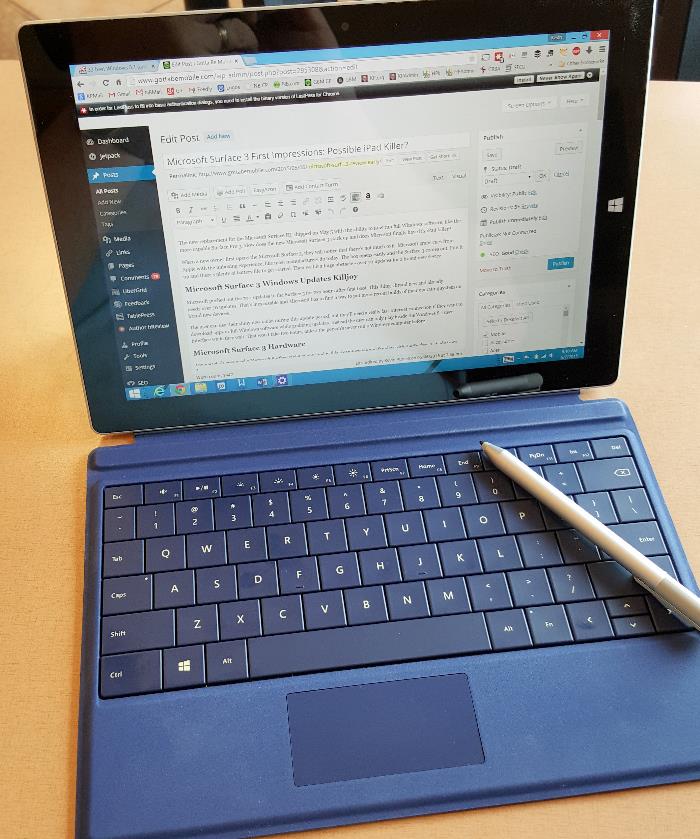 It's hard to find many quality apps in the app store on the Surface 3. We hope Microsoft's initiative to entice Android and iOS developers by making it easy to port their apps over to Windows Store works. Until then, here's a roundup of 45 essential Microsoft Surface 3 Windows Store apps. Get these 45 Windows Store apps. They will turn the Surface 3 into a competitive alternative to the iPad Air 2. The right apps will make people ditch their Android tablet for a convenient ten-inch tablet that runs apps and full Windows software.
Productivity Windows Apps
The Surface 3 comes with a free version of Microsoft Office 365 Personal (normally $70/year). Make sure you activate it. However, it's not the only productivity app that people might want to use on their Surface 3. These Productivity Windows Apps will make your tablet work for you.
 gmail calendar – Free
gmail calendar will sync between Google Calendar and the tablet. It looks pretty. Various calendars in your account show up in the left hand side bar. It's simple to add new events to the calendar. gmail calendar works better than the Windows calendar pre-installed on the Surface 3.
TouchMail – Free
TouchMail does email better than the built-in Mail client. It works with Gmail and other email services too. The user-interface does a nice job of presenting email in a touch-friendly environment. People who like to archive their mail instead of deleting it can do that too, with one tap. Not all Gmail apps handle archives well. Large icons show the email sender's image, if they've set one up or you synced contacts with Facebook.
YouNote – Free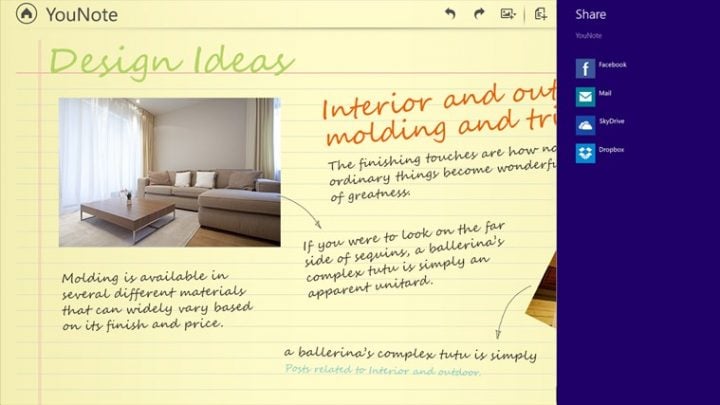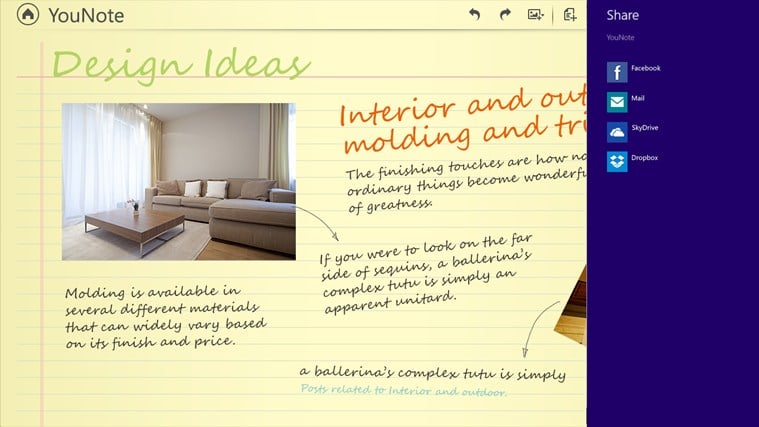 YouNote lets users take notes by typing on the Surface 3 Type Cover or with the Surface Pen. It does a great job of inking, organizing notes, importing images and syncing notes with a desktop computer or other tablet running Windows 8.1.
MetaMoji Note – Free or $11.99
For people who need to sync with other platforms and tablets, like an iPad or Android device, should try out MetaMoji Note. This powerful note taking and organizing program does one thing that makes it an even better option for Surface 3 users. There's a zoomed inking box (see image above). This box opens up at the bottom of the screen. Users write in the box and the app places the drawings on the screen where the user placed the entry box. Try out the free version first before buying the full app for $11.99.
Wunderlist – Free
Wunderlist is the best cross-platform project management and to-do list service. Users can keep track of tasks by category. It's easy to share a group task list with family or co-workers. Get a version for all the major platforms or run it in a browser.
The service costs $5/month or $50/year for those who need all the features, but those of us with simple needs can use it for free.
Evernote Touch – Free
Quite honestly, the Evernote Touch Windows Store app sucks! However, Evernote as a service offers a ton of useful features. So, the Windows Store app makes the list for use in emergencies.
Install it on the Surface 3 because you just might want to use it sometime and hopefully it will get better. Until then, also install the full version from Evernote.com.
Bamboo Paper – Free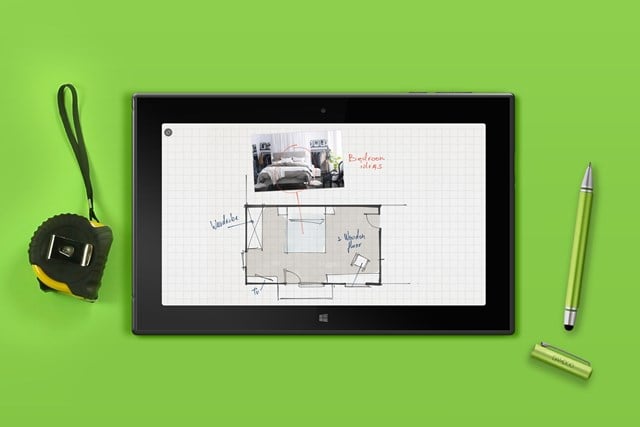 The Windows Store version of Bamboo Paper doesn't offer as much as the iOS or Android versions, but it's still a capable drawing and note-taking app. Use one of the above apps for serious note-taking. Get Bamboo Paper for drawing. A talented artist can draw beautiful images or designs with Bamboo Paper and the Surface Pen.
Social Networking Windows Apps
Twitter and Facebook make apps for the Windows Store, but here are a few other great social networking apps.
Tweetium – Free Trial or $2.99
Tweetium might offer the best Twitter client on any platform. It's well worth the $3 for the full version. It's a clean, smooth and well-organized app with tabs across the top showing the timeline, connections like direct messages or @ replies, and search. Tap on a Tweet and it enlarges, showing media right in the timeline. It's easy to reply or retweet. The app comes with some different themes for light or dark looks.
 Skype – Free
Face chat with friends or family anywhere around the world cheaply or free. Skype is the best video chat tool for the Surface 3. The app puts notifications on the Surface 3 lock screen so a user can see who's calling without even unlocking their tablet.
IM+ Instant Messenger – Free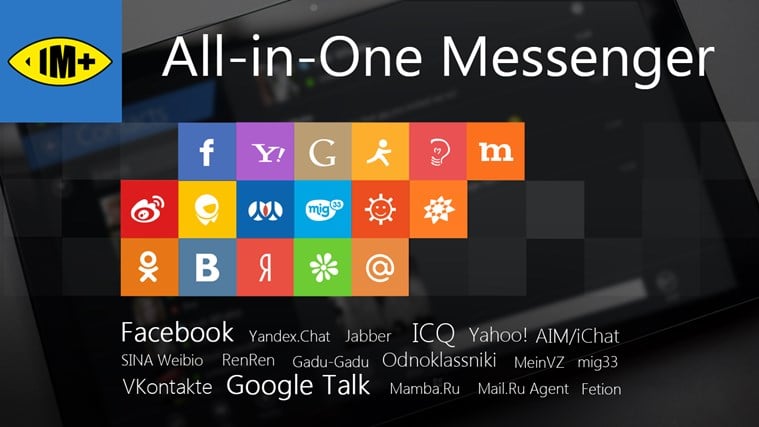 People hate using a bunch of different instant messaging apps, so grab IM+ Instant Messenger to put all IM services in one place. According to the listing in the Windows Store it works with:
Facebook
Google Talk
AOL/AIM/iChat
Yahoo!
ICQ
Vkontakte
Mail.Ru Agent
Odnoklassniki
Yandex chat
Mamba.Ru
Mig33
SINA Weibo
Renren
Fetion
Gadu-Gadu
MeinVZ
Jabber
Surface 3 Photography Apps
Pro photographers probably won't use the Surface 3 for their serious edits nor would videographers, but the rest of us can. The touch makes quick and simple edits fun and easy. These apps excel at fixing snapshots and exporting, printing or sharing them.
Fotor – Free
Fotor is my go to app for quickly touching up shots. It's easy to crop a shot, fix exposure, color and boost detail and then share it. It also comes with some filters for those who like that sort of thing.
The app will add borders and overlay graphics or text to doctor up a shot. There's a useful one-tap enhance tool that gives photo editors a good place to start with a new image. The collage feature combines a few shots into an artful collection of images in one JPG file.
Import shots from the Surface 3 and then export them using the fast resizing feature.
Adobe Photoshop Express – Free
Adobe fans will enjoy Photoshop Express since it's simple to use and gives users access to all of their images stored in Adobe's online photo backup service. It does much of the same things Fotor does.
Adobe Pixlr – Free
The above options work better for those want to do quick edits, but Adobe Pixlr helps with some more advanced features. Those include things like…
Double exposures created from two images
Export to social networks quicker than the above apps
Viewing photo metadata
Better sharpening, smoothing and blurring effects
So why not use Pixlr first over other programs? It's not as easy and requires a sign in to get at some of these advanced features.
PowerDirector Mobile – Free Trial or $9.99 Full
It's hard to find a good video editor in Windows Store. Microsoft's Movie Maker still works on the Surface, but it's not touch friendly. PowerDirector Mobile does the basics but it only comes as a free trial version with the full version costing $10. There's a timeline video editing mode or a wizard based editor. Included are transitions, slides, text and transitions. Users can change the look of video with multiple effects. Export in 720p in the free version or full 1080p in the paid version. They can also upload to Facebook or YouTube from within the app.
To work with 1080p, MPEG2, work in an ad-free environment and to get rid of the annoying watermark, users will need to pay for the full version. However, the $10 app is the best video editor for that price that runs as a touch-friendly editor on the Surface 3.
Flickr Upload – Free
Flickr Upload helps users post their images to Flickr quickly using a touch-friendly app. They can easily and quickly upload multiple images to the photo sharing site with a few taps. Images can be shared via Twitter, Facebook and other apps. The Play To feature in Windows 8.1 shows the images on an Xbox or other DLNA devices.
Games for Surface 3
Games for the Surface 3 deserves its own post, but here's a few awesome Windows Store games to have fun with on a Microsoft Surface 3. See the screenshots in the gallery below the list.
Utilities for Surface 3
Utilities extends the features that come as part of the operating system or they improve on a weak features of the OS. The following will make life easier while using the Microsoft Surface 3.
Lastpass – Free, $12 Annual Subscription
Lastpass saves login information for websites and services in an encrypted, password protected database so you don't have to memorize passwords and won't use the same password for all your sites. Unfortunately, the Windows Store version doesn't log you into apps that are installed, like the Android version does. However, the user can quickly run the app, find their login and copy/paste to apps and web sites. Users can use the built-in browser to log into websites from inside the app.
TeamViewer Touch – Free

TeavViewer Touch requires a TeamViewer account. The app gives access to other computers running the client. I can control my Mac mini, MacBook Pro, or my Windows desktop. I install the client on all my machines and I can log into them on my Surface 3 to remotely control them regardless of what OS they run.
I sometimes user TeamViewer to control the computer at the back of the auditorium at my church when I don't have a volunteer to run it during church services. Since that computer connects to our projectors, I can still control presentations without the need of an expensive long-range presenter's mouse or cumbersome wires.
The service is free for private use, but costs for those using it in business or on a large number of systems.
DropBox – Free
Most people know that Dropbox will sync files across multiple devices and backup files to the cloud. Plenty of other apps will connect with Dropbox. The service costs nothing and users get 2GB free. They can add more storage by buying certain products, participating in promotions or by adding it with a paid subscription costing $10/month for 1TB of space or $15/month for unlimited storage.
There's a Windows Store Dropbox app that lets users see their files and easily upload files from the Surface 3. Store media files and stream them to the Surface 3 from inside the app. This way the user doesn't need to install the full Windows application which will download the files in the Dropbox account to the Surface 3. This eats up the limited storage space on the Surface 3. Users can free up space by turning on the automatic camera uploading feature, which backs up images letting the user delete them from the Surface 3.
Windows Apps for Entertainment
Follow the latest in TV, Movies or general entertainment news with these excellent apps. Stream video from these awesome services.
The Windows Store includes many of the big names in entertainment and video streaming like …
The store also includes many network streaming apps. However, it's missing a few favorites like HBO Go or IMDB.
Here's a lesser known app that solves the IMDB problem.
Search All – Free plus $1.99 Version
The Search All app brings IMDB search to the Surface 3. It also searches YouTube, Google, Bing, Wikipedia, Dictionary.com, eBay, CNN and more.
Windows Apps for News and Sports
Keeping track of the latest news and following sports requires some apps like the following.
WatchESPN – Free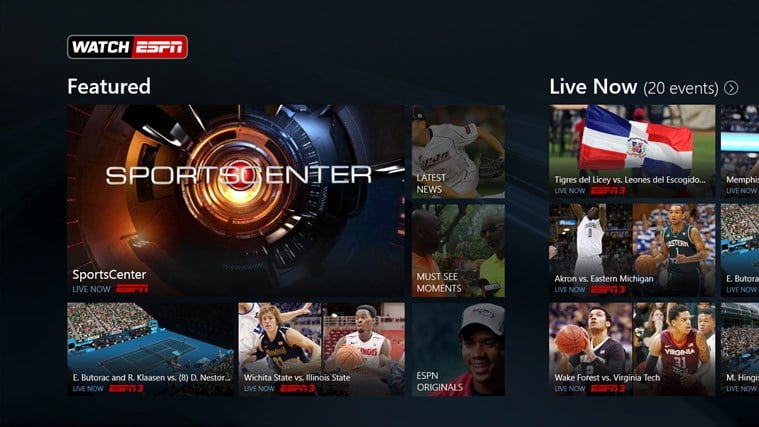 Sports fans can watch their favorite sports from ESPN's online stream using WatchESPN. That's if they subscribe to a cable or satellite provider that allows them access.
Readiy – Free
Feedly handles RSS feeds better than most services, including the feature built into Internet Explorer. Readiy does a great job of bringing Feedly to the Winodws 8.1 environment. The Windows Store app shows feeds and makes it easy to read, share and organize RSS.
Flipboard – Free
Users can read news in a Pinterest style presentation using Flipboard. The app looks beautiful and helps users discover news sites, articles, authors or curators. They can subscribe to interesting curators who add interesting reads to their collections for others.
Windows Apps for Shopping
The slideshow below shows the screenshots of these shopping apps. The links underneath the slideshow will take you to the Windows Store page for each shopping app. They're all free.
Books and Education
Learn from these awesome book and education based apps or just entertain yourself through eBooks.
Amazon Kindle – Free, Books cost extra
Grab the Kindle app to read your Amazon Kindle eBooks. It's not as good as the Kindle apps for iOS and Android and nowhere near as good as reading on a physical Kindle, but it works. You can also just open your browser and read using the Amazon Cloud Reader.
Wikipedia – Free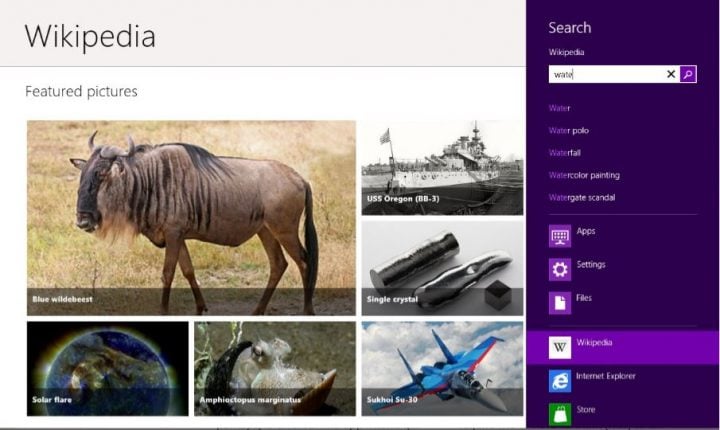 Sure, a person can just surf over to the Wikipedia site, but why not use an available app? Tap the icon and it launches. In case you didn't know, Wikipedia is the user controlled and curated online encyclopedia.
Wolfram Alpha – $2.99
As the app describes itself, Wolfram Alpha comes as close to a Star Trek computer as you can buy today. It's great for getting help with homework, finding interesting data, learning new things, doing some conversions and more. I wish Microsoft would integrate it with Cortana like Apple did with Siri.
PocketBible Bible Study App – Free
Laridian makes the best Windows App for reading and studying the Bible. Since this one book dominates western thought, it's a good idea for educated people to know what it says even if they don't even believe in God. The company offers a large library of books and users can do some advanced research with PocketBible Bible Study App.
Khan Academy – Free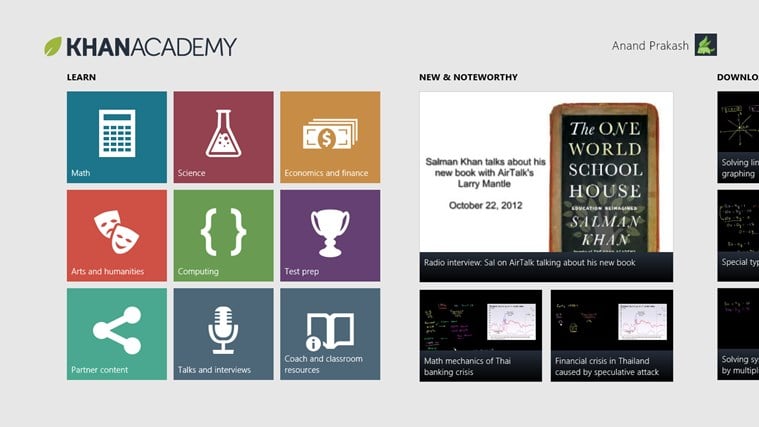 Thanks to the Khan Academy app, parents don't need to fret over not being able to help their kids with homework they don't understand. My kid studies math I don't even understand, so I can't help him any more. This app can. It's full of great videos teaching basics to advanced topics. There's more than math too.
Lynda.com – Free with paid subscription
Khan's free, but Lynda.com offers more specialized training. It's only $25/month for the basic tier that includes all the great Lynda.com videos for learning anything in tech from how to use Windows to how to program advanced software programs using the latest coding languages. A person could skip college and use this service and the Windows Store app on their Surface 3 to become a great programmer and invent the next great app that gets bought by Google or Microsoft for a billion dollars. I use it to learn how to use software and used it to master my Nikon camera.

As an Amazon Associate I earn from qualifying purchases.